Dera Allah Yar is a city situated in Balochistan, Pakistan, and is the headquarters of the Jaffarabad District. It is located 300 km away from the provincial capital, Quetta, and about 462 miles (or 744 km) south-west of Islamabad, the country's capital city.
In the Balochi, Pashto, Urdu, and Punjabi languages, the term Dera means abode or settlement. Dera Allah Yar thus means Allah Yar's settlement or town. The town-name is attributed to Mir Allah Yar Khan Khosa, a political leader of this town after the assassination of Mir Allah Yar Khan Khosa, their political leader.
It's cultural landscape depicts distinct ethnic groups. The Jamali, Gajani, and Khoso are the major tribes of this district. Other tribes such as Gola, Umrani, Brohi, and Soomro are also settled here. This article has every detail about the region, including Dera Allah Yar History.
| Title | Description |
| --- | --- |
| Information | |
| Location: | Pakistan |
| City Council: | Government Of Balochistan |
| Type: | Small city of the Jaffarabad District |
| Local Language Name: | Urdu, Punjabi, Sindhi, Saraik,Balochi |
| Province: | Balochistan Pakistan |
| Coordinates : | 28.3725°N 68.3583°E |
| District: | Jafarabad District |
| Region: | Balochistan |
| First settled: | 1987 |
| Language | |
| Official Language: | Urdu |
| Native Language: | Balochi |
| Other Languages: | Urdu,Balochi,English |
| Government | |
| Type: | Government Of Balochistan |
| Area | |
| Total Area: | 2,445 km2 (944 sq mi) |
| Population | |
| Total Population: | 432,817 |
| Time zone | |
| Time zone: | PST (UTC+5) |
| Codes | |
| Postal code: | 08289 |
| Dialing code: | +92-33 |
| Vehicle registration: | Three letters beginning with D and random four numbers |

Dera Allah Yar History
Khosa Tribe
This history of this region dates back to the history of the Khosa tribe. Khoso was Hooth's grandson and Rind's younger brother. Hooth was descended from the Hazrat Ameer Hamza line of Qureshi Arabs who established the first dynasty of Baloch kings.
The Khoso is one of the forty Baloch tribes that have survived since the 11th century A.D. They migrated and settled in the regions of Balochistan such as present-day Dera Allah Yar.
Captain Hoc Bland
The town was designed as a sub-division under the British Empire in 1932, and Captain Hoc Bland was appointed as the first assistant commissioner. It was then famously known as the ' Jhatpat' sub-division and was part of the Jacobabad district, Sindh.
Islam was dominant in the region; therefore, several prominent Baloch chiefs such as Mir Jaffar Khan Jamali was a big supporter of Quaid Azam in his struggle for independence. Mir Jaffar remained a strong supporter of the Muslim League after Pakistan came into being and supported its cause of Balochistan.
In 1970, when one unit status of Pakistan was revoked, Jhatpat was included in the Sibi district that remained part of it until 1975. In 1975, Nasirabad was established as a district, and Jhatpat (Dera Allayyar) was given under the administrative jurisdiction of it.
Geography
Topographically the region is situated at 28.37° N (latitude), 68.35° E (longitude), and 55m (180ft) above sea level. Its total area is 2,445 km2  in length.
Dera Allah Yar Climate
Dera Allah Yar is one of the hottest cities in Pakistan, this region is a hot spot. The town borders with Sindh; therefore, the arid and dry climate is dominant.
The summers are hot when the temperature may rise as high as 42°C and usually varies from 28°C to 38°C. Winters are short and typically last for two months when temperatures range from 8°C to 21°C.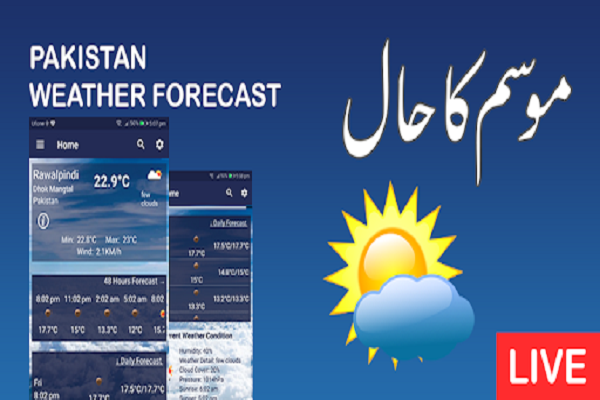 Population
The population of this region is the home to 80908 people, according to the 2017 census. Its population density, 210/km2 (80/sq mi).
Culture
A blend of Sindhi-Baloch culture is dominant because of its proximity to Sindh province. The cultural landscape of Dera Allah Yar represents diverse ethnic groups. Although individuals speak various languages but there is a resemblance in their literature, moral order, beliefs and customs. A basis for peace and a common social order is established by religion, the cementing factor.
Tradition
For their traditional hospitality, the tribal people are renowned. The guest is given high esteem and is treated as a blessing from God. The guest of one family is known to be the guest of the entire village. Traditional cuisine, folk music, folk dance, and folklore are prevailing aspects of their society.
Dresses
Among various tribes, the style of dressing is not very different. With wide and loose shalwar and knee-long tops, the Turban is the most traditional men's headwear.
The dress of a woman consists of a traditional top with a wide front pocket. Women use a large 'Dopatta' or 'Chaddar', a piece of cloth made of rectangle shape used to cover the head and cascade down the shoulders.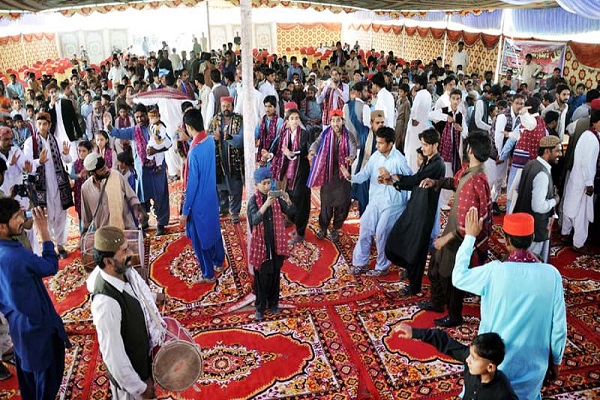 Dera Allah Yar Education
Institute for primary and secondary education include:
Ali Garh Model High School
Dua Public School
Eman public school
ESL School
Government Degree College
Government Girls Degree College
Girls High School
Government Girls Inter College
Govt: Boys Inter college
Govt BoY's High School
Government Boys Middle School Muhib Ali Khosa
Government Girls School
Murad Public School And College
Saint johns group of grammar school
Sarda Sohbat Khan High School
Tameer-e-millat Public School
The Seprs Grammar School
The Smart School
Sports
Natives of this region enjoy sports such as:
Cricket
Football
Hokey
Cattle racing
Horse racing
Camel racing
Economy
Due to the China-Pakistan Economic Corridor (CPEC), new economic and employment opportunities are emerging for Dera Allah Yar to turn its minor contribution into a major share to Pakistan's economic growth.
Industry
Statistics published by the Director-General Industries and Commerce, Government of Balochistan prominent rice mills in the town are:
Bismillah Rice Mill
Bugti Rice Mill
Paras Rice Mill
Rasko Rice Mill
Several other rice mills and small industrial units are also situated along the Dera Allah Yar Road connect neighbouring town. Other commercial units deal in farm machinery & equipment, construction and heavy machinery, and seeds, pesticides & fertilizers.
Agriculture
Farming is the main occupation of most native people.  As compared to other surrounding towns, the cultivation of crops produces small quantities of bajra, barley, jowar, maize, rice and wheat. Qasmia Cattle Farm is renowned for its livestock, and there are several cattle farms in the town.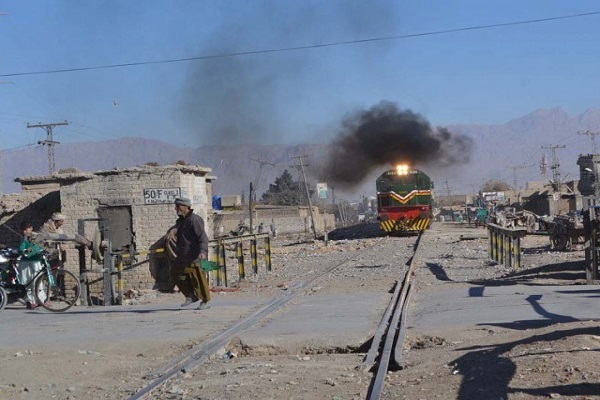 Tourism
Pristine scenery and topographical contours make this attractive for visitors. Moenjodaro is situated 73 miles (or 118 kilometres) to the south. The key tourist attraction is the archaeological ruins and artefacts of this 2500 BCE ancient civilization.
Languages
Languages are spoken and understood:
Balochi
Sindhi
Pashto
Urdu
English
Travel
National Highway (N-65) connects this town with the rest of the country. Several bus services all over Pakistan are operating in Dera Allah Yar. The railway station is located in the Jafferabad district.
Nearest airports to the main town are:
Shikapur Airport (SSE), 54.72km
Sukkur Airport (SKZ), 85.30km
Sui Airport (SUL), 86.90km
Moenjodaro Airport (MJD), 117km
Sibi Airport (SBQ), 141.62km
Area and Postal Code
Postal Code: 08289
Area Code:  033