Bhalwal is the capital of Tehsil Bhalwal of District Sargodha in Punjab's center. According to the census of 2017, it is Pakistan's Ninety-Ninth largest city. Bhalwal Town is the headquarters of Tehsil Bhalwal and is adjacent to Motorway M-2. The city is known for Orange production. This article has all the information about the city, including Bhalwal History.
| Title | Description |
| --- | --- |
| Information | |
| Location: | Punjab Pakistan |
| In Urdu: | بهلوال |
| Type: | City |
| Local Language Name: | Punjabi, Urdu |
| Coordinates : | 32°15′56″N 72°53′58″E |
| Production of : | "Kinno" (Orange) |
| Nearby Village: | Purana Bhalwal (Old Bhalwal) |
| Lies in: | An Agricultural Area |
| Close to: | M-2 Motorway |
| Number of Union Councils : | 4 Urban |
| Time Zone : | PST (UTC+5) |
| Tehsil : | Bhalwal Tehsil |
| District : | Sargodha District |
| Country : | Pakistan |
| Codes | |
| Postal code: | 40410 |
| Dialing code: | 04866(old) New:04862 |

Bhalwal History
Bhalwal is also called 'California of Pakistan' and is famous for citrus production. It was established in 1919, and before its creation, Bhera was the 'Tehsil Headquarter.' Bhera has a rich social and cultural history. In its north, the Jhelum River flows. Conquerors and invaders entered the sub-continent along Jhelum.
The popular character Ranjha was from 'Takhat Hazara' that was Bhalwal's part. Sir Malkin planned the creation of town Bhalwal, the 1st colony assistant as Bhalwana tribe resided here, so its name was kept Mandi Bhalwal. Initially, Non-Muslims acquired this area via auction and started business and market.
After Partition, Rajput, Kamboh, Araein, and other castes inhabited this area. In 2003 old sub-division was split, and 'Kotmomin' Tehsil formed. Later in 2011, Bhera Tehsil was created from the Bhalwal sub-division.
Area and Population
Now, the area of sub-division is 124261 acres, and the 104765 area irrigated. The Tehsil has a population of 193257. The Tehsil has Eighteen Patwar Circles, Three-Revenue Circles, and Fifty-Eight Moazajat.
Climate
The climate here remains hot in Summers, and with occasional rains, Winters are cold.
Crops
Khareef crops include Rice, Sugarcane, and Citrus, while the Rabi Crops are Barley, Maize, and wheat.
Major Industries
Major industries are Dairy, Textile, Sugar Mills, and Citrus-Processing Plants.
Bhalwal Postal Code
40410 is the postal code of Bhalwal.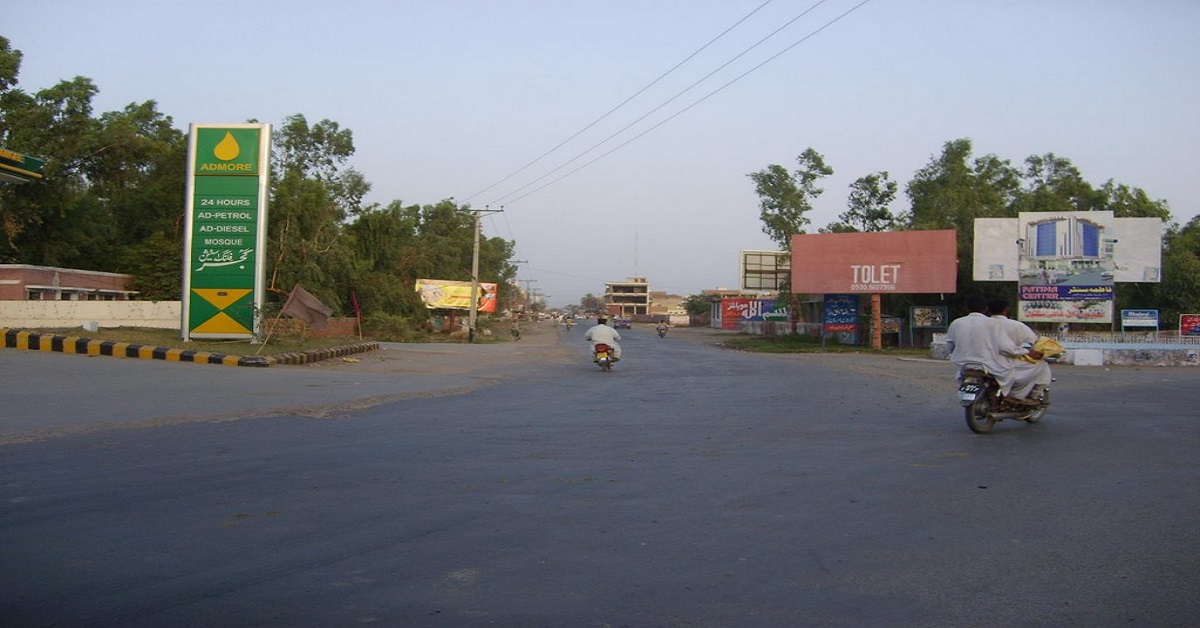 Administration
Administratively the Tehsil is sub-divided into the following union councils
Chabba Purana

Ali Pur Syedan

Baba

Bhalwal-I, II, III, IV (Urban)

Bhera-I, II (Urban)

Butcha Kalan

Chak No. 02, 10,9,15,15,8 /Nb

Hazoor Pur

That Noor

Kalyan Pur

Gurna

Kot Ahmed Khan

Dhal 

Doha

Fateh Garh

Ghulla Pur

Garhi Kala

Ratto Kala

Salam

Raja Aslam Colony

Chak Saida

Kot Raja

Lillian Shumali

Mia

Mandela

Purana Bhalwal

Davis put

Khan Muhammad Wala
Attractive Places Near Bhalwal
Liliani
Bhera
Phularwan
Miami
Shahpur Saddar
Kot-Moman
Shahpur City
Khewra
Malakal
Rabwah
Jauharabad
Khushab
Pindi-Bhattian
Jalalpur-Bhattian
Sillanwali
Jhawarian
Cities Near Bhalwal
Dinga
Sahiwal
Faisalabad
Bhera
Bhawana
Mitha Tiwana
Sargodha
Warburton
Sukheke Mandi
Pindi Gheb