The embassy of Bahrain is the diplomatic mission of Bahrain in Pakistan. It is located in house 12, street 2, Sector F-6/3, Islamabad. The government of Bahrain is also represented by a consulate in Karachi. Muhammad Ibrahim is the current Ambassador of Bahrain to Pakistan. This article has all the information about the embassy, incorporating the Bahrain Embassy in Pakistan and Pakistan Bahrain Visa.
| Title | Description |
| --- | --- |
| Information | |
| Location: | Islamabad, Pakistan |
| Nickname: | Bahrain Embassy |
| Type: | Embassy |
| Local Language Name: | بحرين سفارتخانہ |
| Coordinates : | 33.739811°N 73.080310°E |
| Website: | www.mofa.gov.bh/islamabad |
| Details | |
| Address: | House No. 12, Street 2, Sector F6 / 3 Islamabad, Pakistan |
| Telephone: | (+92) (51) 230 7881 & (+92) (51) 230 7882 |
| FAX: | (+92) (51) 230 7885 |
| Email: | [email protected] |
| Office Hours: | Mon-Thu: 08.30-15.30 & Fri: 08.30-13.30 |
| Head of Mission: | Mr Mohamed Ebrahim Mohamed Abdulqader, Ambassador |
| Bahrain Embassy in Karachi: | Bungalow No.51, Khayabane Shahbaz, Phase-V1 Karachi Pakistan |
| Phone: | +92-21-353-42971 |
| Fax: | +92-21-353-42974 |
| Email: | [email protected] |
| Bahrain Consulate in Islamabad: | House:5 – Street:83 – G6/4 Islamabad Pakistan |
| Phone: | +92-51-283-1117 & +92-51-283-1115 & +92-51-283-1114 |
| Fax: | +92-51-283-1060 |
| Email: | islamabad.mission.mofa.gov.bh |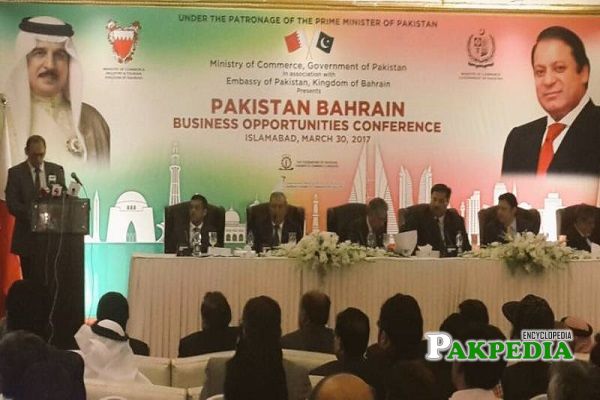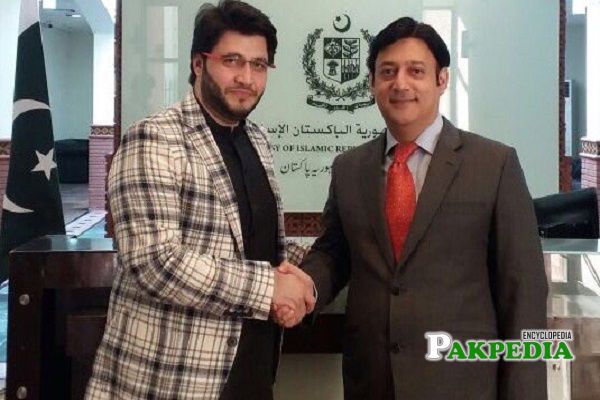 Bahrain Embassy in Pakistan
The current building of the embassy of Bahrain was built in 2006. The Embassy is specific to providing consular services to its citizens, local people, and someone who wants to visit Bahrain. It has also established strong bilateral relations between Pakistan and Bahrain. Both countries are part of OIC and G77. The diplomatic relations were established in 1971.  The relationship is strengthened by a shared culture, religion, faith, and values. Both countries have a relationship based on brotherhood. The result of such a cordial relation can be seen in the cooperation in all aspects of life.
Contact Information
Address:                  House 12, street 2, F-6/3, Islamabad, Pakistan
Contact:                  +92 51 283 1117
Email:                      islamabad.mission.mofa.gov.bh
Ambassador:           Muhammad Ibrahim
Website:                  www.mofa.gov.bh/islamabad
Pakistan Bahrain Visa
Visa Policy
Any person entering any country needs a visa. Bahrain has the same policy, with some exceptions. There are a few countries that are given visa after arrival to Bahrain. The passport must be valid for six months. These changes were made in the reforms in 2015. Due to these reforms, Bahrain has received more visitors than it received before. This is only applicable to those countries with whom Bahrain has an agreement. So far, Pakistan is not on that list. Recently, due to Corona Virus, visits of most of the countries were ceased except for a few countries. They were only issued visas if they had not visited Schengen countries, China, Iraq, the UK, and the USA. 
Generally, the best time of applying for the visa is 2 months before traveling to Bahrain. In case of an emergency or urgent visa, a visa on Faster service can also be used provided by the embassy. For approval of the visa, it is important to send the original passport to the embassy. Bahrain also offers eVisa service. Travelers will go through an electronic authorization process. Such a visa requires Passport, proof of returning, proof of sufficient funds, and documents required for the next destination. Sometimes the application of visa is rejected due to insufficient documents, lack of funds, or criminal activities in the past. 
Types of Visa
Tourist Visa
This kind of visa is issued to those who want to explore Bahrain for a short period. Mostly, this is issued only for two weeks and issued only to European Union, Australia, Canada, HongKong, Japan, New Zealand, and the USA.
Visit Visa
This is the visa that requires sponsorship from someone who is a national of Bahrain. It is Valid for a month.
3 days 7 days visa
This visa is issued to those who are on a business visit and want to return as soon as possible after the work is done. For this kind of visa, it is important to show the return ticket to obtain a visa.
Business Visa
This is also for business purposes. The only difference is the stay of the applicant that is more than 7 days. It is issued for a maximum of 4 weeks. This also requires a NOC from a Bahrain sponsor.
Work Visa
This is issued to those people who want to work in Bahrain. This is valid for one or two years.
Family Visa
This visa is also called a residence permit. This is only issued to those families whose relative is working in Bahrain. After arrival in Bahrain, the family members are not allowed to work until they receive any work visa.
Pakistan Bahrain Trade
Bilateral trade between Pakistan and Bahrain is worth 500 million dollars. In many ways Pakistan has contributed to the development of Bahrain. 60000 Pakistanis are living in Bahrain currently. This is the community that also works in Bahrain and earns a living. In the 2005 visit of Bahrain's king, he called Bahrain as a second home for Pakistanis.
Official Visits
2005
In 2005, Shaukat Aziz who was the Prime Minister of that time came to Bahrain and met with the prince. According to the Prince, Pakistan was the country that was detain in the highest admiration by the Bahrain People.
2011
President Asif Ali Zardari had a tour of Bahrain in 2011. In his visit, he met with the king, King Hammad. Both showed consent to improve economic and political relations that will benefit the people of Pakistan and Bahrain.
2014
In 2014, king Hammad came to Pakistan and had a meeting with Pakistani officials. He stressed on improving the relations among both countries. In this visit of King Hamad, 6 agreements were indicated.
2015
PM Nawaz Sharif visited Bahrain in 2015 upon request of King Hamad. More agreements were signed, giving more strength to already strong bilateral relations.
Bahrain Consulate Karachi
| | |
| --- | --- |
|  Title |  Description |
|  Address |  Bangalow 51, Khayabane Shahbaz, Phase v1, Karachi |
|  Contact |  +92 21 353 42971 |
|  Email |  [email protected] |
|  Website |  www.mofa.gov.bh |