Abdul Ghaffar Khan was popularly known as Bacha Khan and honorably called Fakhar-e-Afghan. He was a Pashtun independence activist against the British Raj and was a spiritual and political leader popular for his lifelong pacifism and non-violent opposition. He was a supporter of the Hindu-Muslim union in the Indian sub-continent.
Owing to his close friendship and similar ideologies with Mahatma Gandhi, he was called 'Sarhaddi Gandhi' by Amir Chand his close associate. He established 'Khudae Khidmatgaar' in 1929. The Khudae Khidmatgaar's popularity and success with Indian inhabitants prompted British Empire to launch a crackdown against Bacha and his followers. This article has all the information including Bacha Khan Biography.
| Title | Description |
| --- | --- |
| Personal | |
| Name: | Khan Abdul Ghaffar Khan |
| In Urdu: | خان عبدالغفار خان |
| Famous As: | Bacha Khan |
| | |
| | |
| | |
| | |
| NickName: | Badshah Khan |
| Citizenship: | British India (1890–1947), Pakistan (1947–1988) |
| Political party: | Indian National Congress, National Awami Party |
| Movement: | Indian Independence Movement Khudai Khidmatgar |
| Awards: | Prisoner of conscience (1962), Jawaharlal Nehru Award (1967), Bharat Ratna (1987) |
| | |
| Religion: | Islam |
| Born | |
| Date: | 6th February 1890 |
| Place: | Utmanzai, Hashtnagar, Frontier Tribal Areas of Punjab Province, British India (in present-day Charsadda District, Khyber Pakhtunkhwa, Pakistan) |
| Family | |
| Spouse: | Meharqanda Kinankhel (m. 1912–18) Nambata Kinankhel (m. 1920–26) |
| Children: | Abdul Ghani Khan, Abdul Wali Khan, Sardaro Mehar Taja, Abdul Ali Khan |
| Parents: | Bahram Khan |
| Died | |
| Date: | 20th January 1988 |
| Rest Place: | Jalalabad, Nangarhar, Afghanistan |

Bacha Khan Biography
He was a Pashtun leader who strived to transform and reorganize not only Pashtun society but India also. Despite harassment and attacks, he drew thousands of supporters and followers towards his movement. In 1929 he began a non-violent and secular movement by founding Khudae Khidmatgaar.
It was a non-violent and progressive movement in a violent and conservative Pashtun society. Throughout his life, he struggled for the autonomy of KPK within the framework of Pakistan. His political legacy is popular among Pashtuns and those in India.
He was named AI (Amnesty International) Prisoner of Year.' He got nominated for Nobel Peace Prize in 1984. In 1967 he received the 'Jawaharlal Nehru Award for International Understanding' and received 'Bharat Ratna' the highest civilian award of India in 1987.
Khan Date of Birth
He opened his eyes on 6th Feb 1890 in Utmanzai, Peshawar valley.
Education of Khan
He was 2nd son of Bahram Khan to get admission at Edward's Mission School. It was the only functional school in that region and Christian missionaries were administering it. He performed well in his studies at school and drew his inspiration from his mentor and instructor Reverend Wigram and learned about the role of education in serving the community.
When he was in the 10th and final year of his secondary school he got an offer to join a prestigious commission in the Corps of Guides' unit of the British Indian Military, but he rejected this offer as he observed that even the Indian officials of Guides were 2nd class citizens in their nation.
Hence, he followed his desire to take admission in the university and his teacher Reverend Wigram urged him to follow the footsteps of his elder brother Jabbar Khan to pursue studies in England.
After completing graduation from AMU (Aligarh Muslim University) his eventually permitted him to study abroad, but his mother wasn't agreed to send another son to London, so Khan started working on the lands of his father.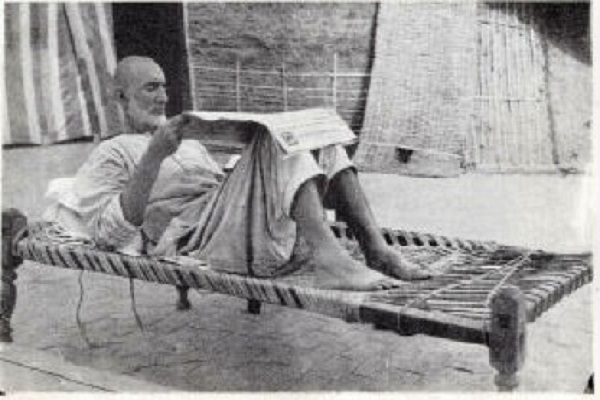 Bacha Khan Family
In 1912 he married Meharganda, the daughter of Muhammad Khan. In 1913 he was blessed with a son Abdul Ghani who became a renowned poet and artist. Later, in 1917 the couple was blessed with a 2nd son Abdul Wali and daughter Sardaro. During the influenza epidemic of 1918, Meharganda died.
Khan again tied the knot with Nambata the cousin of his 1st wife and had a daughter from her. Unfortunately, Nambata passed away after falling from her apartment stairs. Abdul Ghani married a Parsi woman Roshan and Wali Khan is the leader and founder of ANP (Awami National Party) and was an opposition leader in the National Assembly of Pakistan.
His 3rd son Abdul Ali Khan was a distinguished and renowned educator and contributed his services to Peshawar University as Vice-Chancellor. He also served as the head of Fazal-e-Haque college and Aitchison College. Khan's brother Dr. Khan Abdul served as CM from 1937 to 1947 when Muhammad Ali Jinnah dismissed his government.
His only son-in-law Muhammad Yahya served as KPK's education minister. Khan's grandson Asfandyar Wali is the leader of ANP.
Career
As he was unable to pursue his higher studies, he started helping others begin their education. The British's oppression mullah's repression and the culture of vendetta and violence prompted him to uplift and serve his fellow women and men by education.
He opened his 1st school when he was only twenty. It was a grand and instant success leading him to be an invitation into a bigger circle of reformers.
Recognition as Bacha Khan
He faced severe opposition and hurdles but worked hard to organize and awaken the consciousness of Pashtuns. From 1915 to 1918 Khan visited five-hundred villages in all settled districts of KPK. It led him to be recognized as Badshah Khan meaning King of Chiefs. As he was a secular Muslim so he didn't accept religious divisions.
Founded Khudae Khidmatgaar
His goal was the formation of an independent, united, and secular India. To achieve his goal, he established Khudae Khidmatgaar popularly known as 'Red-Shirts' in the 1920s. The organization hired more than one lac member and strongly opposed the British-controlled army and police.
Through the political organization, non-violent opposition, and strikes Khudae Khidmatgaar became able to have some success and dominated KPK politics.
Detention
On 23rd April 1930, he was detained during protests rising out of Dandi March. Khudae Khidmatgaar activists gathered in Kissa Khawani Bazar of Peshawar. The British government ordered its military to open fire on unarmed activists/crowd assassinating almost two-hundred to two-hundred and fifty activists. The crowd acted according to the training of Khan and faced bullets.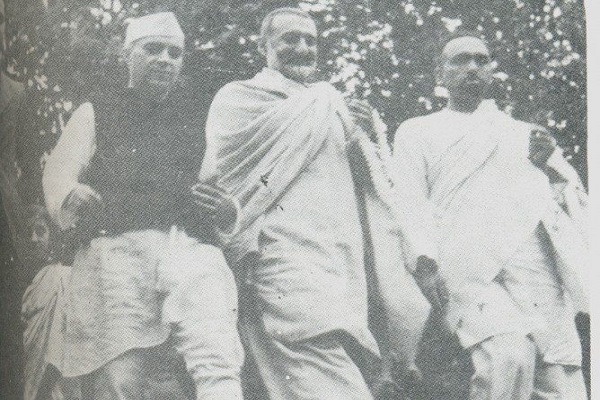 Friendship with Gandhi
Khan forged an uninhibited, close, and spiritual friendship with Mahatma Gandhi. They both liked each other and worked in collaboration until 1947. Khudae Khidmatgaar worked with INC (Indian National Congress), the renowned organization striving for freedom, of which khan was a respected and senior member.
On many occasions when congress disagreed with Gandhi's policies, Khan strongly supported him. In 1931 he got an offer for the presidential post of the party but he refused and said 'I am a soldier and Khudae Khidmatgaar, and want to serve only.' Owing to the conflicts on the war policy of the party he resigned in 1939 but later rejoined the party after the policy was modified.
Attack on Bacha Khan
He opposed the Indian partition strongly. Some political figures accused him of being anti-Muslim, and in 1946 he was physically attacked, leading to being admitted to hospital in Peshawar.
Demands of Pashtun Resolution
On 21st June 1947, a jirga was arranged in Bannu consisting of Bacha Khan, activists of Khudae Khidmatgaar, tribal chiefs, Mirzali Khan, Provincial Assembly members only seven weeks before partition.
The jirga announced the Pashtunistan Resolution that demanded a separate state Pashtunistan for Pashtuns consisting of all Pashtun regions of British-India instead of joining them to Pakistan or India. British Raj, however, refused to fulfill this demand.
Founded Pakistan Azad Party
He fully supported the government and tried to reconcile with Muhammad Ali Jinnah the founder of the new state. Initial moves led to the successful meeting, reportedly due to the role of KPK CM Qayyum Khan who warned Ali Jinnah that Khan was making plans to kill him.
After this, he founded the 1st National opposition party of Pakistan, on 8th May 1948 namely 'Pakistan Azad Party.' However, he remained suspicious and under the new government, he was imprisoned at home without any charges from 1948 to 1945. After getting freedom, he again delivered a speech on the assembly floor, and this time he condemned the massacre of his followers at Babrra.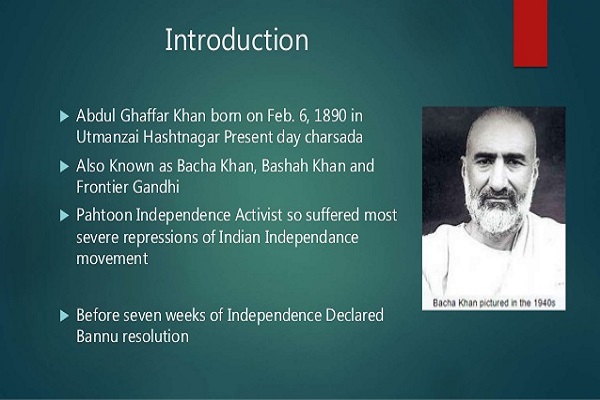 Detention between 1948 and 1956
He was detained many times between 1948 and 1956 for opposing the 'one-unit scheme.' In 1958 the government tried to resolve issues with him and after his brother's assassination government offered him a Ministerial post but he didn't accept this offer. He remained imprisoned till 1957 and his illness in 1964 led him to freedom.
Exile Period
In Sep 1964 Pakistani higher authorities allowed him to travel to the U.K for his treatment. He went to exile to Afghanistan and in Dec 1972 returned from his exile. The government of PM Zulfikar Ali Bhutto arrested him at Multan in Nov 1973 and described the government of Bhutto as 'Worst Dictatorship.'
Statement Regarding Pashtunistan
In 1948 he swore loyalty to Pakistan in legislation assembly. During the speech, PM Liaqat Ali asked him about Pashtunistan, on which he told that it was only a name for KPK province just like Baluchistan, Sindh, Bengal, and Punjab are names of Pakistani provinces.
Documentaries and Films
The writer and filmmaker T.C. McLuhan made a documentary entitled 'The Frontier Gandhi: Badshah Khan, a Torch for Peace' that was premiered in New York. This film won the best documentary film award at ADFF (Abu Dhabi Film Festival).
Thirty minutes biographical documentary was made on Khan entitled 'The Majestic Man' and it was broadcasted on Doordarshan. Dilsher Singh portrayed Khan in Richard Attenborough's Gandhi.
Honor to Khan
In his hometown Peshawar, an airport Bacha Khan Intl Airport is named on his name. His name was listed among those twenty-six men who had changed the world in children's literature published in the USA alongside Yo-Yo Ma and Tiger Woods. Hillary Clinton recognized his philosophy about Islamic Pacifism in her speech to America-based Muslims.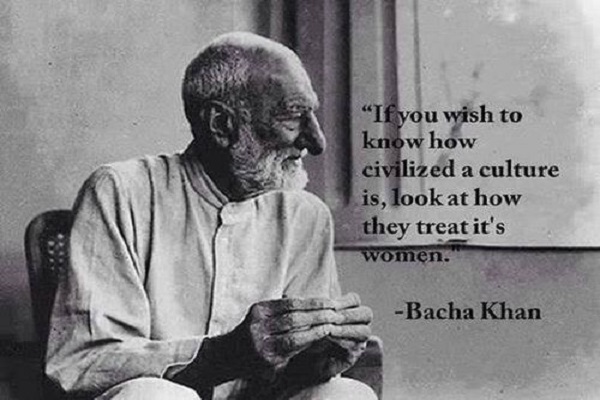 Bacha Khan Death
He passed away in Peshawar in 1988 under house arrest and was embedded at Jalalabad. More than two lac people attended his funeral prayers including President of Afghanistan Muhammad Najibullah. Indian PM Rajiv Gandhi traveled to Peshawar to pay tribute to Khan despite the efforts of Zia-ul-Haq to stop him by stating security reasons. Bacha Khan Quotes are acknowledged everywhere.