Australian Embassy is located in Diplomatic Enclave, Islamabad, Pakistan. It was established in Karachi in 1948. The first High Commissioner of Pakistan was appointed in 1949. When Pakistan moved its embassy to Islamabad in 1966, Australian High Commissioner also moved its office to Islamabad. Currently, Dr Geoffrey Shaw is Ambassador of Australia to Pakistan. He was Appointed in 2019. Two consulates in Lahore and Karachi also represent the Australian government. This article has all the information about the Embassy, including the Australian Embassy in Pakistan.
| Title | Description |
| --- | --- |
| Information | |
| Location: | Islamabad, Pakistan |
| Nickname: | Australian Embassy |
| Type: | Embassy |
| Local Language Name: | آسٹریلیا سفارتخانہ |
| Coordinates : | 33.723249°N 73.102178°E |
| Website: | pakistan.embassy.gov.au |
| Details | |
| Address : | No. 1 Diplomatic Enclave, Constitution Avenue and Ispahani Road, Sector G-5/4 |
| High Commissioner : | Margaret Adamson |
| Telephone: | (+92) 51 835 5500 |
| Fax: | (+92) 51 848 9990 |
| Email: | [email protected] |
| Head of Mission: | Ms Margaret Adamson, High Commissioner |
| Office Hours: | Mon-Thu: 08.00-16.45 & Fri: 08.00-12.30 |
| Website: | www.pakistan.embassy.gov.au |
| Types of Visa: | Tourist visa (subclass 676) & Sponsored Family Visitor visa (subclass 679) &·Business (Short Stay) visa (subclass 456) ·& Sponsored Business Visitor (Short Stay) visa (subclass 459) |
| Temporary Visas: | Visitor Visas, Medical Treatment Visas, Transit Visas, Student Visas |
| Migration Visas: | Partner, Child, Parent, Other Family |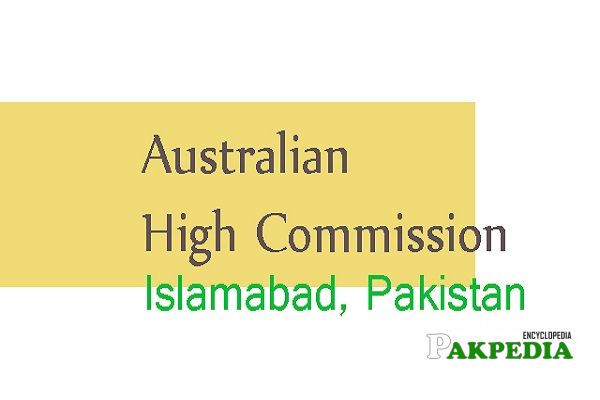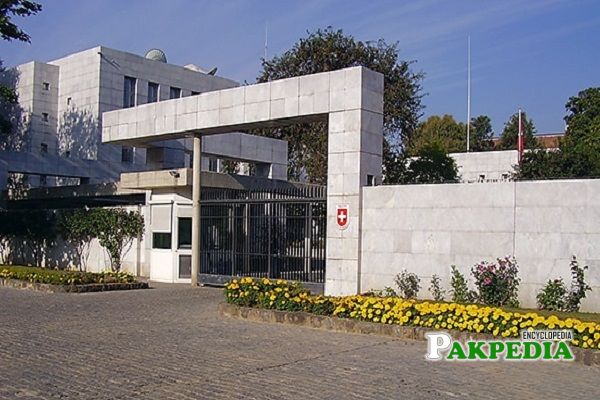 Australian Embassy in Pakistan
The relations between Pakistan and Australia have been friendly and brotherly. Former President, Pervez Musharraf visited Australia in 2005. In the same year, the Australian Prime Minister visited back to Pakistan after the earthquake that had hit the northern areas of Pakistan. Showing his sympathy with the people of Pakistan, he announced 500 scholarships for Pakistani students to study in Australia. 
For most of the Australians, Pakistan seems a distant country. The connection created by Cricket, mainly, for some reason, have remained mute. Due to the security reasons, Australian countries have not visited recently, and the same is the case with the Pakistani Cricket team. Despite this, almost a $90million aid fund is allocated for Pakistan. It is important to engage Australians with worlds' largest population in terms of population.
Contact Information
Name:                    High Commission of Australia
Ambassador:         Geoffery Shaw
Address:                (051)8355500
Website:                pakistan.embassy.gov.pk
Email:                    [email protected]
Pakistan Australian Trade
Trade between Pakistan and Australia has been growing day by day. In 2011, it was estimated that Pakistan's exports to Australia had reached US$ 167 million and imports in the same period have reached US$ 437 million. Both countries have concluded to take the bilateral trade to US$ 1 million both in the public and private sectors. In 2012, the total trade between the two countries reached $870
Terrorism
After Pervez Musharraf's visit to Australia, both the countries signed a pact to counter-terrorism in the region. Terrorism at that time was spreading as a global issue. It allowed Joint military training exercises between Pakistan and Australian security forces. They also agreed to share sensitive intelligence.
Military Relations
There was a South Asian version of NATO called SEATO. It was also called mutual defence pact. Since 2006, the two countries have held defence and security talks bilaterally. In 2010, 1.5 Security Dialogue was started between Australia and Pakistan. From both sides, it involved key figures and think-tankers. So far, they have mainly focused on training programs. 
Pakistani Australians
Twenty-one years ago, Dr Mehreen migrated to Sydney. She was the first Pakistani to be elected in the Parliament, and she is likewise the member of the Greens Party. Despite having a political career in Australia, Dr, Mahreen has shown great pride in her roots in Pakistan. Her family was part of the independence moment. In 2011, statistics by the Australian government were released. According to the Department of Immigration and Citizenship stated that there were 30221 Pakistani born people in Australia. From 2006, it increased by 77 per cent. The documents revealed that the largest number of Pakistanis resided in New South Wales. 13382 lived in New South Wales, Victoria had 9187, western Australia had 2521, and Queensland hosted 2357 Pakistanis. According to the Pakistani embassy in Australia has recorded several 70000 including the children as well.
Pakistan Australia Visa
In 2017, a new digital online assistance program was started to develop the visa service and citizenship of Australia. The system has been made available on the website of the Immigration office as well. The program is a part of the newly established department called the Department of Home Affairs. It brings many agencies together including Law enforcement, Criminal Justice, multicultural, and emergency Management. It also includes the department of immigration and Border-related agencies. 
There are several visa processes. The applicant, who wants to apply online for an Australian visa must create an Immi Account. It is an account where most of the online Australian activities are done. All the supporting documents must be submitted at the time of submission of the Visa application form. These forms are accepted in the specific Australian Visa service centers located in  Karachi, Lahore, and Islamabad.  
The key information about Australian Visa documents includes an application form, original passport, scanned copy of passport, CNIC, B form for kids, FBR tax returns, property proof, income proof, and bank statement. Some of the credentials may not apply in some cases like scholarships. The ease of getting the visa is related to the documents provided with the application. The more the relations with Pakistan are shown, the more it will be easy to get a visa. Providing as many documents as possible can convince the visa counsellor.
Visa Centers
Islamabad Lahore and Karachi Visa centers
 Title
 Description
 Address
 Park Road, Chak Shahzad, Islamabad
American Center Building, queens road, Lahore
43/1 D Razi road, Shahrah e Faisal, Karachi
 Off Days
 Saturday and Sunday
 Telephone
 090007860 ( accessible from Pakistan only)
 Email
 [email protected]
Visa Types
The Australian Visa Type incorporates:
Visitors Visa
Studying and Training Visa
Family and Partner Visa
Working and skilled Visa
Refugee Visa
Humanitarian Visa
Other Visas
Released Visa
Supporting Documents
Apart from the mandatory documents like Passport, CNIC, and other certificates, Australian authority also demands a polio certificate for those people who have spent more than 15 days In Pakistan, Afghanistan, Iraq, Israel, and Ethiopia. People from such countries are required to submit a polio vaccination certificate to ensure their health and others as well. The Visa office also demands of a biometric verification of 10 digit finger scan and Facial photograph.
Australian Consulate Lahore
Address:            2nd floor, Sadiq Plaza, Mall Road, Mozang Chungi, Lahore.
Contact:            0321 4113338
Time:                24 hours
Australian Consulate Karachi
Address:             20th street, DHA, Karachi
Off days:            Saturday, Sunday
Telephone:         (021) 5864905