Umar Cheema is an influential and noteworthy Pakistani journalist who has set high standards with his exceptional journalism skills. He received many awards throughout his career because of his worth appreciating work. He is a fierce journalist who never hesitates to speak the truth.
Umar gained acknowledgement after being appointed as a reporter for leading Pakistani newspaper 'The News.' Once he was abducted and brutally tortured for writing against the Governemnt, this torture didn't stop him from expressing the truth. The article carries every detail regarding him, including Umar Cheema Biography.
| Title | Description |
| --- | --- |
| Personal | |
| Name: | Umar Cheema |
| In Urdu: | عمر چیمہ |
| Nationality: | Pakistani |
| Residence: | Islamabad |
| Education: | MSC in comparative politics |
| Religion: | Islam |
| Profession: | Journalist |
| Occupation: | Journalist |
| Organization: | The News |
| Website: | https://twitter.com/UmarCheema1 |
| Awards : | International Press Freedom Award |
| Family | |
| Children: | 1 son and 1 Daughter |

Umar Cheema Biography
Umar is a fearless and courageous Pakistani investigating reporter who is associated with well-known Pakistani newspaper 'The News' for a long time. Unlike many Pakistani journalists, he never afraid to express the truth despite knowing its consequences. He is a perfect example of being remarkable Pakistani journalist who knows how to perform his work with courage and honesty.
Umar was once kidnapped and mistreated by unknown people for writing against the Pakistani government in his column. After the escape, he fearlessly talked about the whole incident for which he received 'International Press Freedom Award.' He is an educated journalist who is a father of 1 daughter and 1 son and resides in Islamabad.
Umar Date of Birth
He was born in July 178. Currently, he is living in Islamabad.
Education of Cheema
He obtained a degree in Masters from Lahore Punjab University in Mass Communication. Later he went to London School of Economics from where he received a Masters degree in Comparative Politics. Soon after completing his education, he started doing journalism.
Umar Cheema Family
He doesn't belong to any notable family. He is married and blessed with 1 son and daughter. At the time of his abduction, his son was only 2 years old.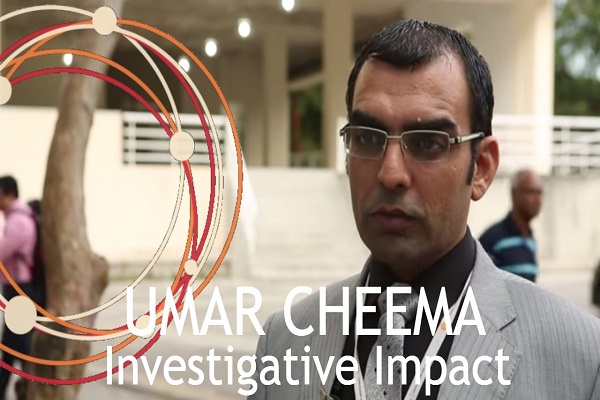 Career
As a Reporter
In 2008 he joined a well known Pakistani newspaper 'The News' and started doing investigating reporting. He received huge appreciation for speaking truth and writing by coming out of his comfort zone. He never worried about the consequences; instead, he always came up with something different and courageous.
His writing constrained the public authority to disclose tax records of officials and different residents. Furthermore, he became the first Pakistani pearl member who got a chance of working in an American newspaper 'The Newyork Times.' This increased his demand, and he became the talk of the town.
Abduction Case
On 4th September 2010, while coming back from dinner, he was abducted by unknown men. He was forcefully taken to house where his head and eyebrows were shaved. He was beaten on the naked body and was threatened for writing against the Governemnt.
Through this abduction, a strong message was given to all journalists to stop writing against the Government. After being escaped, he valiantly spoke about the whole incident in front of the media and continued his courageous writing without any fear. He was also given 'International Press Freedom Award' for being a Rockstone despite a horrible incident.
The New York times also ordered to find out those who brutally tortured Cheema and demanded justice. On 14th April 2011, he received 'Truly Center Free speech award' for his journalism services.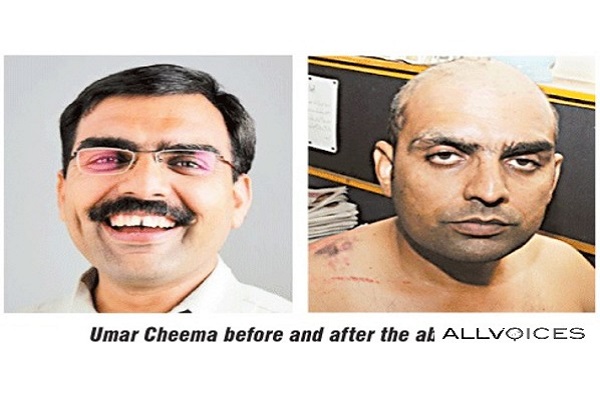 Fine For Defamation
He was once fined Rs 1 Million for writing fake story against FIA's Ex-Director, Dr Fasihuddin. Due to his faux column, Fasihuddin was removed from his post. He suffered a huge loss, and it brought massive damage to his reputation. Umar Cheema was also asked to write an apology, and in case he doesn't obey the rules, the additional fine would be charged.
Social Media Handles
His social media account include
https://twitter.com/UmarCheema1