Tipu Sultan, popularly known as Tiger of Mysore or Tipu Sahab, was a creator of the rocket artillery and the ruler of the Mysore Kingdom in South India. During his reign, he implemented various administrative reforms, including a novel calendar and coinage system and a new and improved land revenue method that sparked the expansion of the Mysore-based silk industry.
The Maratha–Mysore Battle, which ended with the signing of the accord of Gajendragad, was one of Tipu's wars with his neighbors. The pact demanded that Tipu pay the Maratha's rupees 4.8 million as a 1-time war price and rupees1.2 million in annual tribute, besides returning all of Hyder Ali's conquered land. This article has all the information about him, including Tipu Sultan Biography.
| Title | Description |
| --- | --- |
| Personal | |
| Name: | Tipu Sultan |
| ALSO LISTED IN : | Emperors & Kings |
| Full Name: | Badshah Nasibuddaulah Sayyid walShareef Sultan Fateh Ali Bahadur Sahab Tipu |
| Famous As: | Ruler of the Kingdom of Mysore |
| Nationality: | Indian Famous Indian Men |
| Religion: | Islam (Sunni), Islam |
| Sultan of Mysore Reign: | 29 December 1782 – 4 May 1799 |
| Sultan of Mysore Coronation: | 29 December 1782 |
| Sultan of Mysore Predecessor: | Hyder Ali |
| Sultan of Mysore Successor Krishnaraja: | Krishnaraja Wodeyar III |
| Profession: | Warrior |
| Born | |
| Date: | 10th November 1750 |
| Place: | Devanahalli, present-day Bangalore, Karnataka |
| SUN SIGN: | Scorpio Scorpio Men |
| House: | Mysore |
| Coordinates: | 12°24′36″N 76°42′50″E |
| Family | |
| Spouse: | Sindh Sultan |
| Parents: | Father Hyder Ali Mother Fatima Fakhr-un-Nisa |
| Died | |
| Date: | 4th May 1799 |
| Burial : | Srirangapatna, present-day Mandya,Karnataka |
| Rest Place: | Srirangapatna, present-day Mandya,Karnataka |

Tipu Sultan Biography
Tipu Sultan was a capable administrator and general; although his Hindu subjects remained loyal to him, being a Muslim. However, he was ruthless to his opponents and lacked his father's judgment. Many administrative and technological advances were made during his rule.
The introduction of new coin varieties and denominations was one of them. He also introduced a lunisolar calendar. He is credited with being the first to utilize rocket artillery. He increased the use of rockets, sometimes deploying up to five thousand rocketeers at once. He was victorious in multiple wars against the British and Marathas.
Date of Birth
Tipu was born in the current Bangalore Rural district, roughly thirty-three kilometers (21 miles) north of Bangalore, on 20th November 1750. His name was kept Tipu on the name of a saint Tipu Mastan.
Education
Tipu received his early education in Urdu, Arabic, Persian, Kannada, Islamic law, Quran, horsemanship, fencing, and shooting by competent teachers.
Tipu Sultan Family
Hyder was uneducated, and he decided to educate his son and an early approach to political and army affairs. He was given independent supervision of significant military and diplomatic missions at the age of seventeen. He served as his father's right hand in the battles that prompted Hyder to the sovereignty of Southern India.
His mother, Fatima Fakhar-un-Nisa, was the daughter of Kadapa Fort's governor. Hyder Ali, his father, was a military man in the Kingdom of Mysore's army who in 1761 became de facto king of Mysore.
Tipu had several wives. Sindh Sahiba was famous for her intelligence and beauty. The British deported his family to Calcutta. Many more descendants live in Kolkata today.
Career
Early Military Activities
Tipu Sultan received military training from French commanders who worked for his father as discussed on Britannica. In 1766 he fought alongside his father when he was 15 years old against the British in the 1st Mysore War. In 1766 at the age of sixteen, he led a cavalry corps in the invasion of Carnatic. He also made a name for himself during the 1st Anglo-Maratha War, which lasted from 1775 until 1779.
2nd Anglo-Mysore Battle
The British took the French-supervised Mahé Port in 1779 that Tipu had secured by providing soldiers for its protection. Hyder organized an incursion of the Carnatic to force the British individuals out of the Madras. Ali sent Sultan with ten thousand soldiers and eighteen guns to stop Colonel Baillie from accompanying Sir Hector during this war in Sept 1780.
He soundly overpowered Baillie at the Pollilur Battle. Only about two hundred of the 360 Europeans were caught alive, while the sepoys, who numbered over 3800 males, suffered a high rate of fatalities. Tipu Sultan successfully took Chittur in Dec 1781 from the British. By the time his father passed away on 6th Dec 1782 – other historians say 2 or 3 days later, or earlier, he had gathered considerable military experience.
He recognized the British as a new type of threat to India. On Sunday, 22nd Dec 1782, he became the monarch of Mysore. With the Treaty of Mangalore in 1784, the 2nd Mysore Battle ended.
Escape from Maratha Treaty
The Maratha rule conquered most of the Indian sub-continent under new Prime Minister Peshwa Madhavrao, twice beating Sultan's father. He was forced to admit the Maratha rule as the ultimate authority in 1764 & 1767. Madhavrao succeeded in defeating both Sultan and his father & marched into Srirangapatna.
Ali realized Madhavrao's power and gave the title of Mysore's Nawab. However, Tipu Sultan wanted to quit the Marathas' treaty, so he tried to add some Maratha castles in Southern India that the Marathas conquered in the previous battle. Furthermore, he also put an end to Hyder Ali's commitment to pay tribute to the Marathas.
Assistance to His Father
When Tipu was fifteen years old, he joined his father in an attack on Malabar, and for the 1st time, he was able to put his military training to be used in battle. After a military embargo, the Siege of Tellicherry in Thalassery, North Malabar, Ali began to lose his Malabar possessions. Sultan arrived from Mysore to reclaim control of Malabar.
He returned home after the Nedumkotta Battle (1789–90), owing to the monsoon floods, the Travancore army's tenacious defense, and news of the British invasion on Srirangapatnam.
3rd Anglo-Mysore Battle
Sultan opposed Dharma Raja for Travancore's acquisition of 2 Dutch-held castles in Cochin in 1789. In Dec 1789, he gathered men in Coimbatore with the launch of an attack on Travancore's lines on the 28th of Dec, realizing that it was a British East-India firm ally.
He failed to pass through Travancore lines due to the Travancore army's tenacious resistance, and the Maharajah of Travancore turned to the East-India Company for assistance. Lord Cornwallis replied by mobilizing firm and British armed forces and collaborating with the Marathas to defeat Tipu.
Failure in 1792 Campaign
Tipu's campaign in 1792 was a failure. He could not prevent the meeting of forces from Bombay and Bangalore before Srirangapatna because the allied force was very well-supplied. He started negotiations demanding surrender after nearly 2-weeks of siege.
He was obliged to give his half territory to the affiliates & give his two sons as a pledge in the treaty until he gives the British the 3-crores and 30-lakhs rupees declared as war insurance for the movement against him. He then gave the amount in 2-instalments and went back to Madras along with his sons.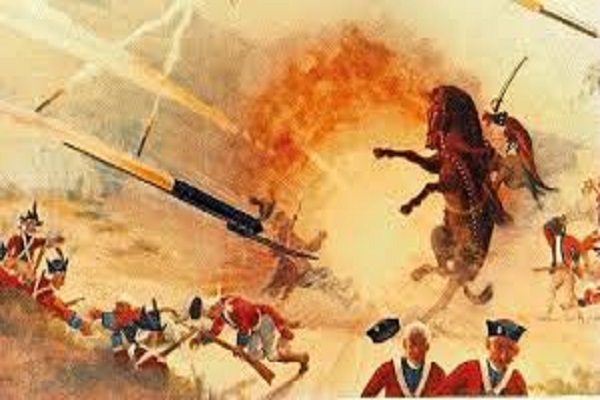 Efforts by Napoleon
He helped establish the Jacobin Mysore Club in 1794, with the cooperation of French Republican officials, to 'define legislation comfortable with Republic Laws.' He proclaimed himself Citizen Tipoo & erected a Liberty Tree.
The establishment of an intersection with Hindustan against the British was one of Napoleon's motives for invading Egypt. Bonaparte wanted to build a French influence in the Middle East, to connect with Tipu Sahib eventually.
Napoleon promised the French Directory, 'After conquering Egypt, he will establish connections with the Indian rulers and, together with them, confront the English in their holdings.'
Administration
During his reign, Tipu created a new coinage, new calendar, seven new administrative departments, and military advancements in the usage of rocketry.
Mysorean rockets
Mysore's rocketry use had been advanced by his father, who had made key advancements in both the rockets themselves & the military operations of their usage. In his army, he deployed up to 1,200 specialized personnel to control rocket launchers.
These men knew how to use the weapons and were taught to fire their rockets at an angle determined by the cylinder's diameter and the target's distance. The rockets were equipped with double serrated blades on the sides, which whirled and wreaked havoc on a big army when shot in quantity.
After Hyder's death, Tipu substantially increased the usage of rockets, sending up to five thousand rocketeers at a time.
Navy
In 1786, Tipu chose to establish a navy comprising of twenty battleships with seventy-two guns and twenty frigates with sixty-five cannons, continuing in his father's footsteps. He chose Kamal-ud-din as his Mir Bahar in 1790 and built enormous dockyards at Majidabad and Jamalabad.
The board of admiralty of Tipu Sultan was made up of eleven commanders that worked for a Mir Yam. A Mir Yam was in charge of thirty admirals, each of whom had 2-ships. Tipu ordered that the ships' bottoms be made of copper, an idea brought to him by Admiral Suffren that enhanced the ships' lifetime.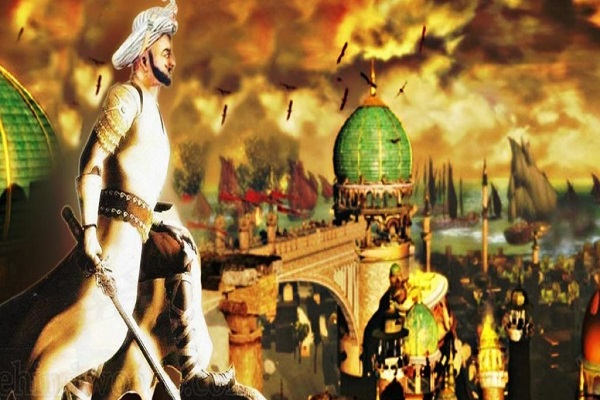 Economy
In the late eighteenth century, Tipu Sultan was at the pinnacle of Mysore's economic supremacy. He started on an ambitious economic development project alongside his father, Hyder Ali, to increase Mysore's revenue and wealth.
With extremely productive textile and agricultural production, Mysore took control of Bengal Subah as the major economic force of India during his rule. At that time, the average income of Mysore was five times that of the subsistence level.
Tipu set the foundation for the Kannambadi dam construction on the Kaveri River, as evidenced by an existing stone plaque displaying his name but was failed to start the project.
Road Work
Tipu was a pioneer of road work, particularly in Malabar, and as part of his efforts, he built roads connecting most of the cities.
Social System
Judiciary
For Muslim and Hindu subjects, he used to appoint judges from both religions. In each province, there is a Pandit for Hindu individuals and Qadri for Muslims. The system is similar in the upper courts as well.
Orders Regarding Moral Values
Liquor consumption was strongly forbidden during his administration. Psychedelics, like Cannabis, were likewise forbidden from use and cultivation.
Portrayal in TV and Films
Indian historical soap movie Tipu Sultan, released in 1959 and directed by director Jagdish Gautam, Paidi Jairaj played the role of Tipu. In 1988, Shyam Benegal produced and directed the Doordarshan serial Baharat Aik Khoj, which featured a whole episode on Sultan. Salim Ghouse, a well-known Television actor, played the title role, with Ravi Jhankal, Vijay Kashyap, and Tom Alter in supporting roles.
In 1990, Bollywood star Sanjay Khan directed 'The Sword of Tipu Sultan,' a TV series based on Bhagwan Gidwani's historical novel.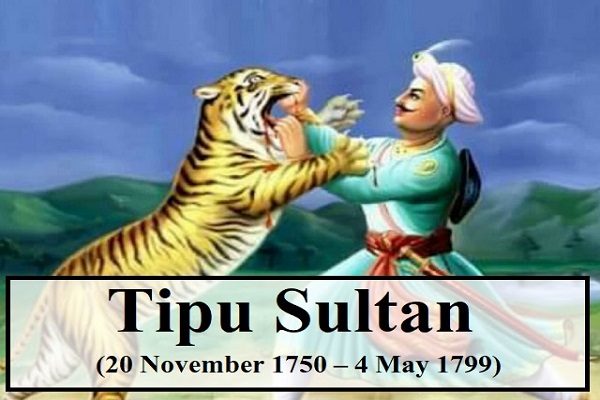 Tipu Sultan Death
Tipu was assassinated at the Hoally Gateway, which was 270 meters from the Srirangapatna Fort's N.E. Angle. The same afternoon, he was laid at the Gumaz, adjacent to his father's grave. Many British East India Company members suspected that the Carnatic Nawab, Umdat Ul-Umra, had secretly helped Tipu during the battle and demanded his dismissal after 1799.