Syed Haider Farooq Maudoodi is the son of Jamaat-e-Islami founder Syed Abul A'la Maudoodi.  Brought up under the shadows of Syed Abul A'la Maududi, preacher of Sharia-based state in the subcontinent against secular democracy, Syed Haider Farooq Maududi managed to rise above his father's fundamental ideology. He is a strong critic of his father's Jamaat-e-Islami.
    
| Title | Description |
| --- | --- |
| Personal | |
| Name: | Syed Haider Farooq Maududi |
| In Urdu: | سید حیدر فاروق مودودی |
| Famous As: | Religious Scholar |
| Nationality: | Pakistani |
| Residence: | Lahore |
| Education: | Studied in an English medium school |
| Religion: | Islam |
| Profession: | Islamic Scholar |
| Born | |
| Place: | Pakistan |
| Family | |
| Parents: | Abul Aala Moududi |
| Siblings : | Khalid Moududi |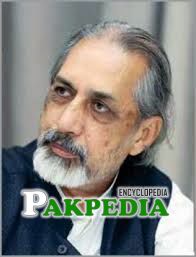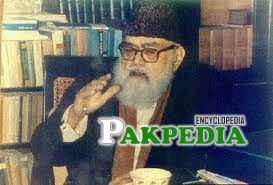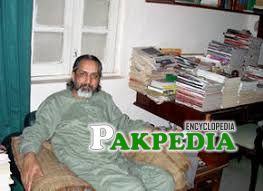 Profile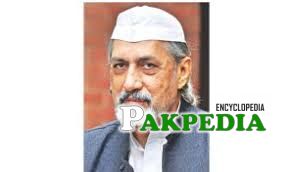 Syed Haider Farooq Moududi was born in Lahore, Pakistan. The 69-year-old former pilot studied in an English medium school, but refuses to speak in English. He is now a columnist in Lahore. 
Upbringing
About his upbringing, he said his father never let his children read his books or allowed them to involve in Jamaat or any other likeminded politics. "If he ever saw us in a rally or demonstration, he would later call us and ask what business we had standing there. He totally kept us away from all these." "This is a tragedy of all our religious politics that we use people's children, but keep our own away from it as we all know about its negative impacts," he added. Asked why his father had kept his children in the dark about his political views, he said, "The person who is at the helm knows about its inside well." [1] profile
View oncreation of Jamaat-e-Islami
On the creation of Jamaat-e-Islami in 1941, Farooq said his father's political ideology was a result of the era he was born in. "In the era he was born, there was communism, imperialism and he had made Islam also a system of ism, a system of life," he noted. On religion-based politics, Farooq said, "Religion is for the people and people are not for religion. Religion makes a human being a good human being." However, religious sentiment is so deeply rooted in this region that no one is ready to listen to the right thing, he observed. Describing the Jamaat-e-Islami of Pakistan and Bangladesh as equals in an interview, he said Jamaat should not do politics in Bangladesh, whose birth it had opposed. 
Abul Kalam Azad warned Moududi
Farooq  stated in an interview that Maulana Abul Kalam Azad, a senior political leader of the Indian independence movement , had warned his father about creating a religion-based party, saying that religious-minded people would gather under its umbrella, bringing about no good. 'That is exactly what happened. When my father founded the party, religious fundamentalists gathered around him. He (Abul A'la Maududi) used them for political purposes, knowing them how dangerous they could be,' he added. He said his father knew that the Jamaat-e-Islami had deviated from his vision, but he decided not to do anything about it for his advanced age.
Moududi was against Pakistans creation
Syed Abul A'la Maududi too had opposed the creation of Pakistan during the partition of the subcontinent in 1947 because, to him, Pakistan was a state for the Muslims, not an Islamic state. 'He (Abul A'la Maududi) said this is not Pakistan. He didn't accept Mr. Jinnah's logic (of a nation-state for the Muslims). But ultimately he had migrated to Pakistan, where he floated the party saying that if you made Pakistan on the basis of Islam, we have all the right to make it an Islamic state,' Farooq said quoting his father. He elaborated on how Jinnah had changed his stance about religion and allowed the practice of religion by the non-Muslims, declaring that the state would not interfere in the matter. "Asked if the Jamaat's opposition to Pakistan and then his father's doing politics in the very country can be viewed as similar to the Bangladesh Jamaat-e-Islami's role here, he replied, 'Though my father had opposed Pakistan, the circumstances were such that he had to migrate to Pakistan.' [2] Creation of JEI
Haider disagreed with Jinnahs ideology

Talking about the two-nations ideology, Haider passed the comment that "Jinnah Saheb Muhammad Ali Jinnah) was a congress member before the partition. In 1931, during the Khilafat Movement, Gandhi (Mahatma Gandhi) supported Moulana Abdul Kalam Azad's movement. But Jinnah resigned from Congress. At that time, Jinnah Saheb wrote a letter to Gandhi ji. He wrote: "You are using religion in politics and it will bring bloodshed only." He also wrote: "Such usage would divide Hindustan (Before partition of Pakistan and India)." But sadly, what Jinnah opposed, he did the same at one point. He formed the Muslim League. What was the result? India and Pakistan separated. Only based on two religions, these countries were formed. But was that fair? In Hindustan there were/are at least 17 religions. Then it should have divided into 17 parts, isn't it? Was it not a dangerous step? So, it was divided based on who is Muslim and who is not. Hindu, Budhdhist, Sikh, Parsi they all were Hindu? It is indeed very very dangerous when such division took place based on some shallow speculation of religion, using religion. Such division in fact brings destruction of Islam. He added that Religion is being used here in politics so that politicians can take benefits of religious sentiment. They want people to cast votes out of that sentiment. The only reason for using religion in politics is to exploit people's emotion. They gain sympathy from the religious minded people. [3] Jinnah  
Both Jinnah and Maududi had changed
Both Jinnah and Maududi had changed their stances. Jinnah had shifted his ground from creating a Muslim state to a secular one and Maududi from opposing Pakistan to trying to establish religion-based politics. 'As a consequence, we are left in a state of chaos, as you can see now,' said Farooq.
Vocal critic of the protagonists of Jihad in Kashmir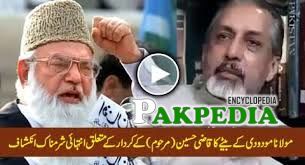 In his(Haider's) visit to India, he expressed the view that three wars have been fought between India and Pakistan over Kashmir since their inception fifty years back and therefore, the Kashmir issue should now be solved at any cost and the Kashmiri Muslims should get the same benefits which are being enjoyed by the other Muslims living in India. He told the Kashmiri leaders that they were getting their young generation killed without any reason. The education, economy and everything of Muslims is being destroyed. He asked them to hold talks with the Indian government and get their demands met legitimately and constitutionally. [4] Kashmir  
Every bloodshed is not Jihad
 Haider expressed his view that the bloodshed in Kashmir could be anything but not Jihad. He said that "What kind of 'Jihad' is being fought in Kashmir, people even do not know the difference between 'Jihad' and violence. The ongoing blood-bath in Kashmir in the name of 'Jihad' can not even be termed as 'Khurooj'(revolt).  
Stance over JEI policy
He stressed that Islam taught 'us' that if we, want to fight against anyone, 'we' should fight openly and if 'we' wish to maintain friendly relations with someone, 'we' should stick to that relation without any prejudice. es, presently the situation is such that Jamaat receives Rs. 60,000/- for every militant killed in Kashmir out this, only 15,000-20,000/- are being given to the families of the martyrs, while as the remaining amount is eaten up by the JEI leaders themselves who have opened a factory of martyrs. JEI leaders have made money by getting others children killed. As far as they themselves are concerned, no son of late Qazi Hussain Ahmad was killed either in Afghanistan or Kashmiri, 'Jihad' and his children are leading a luxurious life while studying in the United States.