Sonia Shamroz is a competent Pakistani police officer who is setting inspirational examples for all women who are trying to achieve something. She is the first woman who has been appointed Khyber Pakhtunkhwa police Chief in all these years. Earlier, Aneela Naz got the opportunity to become the first traffic cop woman of the same province.
Sonia has reduced the suicidal rates of women to great extent and is empowering them to step forward and achieve their goals with confidence and competence. This article features every detail about this brave lady including Sonia Shamroz Biography.
| | |
| --- | --- |
|             Title |            Description |
| Name: | Sonia Shamroz |
| Nationality: | Pakistani |
| Religion: | Islam |
| Education: | CSS |
| Profession: | Police Officer |
| Serve As: | DPO |
| Marital Status: | Married |
| Children: | 1 Daughter |
| Social Media Handle: | https://www.facebook.com/ASP.Sonia.Shamroz/ |

Sonia Shamroz Biography
Sonia Shamroz Khan is a brave police officer who belongs to Khyber Pakhtunkhwa. She got into prominence after being assigned as police chief of her province, KP. Many people were against her profession and victory at the start but now people consider her as the biggest inspiration because of her achievements.
The area from where she belongs is conservative that is against woman education for which Sonia had to receive a lot of criticism. However, it didn't stop her to move forward and today she has received the fruit of her hard work and determination. She is empowering girls to receive their education and fulfill their dreams and ambitions.
Sonia Date of Birth
She was born in Lucky Marwat, a small town in KP Province.
Education of Sonia
She received her education from Army Burn Hall College. Afterward, she appeared in CSS exams and passed the exams with her hard work and the support of her family members. She has also been to York University where she studied Violence and conflict against Women.
Sonia Shamroz Family
She has been quite lucky to get supportive parents and in-laws. Despite being a mother she didn't put a break to her goals and with the support of her family, she went further and further. Her 4 sisters are as motivated as Sonia. Her in-laws fully supported her throughout her journey.
Career
Initial Career
After passing CSS exams, she faced many challenges in life but remained firm throughout this complicated journey. Without having any government background she has achieved everything on her own. She has always been fascinated with the uniform that kept her dreams alive. In the start, she was made assistant superintendent in Mansehra where she got to learn a lot.
She made a visit to different crime scenes that gave her more confidence. Sonia has also appointed in Abbottabad and Oghi previously and also served as a principal in a school situated in Mansehra. In her career, she has attended many training sessions organized by national and international departments.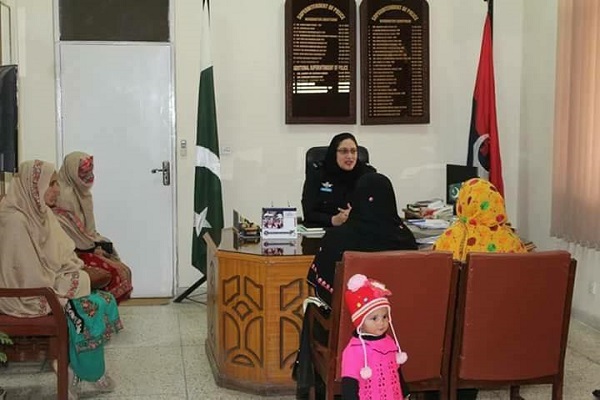 As a DPO
Despite being remarkable throughout her journey she was being highlighted after being appointed as the first-ever woman DPO of her province KP. She is appointed on Chitral police stations where she did more wonders. She has reduced a lot of suicidal rates of women and is empowering them in terms of education.
The other issue she is handling gracefully is preventing the marriages of young girls. Sonia Shamroz is associating with different women officials to encourage women so that they come forward and discuss their issues and problems. She has solved 100 cases till now which is another significant victory.
Social Media Handles
Her social media account include
https://www.facebook.com/ASP.Sonia.Shamroz/