Quetta Gladiators is a professional Twenty-20 cricket team that performs in PSL (Pakistan Super League). The Gladiators were champions of PSL season 2019. The squad is based in Baluchistan's provincial capital Quetta. This franchise was founded in 2015 when PCB (Pakistan Cricket Board) announced PSL formation.
Bugti Stadium is the home ground of this team. Sarfraz Ahmad is the team captain and former wicket-keeper of the Pakistani cricket team Moin Khan serves as team coach. Viv Richards, a West-Indian legend, is a mentor and Azam Khan is the manager of Gladiators, and Abdul Razzaq is an assistant coach. This article contains all the information about the team, including Quetta Gladiators Seasons.
| Title | Description |
| --- | --- |
| Details | |
| Type: | T20 |
| Location: | Pakistan |
| Information | |
| Captain: | Sarfraz Ahmed |
| Coach: | Moin Khan |
| Owner: | Nadeem Omer (Omer Associates) |
| History Information | |
| Wins: | 0 |
| Website: | http://www.quettagladiators.com/ |
| Team Information | |
| Team: | Quetta Gladiators |
| In Urdu: | کوئٹہ گلیڈیٹرز |
| Founded: | 2015 |
| Run-Scorer of the Team: | Ahmed Shehzad |
| Leading Wicket-Taker of the Team: | Mohammad Nawaz |
| City: | Quetta, Balochistan, Pakistan |
| Capacity : | 20,000 |
| Home Ground: | Ayub National Stadium |
| League: | Pakistan Super League |
| NickName: | Shan-e-Pakistan |
| Batting Coach/Mentor: | Sir Viv Richards (Antigua and Barbuda) |
| Fielding Coach: | Julien Fountain (England) |
| Bowling Coach: | Ian Pont (England) |

Formation of Gladiators
In Dec 2015, PCB (Pakistan Cricket Board) unveiled holders of all five franchises for PSL's inaugural season. A Karachi-based firm Umar Associates purchased the Quetta franchise for 11 million US dollars. 
Quetta Gladiators Seasons 
Seasons 2016 
Gladiators started their PSL 2016 season with easy victories over Karachi Kings and Islamabad United before overcoming Zalmi in a critical game. After getting defeated by Qalandars, the next match went in favor of Gladiators.
Grant Elliot, the New-Zealand team's all-rounder, made this victory possible against United by taking three wickets and restricted Islamabad United to one-hundred and seventeen scores. This victory led the team to the top of the score table, and in the next match, another win against Kings made it 1st group to make play-off stage of season 2016. 
Ranked 2nd in PSL Table
Gladiators ranked second in PSL (Pakistan Super League) table by winning six matches out of eight while Peshawar ranked first. 
Victory Against Zalmi
In the 1st qualifier game, Gladiators defeated Zalmi by 1-run. With Quetta scoring one-hundred and thirty-three score, Kevin Pietersen made fifty-three runs, and Kumar Sangakkara made thirty-seven runs in this matchmaking the victory possible. Zalmi, as a reply, made one-hundred and thirty-two score.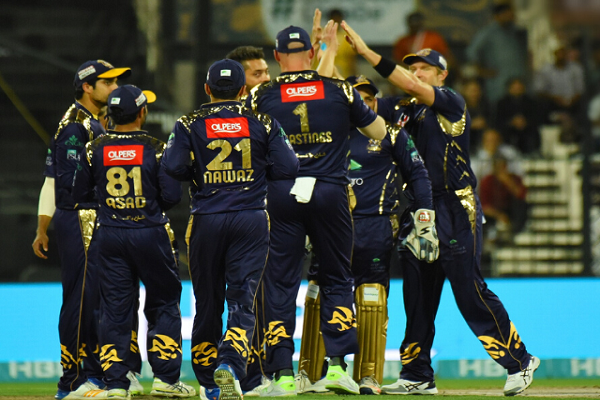 Defeat by United in Final Match
This victory led the Gladiators to the final match and got defeated by United by 6-wickets, making a total score of 174 on seven outs. Sangakkara made fifty-five runs, and Ahmad Shahzad made sixty-four runs. Shahzad made two-hundred and ninety runs, becoming an outclass run-scorer of the team. Muhammad Nawaz was declared a notable wicket-taker by taking thirteen wickets for his team. 
Season 2017
For season 2017, two outstanding players left the squad; Grant Elliot joined LQ, and Sangakkara joined Karachi Kings. Gladiators retained ten cricketers in advance of the player's draft of season 2017 and signed the remaining eight during the draft. The signings included foreign players David Willey, Tymal Mills, Carlos Brathwaite, and Rovman Powell.
Only Tymal joined the team while other players weren't available. Rilee Rossouw and Mehmood-Ullah Riad joined the squad to replace David and Muhammad Nabi, while Thisera Perera and Nathan McCullum replaced Carlos Brathwaite, Rovman Powell.
There were many reasons behind these changes, including injury of some players and players not getting NOC (No Objection Certificate) to manage clashes with a schedule of international matches.
Victory Against Qalandars
In the opening match of season 2017, Quetta chased a target of one-hundred and thirty-seven runs against LQ. It was an exciting and critical match that moved to the penultimate over, and Quetta won the game by eight runs.
Hassan Khan, the emerging talent, was declared man of the match for showing an excellent performance by two wickets and sixteen runs. In the next match, Quetta defeated the Kings by seven wickets. 
Sharjah Tournament
During the tournament's 2nd leg held in Sharjah, Quetta lost their 1st match against Islamabad United. After making one-hundred and forty-nine runs in twenty overs, Gladiators strived to increase their innings but lost five wickets.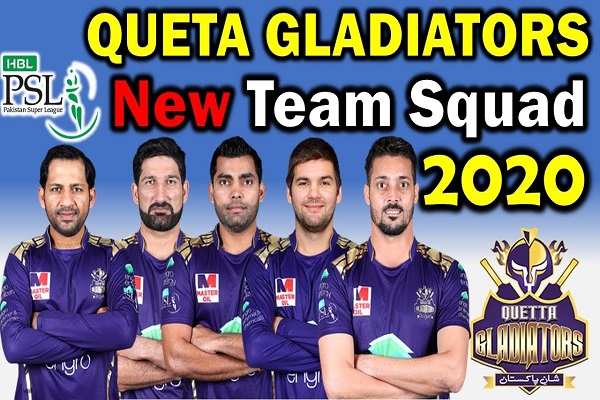 Brilliant Partnership Between Ahmed and Kevin
In the next game against Zalmi, repeated showers led to match delay, and those two squads shared points from bouts. The Gladiators successfully chased a target of two-hundred and one against Qalandars. Sarfaraz Ahmed and Kevin Pieterson made one-hundred, and one runs in their partnership that proved instrumental in tracking the target. 
Tournament in Dubai
When the tournament was moved to Dubai, Quetta maintained their winning sequence by defeating KK by six wickets. A partnership between Asad Shafique (45 runs on 33 balls) and Ahmed Shehzad (54 runs on 40 balls) proved instrumental in chasing one-hundred and fifty-five runs. 
Defeated by United & Zalmi
The Gladiators got defeated by Zalmi and United in the next two games of the league. Despite a great partnership between Ahmed and Kevin making one-hundred and thirty-three runs team failed to chase one-hundred and sixty-six runs.
The team required 7-runs in the last two overs but, unfortunately, lost the match by one run. In the next game, Quetta made a score of one-hundred and twenty-eight by batting first. However, it did good bowling and fielding and reduced Zalmis to 52-6. 
Unexpected Defeat of Zalmi
Quetta defeated Zalmi in the play-off by one-run in an exciting match. Quetta batted 1st and made a heavy target of two-hundred and one run. Kevin (40 on 22 balls) and Shahzad (71 on 38 balls) made this target possible by their aggressive batting.
Zalmi, in reply, played brilliantly and was most likely to win the game, but spinner Mohammad Nawaz made this victory impossible and became 1st squad to reach the final.
Final Match between Zalmi & Gladiators
In a final match, Zalmi and Gladiators were again in Infront of each other, and Gladiators got defeated by Zalmi. Zalmi batted 1st and were at 112/6 before Darren scored thirty-three runs in the last 2-overs, making a total score of one-hundred and forty-eight. In reply, Gladiators made only ninety runs with a rapid loss of wickets. 
Season 2018
In the opening match of season 2018, Quetta blemished its 100% victory rate against KK and got defeat by them for 1st time by nineteen runs in chase of one-hundred and fifty runs. In the next game made a great comeback against LQ. It was their largest victory regarding wickets margin, as they achieved the target of 120 in fourteen overs. 
Tournament in Sharjah
When the tournament moved to Sharjah, Quetta defeated United by six wickets by successfully chasing 135 runs. Pietersen made forty-eight runs. In the next match, Gladiators got dominated by Peshawar.
Gladiators batted 1st and made a target of one-hundred, and forty-three runs, Zalmis in reply, made 107/2 before they lost three wickets, quickly ending up needing twenty-two runs from the last 2-overs. Despite being injured Sammy, won the match by making sixteen runs from four balls. 
Defeated by Sultans
Multan Sultan defeated Gladiators; gladiators batted 1st and made only one-hundred and two runs and suffered a significant batting collapse by losing five wickets for a single run. 
Tournament in Dubai
When the tournament moved to Dubai, Quetta's fortune turned, and the team has a victory against Sultans by two wickets.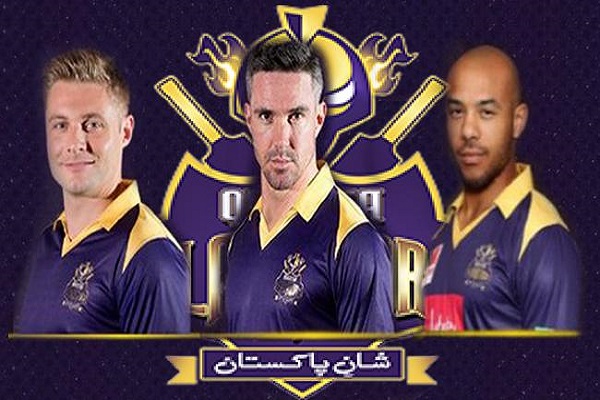 Defeated Kings and Zalmi
Quetta maintained its winning sequence by beating Zalmi and Kings. Gladiators gave a target of one-hundred and eighty-one runs to Kings. Kevin's performance (52 runs on 34 balls) and Shane Watson (90 on 58 balls) contributed to this victory. Gladiators chased a target of one-hundred and fifty-eight runs against Zalmi in the final over. 
Season 2019
Quetta lost three games and won seven matches, finishing the group stage with 2nd position. In the qualifier, they defeated Zalmi by ten runs. The final match was held in Karachi, and Quetta beat Zalmi by eight wickets to secure their 1st title. Muhammad Husnain of Gladiators was declared man of the match.
Season 2020
In season 2020 team began with a victory against United by three wickets in the season's opening match. In the 2nd match, Zalmi defeated Gladiators by 6-wickets. The squad won the next two games against KK and IU, respectively, both by 5-wickets.
Then Quetta faced a defeat in its four matches, and the 9th match got abandoned due to a shower. Gladiators defeated Karachi by five wickets in the last match, with points equal to Peshawar but didn't qualify for play-offs. The team ranked the fifth position at the points table.
Identity of Team
The Gladiators owner, Nadeem Umar, revealed the team's official logo and name on 6th Jan 2016 in Quetta's ceremony. The logo portrays Galea's adaptation of a Roman soldier's helmet worn by team players. The primary colors of kits are Golden and Purple.
On 7th Jan 2016, in a ceremony, this kit was disclosed. Kai Kai Quetta is the chant of the team, meaning 'We are Coming.'
Quetta Gladiators Anthem
For season 2016, Faheem Allan and Fakhir Mehmood sang the team's theme song 'Cha Jae Quetta.' For season 2019, DJ Bravo sang 'We the Gladiators.'
Quetta Gladiators Ambassador
In 2017 Gladiators selected Pakistani pop musician Annie Singer as a team ambassador. Other ambassadors included Kaleem-Ullah, a footballer belonging to Chaman, and Ahmad Mujtaba, an MMA fighter belonging to Quetta. In 2018 Fakhir Mahmood and Maya Ali joined Gladiators as its brand ambassadors. Maya continued this ambassadorship until 2019.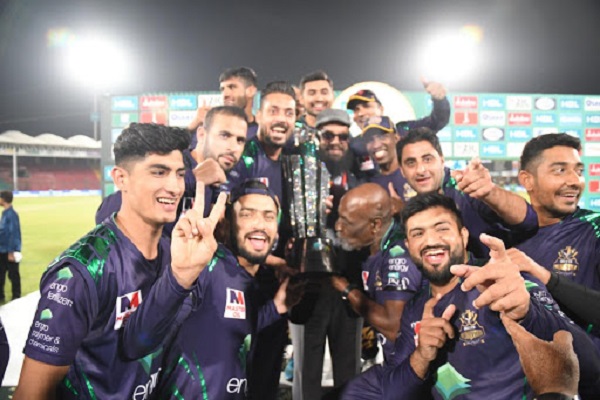 Sponsors of Gladiators
ACM Gold and Edenrobe were official partners and title sponsors of the team, respectively, and for 2nd season, JICK (Jubilee Insurance Company of Kenya) became the team's title sponsor. KHL and Chocka were official partners, and Master Oil was the Associate Sponsor of the group. FM 89.4 and PTV Sports were media partners, and Tapmad was the streaming partner.
Quetta Gladiators Captain and Coach
Sarfraz Ahmad-Captain
Moin Khan-Coach
Social Media handles
https://twitter.com/TeamQuetta
https://www.facebook.com/TeamQuetta/