Known as the 'Bulbul Sehra,' Reshma evoked the magic of her voice in folk music for decades and sang in Pashto, Sindhi, and Rajasthani languages besides Urdu. She did not have formal music training, but singing in the 1960s and 70s made her the most popular folk singer. The pain in her voice was unparalleled. This article has all the information about her, including Reshma Biography and Reshma Songs.
| Title | Description |
| --- | --- |
| Personal | |
| Name: | Reshma |
| Famous As: | Folk Singer |
| In Urdu: | ریشماں |
| Nationality: | Pakistani |
| Residence: | Karachi |
| Education: | Reshman did not receive any formal education |
| Religion: | Islam |
| Profession: | Singer |
| Years Active: | 1968-2004 |
| Awards : | She bagged various awards |
| Born | |
| Date: | 1947 |
| Place: | Ratangarh, Rajasthan, British India |
| Family | |
| Spouse: | Married |
| Children: | 4 Son and 3 Daughters |
| Parents: | Haji Muhammad Mushtaq |
| Died | |
| Date: | 3rd November 2013 |
| Rest Place: | Lahore |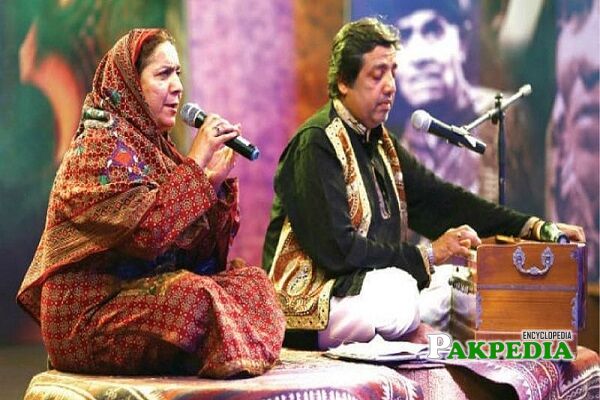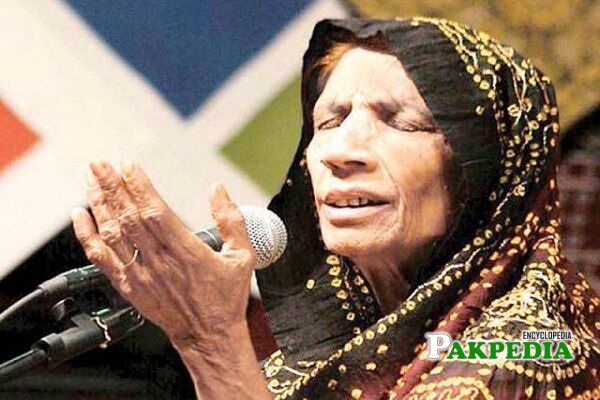 Reshma Biography
She had a very simple and gentle temperament. Despite reaching the heights of success, Reshma, who evoked the magic of her voice by playing Gadvi around the city, did not forget her past. In her voice were the vastness of the desert, the pain of the forest, and the river's flow. She tried to promote love, peace, and brotherhood in the society through her art. She made her country famous through music and also highlighted the Pakistani culture. She was awarded Sitara-e-Imtiaz and title of 'Bulbul Sehra' by the Government of Pakistan.
Reshma date of Birth
She was born in 1947 in the Indian state of Rajasthan and belonged to a gypsy family. She moved to Karachi with her family during the Partition of India.
Education
Being from an impoverished and nomadic family, she did not have a formal education.
Reshma Family
She belonged to a gypsy family who migrated to Pakistan after the partition of India.
Music Career
Initial Career
She started her artistic career with Radio Pakistan. She used to perform at the shrines of various Sufis at a young age. Radio Pakistan producer Saleem Gilani heard her singing at Lal Shahbaz Qalandar's mausoleum. Her voice impressed him so much that she was allowed to sing on the radio. She was just 12 years old when her voice was the first broadcast on Radio Pakistan. At that time, she sang 'Lal Meri,' which became very popular and then gradually became a famous folk singer.
Work on TV
When Pakistan Television founded in the 1960s, she started singing for TV. Songs aired on Pakistani television in the '60s, and 70's made her the most popular folk singer in Pakistan.
Services To Indian Music Industry
She also visited India at the invitation of former Prime Minister Indira Gandhi. Many of her songs were also included in Indian films. In Bollywood, she was offered a song by Raj Kapoor for his film 'Bobby' were her first song, 'Akhiyon Ko Rahne De,' became world-famous. Well known Indian director Subhash Ghai decided to include her voice in one of his films; thus, Reshma sang 'Lambi Judaae' for the movie 'Hero' which also made her famous. And this song is still viral on both sides of the border, and this film is still known today because of her song.
Popular Songs
Some of her other popular songs include 'Sun Charkha Di Mithi Mithi Kook Mahiya Menon Yaad Aanda,' 'Way Mein Chori Chori,' 'Dama Dam Mast Qalandar,' 'Ankhiyan Nu Ren De Ankhiyan De Kool Kool' and 'Hai Raba Niyon Lagda Dil Meera.'
Reshma Death
She was diagnosed with throat cancer in the '80s, but despite her long illness, she continued to show the essence of her singing. Former President Pervez Musharraf provided her with full support for her treatment. She passed away on November 3, 2013, at the age of 66. She may have left this world, but she will live forever in the hearts of her fans.
Reshma Songs
Naiyoon Lagdaa Dil Meraa
Lambi Judaae
Aa Mil Ranjhao Yar
Aam Key Neechay
Aye Mosam Rangeelay Sohanay
Akhiaan Milaa Key Channaa Paween Naa Judaai Wee
Akhiyaan Nuu Rehn Dey
Aksar Shab E Tanhaai
Ali Dum Dum Mein Andar
Asen Bhool Gae Aan Akhiyan Lakay
Aundiyaan Naseebaan Nal
Babu Vey Mainoo Ticket
Badii Lambe Judaai
Bandra-Rajistaani Geet
Banjaaria Payar Kahnon Terey Naal
Bhangraa
Bhaveein Tu Jan Na Jan
Bhool Janiyaan Kisay De Naal
Boondaan Tey Baras Riyaan
Challaa
Changii Naein Kiiti
Chanaa Kithaa Guzaari Aie Rat Vey
Chana We Raataan Chandniyaan
Chhelle Thakee Londonee
Chi Chi Daa Challaah
Chori Chori
Dama Dam Mast Qalanddar
Dard Kaafi Hei
Daikh Hamaray Mathay Par Yeh
Dhamal
Dholaa Vey Rattan
Dholey Ri Momal
Dil De Pukaar
Dama Dum Mast Qalanddar
Ik Tenu Mangiyaii Rab Kolun
Gal Ishq De Malaa
Galiyaan Dey Kakhaan Wangon
Gham E Hayaat Mein Koii Kamii Nahein Aaye
Gin Gin Taaray
Guloon Se Khailti Hogii
Hye O Rabaa
Heer
Hosh Bhulaa Bethi
Ik Tenun mangiyaa Rab Koloon
Ishaq Daa Dhokhaa
Ja Ve Vichhoria
Jai Kaali Maa
Jaani Raat Reh Poo
Kahnon Kita Payar
Kalaari
Kamli Daa Dholaa
Kamli-E-Maa
Ke Khatia Dil Laa Key
Kesariaa balama
Kithe Nain Naa Jorein
Kithey Takrey Tey Haal
Koi Ishaq
Lambi Judae
Le De Menu TV Balma
Lo Dil Ke Bat Aap Bh Humsay Chupaa Gaye
Mar Ditaa Mainon
Mahi Gal Jadon Karda Ae
Maihon Jhaliyan
Mein Te Mirzaa Yar
Menu Ishq Ho Gaya
Mast Qalanddar
Mosam Rangeeley Suhaney
Maya-Lok
Mein Payar Kita
Menu Har Weley Teriyaan Odikan
Merey Chan Pardesi
Mere Sajjan Ko
Mere Hamjoliyaan
Meri Ujaddi Jok Wasaa Ja
Mila payar Na Teraa
Muk Chaley Sa
Na Dil Dendii Bedardi Nu
Naeen Bhulnaa Vey Tenoon
Nagar Nagar Galii
Naiyoon Lagdaa Dil Meraa
Nehar Walay Pul Te Bulaa Key
O Ghadii Changi
O Lal Mere Pat
Peer Meraa Mushtaq Hussaini
Raba Aey Vichooriyan
Rabaa Ke Qasoor Kitaa
Rajistaani Lok Geet
Rang Barangii Duniyaa
Challah
Rog Buraa Ishq Da
Sanon Toon Bhulaa Key
Sadaa Chiryaan
Sadey Wal Mukhdraa Mor
Sahnon Bhool Jayein Saada Payar
Sajnaa Wichore Terey
Sayonii Meraa Dil Dhadkay
Senraan Raa Bairya
Shabaaz Qalanddar
Siraaiki kalaam
Sun Charkhay Di Mitthe
Tak Patrii Wallaa Lekh
Teri Judai
Toon Kulii Toon Kul
Tu Mil Jaaye
Uth Gae Gawaandon Yaar
Way Mein Chori Chori
Yar Sonaa
Yana Raba Aeryaa