Nestle Pure Life Water
Nestle Water is a French multinational company that offers clean and pure drinking water to the people. It was founded 29 years ago, in 1992, by Henre Nestle. However, Nestle Water is quite different from the leading Nestle company. It is a division or subsidiary of Nestle with more than 30,000 employees, where the CEO of Nestle Water is Maurizio Patarnello.
Apart from that, through its success in creating a unique and refreshing means of pure water extracted from wells and other water sources, Nestle Water has become one of the largest water brands serving more than 20 countries. For example, if you are living in the US, you can use ReadyRefresh as your company for Nestle Water delivery to your home or office.
| | |
| --- | --- |
|                       Title |                           Description |
| Name: | Nestle Water |
| Type: | Subsidiary |
| Headquarter: | France |
| Founded In: | 1992 |
| Area Served: | Worldwide |
| CEO: | Maurizio Patarnello |
| Parent: | Nestle |
| | |

Nestle flavored water
Nestle started making flavored water beverages after its success in pure drinking water. The flavored water came with zero calories, zero sugar, and six different flavors. By the name of Splash Dance, Nestle had introduced sweet and bold fruit flavors to their drinking water. The flavors include;
Splash Lemon
Splash Pineapple Mango
Splash Strawberry Melon
Splash Wildberry
Splash Grape
Splash Mandarin Orange
People can quench their thirst with a punch of sweetness and exciting flavor in their drinking water. The Nestle Flavored Water Splash is purified and flavored, making it a fantastic alternative to sugary beverages. Also, Nestle Splash is available in almost twenty countries with six different flavors to match the customer's taste.
Nestle Water Brands
Nestle Water has reached sales of 7625 million Swiss Franc and expanded its company along with worldwide services. Moreover, it has different brands that are served under the following categories;
Nestle Pure Life
Poland Spring
Ozarka
Acqua Panna
Perrier
Vittel
Deer Park
Arrowhead
San Pellegrino
The top three most used water brands of Nestle are Perrier, Nestle Pure Life, and San Pellegrino. Apart from that, Nestle Water is the perfect partner in your daily life activities for easy, on-the-go hydration. Nestle is one of the most used water brands in Pakistan as well.
Nestle Water Dispensers
Water dispensers are compatible with 19L water bottles, also known as gallons. Nestle Water also provides 19L Plastic bottles of water to its customers for office and home-based purposes. Water dispensers run on electricity and serve to provide cold and hot water in their respective seasons. For example, in winters, you can drink hot water from the water dispenser at any time of the day.
You can either order your 19L Nestle Water bottle or go to the store and buy one for yourself. But, the most preferable and convenient option would be to choose a delivery company for your daily Nestle Water. You can get your Nestle Water dispenser at affordable prices ranging from 100 to 450 US dollars. You do not have to worry about getting a water delivery company.
Various small companies offer to deliver nestle or any other branded pure drinking water at your house or office with affordable deals.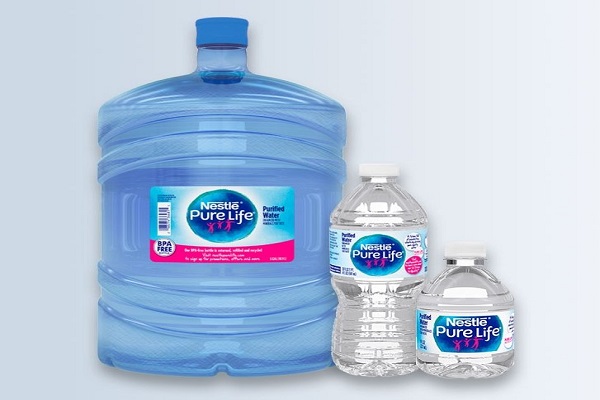 Nestle Water Coolers
The essential part of the accessories Nestle provides its consumers is the nestle water cooler. At the home, office, or any other place, nestle water cooler provides the easiest and convenient way for drinking water at any desired temperature. This specific accessory is handy at homes or any other place where people prefer different water temperatures.
Water coolers are offered without the bottles which are required for functionality. With that said, Nestle Pure Life water gallons can be installed on top of the water coolers to receive water in desirable temperatures; moderate, warm, cold, hot.
Nestle reusable and refillable water dispenser
Nestle came together under the startup MIWA to reduce plastic waste, piloted reusable and refillable water dispensers in different parts of Switzerland. The refill plus feature of the portable water dispenser is that consumers can personalize their water with 64 flavor combinations.
The target proposition for reusable and refillable water dispensers, according to Nestle, are retail shops and places where people once used to buy single-use Nestle products. However, Nestle plans to reduce single-use packaging, thus, reducing plastic and other non-biodegradable products being produced.
The non-biodegradable products are an excellent gesture to secure a friendly ecosystem. Furthermore, it will help prevent the damage done to the marine life because of the plastic waste disposed into the ocean, where thousands of fish and underwater animals suffer the maximum damage.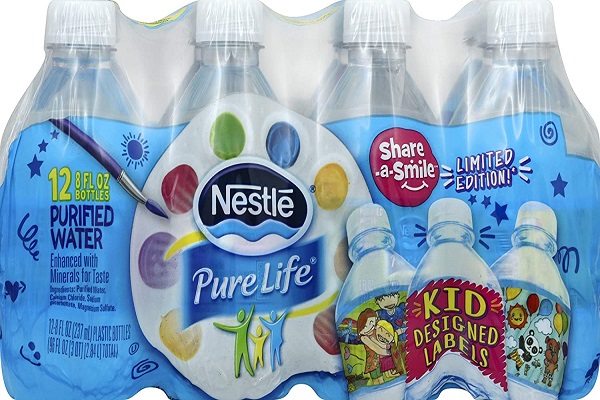 Nestle water pet bottles
Kids often disembark from the importance of staying hydrated. Be it at school or any other place. Yet, hydration is one of the essential factors in keeping us healthy. Therefore, Nestle introduced water pet bottles that usually come in 330 ml capacity and can easily fit in bags or lunch boxes for kids to carry around in school or any other place they spend most of their time.
This way, drinking water is rather fun and convenient for children as they are not required to carry bulky water bottles around and consider it a hectic job for the day.
Moreover, nestle water bottles are engraved with alluring graphic designs that further build children's interest in drinking water. Thus, it is safe to say that the minimum amount of water consumed every day by an average human being is reached.
Nestle Water Coupons
Nestle provides coupons and subscriptions to their customers. These will ensure the consumers' availability of clean drinking water at an affordable price. Though the coupons vary in different countries. Such as in the US, there are a few of the coupons mentioned as follows,
$1 off on Nestle pure life+ splash 6-pack printable coupon.
Nestle pure life at $1.75 each for buying a pack of 4.
$1 off each bottle for packs of 28PK 15 CT or 05L.
Nestle pure life bottled water for $0.05 per bottle.
Nestle pure life water is just $0.10 per bottle.
$2 in saving on nestle pure life water.
Get $1 off 2 Nestle pure life water.
These coupons can be printed for consumers through retail purchases and convenience. Coupons, however, work best in some of the developed nations around the world as it provides affordability and induces a healthy drinking habit.
Nestle Water Privatized
Nestle faced immersive setbacks from the public on privatizing their drinking water. Nestle was targeted for reducing the availability of natural clean drinking water packaged into bottles globally. However, experts say that some creek beds have become bone-dry after Nestle consumed the fresh water and processed it into bottled water which is being sold worldwide.
Though Nestle has been draining water from the natural sources of creeks, they have been providing a portable option for millions all across the globe. Moreover, Nestle pure life drinking water is cheap and readily available at any retail store or online marketplace.
This, in terms with the Nestle water controversy (is it okay to privatize natural sources of water into bottles which goes against human rights?), justifies itself in some sense because the locals with the availability of a clean source of water are blessed but about those who are struggling with ensuring healthy drinking habits are facilitated by nestling in some form or the other.
Nestle Pure Life Water Delivery
Nestle not only produces pure and clean drinking water, but it also aims to provide its customers with delivery services in the different areas that it serves. So, if you are looking for Nestle Pure Life water delivery, you can get your bottled water delivered to your doorstep with a ReadyRefresh Nestle water delivery service.
Moreover, you can order more for more than two 19L gallon bottles of Nestle Pure Life to be delivered either in your office or house. Also, when you select recurring delivery, you can save up to 50% of your money along with free delivery on your first order.
On the contrary, customers can not only get a one-time delivery of Nestle Water. But, they can also avail of an offer that will allow them to get their Pure Nestle Bottled Water delivered to them on a weekly or monthly basis.
Nestle Water Customer Service
Nestle Water provides their customers with a one-time free home delivery service that allows them to avail of 50% off their first recurring order. There are different bundle subscriptions for this service;
Hero and Superhero Membership Plan
Bundle Subscription (minimum three bottle bundle)
Another offer that Nestle Water provides to its customers is the free use of a water dispenser for three months. After the three months are over, they will be charged with the standard rental fee.
Apart from that, the customer service provided by Nestle Pure Life water has paved the way for convenience at your doorstep. The affordable deals on refillable 19L gallons of water make it cost-effective and efficient even for customers to avail the offers of water delivery at their doorsteps.
Nestle Water Home Delivery
The top three most used water brands of Nestle are Perrier, Nestle Pure Life, and San Pellegrino. Moreover, these water bottles are delivered with many conveniences in other countries, including the US. Therefore, you can get your Nestle Water bottle delivered to you in the US or any other place of residence in different sizes either, 19L gallons or 1-liter plastic bottles with ReadyRefresh on the go.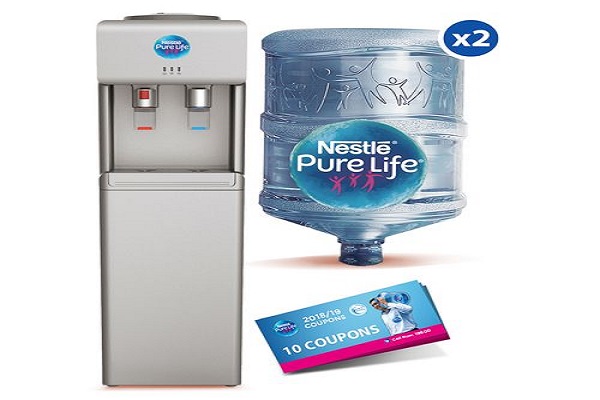 Frequently Asked Questions
Q: Who owns Nestle water?
A: It is owned by a French multinational company.
Q: Is Nestle water good?
A: It is one of the highly purchased water brands across the globe.
Q: Where does Nestle pure life water come from?
A: It comes from deep underground wells. To enhance its quality it goes through a long process.
Q: Where to buy nestle 5 gallon water?
A: You can buy it from any grocery store or order it online.
Q: How good is Nestle pure life water?
A: Nestle water is rich in sodium and minerals and is entirely safe to drink.
Social Media Handle
https://www.nestlepurelife.com/pk/
https://www.facebook.com/Nestle.PK