National Bank of Pakistan is one of the largest commercial bank operating in Pakistan. It has redefined its role and has moved from a public sector organization into a modern commercial bank. The Bank's services are available to individuals, corporate entities and government. While it continues to act as trustee of public funds and as the agent to the State Bank of Pakistan (in places where SBP does not have presence). It has diversified its business portfolio and is today a major lead player in the debt equity market, corporate investment banking, retail and consumer banking, agricultural financing, treasury services and is showing growing interest in promoting and developing the country's small and medium enterprises and at the same time fulfilling its social responsibilities, as a corporate citizen.In today's competitive business environment, NBP needed to redefine its role and shed the public sector bank image, for a modern commercial bank. It has offloaded 23.2 percent share in the stock market, and while it has not been completely privatized like the other three public sector banks, partial privatization has taken place. It is now listed on the Karachi/Islamabad/Lahore Stock Exchanges. [1]NBP Brief Summary
| Title | Description |
| --- | --- |
| Details | |
| Type: | Government Ownership |
| Name: | National Bank of Pakistan |
| In Urdu: | نیشنل بینک آف پاکستان |
| Motto: | Your Premier Bank |
| Traded As: | Karachi Stock Exchange |
| Industry: | Banking |
| Founded: | 1949 |
| Headquarter: | Karachi,Pakistan |
| Key People: | Muneer Kamal, Chairman Syed Iqbal Ashraf, President |
| Product: | Loans, Credit Cards, Savings, Consumer Banking |
| International offices: | United States, UK, Canada, Germany, France, Bahrain, Egypt, Bangladesh, Hong Kong, Japan, South Korea, The People's Republic of China, Afghanistan, Turkmenistan, Kyrgyz Republic, Kazakhstan, Uzbekistan, Azerbaijan and Saudi Arabia. |
| Revenue: | ₨53.72 billion (US$510 million) – 2015 |
| Net Income: | ₨19.22 billion (US$180 million) – 2015 |
| Owner: | Government of Pakistan |
| Office Overseas: | Include Beijing, Tashkent, Chicago, London and Toronto. |
| Subsidiaries: | Taurus Securities Ltd, NBP Exchange Company Ltd, NBP Leasing Ltd, NBP Modaraba Management Company Ltd, and CJSC Bank, Almaty, etc |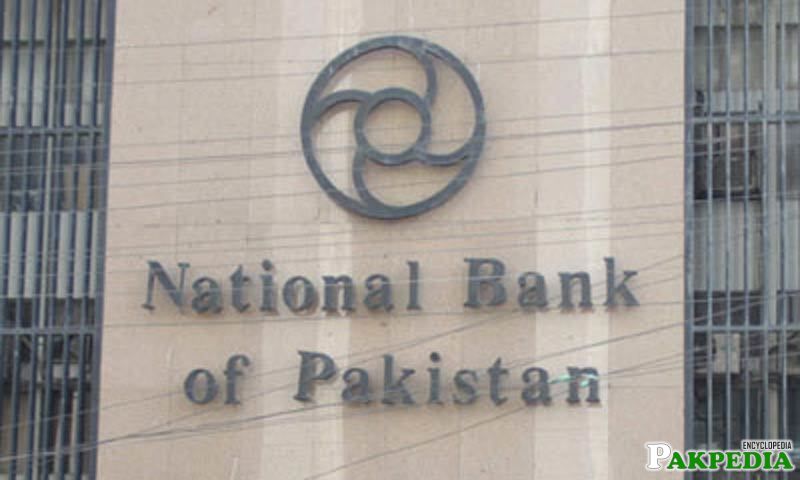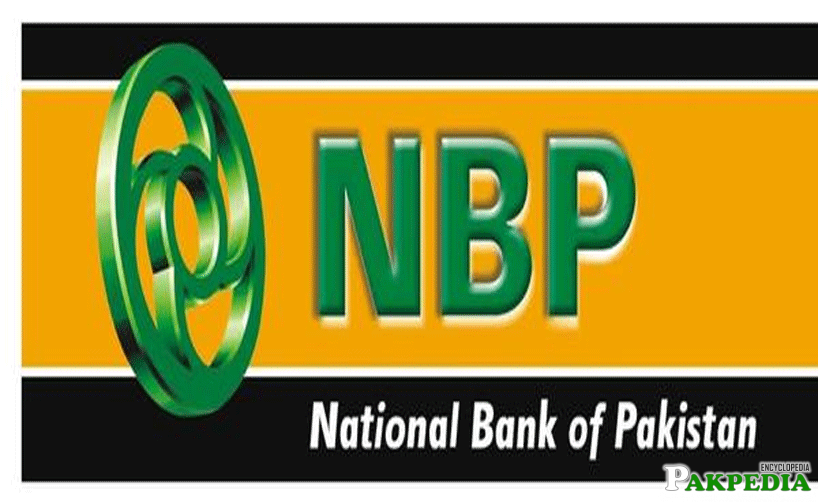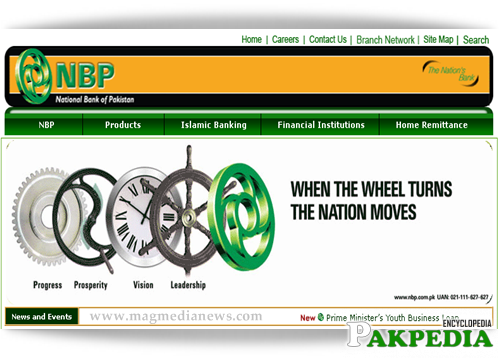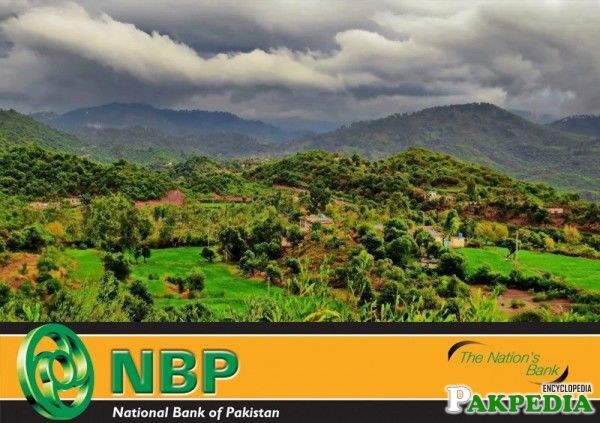 History

National Bank of Pakistan is part of Pakistan struggle for economic independence. National Bank of Pakistan was established on November 9, 1949 under the National Bank of Pakistan Ordinance, 1949 in order to cope with the crisis conditions which were developed after trade deadlock with India and devaluation of Indian Rupee in 1949. Initially the Bank was established with the objective to extend credit to the agriculture sector. The normal procedure of establishing a banking company under the Companies Law was set aside and the Bank was established through the promulgation of an Ordinance, due to the crisis situation that had developed with regard to financing of jute trade. The Bank commenced its operations from November 20, 1949 at six important jute centers in the then, East Pakistan and directed its resources in financing of jute crop. The Bank Karachi and Lahore offices were subsequently opened in December 1949. 
Establish Its Offices
The National Bank of Pakistan came forward to establish its offices in the Cotton growing areas and extended credit facilities liberally in order to restore stability to the market. In 1951, the country was once again faced with a crisis in the cotton trade when prices was crashed and touched the lowest level since independence following the cessation of hostilities in Korea. The bank in collaboration with the cotton board provided the necessary Credit facilities to the trade and the crisis was tided over. The nature of responsibilities of the Bank is different and unique from other banks/financial institutions. The Bank acts as the agent to the State Bank of Pakistan for handling Provincial/Federal Government Receipts and Payments on their behalf. The Bank has also played an important role in financing the country growing trade, which has expanded through the years as diversification took place.
The National Bank of Pakistan has its headquarters in Karachi, Pakistan. The bank operates 1249(2008) branches in Pakistan and 22(2008) overseas branches. Under a trust Deed, the bank also provides services as trustee to National Investment Trust (NIT) including safe custody of securities on behalf of
NIT. The National Bank of Pakistan has assets worth Rupees 737976.44 million on September 30, 2008.
National Bank of Pakistan is today a progressive, efficient, and customer focused institution. It has developed a wide range of consumer products, to enhance business and cater to the different segments of society. Some schemes have been specifically designed for the low to middle income segments of the population. These include NBP Karobar, NBP Advance Salary, NBP Saibaan, NBP Kisan Dost, and NBP Cash n Gold.
The National Bank of Pakistan has implemented special credit schemes like small finance for agriculture, business and industries, administrator to Qarz-e-Hasna loans to students, self employment scheme for unemployed persons, public transport scheme. The Bank has expanded its range of products and services to include Shariah Compliant Islamic Banking products. For the promotion of literature, NBP recently initiated the Annual Awards for Excellence in Literature. NBP will confer annual awards to the best books in Urdu and in all prominent regional languages published during the defined period. Patronage from NBP would help creative work in the field of literature. The Bank is also the largest sponsor of sports in Pakistan. It has provided generously to philanthropic causes whenever the need arose.
Various Measures To Facilitate
It has taken various measures to facilitate overseas Pakistanis to send their remittances in a convenient and efficient manner. In 2002 the Bank signed an agreement with Western Union for expanding the base for documented remittances. More recently it has started Electronic Home Remittances Project. This project introduces technology based system to handle inward remittances efficiently, by ensuring that the Bank's branches keep a track of the remittance received from abroad till its final receipt.
A number of initiatives have been taken, in terms of institutional restructuring, changes in the field structure, in policies and procedures, in internal control systems with special emphasis on corporate governance, adoption of Capital Adequacy Standards under Basel II framework, in the up gradation of the IT infrastructure and developing the human resources.
National Bank has earned recognition and numerous awards internationally. It has been the recipient of The Bank of the Year 2001, 2002, 2004 and 2005 Award by The Banker Magazine, the Best Foreign Exchange Bank Pakistan for 2004, 2005, 2006 and 2007, Global Finance, Best Emerging Market Bank from Pakistan for the year 2005, Global Finance, Kisan Time Awards  2005 for NBP's services in the agriculture field. It is listed amongst the Region's largest banks and also amongst the largest banks in South Asia 2005, The Asian Banker. It has also been presented a Recognition Award 2004 for having a Gender Sensitive Management by WEBCOP AASHA besides other awards.
Awards
The precise summary of National Bank of Pakistan regarding its countrywide and overseas operations is as fallows:
1949 National Bank of Pakistan (NBP) was established under the National Bank of Pakistan Ordinance 1949 and was 100% govt.-owned. NBP acted as an agent of the Central Bank wherever the State Bank did not have its own Branch. It also undertook Government Treasury operations. Its first branches were in jute growing areas in East Pakistan. Offices in Karachi and Lahore followed.
1950 NBP established a branch in Jeddah, Saudi Arabia.
The Bank in 1950 had one subsidiary The Bank of Bahawalpur on December4, 1947 by the former Bahawalpur State
1955 By this time NBP had branches in London and Calcutta.
1957 NBP established a branch in Baghdad, Iraq.
1962 NBP established a branch in Dar-es-Salaam, Tanganyika.
1964 The Iraqi government nationalized NBP's Baghdad branch.
1965 The Indian government seized the Calcutta branch on the outbreak of hostilities between India and Pakistan.
1967 The Tanzanian government nationalized the Dar-Es-Salaam branch.
1971 NBP acquired Bank of China's two branches, one in Karachi and one at Chittagong. At separation of East Pakistan NBP lost its branches there. NBP merged with Eastern Mercantile Bank and with Eastern Bank Corporation.
1974 The government of Pakistan nationalized NBP. As part of the concomitant consolidation of the banking sector, NBP acquired Bank of Bahawalpur (est. 1947).
1977 NBP opened an offshore brain Cairo.
1994 NBP amalgamated Mehran Bank (est. 1991).
1997 NBP's branch in Ashgabat, Turkmenistan commenced operations.
2000 NBP opened a representative office in Almaty, Kazakhstan.
2001 State Bank of Pakistan and Bank of England agree to allow only 2 Pakistani banks to operate in the UK. NBP and United Bank agreed to merge their operations to form Pakistan International Bank, of which NBP would own 45% and United Bank 55%.
2003 NBP received permission to open a branch in Afghanistan.
2005 NBP closed its offshore branch in Cairo.
[2] National Bank of Pakistan History
Report Profit after Tax
National Bank of Pakistan is expected to show a growth of 16%YoY in its bottom line by reporting after tax profit of Rs13.3bn for 9MCY12 against a profit after tax of Rs11.4bn in 9MCY11.
This translates into EPS of Rs7.17.
This significant increase in earnings is due to higher non-interest income that is anticipated to grow by 33%YoY along with decline in provisioning of 17% said the analysts at InvestCap Research.
The non-interest expense is expected to rise by 13%YoY. However, Net interest income (NII) of the bank is expected to decline by 4%YoY from Rs33bn in 9MCY11 to Rs32bn in 9MCY12.
Fee, commission, brokerage income and dividend income are expected to remain major supporter for the bottomline of the bank and are foresee to grow by 6%YoY and 135%YoY respectively. On sequential basis, NBP is expected to post after tax profit of Rs5.07bn (EPS: Rs2.74) for 3QCY12 as against the PAT of Rs3.3bn reported during the same period of last year, translating into a growth of 53%YoY. Currently NBP trades at CY12 PBV and P/E of 0.61x and 4.32x respectively and we recommended Buy stance with Dec-12 target price of Rs65/shares.
Nishat Mills Limited (NML) is scheduled to announce its first quarter fiscal year 2013 results on Thursday, 25th Oct-12. NML is expected to post PAT of Rs1.1bn (EPS Rs3.06) in 1QFY13 as compared to Rs1.0bn (EPS Rs2.93) in 1QFY12, posting a modest growth of 4.5%YoY in the bottomline. The increase in bottomline is expected on the back of improving gross margins as low cotton prices on local front are expected to improve margins of different value added products during 1QFY13. We expect gross margins to clock in at 17% in 1QFY13 as against 10.7% in same period last year. Likewise, 8.9%YoY depreciation in PKR against USD is likely to help the company in improving its export sales margins. Furthermore, dividend income from MCB and PakGen power is anticipated to add significant amount to the other income head coupled with low financial charges due to decline in working capital requirements. With Dec-12 TP of Rs65/share on SOTP basis, we recommend Hold on NML. The company is currently trading at PE ratio of 6.4x with dividend yield of 6.3% on FY13 earning expectations.
Lucky Cement Company
Lucky Cement Company (LUCK) is scheduled to announce its quarterly accounts for the first quarter of fiscal year 2013 onThursday, October 25, 2012. We expect the company to post profit after tax (PAT) of Rs2,201mn (bottomline up by massive 46%YoY), translating into EPS of Rs6.81. The phenomenal rise witnessed in the bottomline of the company is to be primarily supported by handsome 7%YoY escalation in the retention price of the commodity coupled with expectation of attractive 13%YoY volumetric growth in the company dispatches. Positivity is seen to be further supported by 28%YoY dip in the global coal prices that in effect are foreseen to have enhanced gross margins of the company. The gross margins during the period under review are expected to be bolstered by 2pps in comparison against the corresponding period previous year.
We have Buy recommendation on LUCK, as currently the share is offering potential upside of colossal 28% against our per share target price of Rs179. [3] NBP Profit and Salary Grow
National Bank of Pakistan Network
In a short span of 15 months, National bank of Pakistan has converted its entire network of 1283 branches online. NBP has now the highest number of online branches in Pakistan, exceeding any other bank operating in the country. National Bank of Pakistan currently enjoys widest branch network in the country and its services are available to Pakistanis living in far flung and most difficult to reach areas. People living in such remote areas will benefit the most from this development.
Through online facility, NBP customers holding an account at any online branch can deposit and withdraw cash from any of the 1283 online branches through inter branch transactions (IBT); Debit / ATM Card can be issued to all customers of online branches; centralized account opening; Know Your Customer (KYC) and better control and compliance.
Qamar Hussain, President NBP appreciated the efforts of Bank IT Division and said that back in May 2011 we only had 250 branches online and it required a very industrious effort to bring that number to 1283. Now NBP customers living in rural and urban areas of the country will be able to benefit from online services alike.
National Bank of Pakistan (NBP) is the largest commercial bank in Pakistan with total assets well in excess of PKR 1.15 trillion (as on December 31st 2011). NBP was incorporated in Pakistan under the National Bank of Pakistan Ordinance, 1949. It is involved in commercial banking and related services in Pakistan and abroad. With one of the largest domestic branch networks (consisting of 1283 branches) across Pakistan as well as representation in 6 international geographical areas ranging from North America to the Far East as well as a joint venture operating in the United Kingdom (United National Bank Limited) and a subsidiary in Kazakhstan (NBP Kazakhstan), NBP is Pakistan largest international commercial bank.
National Bank of Pakistan Assests
Board of Directors of National Bank of Pakistan (NBP) in their meeting held on Tuesday at the bank head office here approved the financial statements of the bank for the year ended December 31, 2011 and announced a payout of 10 per cent bonus shares and 75 per cent (Rs7.50 per share) cash dividend to the shareholder as final dividend for the year 2011 which translates into payout ratio of 81.18 per cent.
Pakistan economy is still facing challenges of rising inflation, shortage of energy and power, law and order situation, increasing fiscal deficit and impact of international economic crisis. The central bank reduced its policy rate by 200 bps from 14.0 per cent to 12.0 per cent, aimed at supporting the private credit investment and also to help in reducing the rising non performing loans, but this will also impact the net interest margins of the banking industry.
Total assets of the bank increased to Rs1.15 trillion at the year end, up by 10.8 per cent from year the end 2010, an appreciable growth, especially in view of lower growth in the banking system deposits. Pre- tax profit increased by 7 per cent from Rs24.4 billion to Rs26.0 billion, owing to higher core revenues.Net interest income increased by 8.3 per cent from last year, while non interest mark up income was up by 9.7 per cent on account of higher dividend and exchange income. After tax profit, however, remained at last year level of Rs.17.6 billion due to prior year tax reversal of Rs.939 million in 2010.
Pre- tax return on equity stood at 24.3 per cent, pre-tax return on assets at 2.5 per cent with capital adequacy ratio at 16 per cent. The top line (operating revenue) increased by 8.7 per cent from Rs60.9 billion in 2010 to Rs66.1 billion in 2011. The bank total deposits increased by Rs95 billion or 11.5 per cent. Net advances also showed an increase of Rs48 billion or 10.0 per cent. During 2011, several major IT initiatives were undertaken, including expansion of ATM network, establishment of full fledge 24/7 call center and conversion of more than 1,000 branches onto the online network, remaining branches will also be converted on the online network in first quarter of 2012. The benefits of the said IT initiative coupled with ongoing IT upgradation will also be further explored in 2012 in the form of further market penetration and product development.
Going forward, the bank shall have renewed focus on reprofiling its liability portfolio with emphasis on increasing Current and Saving (CASA) deposit ratio. Reduction in NPLs and recoveries, increase in trade business and further IT upgradation and expense management will be area of focus. [5] NBP Assests
Board of Directors
Mr. Syed Ahmed Iqbal Ashraf
President
Mr. Farrakh Qayyum
Director
Mr. Tariq Kirmani
Director
Mr. Iftikhar A. Allawala
Director
Mr. Muhammad Naeem
Director
Mr. Mir Balakh Sher Marri
Director
Mr. A. Akbar Sharifzada
Director
Mr. Syed Muhammad Ali Zamin  [6]

Board of Directors

 
EVP, Secretary Board of Directors