JS Bank Ltd (JSBL) is a Pakistan-based commercial bank located in Karachi, Pakistan and is a leading and subsidiarity of Jahangir Siddique & Co having total revenue of almost five-hundred and sixty-two million as n Dec 2018.
The bank has grown into an extensive network spread all across Pakistan and an International branch in Bahrain. It was founded in 2007 after merging 2-mega corporates (American Express Bank Ltd & Jahangir Siddiqui Investment Bank Ltd). The article carries every information about the Bank, including JS Bank History.
| Title | Description |
| --- | --- |
| Details | |
| Type: | Public |
| Traded As: | KSE: JSBL |
| Industry: | Banking and finance |
| Founded: | 2007 |
| Headquarter: | 1st Floor, Shaheen Commercial Complex, Dr Ziauddin Ahmed Road, Karachi, Pakistan. |
| Area served: | Pakistan |
| JS Bank Limited: | the fastest growing banks in the country |
| 2014, the deposits: | balance sheet crossed the Rs100 billion |
| Investment Bank: | commercial banking wing of American Express Bank Pakistan |
| compound annual growth: | rate of 36 |
| per cent – from: | Rs3.3 billion |
| CY10 to: | Rs15.3 billion |
| Internet Banking : | the world of JS Bank Internet Banking |
| stock outperformed: | the market in 2012 and 2014 |
| variety of products: | both depositors and borrowers at competitive rates |
| JS Bank ATMs : | ATMs are a convenient and hassle-free way for customers to get cash |
| A number of employees: | 2,082 |
| Parent organization: | Jahangir Siddiqui & Co |

JS Bank History
The set up of this bank started when Jahangir Siddiqui and Co. Ltd took ownership of Citicorp Investment Bank Ltd on 1st Feb 1999. The organization was named JSIBL (Jahangir Siddiqui Investment Bank Ltd) and had sixty per cent stake in Citicorp granting its operations and ownership in Pakistan.
Vision
To be most responsible, customer-centric and innovative bank of Pakistan.  
Mission
The bank's mission is to emerge as a world-class bank offering innovative and up to date financial services to their clients via a skilled staff consisting of motivated professionals.
It is equipped with latest and innovative technology while maintaining high ethical standards, generating value for all investors, and contributing to the country through sustainable and responsible development. 
Values
Integrity

Team Work

Innovation

Customer Centricity

Professional Excellence
JS Bank Governance
Mr Kaleem-ur-Rehman-Chairperson

Mr Ashraf Nawabi-Non-Executive Director

Mr Adil- Non-Executive Director

Mr Hassan Afzal- Non-Executive Director

Mr Ghulam Sikandar-Independent

Mr Sohail-Independent Director

Mr Munawar- Non-Executive Director

Ms Nargis Ghaloo- Independent Director

Mr Basir-CEO & President
Elections of Bank Directors
The electoral procedures for designating directors was arranged on 28th March 2019, electing eight directors for three years starting from 28th March 2019 and next elections would be held in March of 2022. 
CSR (Corporate Social Responsibility)
Green Climate Fund accredited JS Bank in 2019, making it 1st Pakistani financial institute to get this accreditation. GCF (Green Climate Fund) is a global strategy to foster a productive response to change in climate via the assistance of 'Accredited-Entities' worldwide.
Code of Conduct
Smoking is allowed in smoking zones only and strictly prohibited in working zones and during office hours. 

Spitting within premises of bank isn't allowed.

Employees are not allowed to misuse letterheads, official stamps, and other properties of bank.

Tampering with records of the bank isn't allowed.

Employees must enhance and protect the reputation and assets of the bank.

Supervisors/ Managers must act as an example for all bank employees. 

The employees are directed to treat all customers equally irrespective of their caste, colour, creed, and account balance. 

Bank staff is guided to create a bank environment conducive to working and is free from any type of harassment. 

The employees should not involve in any political activities.

In case of any emergency, misbehaviour, and conflict, staff members should inform their senior managers or immediate boss. 

The bank staff shouldn't accept any gifts or cash from their customers.

The employers shouldn't leak bank' information and credentials.

Staff should report all bank transactions correctly and accurately. 

In case of resignation, employees should return facilities (cell phones, laptops) provided by the bank. 

The staff should keep the customer's information secret. 

The staff must protect patents, copyrights, and trademarks of the bank.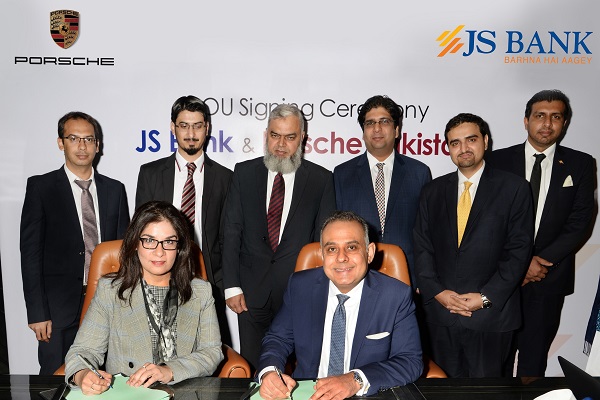 Monetary Penalty
In 2019 State Bank of Pakistan imposed financial penalties on ten banks, including JS bank for violating directives, guidelines, regulations, rules, and laws. 
Branch Banking
Service/Product Type and Standards  
Standard: All UBPS/cash transactions at the counter would be conducted within ten minutes only.
Standard: Issuance of cheque books is made within five working days.
Standard: Accounts are opened within 1-Business day.
Standard: Within five banking days visa debit-card would be generated.
Issuance of the Payment Order      
Standard: Issuance of pay orders would be made within thirty minutes.
Business Sectors of Bank
Commercial Banking

Investment Banking

Agriculture Financing

Trade Services

Commercial Banking

Bahrain Wholesale

Corporate Banking
Corporate Information
Status of Company: Scheduled Commercial-Bank
NTN: 2663703-7
Registration Number of Company: 0054329
Fax # +92 (21) 3-263 1803
Phone # +92 (21) 327 990 09
E-mail: [email protected]
Auditors: EY Ford, Chartered-Accountants 
Legal Advisor
Bawaney & Partners

Liaquat Merchants Associates

Haidermota BNA 
Address
JS Bank Ltd, Shaheen Commercial-Complex
 Dr Zia-ud-din Ahmad Road
 P.O. Box # 4847, Karachi-74200, Pakistan
Social Media Handles
https://www.facebook.com/JSBankLtd/