In the Indian subcontinent, the name of Mehdi Hassan and his voice needs no introduction. He was a singer and music composer. His singing was equally popular in India, and Pakistan and India's leading singer Lata Mangeshkar once attributed Mehdi Hassan's singing to 'God's Voice.' During his music career, he sang 468 songs and released 115 albums. The fame which he contributed to Pakistan is still unmatchable. In the fertile era of film music, he became the second favorite singer after Ahmed Rashidi. Death has only snatched his earthly body from us. His everlasting voice will live forever. This article has all the information about Hassan, including Mehdi Hassan Biography.
| Title | Description |
| --- | --- |
| Personal | |
| Name: | Mehdi Hassan |
| In Urdu: | مہدی حسن |
| Famous As: | King of Ghazal |
| Nationality: | Pakistan |
| Residence: | Karachi |
| Education: | He received Music education |
| Religion: | Islam |
| Website: | mehdihassan.com |
| Awards : | He Bagged Various Awards |
| Born | |
| Date: | 18th July 1927 |
| Place: | Luna, Rajasthan, British India |
| Family | |
| Spouse: | Married |
| Children: | 14 children (9 Sons) & (5 Daughters) |
| Parents: | Ustad Azeem Khan |
| Siblings : | Ghulam Qadir |
| Relatives: | Ustad Ismail Khan (Uncle) |
| Died | |
| Date: | 13th June 2012 |
| Rest Place: | Karachi |
| Career | |
| Occupation(s): | Singer, music composer |
| Genres: | Classical music, ghazal, playback singing, filmi |
| Instruments : | Vocals , Harmonium |
| Years active : | 1957–1999 (retired) |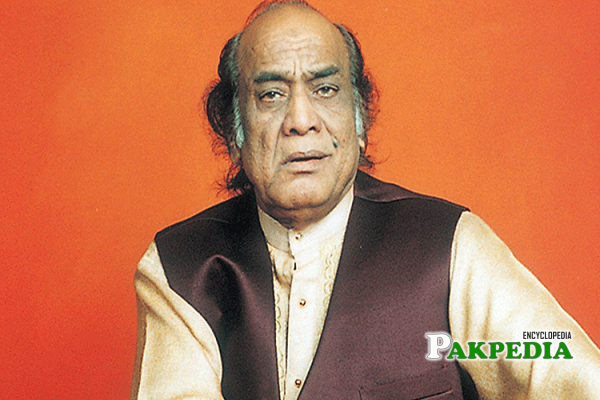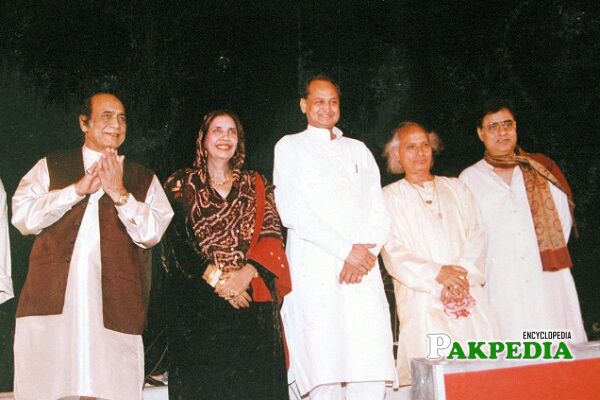 Mehdi Hassan Biography
He earned the title 'King of Ghazals'. Mehdi Sahab started his professional life from a mechanic and reached the heights of fame as a Ghazal singer and music composer. Highly experienced in classical singing, Hassan sang mystic songs, folk ditties, Geets, but Ghazal Gayeiki was something in which he was incomparable. The Ghazal maestro introduced a new style of ghazal singing. Instead of giving priority to the poet, he always gave preference to the poem. 
This style of him introduced many unrecognized poets like Farhat Shehzad, Khatir Ghaznavi, and Saghir Siddiqi. Mehdi Sahab is a recipient of prestigious National laurels Hilal E Imtiaz, Nishan E Imtiaz, Tamgha E Imtiaz, and Pride of Performance. He also won nine Nigar awards. Through his voice, he illuminated the name of Pakistan in the world.
Mehdi date of birth
He was born on 18th July 1927 in Luna, a village in Rajasthan. In 1947 he, along with his family, moved to Pakistan and settled in Chichawatni, Punjab.
Education of Hassan
His father and uncle Dharpad were experts in singing, and he received his early training at home. He belonged to the sixteenth generation of the Klavant family.
Mehdi Hassan Family
He belonged to a family of musicians. He was son and nephew of Dhrupad singers Ustad Azeem Khan and Ustad Ismail Khan, respectively. He had fourteen children, nine sons, and five daughters. Apart from his sons Asif and Kamran, he also taught music to his grandchildren. His sons are also serving in the music industry. Tariq Mehdi is a multitalented playback singer, Arif and Imran Mehdi are Tabla players, Asif, Shehzad, Faizan, and Kamran Mehdi are ghazal singers, and Waris Mehdi is a pop singer. One of his son Sajjad is a D.S.P traffic police.
Music Career
Initial Career
In 1947, Mehdi Hassan, aged 20, emigrated with his family to Pakistan and began repairing bicycles as a laborer in Chichawatni, a town in Punjab. He mastered the work of a mechanic and became a motor mechanic first and then a tractor mechanic. Still, despite this occupation, he did not neglect the idea of music and continued his practice at all costs. He received his musical training from his father, Ustaad Azeem Khan, and his uncle, Ustaad Ismail Khan, who was a classical musician. He introduced himself to classical music when he was eight years old. 
He have been familiar with the mysteries of singing since his childhood, but the journey began in 1952 with Radio Pakistan's Karachi studio. Since then, he has sung more than 25,000 film non-film songs and lyrics. The story of his journey spans several decades. The first song that he recorded for the film was for the Pakistani movie "Shikar" in Karachi. Written by poet Yazdani Jalandhari, composer Asghar Ali, Muhammad Hussain composed the song. For the same film, he sang another song written by Yazdani Jalandhari, 'Mere Khayal o Khawab Ke Dunya Liye Hwe, Phir Aa Gaya Koi Rukh E Zaiba Liye.'
Peak of Career
In the 1960s and 1970s, Mehdi Hassan was one of the most famous film singers. And from Santosh Kumar, Darpan, Waheed Murad, and Mohammad Ali to Nadeem and Shahid, every hero moved his lips to the songs sung by him. In serious circles, his status as a Ghazal singer remained strong. As a ghazal singer, he visited the countries of the subcontinent many times. He has sung songs for a total of 441 films, and the number of songs is 626. 
Out of the movie, the number of Urdu films is 366, in which 541 songs were sung. He sang 82 songs in 74 Punjabi films. He sang for 28 consecutive films from 1962 to 1989. More than 100 of his songs were filmed on actor Muhammad Ali. Apart from this, he also appeared in the film 'Shareek E Hayaat' in 1968. In 1956, after a long struggle, he got the opportunity to become a film singer.
For this, he had to go to Karachi, where his elder brother Pandit Ghulam Qadir was associated with Karachi Radio as a musician. And on his recommendation, he had the opportunity to sing ghazals on the radio. His first ghazal that became popular on the radio was the famous ghazal of the classic poet Mir Taqi Mir 'Ye Daikh Tu Kay Dil Jaan Say, Uthta Hai.'
Fandom
Pakistan's former President Ayub, Zia-ul-Haq, and Pervez Musharaf were also his admirers and granted him the civil honors, but the greatest honor for Mehdi was the immense popularity and love he received from the people's court. Even outside Pakistan and India, where Urdu-speaking people live, he has been admired, and in the early 1980s, Mehdi Sahab visited Europe and the United States and lived there for a long time. Pervez Mehdi was the first of his students to make a name for himself, and all his life, he continued to pay homage to his teacher. Later, talented students like Ghulam Abbas, Salamat Ali, Asif Javed, and Talat Aziz kept his singing style alive.
Mehdi Hassan Death
In 2000, he had 1st stroke. In 2005 his family took him to India for ayurvedic therapy. His Indian admirers, including Lata Mangeshkar, Dilip Kumar, and A.B. Vajpayee, welcomed him. After returning from India, he had a 2nd stroke, which paralyzed him. After suffering from chest, urinary, and lung ailments for twelve years, he passed away on June 13, 2012, at an AKUH (Agha Khan University Hospital) Karachi.
Mehdi Hassan Songs
List of Albums
The Legend
Nazaraanaa
Live at Royal Albert Hall
Andaaz E Mastaanaa
Khuuli Joo Ankh
Classical Ghazals Volume.1, 2& 3
Ghalib Ghazals
Ghazals ForeverVolume.1
Golden Collection Of Mehdi Hasan Volume. 1&2
Kehna Usaay
In Concert
Life Story
Mehdi Hassan
Live at Khambaays
Live Concert in India
Dil Joo Rotaa Hai
Saada E Ishq
Golden Greats
The Finest Ghazals
Sarhadaain
Surr Ke Kooi Seemaa Nahin
Yadgaar Ghazlain Volume. 1
Naqssh E Faryaadi
Mehdi Hassan Volume.1 and 2
Tarz
Mehdi Sings Punjabi Film Hits
Ghazals
Aalam E Khwab ho yaa
Aj Tu Ghaair Sahe
Ankhon Say Milii Aankhain
Agay Barhay Naa Qissaa E Ishq E Butan Say Ham
Ap Ke Aankhoon Nay
Aye Kuch Abar Kuch Sharab Aye
Ab Kay Ham Bichdray To Shayad Kbhii Khawaboon Mein Milain
Ae Roshniyoon Kay Shehar Bataa
Anjuuman Anjuuman Shanasaaye
Apnoo Nay Ghaam Diyay Tu Yaad Aa Gayaa
Arzze Niyaaze Ishq Ki
Bat kerni mjhe mushkill kbhi aise tu naa thi
Beqaraari se Beqaraari hey
Bheegii Hwe Aankhoon Kaa
Bhooli Bisrii Chund Umeedain
Chaltay Ho Tu Chamann Koo Chaliyee
Chiraag E Toor Jalaao Baraa AndherAa Haii
Dekh too Dil Ke Jan Say Uthtaa Haii
Dekhnaa Unkaa Kankhiyoon Say
Dil E Nadaan Tjhe Hwa Kyaa Haai
Dil E Veraan Haii Tere Yad Hey Tanhaae Hey
Dil Ke Bat Laboorn Par Laa Kar
Dil Mein Ab Yun Teri Bhuli Hue Gham Aatay Hain
Deewaar Daar Pay
Dil Mein Toofaan Chupaae Bethaa Hun
Duniyaa Kiasi Kay Payaar Mein Janat Say Kam Nahein
Duniyaa Say Tujh Ko
Dayaam Padaa Hwa Teray Dar Pay Nahe Hun Mein
Ail Baar Chalay Aoo
Aik Bus Tuu He Nahein Mujh Say Khafaa Ho Baithaa
Aikk Jhalakk Dikhlaa Day
Aik Khiltaa Hwa Ghulaab
Aik Sitamm Or Mere Jaan, Abhe Jan Baaqi Hei
Fikar He thahaarii To Dil Koo Fikar E Khuban kyoon Naa Ho
Faisala Tum Ko Bhool Janay Kaa
Gaa merey Deewaanay Dil
Garmi E Hasratt E Nakaam Say Jal Jatay Hein
Garchee Saau Baar Ghum E Hijr Say Jan
Ghaazab Kiyaa Teray Waaday Pay Eitbaar Kiyaa
Gaair Bankee Naa Milay Ham
Goo Zaraa Se Bat per Barsao Ke Yaaraanay gaye
Guloon meiin Rang Bharay Baad E Naubahaar Chalay
Gulshaan Gulshaan Shoola E Gul ke
Gunchaa E Shoq Lagaa Hei Khilnay
Hmare Saansoon Mein Aj Tk
Har Dardd Kao
Hamain Kooi Gham Nahein Thaa Ghum E Aashiqi Say Pehlay
Ham He Main The Naa Kooi Bat
Aik Husan Ke Devei Say Mjhe Payaar Hwa Thaa
Aik Khaliish Ko Hasil E Umr E Ravan Rehnay Diyaa
Jb Bh Ati Hey Tere Yad Kbhi Shaam Kay Baad
Jb Bhi Chahain Aik Naye Sooraat
Jb Bh Pee Kaar
Jb Kooi Piyar Say Bulaaye Gaa, Tjh Koo Ik Shakhssh Yad Aye Ga
Jb Teray Naain Muskuraatay Hein
Jb Us Zulf Ke Bat Chalii
Jahaan Ja Ke Chaain
Jo Chahte Hoo Wo Khehte Hoo
Kahaan Gae Wo Wafaa
Khuuli Jo Ankh Wo Thaa
Kiyaa Hai Payaar Jis Say Hum Ne Zindagi ke Tarah
Kyaa Bhalaa Mjh Koo Parakhnay Kaa Nateejaa Niklaa
Kiyun Hum Say Khafaa Ho Gayee Aey Jan E Tamannaa
Mein Hossh Meiin Thaa
Mein Khaayal Hunn kisi Auur Kaa
Mein Nazar Say Pe Rahaa Hun
Mohaabat Krne Waalay
Muhabat Zindagi Hei Or Tum Mere Muhabat Ho
Mjhe Tum Nazarr Say Giraa Tu Raahe Hoo
Navak Andaaz Jidhaar Dida E Jana Hon Ge
Nishaan Bh Kooi Naa Chora ke
Pattaa Pattaa Bootaa Bootaa Haaal Hamaraa Jaanay Hey
Phool He Phool Khiil Uthaay
Payaar Bharay Do Sharmilay Naain
Qisaa E Ghum Mein Teraa Naam
Rafta Rafta Wo Mere Hastii Kaa Samaan Ho gayee
Ranjissh He Sahe Dil He Dukhaanay Ke Liye Aaa
Rim Jhim Ki Barsat Hai Or Jaagay Hwe Jazbaat Hein
Roshaan Jamaal E Yar Say Hai
Shehron Mulkoon Mein Jo Yey Mir
Saamnay Aa Kay Tujh Ko Pukaara Nahein
Sehar Ho Rahe Hai
Shikwaa Naa Kar Gilaa Na Kaar Yey Duniyaa Hai Payaare
Sholaa Thaa Jal Bujha ho
Tanha Thi Auur Hameshaa Say Tanhaa Hai Zindaagi
Tark E Ulfat Ka Silaa
Teray Bheegay Badan Ke Khushbo Say
Terey Meray Payaar Kaa Aisa Naataa Hai
Tere Khushe Mein Agar Ghum Mein Bh Khushe Na hue
Tootay Hwe Khwaaboo Kay Liye
Tehar Thorii Dair to
Tunay Yeh Phool Jo Zulfoon Mein Sajaa Rakhaa Hai
Tu Mere Zindagii Hai
Usne Jabb Mere Taraf
Uzar Aanay Mein Bh Hai Or Bulaatay Bh Nahe
Wo Dilnawaaz Hai Lekin Nazar Shanas Nahe
Yad Tere Nay Zamanay Ko Bhulaa Rkha Hy
Yaro kisii Qatil Say Kbhi Payaar Na Mangoo
Yuun Na Mil Mujh Say Khaafa Ho jese
Yeh Dhuwaan Kahan Say Uthta Hai
Yeh Kaghazi Phool Jise Chehray
Yeh Mojezaa Bh Muhabbat Kbhi Dikhaye Mjhe
Yey Teraa Naazuuk Badann Hei Yaa Koi Mehkaa Ghulaab
Yun Zindagii Ke Raaah Mein Takraa Gayaa Koi
Zindaagi Meiin To Sabhii Payaar Kiyaa Kartay Hein
Zulf Koo Tere Ghataaon Kaa Payaam Aya Hai
Ultii Hoo Gaye sb Tadbeerain Kuch Naa Dawaa Nay Kaam Kiya