Faisalabad Grammar School is a private educational institute under the proprietorship of 'Siagol Group of Companies.' It is situated in Kohinoor City, Faisalabad. The school offers the facilities of Chemistry, Physics, and Biology labs, and libraries.
FGS aims are co-curricular activities, academic excellence, and a balanced worldwide outlook. Both Matriculation and O/A Level classes are offered with a wide variety of subjects. This article has all the information about the school, including Faisalabad Grammar School History.
| | |
| --- | --- |
|     Title |     Description |
| Name: |  Faisalabad Grammar School |
| In Urdu: | فیصل آباد گرائمر سکول |
| Type: |  Public |
| Branches: |  Kohinoor Girls Campus, Kohinoor Boys Campus, East Canal Campus, Daewoo Road Campus, and A-Level Campus. |
| Founded: |  1979 |
| Founded By: |  Razia Yousaf |
| Contact Information: |  [email protected] |
| Uniform Color: |  White and Blue |
| Classes: |  Till A-Levels |

Faisalabad Grammar School History
Misses Razia Yousaf started FGS in 1979. At the start, she ran only third to fifth classes with only thirty students, one office boy, and two workers. The goal was to create a broad range of courses for CIE, Matric, and O Level. Mrs Razia, the ex-directress, was a competent educationist and served her institute with great dedication.
Throughout her life, she struggled for quality education and bright future of Pakistan's future generation. In 1982, British Council inspected the school and allowed it O/A Levels, Cambridge International Examinations number PK 205 and 206. In that year, this school was permanently recognized and registered by the 'Faisalabad District Education Department.'
Four hundred twenty students were enrolled at that time. Head Mistresses for junior, middle, and senior sections were hired. The later school was named as FGS. In 1985 FGS was accomplished to prepare a brilliant batch of students of O level and Matric for assessments, and that batch showed hundred percent results.
Those students were involved in Laboratory use, sports, carnivals, prize days, Naat competition, Music Bands, and film shows.
Vision
Progressive and inspiring novel methods of 25 century education are part of today's education system of all English medium of school and college. The curriculum is suitable for modern-day challenges,  respect for traditions and norms of all cultures, and national pride.
A wide range of fields via distinct and innovative approaches are available for students that nurture their multiple inclinations and interests. In school, a broad range of curriculum subjects are offered and a wide range of non-scholastic activities. FGS is striving to nurture a supportive and happy environment that rewards and enriches pupils.
Mission
FGS aims to bestow pupils with the educational foundation essential for them to accomplish the intellectual standards and find their real potential.
Management is dedicated to flourishing pupils who are adaptable and resilient and to inculcate an intense eagerness in them to accept challenges, take risks, and spirit of confidence and achievement in students. Efforts are made to ingrain a high dynamism of confidence and achievement in their skills and abilities.
Board of Directors
In 2011, the School's Board of Directors employed Mr. Taha Zamir as the new COO (Chief Operating Officer) to re-strengthen standard education and upgrade the school to be the alma mater leader. Mrs. Riffat Naveed is working as head of operations. Ms. Susan Recsie is head of academics.
Number of Students
At present, the school has twenty-five hundred students enrolled, administrative staff, and teaching staff consists of two hundred and fifty members.
Branches in Faisalabad
Its campuses are located at different locations in Faisalabad, including Kohinoor Girls Campus, Kohinoor Boys Campus, East Canal Campus, Daewoo Road Campus, and A-Level Campus.
Uniform
Girls' uniforms consist of plain white shirts with blue cheque collar and sash, blue cheque trousers, black shoes, and white socks. Boys uniform consists of plain white shirts having blue cheque collar with dark blue pants.
Extra-Curricular Activities
Extra-curricular activities like welcome and farewell parties, cultural festivals, and quiz contests are vital parts of the school's education system. These fun activities and events bring personal grooming,  color, and learning to students.
The school's Newsletter is a mixture of Urdu and English language functions as a platform for pupils to profess their opinions on various subjects and increase their creative skills. Public speaking, sports gala, and art contests are held on a routine basis to display the students' abilities.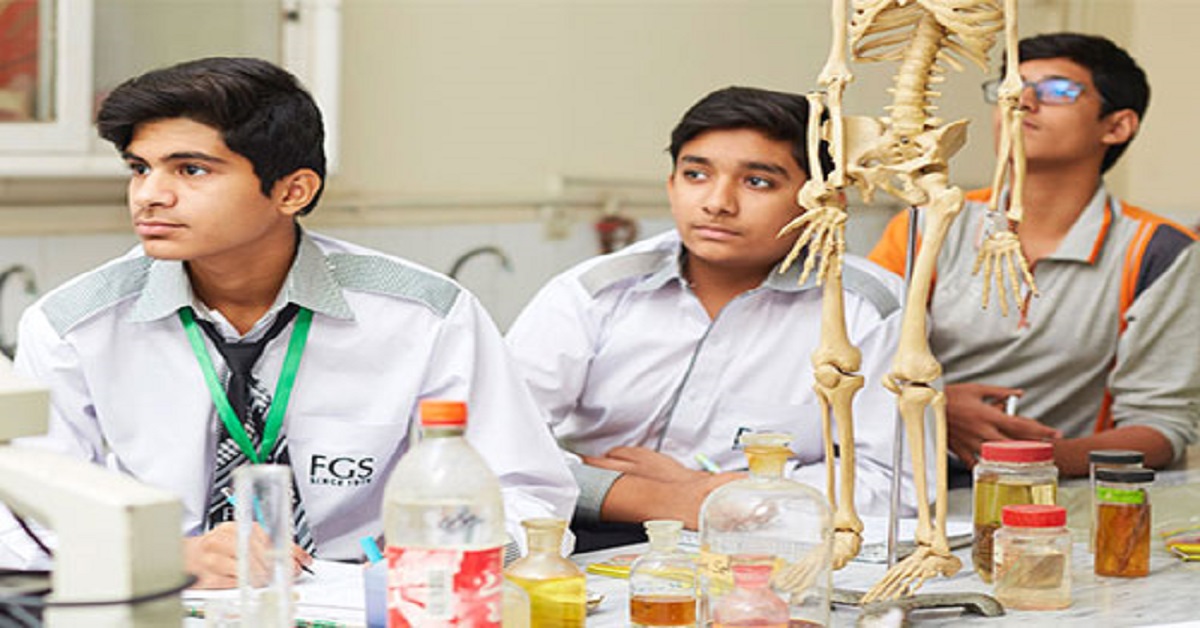 Faisalabad Grammar School Rules
Uniform
Colored clothes, shoes, jewelry, nail paints, open hair, and untidy or incomplete uniform is not allowed.
Behavior
Students are required to behave appropriately both within and outside the premises of the school. Offensive, foul, and abusive language is not allowed.
Bullying or Harassment
Physical, verbal, and emotional bullying or harassment is strictly prohibited and is punished. Students are expected to respect teachers and fellow students.
Attendance
Students should come to school regularly and should not bunk classes. In case of leave due to any sickness, emergency, and any other cause, a signed application should be sent to school administration. Attendance should be maintained at 80% throughout the academic year.
Punctuality
Students are directed to follow school timings, come and leave school at the time. Attend classes according to the time table. Students are not allowed to go outside the school during school timings without permission and application from parents.
Electronic Devices or Cell Phones
Mobile phones or any other type of electronic gadgets are not allowed within school premises. If any such thing is found, it would be forfeited, and fine would be imposed.
Medical Leave
Pupils suffering from infectious diseases shouldn't attend school and are required to send a signed and valid medical certificate to administration.
Contact Information
E-mail: [email protected]
Ph# +92 41 854 77 55