Faisal movers is a transportation company having a splendid record of providing high-quality services all over Pakistan. Since its foundation, the company is continuously progressing to ensure time management, customer support, safety, luxury, and comfort.
The grand fleet of trailers and buses with highly trained and professional staff works as the most extensive set-up in the Transportation and Logistic Industry. Excellent services and uncompromising quality are the commitment of this transport company with its clients. This article comprises every detail including Faisal Movers History.
| Title | Description |
| --- | --- |
| Details | |
| Type: | Transport Company |
| Name: | Faisal Movers |
| In Urdu: | فیصل موورز |
| Traded As: | Private Limited |
| Founded: | 1994 |
| Headquarter: | Lahore, Punjab, Pakistan |
| Key People: | Khawaja Abdul Wahid & Khawaja Azhar Ahmad & Khawaja Faisal Shahzad & Khawaja Farrukh Akbar |
| Passengers : | Approximately 300, 000 passengers per month |
| In 1994: | Commence of Transportation Business carrying the logo of Faisal Movers |
| In 2001: | Express Bus Service started from Sargodha to Multan itinerary |
| In 2004: | Our Model of business was changed to a non-stop luxury bus service |
| In 2017: | New Business class buses were added |
| Owner: | Khawaja Muhammad Akbar |
| | |
| December 11, 2016: | Announce Royalty Cards travelers |
| Destinations: | Rawalpindi / Islamabad, Multan, Faisalabad, Peshawar, Murree, DG Khan, Muzaffargarh, Ali Pur, Rajanpur, Sadiqabad, Bahawalpur |
| Information | |
| Head Office: | In Lahore |
| Address : | Band Road, Lahore, Pakistan |
| UAN: | 111 22 44 88 |
| Email: | [email protected] |
| website: | http://faisalmovers.com |

Faisal Movers History
It has an extended history spanning over up to many years of quality services. The dedication and strong vision f the founders made the launch of Faisal Movers possible. In 1994 this journey was started under Faisal Movers (FM) and the express bus between Multan and Sargodha. Throughout the breadth and length of Pakistan, FM is serving as a center of traveler transport.
1994-Started transportation business
2001-Started 'Express Bus Service' from Sargodha to Multan
2004-Changed its transportation model to continuously comfortable bus service; in January, the route from Multan to Rawalpindi route was originated.
2005-Modern technologies were adopted to computerize ticketing.
2006-To serve the people of Southern-Punjab, new destinations Bahawalpur and D.G Khan were added.
2008-A new terminal was inaugurated at Okara cantonment to commence Multan to Okara to Lahore route.
2010-The company expanded the service with the inclusion of Daewoo buses on all routes.
2011-To provide a secure and safe journey for passengers, a new route, i.e., Lahore to Rawalpindi, was started.
2012-Sadiqabad to Multan, Lahore, Rawalpindi, and Multan to Faisalabad routes were commenced.
2014-Lahore to Peshawar route was started.
2015-Lahore to Sargodha route was established.
2016-Lahore to Faisalabad route was started.
2017-Business class passenger buses were added with a video set-up for the route of Lahore to Islamabad.
Vision
The vision of FM is to offer standard services that exceed the expectation and needs of their clients. Strive to emerge as a leading leader in transportation that would inspire others to follow them.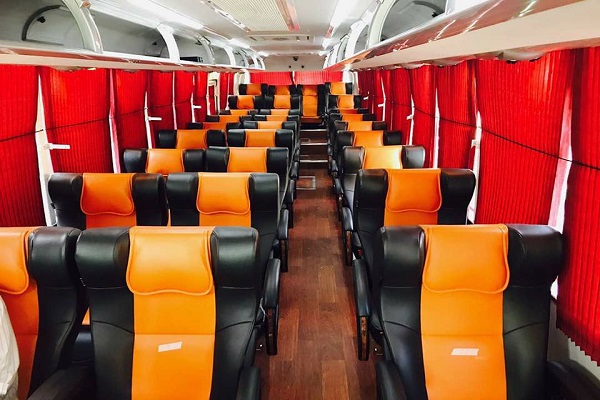 Mission
FM is committed to the economic development of the country by playing its role in infrastructure development. Offering a comfortable and reliable public transportation service that individuals can consider as a convenient and viable transport.
It continuously monitors traveling people's requirements and regularly reviews their service delivery to maintain people's trust and confidence in their transport services.
Current Status
Today this transport company has a modern and extensive fleet of passenger buses that fulfill the needs of almost thirty-thousand travelers per month. The hospitable and devoted staff assist and guide the prestigious passengers. The increasing demand and popularity have forced the founders to expand the number of buses and routes. The travelers can enjoy a safe and comfortable journey by having refreshments and up-to-date video audio equipment.
Prestigious Clients
PCB (Pakistan Cricket Board)
Pak-Arab Fertilizers
BZU (Bahauddin Zakariya University)
Engro Chemicals
Mezan Bank
Subsidiaries
Faisal Movers Express
In 2001, the Express Bus commenced its operations from only one bus, and today it owns a large number of luxury and modern buses.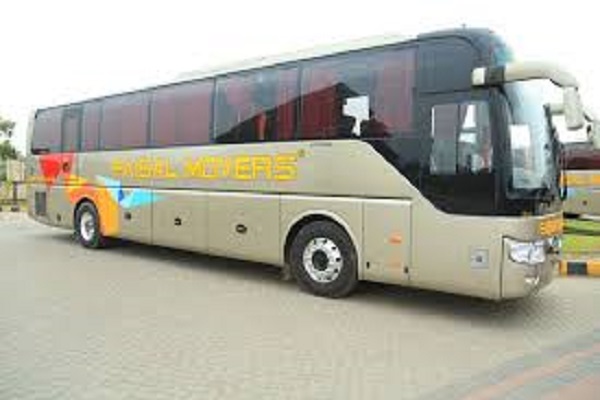 Faisal Movers Logistics
This cell was established in the early 90s with headquarter in Lahore. The Logistic Cell owns a professional and experienced staff with a full range of transportation services and logistics. Their expertise includes offering tailor-made and comprehensive solutions to fulfill relocation requirements so residential and corporate customers.
Major centers are located in Islamabad, Lahore, Mianwali, Multan, Gwadar, Sadiqabad, Dharki, and Karachi. The Logistic Cell deal with the following significant commodities:
Cement
Coal
Sugar
Wheat
Fertilizer
KCS
FM is providing its clients with Cargo Services under the banner of Khawaja Cargo Services). It gives its cargo services 24/7 delivering Speedy and Secure cargo consignments of prestigious customers. The company has established many cargo collection centers in different cities.
Faisal Movers Terminals
It has terminals in the following cities:
Quetta
Karachi
Hyderabad
Sukkur
Mian Channu
Chichawatni
Sahiwal
Dera Ghazi Khan
Bahawalpur
Multan
Sargodha
Faisalabad Peshawar
Murree
Faizabad
Islamabad
Lahore
Top Routes
Lahore to Islamabad
Multan to Islamabad
Islamabad to Hunza
Lahore to Bahawalpur
Lahore to Swat
Lahore to Multan
Lahore to Karachi
Lahore to Vehari
Islamabad to Bahawalpur
Lahore to Sargodha
Lahore to Dera Ghazi Khan
Lahore to Faisalabad
Multan to Bahawalpur
Multan to Sadiqabad
Multan to Faisalabad
Lahore to Sadiqabad
Contact Information
E-mail: [email protected]
Website: https://faisalmovers.com/
Mobile Number: 0311-1224488