Ehsan Elahi Zaheer was a Pakistan-based religious scholar of the Ahl-i-Hadith movement. He studied at International Medina University. He is considered among the most prominent religious figures of Pakistani history and was popularly known for his statements against Ahmadiyyah and Shias.
Elahi Zaheer has authored several books in the Arabic language, translated them into Urdu and many other languages. In 1987 he died in a bomb blast. This article depicts his complete information including Ehsan Elahi Zaheer Biography.
| Title | Description |
| --- | --- |
| Personal | |
| Name: | Ehsan Elahi Zaheer |
| In Urdu : | اِحسان الہٰی ظہیر |
| Famous As: | Islamic theologian |
| Nationality: | Pakistan |
| Residence: | Sialkot, British Raj, now Punjab, Pakistan |
| Education: | Islamic University of Madinah |
| Religion: | Islam |
| Profession: | Pakistani Islamic theologian and leader of the Ahl-e-Hadith movement |
| Other names : | Allama, Ihsan Ilahi Zahir; Ehsaan. |
| Era : | Modern era |
| Creed : | Ahl-e-Hadith |
| Main interest(s) : | Salafism |
| Works: | Al-Qadiyaniyyah, a refutation of Ahmadiyyah (1376 AH) |
| Born | |
| Date: | 31 May 1945 |
| Place: | Ahmedpura, Sialkot, British Raj, now Punjab, Pakistan |
| Died | |
| Date: | 30 March 1987 |
| Rest Place: | Riyadh, Saudi Arabia |
| Death Reason: | He died from an assassin's bomb blast |

Ehsan Elahi Zaheer Biography
Zaheer Elahi was a renowned religious scholar having a wealthy and religious background, and his father being a religious person, taught his sons to devote themselves to Islam. Ehsan followed his father's advice and footsteps and served his religion selflessly.
He memorized the Holy Quran at the age of nine only. He also attained a Masters's degree in Arabic, Islamic Studies, Urdu, and Persian and studied under eminent Islamic scholars' supervision. His opponents planned his murder and planted a bomb at a stage that exploded when he delivered a lecture resulting in his death. His writings are available in different languages and are still read.
Zaheer Date of Birth
He opened his eyes on 31st May 1945 in Sialkot, Punjab.
Education of Zaheer
He got educated in Salafism seminaries from Faisalabad and Gujranwala. Zaheer Elahi later earned a Masters's degree in Persian, Urdu, Islamic Studies, and Arabic from Punjab University and further continued his education in Islamic Law at Madinah University under several scholars' supervision.
He memorized the Holy Quran when he was nine. During his religious career, he used to deliver lectures in different Pakistani cities.
Ehsan Elahi Zaheer Family
He belonged to a religious Punjabi family. His father was a businessperson and wanted all his sons to sacrifice their lives and time for Islam. His father uses to attend Sheikh Muhammad Ibrahim's lectures regularly. He was also profoundly impressed by Hafiz Abdullah, Sheikh Dawood al-Ghaznavi, Sheikh Mohammad Ismail as-Salafi, and Sheikh Thanaullah al-Amritsari.
Zaheer Elahi was a regular worshipper and also forced his children to perform religious obligations. He wanted to make his elder son Sheikh Ehsan just like Ibraheem Meer and Thanaullah, who authored several books against Christians, sects, and Hindus.
Ehsan's sons have also followed in his footsteps as one of his sons Hashim Elahi, a renowned Islamic scholar. Another son Ibtisam Elahi is also a religious scholar and has founded a party named 'Jamiat-Ahle-Hadith.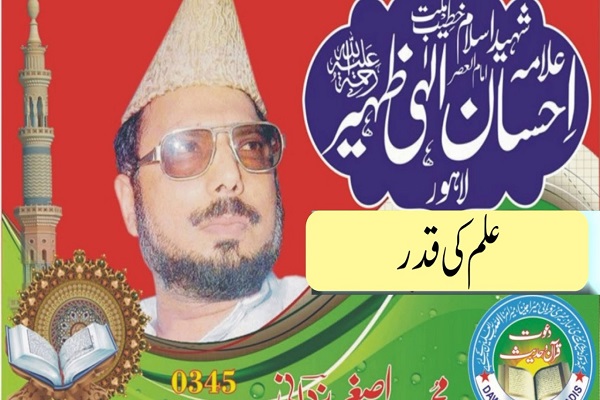 Career
Imam of Mosque
After completing his education in Medina, he moved to Lahore and became Imam of Mosque Ahl-ul-Hadith Chiniyawali, a historical Mosque. Sheikh Dawood-al-Ghaznavi, Sheikh Abdul-Wahid, and Sheikh Mohammad Hussain-al-Batalwi were Khateeb in this Masjid.
Editor of Al-Itisam
He was selected as editor of the magazine 'Al-Itisam' by Sheikh Ismaeel as-Salafi. Ehsan launched a magazine named 'Tarjuman-al-Hadith' that is still published.
Founded Jamiyat Ahl-ul-Hadith Pakistan
He founded his Jamiyat named 'Jamiyat Ahl-ul-Hadith Pakistan' and served as its Nazim-al-Ala while Sheikh Mohammad Abdullah served as its leader.
Joined Tehreek-e-Istiqlal
He joined a political party named 'Tehreek-e-Istiqlal' in 1972 but in 1978 parted his ways from this party.
Main Teachers of Zaheer
Sheikh Abdul Barakat Ahmad
Hafiz Mohammad al-Gondalwi
Sheikh Mohammad Shareef-Ullah
Sheikh Abdul Aziz
Hafiz Abdul Wahab al-Badhemalwi
Sheikh al-Albani
Sheikh Attiyah ibn Mohammad ibn Salim
Sheikh Abdul Mohsin al-Abaad
Sheikh Mohammad Ameen ash-Shanqiti
Sheikh Hamad ibn Mohammad al-Ansari
Sheikh Muhammad al-Munttasir al-Katani
Sheikh Abu Bakr al-Jazaairi
Sheikh Abdul Qadir Shaybaah al-Hamd
Sheikh Abdul Ghafar Hassan
Sheikh Mohammad Shaqra
Sheikh Dr. Mohammad al-Ashqar
Assassination
A bomb was planted at the stage to assassinate Ehsan, and when he was delivering a speech, the bomb exploded, assassinating him. His family blamed Iran-supported Shia extremists for assassinating him. Saudi chief Mufti Abd-al-Aziz King requested King Fahad to transfer Zaheer to Kingdom for his treatment at 'The Hospital of National Guards.'
But due to his deep wound, doctors couldn't save him. His funeral prayers were held in Medina, and millions of people, including eminent religious scholars, attended his funeral. He was embedded in Baqi-al Gharqad next to Malik Ibn Anas.
Ehsan Elahi Zaheer Books
He mostly wrote in the Arabic language, but translators have translated his writings into Urdu and several other dialects.
Urdu
Mirzaiyaat Aur Islam
Arabic
Al-Shiah Wa-al-Sunah
Al-Qadiyaniyaat
As-Shia Wa-Ahl-Al-Bait
Al-Bahaiyah
As-Shia-Wal-Quran
Bayna al-Shīʻah wa-ahl al-Sunnah
Ismāīlīyah
Translations in English
Kitab-at-Tahweed
Kitab-al-Waseelah