Agha Shorish Kashmiri was a leader, debater, writer and, scholar and was associated with the Majlis-e-Ahrar. He was a figure of sincerity and loyalty. Apart from being a fearless journalist and orator, he was also a lover of the Prophet. His feat was that when there was talk of Islamic socialism everywhere, he stood firm in front of the socialists, and despite coming to power, he did not dare to implement socialism and, finally, succeeded in making the Qadianis a minority. This article has all the information about Agha, including Agha Shorish Kashmiri Biography.
| Title | Description |
| --- | --- |
| Personal | |
| Name: | Agha Shorish Kashmiri |
| Local Language Name: | آغا شورش کشمیری |
| Famous As: | Journalist |
| Nationality: | Pakistan |
| Residence: | Lahore |
| Education: | Matriculation |
| Religion: | Islam |
| Profession: | Journalist, Orator, Poet, Political activist and Historian |
| Pen Name: | Shorish |
| Genre: | Nazm poetry and News magazine Editor |
| Born | |
| Date: | 14 August 1917 |
| Place: | Lahore, British India |
| Family | |
| Spouse: | Khursheed Begum |
| Children: | Agha Mashood Shorish |
| Died | |
| Date: | 6th October 2013 |
| Rest Place: | Lahore |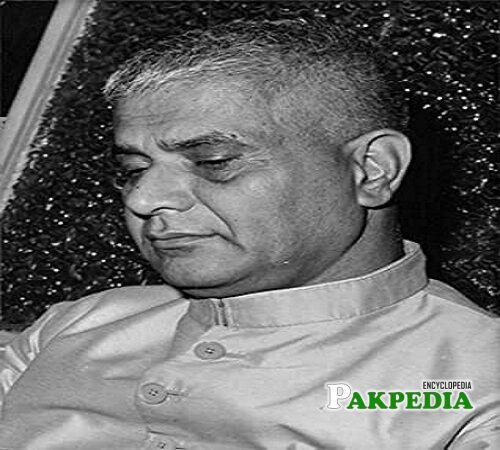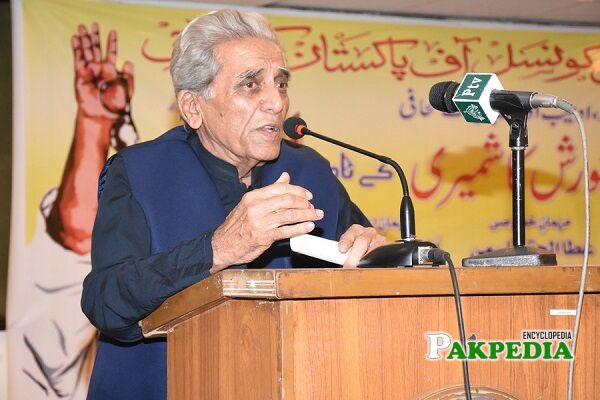 Agha Shorish Kashmiri Biography
Whether it was the issue of protection of the Prophet's honor or the struggle for the protection of the doctrine of the end of Prophethood, Agha would come out in the field with swords and shrouds. The love of the Holy Prophet, like every faithful Muslim, remained the goal of Agha's whole life. 
The love of the Prophet (peace and blessings of Allah be upon him) kept him active against the Qadianis, until the last breath of his life. His persistent and relentless struggle to declare the Qadianis a non-Muslim minority through parliament under Zulfiqar Ali Bhutto is one of the brightest chapters in the history of the Movement for the end of Prophethood.
Agha date of birth
He was born on August 14, 1917, in Lahore. Till his death, he lived in Lahore all his life.
Education of Kashmiri
Agha was born into a middle-class family and barely did matriculation. In his student life, it was his routine to read the daily 'Zamindar.' As a result, his literary taste matured, and he fell in love with the late Maulana Zafar Ali Khan. He was the heir of Syed Atta Ullah Shah in speech and pupil of Molana Zafar Ali in journalism. He learned prose from Molana Abdul Kalam and Islam from Sayed Abul Aala Maudodi.
Agha Shorish Kashmiri Family
Agha's spouse Khursheed Begum died in 2017. His son Agha Mashood Shorish is Press Secretary to Governor of Punjab.  
Political Career
He started his career by addressing and presiding over the public gatherings of Tehreek-e-Masjid Shaheed Ganj. At a young age, he delivered a powerful speech against the British from the platform of Majlis-e-Ahrar-e-Islam in Agahi Chowk, Multan; as a result, he was subjected to police brutality and subsequent imprisonment, but his passion grew more assertive. 
He was sentenced to a total of ten years in prison for participating in the independence movement during the British rule. He was not in Tehreek-e-Pakistan, but his services in the construction of Pakistan are unforgettable. Whether it was the stage of constitution-making in Pakistan or the revival of democratic values, he was seen standing firm in the field as a leader.
As a Writer
Chitaan
He launched the weekly 'Chitaan' in 1949 and brought it to its peak. 'Chitaan' was once a popular leaflet, and people used to get it by queuing at the sale point. He wrote a poem on current affairs, a commentary on books, and a literary column under various pen names. Apart from this, many articles kept coming out of his pen. 
As a result of his truthfulness, he was imprisoned from time to time. He shook a dictator like President Ayub by going on a nine-day hunger strike. The dictatorial government was finally forced to bow to him and release him. The 'Chattan' declaration was canceled several times, but they never cared about the pros and cons.
Saqi Nama
At the end of President Ayub's time, he wrote a 'Saqi Nama,' which is a chronicle of every dictator's dark days. He has also analyzed the role of imperialism in changing the world situation. His poems make the reader think.
Anthems
He is also privileged to have written dozens of high-quality anthems during the war of 1971, which were broadcasted on Radio Pakistan and continued to inspire the Pakistani forces. A collection of these songs and poems was later published under the name 'Al Jihad Wal Jihad.'
Agha Shorish Death
This true lover of Islam and Pakistan, defender of the end of Prophethood belief, a critic of traitors and conscienceless passed away on October 6, 2013.
Agha Shorish Kashmiri Books
Al-Jihaad Va Al Jihaad
Qaid E farang
Iqbal
Kulliyat E Shorish Kashmiri
Hindustaan Mein Ibn E Taymiyaah
Iqbal Aur Qadiyaaniyat
Qalmi Cherhay
Abulkalaam Azad
Sayid At̤aullah Shah Bukhari
Tehreekh E khatm E Nuboowaat
Nauu Rattan
Maẓameen E Shorish
Mirail
Iqbaaliyat E Shorish
Cih qalandaranaah guftam