Dior Shoes Brand
French-based designer Dior opened the Christian Dior fashion house on 16th Dec 1946 at 30 Avenue Montaigne in Paris, with the help of Marcel Boussac. However, the house of Dior claims 1947 as the conception year because it was then that Dior displayed his 1st collection. After the display of his debut collection, he was recognized by everyone for his style and look.
His innovation and strategy, seasonal changes, and media-savvy revolutionized women's perception of fashion. The 1st Dior shoe collection was introduced in 1953 with the help of Roger Vivier. Vivier worked as a shoe designer for Christian Dior Shoes from the 1940s to the 1960s and was well-known for his extravagant materials and exquisite forms.
The Dior shoe collection consists of Dior Homme shoes, Dior gym shoes, Dior shoes heels, Dior shoes sneakers, kids Dior shoes, Nike Dior shoes, and converse Dior shoes.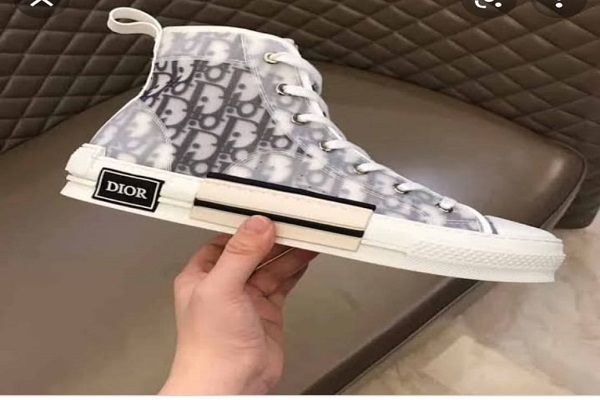 Dior Shoes History
Christian Dior, the French fashion designer, opened his eyes in Granville, France. Dior grew up in the luxurious surroundings of his family villa, Les Rhumbs, situated on the Channel shore in Granville. In 1946, Dior selected a private mansion situated at 30 avenue Montaigne as the place for his own company, which was founded on 8th Oct 1946.
The company had eighty-five workers and four models, including sixty seamstresses. The management team included the head couturier, financial director, workshops head, artistic advisor, and studio head. He spent his life's last ten years in the effort to develop his fashion house and expand his influence on the fashion world.
In 1951, Dior launched a stocking and glove subsidiary, as well as the Christian Dior Delman firm, which manufactured Roger Vivier-designed shoes. The image of Christian Dior's creations includes Roger Vivier's shoes, Brossin de Méré's prints, Brivet's tulles, Rébé (René Bégué) and Georges Barbier's fabrics, Francis Winter's jewels, and René Gruau's drawings. In 1955 Dior house had 1000 workers in twenty-eight units.
Dior Shoes Collection
1- Dior Shoes Men
Sneakers
Dior sneakers for men blend unmatched competence with creativity. The material used in the manufacturing of these men's sneakers includes canvas, cotton, leather, polyester, embroidered fabric, wool, technical fiber, and smooth leather. These sneakers are available in various models like B01, B22, B23, B25, and B27.
Boots
The Dior Men boot blends technical skill with grace, making it great for wearing with a casual dress or adding a fashionable touch to formal dresses. Leather and technical fiber are used as raw materials in the making of these boots. The boots are available in white, blue, and black colors only.
Loafers and Lace-up Shoes
These classic pieces of men's wardrobe are a symbol of timeless fashion. Leather and soft leather are used to manufacture these classic shoes.
Sandals and Slippers
Combining modernity and elegance the Dior sandals express boldness. Canvas, cotton, jacquard, and technical fiber is used to make these sandals. Color options for these sandals are blue, beige, white, and yellow.
2- Dior Shoes Women
Dior offers a wide range of shoes for women including sandals, heels, sneakers, pumps, espadrilles, flat shoes, mules, and boots. These shoes are made of high-quality raw material and celebrities are often seen wearing Dior shoes that add to the cost of this brand's footwear.
Sneakers
Dior sneakers, which are decorated with flowery embroidery, strike the perfect balance between Dior's couture spirit and urban living. Wool, technical fabric, sheepskin, cotton, canvas, leather, neoprene, and nylon are used for manufacturing the sneakers. These sneakers are available in blue, beige, black, gold, grey, green, pink, red, white, and multi-colors.
Pumps
Christian Dior was of the view that pumps could be worn with every dress. Dior pumps have luxurious materials and feminine curves designed to enhance elegance. For manufacturing Dior pumps wool, velvet, technical fiber, patent leather, mesh, lurex, leather, embroidered canvas, and cotton are used. Pumps are manufactured in blue, beige, black, gold, grey, pink, red, white, and silver color.
Boots
Dior boots give the wearer a trendy look in every weather. These boots and ankle boots dress up the calves and highlight the ankles. Rubber, lurex, nylon, neoprene, patent leather, technical fiber, wool, and velvet is used to manufacture these boots. Available color choices are beige, blue, black, green, white, and gold.
Sandals
In leather, velvet, or satin Dior Sandals complete a sophisticated and sensual style and are manufactured in blue, black, gold, grey, pink, silver, and white colors.
Ballerinas & Flat Shoes
Dior loafers, ballerinas, and derby shoes available in a wide variety of styles and materials provide comfort and style.
3- Dior Shoes Kids
The unique expertise of Dior workers results in comfortable kids' shoes. Leather shoes with graphical stripes and bright colors add a sporty-elegant touch to kids' outfits. Loafers and derby shoes reflect modern grace inspired by Homme collections of Dior. A wide range of shoes is offered both for girls and boys including ankle boots, sandals, ballerina flats, sneakers, and a ballet flat.
Dior Shoes Price
Dior shoes come with a heavy price tag due to high-quality raw material, attractive color combinations, and elite craftsmanship. The x Dior Air Jordan 1 High sneakers is the most expensive one with a price tag of $23,512.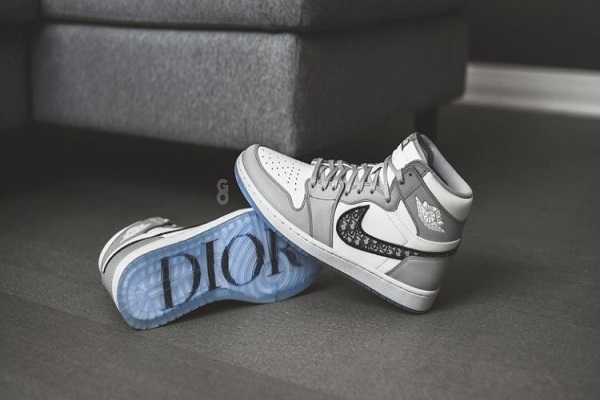 Dior Shoes Owner
Christian Dior born on 21st January 1905 was a French-based Fashion designer who earned fame by founding the world's leading fashion house 'Dior' that is now working under its parent company 'LVMH.' His family wanted him to be a diplomat but he was interested in art.
In 1937 a Swiss-born fashion designer Robert Piguet employed him and this working experience polished his artistic skills and he kept earning fame and applause in the fashion world. His fashion houses are recognized throughout the world. He passed away suddenly from a heart attack on 24th Oct 1957.
Popular Dior Shoes
Trendy pairs appear and diminish in the world of designer footwear, but there are some designs that have been at the top of users' wish lists for years. Dior is one such brand whose shoe collection has easily achieved cult status. J'adior Slingbacks, Dior Walk 'n' Dior Sneaker, Dior Granville Espadrille, Dway Slide, and Dior Solar Sneakers are some of the most popular shoe pairs by Dior.
Frequently Asked Questions
Q: How much are Dior shoes?
A: Dior shoes men and Dior women shoes come with different price tags however the most expensive Dior X Air Jordan 1 High OG released in 2020 has a price tag of $2,200.
Q: Where are Dior shoes made?
A: All Dior sneakers and shoes are manufactured in Italy except a few sandals and shoes made in Japan.
Q: Who makes Dior shoes?
A: Kim Jones the artistic designer at Dior designs Dior shoes.
Q: Why is Dior so popular?
A: Being a high-end brand that offers exclusivity and status may be enough to defend the popularity of this French brand. Other factors, such as a brand's rich heritage, excellent quality of raw materials, loyal client base, exceptional craftsmanship, and the number of celebrities using Dior products also add to its popularity.
Q: What is the most expensive Dior shoe?
A: Dior X Air Jordan 1 High OG is the most expensive Dior shoe with a price tag of $2,200.
Q: How can you tell if Dior shoes are fake?
A: The fake Dior shoes could be recognized by having a look at the insole: Real Dior shoes have 'Dior' printed in all capital letters whereas the fake Dior shoes have only the 1st letter capitalized. The font is also radically different taking up more space than the original ones.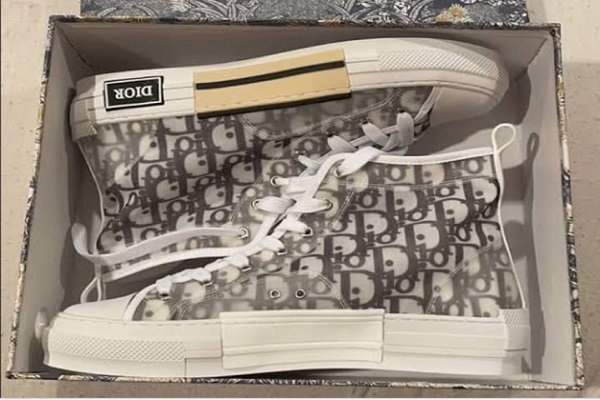 Also, Check
Social Media Handle
https://www.dior.com/en_int/womens-fashion/shoes/all-shoes