Ayesha Malik is a female Pakistani judge who is serving in Lahore High Court since 2012. She received her Law education degree from Harward law college and started practicing in the late 1990s. In the start, she worked with a Pakistani lawyer Mr. Fakhurddin G. Ebrahim, and got experience. Apart from this, she also taught law at the University of Punjab.
She is also a social worker who is attached to various NGOs. She has involved herself in many poverty programs. Besides this, she has also written various publications. On 12th August 2021, she made another achievement by being the first Pakistani female to be nominated as Supreme Court Judge. This article contains all the information about her, including Justice Ayesha Malik Biography.
| | |
| --- | --- |
|                  Title |                Description |
| Name: | Justice Ayesha Malik |
| Nationality: | Pakistani |
| Religion: | Islam |
| Education: | LLM from Harvard university London |
| Profession: | Judge, Social worker and Writer |
| Serves As: | Lahore High Court Judge |
| Date of Birth: | 3rd June 1966 |
| Family: | 3 Children |
| Social Media Handle: | https://twitter.com/ayeshak82 |

Justice Ayesha Malik Biography
Justice Ayesha also known as Ayesha A. Malik is a courageous Pakistani female judge who started her services in the late 1990s and made new records and history with her hard work and determination. She did her schooling and law education abroad and returned to Pakistan to serve her country. She remained affixed with Mr. Fakhurddin G. Ebrahim and Isa, Rizvi, and Afridi in her initial years.
She also worked as a president of Women judges protection that was the newly created committee at that time. Furthermore, she has a long list of social services that she kept doing throughout her career. Ayesha Malik is a living example for young girls who aspire to follow their passion and dreams at any cost.
Justice Ayesha Malik Age
She was born on 3rd June 1966. She holds Pakistani Nationality yet spent many years of her life abroad.
Justice Ayesha Education
She received her early schooling from New York and Paris. Later, she went to Francis Holland School London to obtain her A-levels degree. Afterward, she moved to Pakistan and did her bachelor's in Government College of Commerce. In the start, she received her law education from Lahore, but for LLM, she went to Harvard University.
Justice Ayesha Malik Family
Ayesha is married and blessed with 3 children.
Legal Career
Initial Start
After completing her education, she went back to Pakistan and started her career with the assistance of Mr. Fakhurddin G. Ebrahim in Karachi. She remained associated with a Pakistani judge, Mr. Fakhurddin G. Ebrahim, from 1997 to 2001.
As a Senior Associate
Later, she attached herself with Rizvi, Isa, Afridi & Angell and served as a senior associate from 2001 to 2004. She remained a partner with them and held charge of the firm's office held in Lahore.
Judge of LHC
After her immense hard work, she became the judge of Lahore High Court in 2012. She will be retired from this post in 2028. While being on the seat, she made many noted achievements. A committee for the Protection of Women Judges in 2019 was held for which Ayesha Malik was made the president. The chief justice of LHC originated the committee.
Legal Practices
Justice Ayesha Malik is attached to The International Association of Women Judges, where the rights of women and girls are protected. Furthermore, she is a protector of every gender's perspective. She makes appearances in District Court, High Court, Special Tribunals, Banking Court etc. She has been involved in various cases revolving around divorces, Children custody, human rights in Australia and England.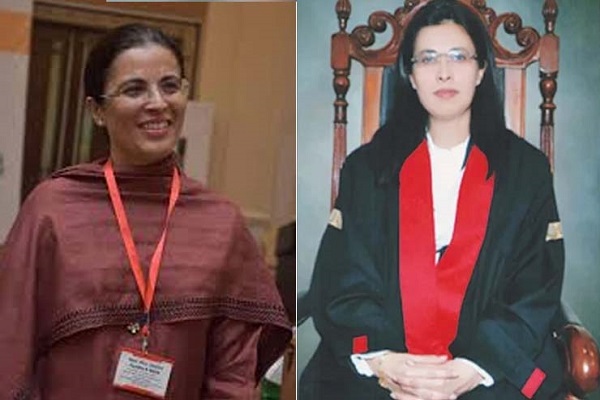 Judge of Supreme Court
The Lahore High Court judge, Ayesha Malik, is nominated for the Supreme Court judge post by Chief Justice Gulzar Ahmed, and if things go well, she will be the first female in history to be appointed as a Supreme Court Judge. This news on social media made everyone happy, and she started getting a lot of congratulatory and best wishes messages.
Social Worker
Justice Ayesha Malik has been in different social works throughout her life. She did a lot for poverty with different NGOs and taught different communication skills and English language programs to SOS Village students.
As a Writer
Besides being a judge and social worker, she is also a writer and wrote various publications in the past. A few of her publications were published in the Oxford university press.
Social Media Handle
Her social media account include