The Askari Bank was established on 9th October 1991 in Pakistan as a public Ltd company. It started its operations on 1st April 1992 and is involved in the banking business, under the 1962 Ordinance of Banking Companies. The Bank is also listed on the Stock Exchange of Pakistan.
The Bank is concentrating on growth via enhancing its service quality, investing in people and technology, utilization of its extensive network of the branch that includes agricultural and Islamic banking. This article has every detail about the bank, including Askari Bank History.
| Title | Description |
| --- | --- |
| Details | |
| Type: | Bank |
| Urdu Name: | عسکری بینک |
| Traded As: | Karachi Stock Exchange |
| Industry: | Financial Services |
| Founded: | October 9, 1991 |
| Headquarter: | Rawalpindi, Pakistan |
| Key People: | President & chief executive Syed M. Husaini |
| Product: | Banking |
| Revenue: | 34.6 Billion, 2014 |
| Net Income: | Rs 4.015 Billion PKR (2014) |
| Total assets: | Rs. 447 Billion PKR (2014) |
| Consumer Banking: | ASK 4 CAR, ASKCARD (Askari debit card), Master card, Mortgage finance, Personal finance, PayPal |
| Islamic Banking: | Declared weight ages, Deposit schemes, Home Musharakah, Ijarah Bi Sayyarah, Profit rates |
| Branch Banking: | Deposit multiplier account, Investment certificates, Mahana Bachat account, Paishgi Munafa account, Roshan Mustaqbil deposit, Rupee traveler cheques, Value plus deposits, Value Plus Business |
| Agriculture Banking: | Kissan Aabpashi finance, Kissan evergreen finance, Kissan farm mechanization finance, Kissan tractor finance, Kissan livestock development finance |
| Alternate delivery channels: | ATM, Call center, I-Net Banking, Phone Banking, Mobile Banking |

Askari Bank History
The Bank was set up as Public Ltd Company on 9th October 1991, and on 21st June 2013, Fauji Group acquired this Bank. The Bank exists in the PSE (Pakistan Stock Exchange) list. Previously, it was also listed on Islamabad, Lahore, and Karachi Stock exchange before merging into a single combined Stock Exchange, i.e., PSX.
This Bank received its license (No. BL-7) under 1962 Ordinance s.27 of Banking Companies from Pakistan State Bank on 13th February 1992. Mr. Saeed Haider issued this license. 
Branches
The Bank has five-hundred and thirty-five branches all over Pakistan and a wholesale unit in Bahrain.
Askari Bank Board of Directors
Mr. Waqar Ahmad Malik-Chairperson

Lieutenant General Tariq Khan-Director

Mr. Sarfraz Ahmad-Director

Dr. Nadeem Inayat-Director

Syed Bakhtayar Kazmi-Director

Mr. Manzoor Ahmed-Director

Raja Mohammad Abbas-Director

Mr. Abid Sattar-Chief Executive and President

Mr. Muhammad Aftab-Director

Ms. Zoya Mohsin-Director

Mr. Mushtaq Malik-Director
Board Audit Committee
Mr. Muhammad Aftab Manzoor-Chairperson

Dr. Nadeem Inayat-Member

Syed Bakhtiyar Kazmi-Member

Mr. Manzoor Ahmad-Member
Board H.R. and Remuneration Committee
Ms. Zoya Mohsin-Chairperson

Mr. Manzoor Ahmad-Member

Dr. Nadeem Inayat-Member

Mr. Sarfaraz Ahmad-Member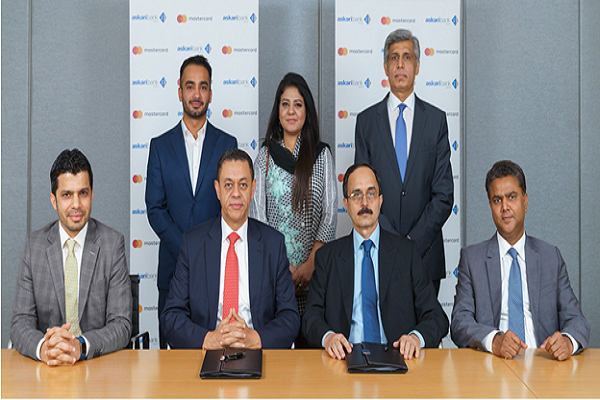 Board Risk-Management Committee
Mr. Manzoor Ahmad-Chairperson

Dr. Nadeem Inayat-Member

Ms. Zoya Mohsin-Member

Mr. Abid Sattar-Member

Mr. Mushtaq Malik-Member
Board I.T. Committee
Mr. Muhammad Aftab-Chairperson

Dr. Nadeem Inayat-Member

Raja Mohammad Abbas-Member

Mr. Abid Sattar-Member
Corporate Social Responsibility (CSR)
CSR (Corporate Social Responsibility) is an integral part of the method in which Bank does its business and is an essential element of their strategy. Being socially conscious contributes to less privileged people via several charitable associations working for society's welfare.
The Bank promotes several initiatives that foster community development and growth. It contributes to many programs and initiatives related to relief work, cultural endeavors, health, environmental causes, sports events, and education.
The Bank has also started an 'In-House' training project for graduated kids of their low-income workers to enhance their job chances. Through this initiative, children of low-income employees can sit in a test after graduation, and after clearing this test, they receive paid-training and a guaranteed job. 
Askari Bank Awards and Achievements
The Bank won the award for its Best Annual-Report of the year, 2012-second Runner, up by ICMAP and ICAP.

The Bank won the award for its Best Annual-Report of the year 2011-second Runner up by ICMAP and ICAP.

Award for Presenting Best Annual Report & SAARC Anniversary-Awards for 2011 Corporate Governance Disclosures by South-Asian Accountants Federation.

Best Pakistani Retail Bank by the 'Asian Banker.'

Corporate Excellence Award by MAP (Management Association of Pakistan)-2002, 2003, and 2004.

Pakistan's Consumer Association awarded Askari Bank the award for 1st Consumer Choice-2004.

Best Pakistani Bank by 'Global Finance Magazine-2001 & 2003

Asia Money & Euromoney Awards- 1994, 1996 & 1997.

Award for Presenting Best Annual Accounts by ICAMP & ICAP-2000, 2001 & 2002.

The Award for Best Consumer-Banking 2006-by Pakistan Consumer Association, 2007.

The Award for Presenting Best Annual Accounts by SAFA (South-Asian Accountants Federation) in the SAARC region.

The 2008 Best Retail Banking-Award by Guarantee Export Corporation Limited-2008.

Award for Best Corporate for 2008 by ICMAP and ICAP-2008.

The Award for Best Annual-Report for 2010 by ICMAP and ICAP.

The Award for 2010 Best-Presented Accounts-2nd Runner-up by South-Asian Accountants Federation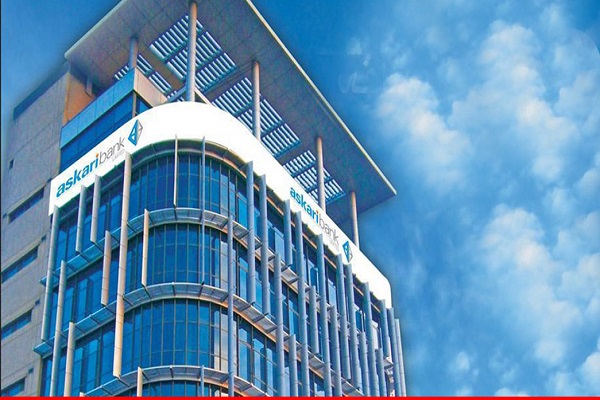 Training and Development
The Bank considers its workers as its primary asset and principal contributors to the Bank's performance and emphasizes retention, motivation, development, and attraction of its workers. The Bank's human capital is awarded the most outstanding value to achieve their goal of 1st choice bank.
The Bank accordingly focuses on developing its employee and improving ambiance via refinement of the work environment and processes. Regular reviews so assuring its dynamism and keeping the focus on key policies and principles.
Therefore, the professional development of its employees is among the critical elements of its H.R. strategy. Training objectives are set in light of TNA (Training Needs Assessment) procedures. According to training policies, the Bank's development and training team continues its mission to train the staff's Bank.
Every year several training workshops are organized for employees via in-house training institutes at Karachi, Lahore, and Rawalpindi. These academies train bankers on communication and management, attitude and service, risk management, international trade, finance and credit, I.T., and domestic banking operations. With the aid of industry experts, skilled and qualified faculty 
Internships
The internship by Bank is about identifying the resources that can provide maximum exposure in minimum time and encourages those who are willing to make their way towards excellence. Leading seniors further support this learning who utilize their interns as Bank's asset.
The internship is arranged for graduates who want to continue their studies in commerce or business or also for post-graduate students who require training as part of their degree. The Bank offers internships every year according to branch consent. 
Procedure for Applying for Internship
Application internship should have the following documents:

Passport size picture

CNIC Copy

Application

Resume

Recommendation letter from internee's Institute/ University
Bank's Recruitment Process
The Bank's selection procedure is different from post to post and is designed to match an individual's experiences, interests, skills, and knowledge. Bank administration uses various tools and methods to determine motivations and skill level. The hiring procedure is designed to identify and recruit the best individuals most fairly.
Due to the Bank's rapid growth in all banking arenas, the recruitment procedure remains continuous.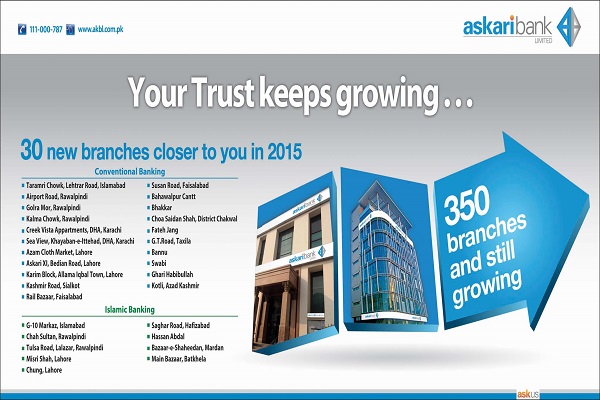 Management Trainee Officer (MTO)
Candidates who want to join Bank's trainee program have to clear a test that covers these topics:
Economics

English

Business Mathematics

General Knowledge

Accounting and Finance
Askari Bank Services
Digital Banking
Internet Banking

SMS Banking

Mobile Banking

Online Shopping

Online Payments via Digital Channels

Phone Banking

E-Statement

ATM

Payment of Gov Duties and Taxes

RTGS (Real Time Gross Settlement)

Pay Pak Debit Card

Issuance of Cheque Book

SMS Alert Service

Askari Visa Debit-Card
Bancassurance
Askari Life-Insurance

EFU Life Assurance

Allianz EFU Health-Insurance
Askari Bank Partners
U Remit International Corporation

Cash Express, Dubai United Arab Emirates

NEC Money Transfer, United Kingdom

Western Union

Trans-Fast Remittance LLC

Instarem Pte Limited
Registered Office
AWT Plaza, The Mall,
P.O. Box 1084, Rawalpindi.
Contact Information for Investor Relations:
Ph#: 051-8092624
E-mail: [email protected]
Fax: 051-2857448
Head Office
Address: 3rd Floor, Plot# 18, NPT Building, F-8 Markaz, ISB.
Phone # 051-2857424-39, 051-8092000
Fax: 051-2857448