Wasim Akram an old Picture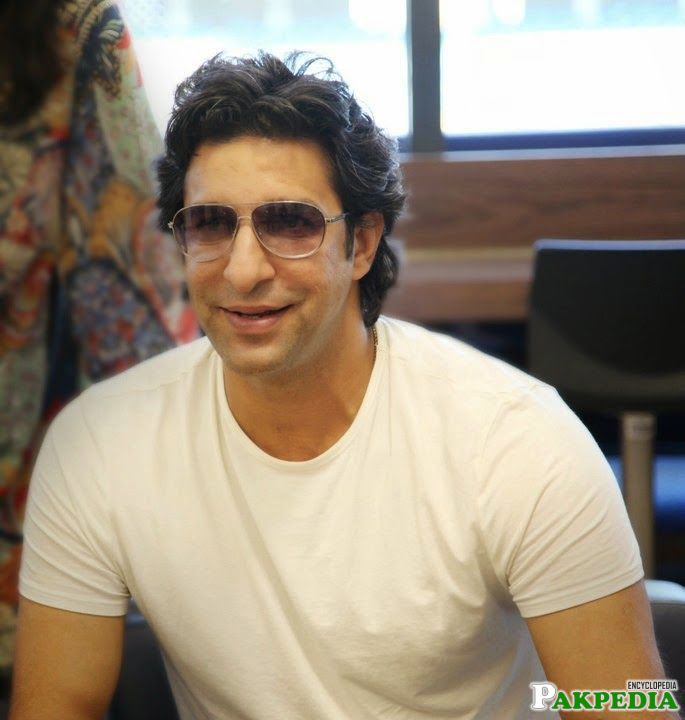 Wasim Akram Personal Photo
Wasim Akram in Fastion Show
Wasim Akram with his Family
Wasim Akram Pakistani Cricketer
Career
Early Career
Wasim Akram was born on 3 June 1966 in
Lahore
.He was educated at Government Islamia College Civil Lines Lahore, where he played as an opening bowler and batsman.Akram's father, Chaudhary Muhammed Akram was originally from a village near Amritsar in east Punjab, India who moved to Pakistan after partition. Akram loves watching Indian movies and considers Amitabh Bachchan as his favorite actor.
[1]
not learnt dancing: Wasim- oneindia
.At the age of 30, Akram was diagnosed with diabetes. "I remember what a shock it was because I was a healthy sportsman with no history of diabetes in my family, so I didn't expect it at all. It seemed strange that it happened to me when I was 30, but it was a very stressful time and doctors said that can trigger it.Since then he has actively sought to be involved in various awareness campaigns for diabetes. Akram married Huma Mufti in 1995. They have two sons Tahmoor (born 1996) and Akbar (born 2000) from their marriage of fifteen years. Huma died of multiple organ failure at Apollo Hospital in Chennai, India on 25 October 2009.
[2]
Akram's wife dies- espncricinfo
International career
In 1988 Akram signed for Lancashire County Cricket Club in England. From 1988 to 1998, he opened their bowling attack in their ECB Trophy, Benson and Hedges Cup and National League tournaments. He was a favourite of the local British fans who used to sing a song called "Wasim for England" at Lancashire's matches. In 1998, with Akram as captain, Lancashire won the ECB Trophy and Axa League and finished second in the championship tournament despite losing only five matches in all competitions throughout the season.
[3]
"County Championship- brink of history"
Test Career
Akram made his Test cricket debut for
Pakistan
against New Zealand in 1985 and in his second Test match, he claimed 10 wickets.A few weeks prior to his selection into the Pakistan team, he was an unknown club cricketer who had failed to make it even to his college team. He came to the trials at Gaddafi Stadium in Lahore in Pakistan, but for the first two days he did not get a chance to bowl. On the third day he got a chance; his performance convincing Javed Miandad to insist upon his inclusion in the national team. Akram was hence given an opportunity to play for Pakistan, without any significant domestic experience. Akram's rise in international cricket was rapid during the late 1980s. He was a part of the Pakistan team that toured the West Indies in 1988. However, a groin injury impeded his career in the late 1980s. Following two surgeries, he re-emerged in the 1990s as a fast bowler who focused more on swing and accurate bowling.
[4]
Wasim Akram: stats analysis 
One Day International
1992-97
Akram was a significant figure in the 1992 Cricket World Cup held in Australia and New Zealand, when Pakistan won the tournament. In the final, against England, his innings of 33 runs off 19 balls pushed Pakistan to a score of 249 runs for 6 wickets. Akram then took the wicket of Ian Botham early on the English batting innings and when brought back into the bowling attack later on, with the ball reverse swinging, he produced a spell of bowling which led to Allan Lamb and Chris Lewis being bowled in successive deliveries in one over. His performances earned him the Man of the Match award for the final. In 1993 Akram took 2 consecutive 4-wicket hauls against Sri Lanka in Sharjah in which 7 out of 8 wickets were either LBW or bowled.
[5]
Wasim Akram:1993- howstat
1983-91
In the 1987 Cricket World Cup held for the 1st time in South Asia, Akram struggled on Pakistani pitches where he managed only 7 wickets with an average of over 40 in 7 matches. Akram played West Indies, Sri Lanka and England twice. All group matches were played in Pakistan.In the 1988–89 Benson and Hedges World Series he managed figures of 4-25 against Australia. He took his hundredth wicket at Sharjah in 1989-1990 Champions Trophy  2nd Match against West Indies. His 100th wicket was of Ambrose. In that match he took a five-wickets haul for the second time in his career. In the same match he took his first hat-trick against West Indies. All three batsman were bowled. On 4 May 1990 in Sharjah, Akram took his second ODI hat-trick against |Australia. All three batsmen were bowled this time also.Up to December 1991 Akram took 143 wickets in 107 matches with an average of almost 24 and economy rate of 3.84.
World Cup
1998 to the 2003
In 1999, he led Pakistan to the brink of victory in the World Cup before they capitulated and was defeated by Australia in the final, by eight wickets with almost 30 overs to spare.This was the start of the match fixing controversies, as critics believed Akram had set up the match for Australia. However, none of the allegations could be proved.Despite the outbreak of war in the region, the tournament, which also involves Sri Lanka and South Africa other than Pakistan, was still on, according to latest reports available to the PCB.Though anticipated that some of the seniors would not be called for national duty, when chief selector Aamer Sohail announced the squad, eight out of the 15 that went to South Africa stood dropped. Though Abdul Razzaq and Saleem Elahi managed to survive, but only just and, as Sohail divulged, that too because of the intervention of skipper Latif.He was Pakistan's best bowler in the 2003 Cricket World Cup taking 12 wickets in 6 matches. However, Pakistan failed to reach the super six of the tournament and Akram was one of the eight players to be sacked by the Pakistan Cricket Board as a result.
Records
Akram won 17 Man-of-the-Match awards in 104 tests. He took 4 hat-tricks in International cricket  two in ODIs. and two in Tests, He finished with 22 Man-of-the-Match awards in ODIs. In 199 ODI match wins, he took 326 wickets at under 19 apiece with a run rate of 3.70 and took 18 four-wicket hauls. His 257 not-out against Zimbabwe in 1996 is the highest innings by a number 8 batsman in tests. He hit 12 sixes in that, most by anyone in a test innings.
[6]
Zimbabwe in Pakistan- Test Series
Post retirement
Coaching career
Akram was appointed the bowling coach consultant of Kolkata Knight Riders, the Indian Premier League team for Kolkata. Sourav Ganguly was always keen to have Akram as the bowling coach for India, during the former's stint as Indian captain. Although this never happened, his dreams were realised to some extent, when Akram was appointed as the bowling coach cum mentor for the franchise.
[7]
3rd edition: Wasim Akram
Akram has thus been playing a vital role in the grooming of Indian pacers like Mohammed Shami and Umesh Yadav, who owe their success in international cricket a lot to the bowling legend.
As A Commentarian
Since retiring from cricket, Akram has worked and taken up commentary for television networks and can currently be seen as a sports commentator for ESPN Star Sports and ARY Digital among others. He did commentary on a variety of sporting tournaments including the 2009 Women's Cricket World Cup in Australia, the 2009 ICC World Twenty20 in England, the 2009 ICC Champions Trophy in South Africa, and the 2011 ICC World Cup in India, Sri Lanka and Bangladesh.
Cricket controversies
In 1992, after he had been successful against the English batsmen, accusations of ball tampering began to appear in the English media, though no video evidence of foul play was ever found. Akram and
Younis
had been able to obtain prodigious amounts of movement from both new and old cricket balls. The skill of the reverse swing delivery was relatively unknown in England and around the cricketing world during that period. A far larger controversy was created when critics alleged that he was involved in match fixing. An inquiry commission was set up by the
Pakistan Cricket Board
headed by a Pakistan high court judge, Malik Mohammad Qayyum. The judge wrote in his report that:
[8]
Justice Qayyum's Report- espncricinfo
This commission feels that all is not well here and that Wasim Akram is not above board. He has not co-operated with this Commission. It is only by giving Wasim Akram the benefit of the doubt after Ata-ur-Rehman changed his testimony in suspicious circumstances that he has not been found guilty of match-fixing. He cannot be said to be above suspicion.
Award and records
In his Test career, Wasim took 414 wickets in 104 matches, a Pakistani record, at an average of 23.62, and scored 2,898 runs, at an average of 22.64.
In One-Day Internationals, Wasim took a world record 502 wickets in 356 appearances, at an average of 23.52, and scored 3,717 runs, at an average of 16.52.
Wasim was the first bowler in international cricket to take more than 400 wickets in both forms of the game, and only Muttiah Muralitharan has since achieved this.
Wasim Akram also held the record for the most wickets in Cricket World Cups — a total of 55 in 38 matches. [9] Wasim Akram also held -------   the record Australia's Glenn McGrath broke the record during the 2007 World Cup, ending with a final tally of 77 from 39 matches.On passing Wasim's record, McGrath said, "Wasim Akram, to me, is one of the greatest bowlers of all time. Left-armer, swung it both ways with the new ball and he was so dangerous with the old ball. To go past him is something I will always remember. Probably the other side of the coin is that if you play long enough, you're going to break records here and there."
Uniquely, Wasim took four hat-tricks in international cricket, two each in Tests and ODIs. He is one of only three bowlers to have taken two Test hat-tricks (the others being Hugh Trumble and Jimmy Matthews), and also one of only three bowlers to have taken two ODI hat-tricks (the others being fellow Pakistani Saqlain Mushtaq and Chaminda Vaas of Sri Lanka). Wasim's Test hat-tricks are unique, since they were taken in consecutive Test matches in the same series, against Sri Lanka in 1999. Wasim is also one of only two bowlers to have taken both a Test and ODI hat-trick (the other being fellow Pakistani Mohammad Sami).
Playing in a Test against the West Indies at Lahore in 1990-91, he became one of only six players to have taken four wickets in an over during a Test match. In Wasim's case, the feat was not part of a hat-trick, the third ball of the series being a dropped catch, which allowed a single.
Wasim has also achieved the highest score by a number eight batsman in Test cricket — 257 not out from 363 balls against Zimbabwe at Sheikhupura. The innings contained 12 sixes which is also a world record for Test crick
He also has the joint-highest number of Man of the Match awards in Test cricket, along with South African Jacques Kallis, with 17
President of Karachi Kings
The Pakistan Super League is around the corner and everyone is eagerly waiting for all the changes happening in the fourth edition. The former captain and the fastest bowler of his time Wasim Akram has confessed on Wednesday 14th November 2018 that he is the new president of the PSL team Karachi Kings. Previously another fastest bowler Shahid Afridi was the president but he resigned from the presidentship. Final player draft for PSL 4 will be revealed on November 20 in Islamabad whereas the tournament is scheduled to start from February 14 in UAE.