Younis Khan is a former Pakistani cricket team's captain. He led Pakistan to the victory of the T20 World Cup 2009. He is a right-arm batsman who has represented the national team in all three formats of the game. Younis is a very humble and ever-smiling character.
His batting records are highly regarded and have made him a world-class player. Currently, he is the batting coach on Pakistan's tour to England. This article has all the information about him, including Younis Khan Biography.
| Title | Description |
| --- | --- |
| Personal | |
| Name: | Younis Khan |
| In Urdu: | یونس خان |
| Famous As: | Cricketer |
| Nationality: | Pakistani |
| Residence: | Karachi |
| Education: | Not Known |
| Religion: | Islam |
| Profession: | Cricketer |
| Height: | 5 ft 11 in (1.80 m) |
| Born | |
| Date: | 29th November 1977 |
| Place: | Mardan |
| Family | |
| Spouse: | Amna Khan |
| Children: | Owais Khan |
| Parents: | Iqbal Khan |
| Siblings : | Farman Ali Khan, Mohammed Sharif Khan |
| Career | |
| National Side: | Pakistan |
| Team Role: | Middle-order batsman |
| Bowling Style: | Right-arm medium, |
| Batting Style: | Right-handed |
| Matches: | 110 in Tests, 265 in ODIs |
| Wickets : | 9 in Tests, 3 in ODIs |
| Bowling Average: | 54.55 in Tests, 90.3 in ODIs |
| Batting Average: | 53.98 in Tests, 31.34 in ODIs |
| Best Bowling: | 2/23 in Tests, 1/3 in ODIs |
| Balls Bowled: | 804 in Tests, 284 in ODIs |
| Runs Scored: | 9663 in Tests, 7,249 in ODIs |
| Test Debut: | 26 February 2000 v Sri Lanka |
| Test Last: | 21st October 2016 v West Indies |
| ODI Debut: | 13 February 2000 v Sri Lanka |
| ODI Last: | 11 November 2015 v England |
| ODI Shirt Number: | 75 |
| T20 Debut : | vs. England at County Ground, Aug 28, 2006 |
| T20 Last: | vs. New Zealand at AMI Stadium, Dec 30, 2010 |
| IPL Debut: | vs. Kings XI Punjab at Punjab Cricket Association Stadium, May 28, 2008 |
| IPLL Last: | vs. Kings XI Punjab at Punjab Cricket Association Stadium, May 28, 2008 |
| 100s / 50s: | 33/31 in Tests, 7/48 in ODIs |
| Top Score: | 313 in Tests,144 in ODIs |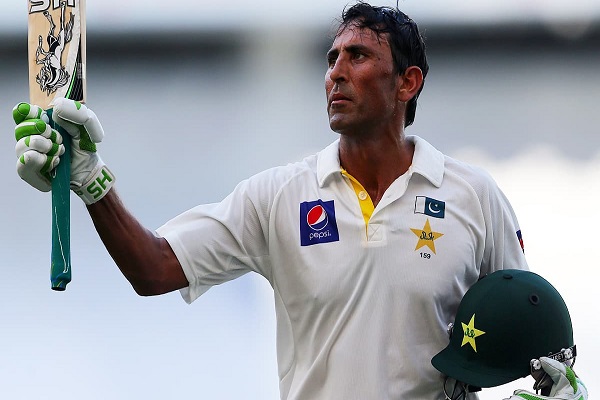 Younis Khan Biography
Playing a middle-order batsman, Younis made several world records, especially in the test format. His reliable technique and the ability to take on any bowler of the world when set made him a key performer for the team. His high conversion rate of fifty to a hundred made him score more for Pakistan in Test format.
He featured in 118 international test matches (most by any Pakistani so far), scored a mammoth total of 10099 runs, and became the first Pakistani batsman to surpass 10000 runs in the longer format of the game. Younis had an excellent batting average of 52.05.
He also registered 34 centuries and 33 half-centuries, another milestone for the highest number of Test centuries among Pakistani players. Younis had a triple hundred to his name with the best of 313 runs. He also played 265 One Day Internationals for the national team and 7249 runs at a batting average of 31.24.
It included seven hundred and 48 fifties. While in 25 T20 International matches, he made a sum of 442 runs at an average of 22.10 and strike-rate of 121.42. He also had a couple of half-centuries in this form of cricket.
Younis date of Birth
He was born on 29th November 1997 at Mardan, Khyber Pakhtunkhwa. Currently, he is living in Karachi.
Younis Khan Family
Younus Khan was born into a Pashtun family at Mardan. He migrated to Karachi alongside his family and settled there. He is married to Amna Khan and has two daughters and two sons. Currently, they're living in Karachi.
Cricket Career
Initial Career
Younis came to Karachi at a very young age. In his early days, he started playing professional cricket from Malir Gymkhana. He met with Rashid Latif and Saeed Anwar at that time. Latif helped him grow as a cricketer and played his part in his entry into the cricketing world.
Domestic Career
Besides playing for Pakistan, Younus has played for various other teams throughout the world. He has played for Yorkshire, Surrey. Nottinghamshire, Warwickshire, Rajasthan Royals, Habib Bank Limited, Peshawar Cricket Association, South Australia, and the rest.
He has been part of 229 first-class games and has achieved a remarkable sum of 17116 runs at an impressive batting average of 49.90. He has also registered a mammoth total of 56 hundred and 64 fifties into his first-class batting account.
Younis has taken 243 catches in the field and has removed 44 batsmen with his bowling. He has also been part of 351 List-A matches, where he has made 9911 runs with a batting average of 33.59. In that period, Younis has hit 12 centuries as well as 64 half-centuries with his batting.
He also has 196 catches and 28 wickets in his List-A cricket career. In his 83 T20 games, he has got 1864 runs, with a fine batting average of 30.55, including ten half-centuries. He also has claimed 34 catches in the field and six T20 wickets with his bowling.
Domestic Cricket Analysis
Paying for South Australia
Younis played for South Australian team Southern Redbacks in the 2008-09 domestic cricket season in Australia. He hit a tremendous match-winning century against the Queensland team in the first innings of a test match of Sheffield Shield in Brisbane. This gave the Redbacks team their first glory of the tournament for a year.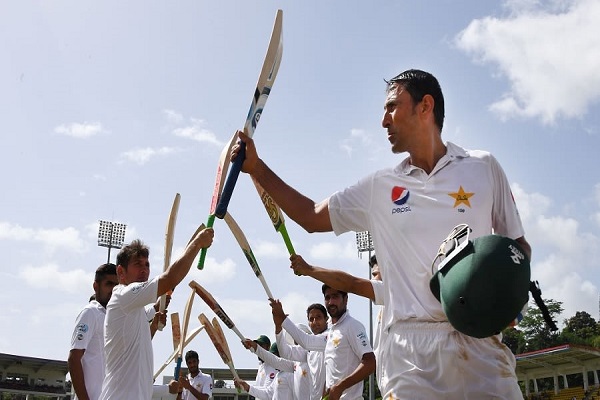 County Cricket Career
He played plenty of cricket in the English county. He started his county cricket career by playing for Nottinghamshire in 2005, and after two years, he signed as an overseas player for Yorkshire. His test debut did not go well in terms of performance, but in his One Day International debut for the team, he made a superb match-winning hundred by scoring 100 off just 92 balls against his previous squad Nottinghamshire.
In a County Championship match against Hampshire, Younus scored a hundred in the first innings. They smashed a remarkable double century in the second innings to become the first Yorkshire player to achieve a century and then follow it with a double century in the same match.
He also picked up four wickets for 52 runs, but the game ended up in a draw. He made another double century for Yorkshire against Kent, scoring 217 runs off just 252 balls. Younis also played for Surrey in the 2010 county season.
Indian Premier League
Younis played for the team of Rajasthan Royals in the 2008 IPL cricket league. Though he only featured in one game for the team, in the end, his team came glorious in the final of the tournament.
International Career and Achievements
Younis played for the national team in all 3 formats. He played as a middle-order batsman and had been very athletic in the field. He used to be a great sip fielder. Khan made his first international appearance in an ODI match on 13th Feb 2000 against Sri-Lanka; he scored 46 runs before he got out in an unwanted fashion due to Run-Out.
Test Cricket Career Highlights
On 26th Feb 2000, he featured in his first test game for Pakistan, which became a memorable and a founding stone of his long international career. He scored a classical hundred in his test debut.
In 2005 he had an outstanding Test series against the archrival India as he scored a magnificent 147 runs, followed by a remarkable match-winning 267 runs innings against the Indian side.
He would dominate the spinners with his fast slog sweeps and his ability to use the crease, while once set, he would disturb the line and length of fast bowlers with quick singles and his favorite drives through the off-side. After classical batting performances against India, Younus played against West-Indies and scored a match-winning hundred for Pakistan.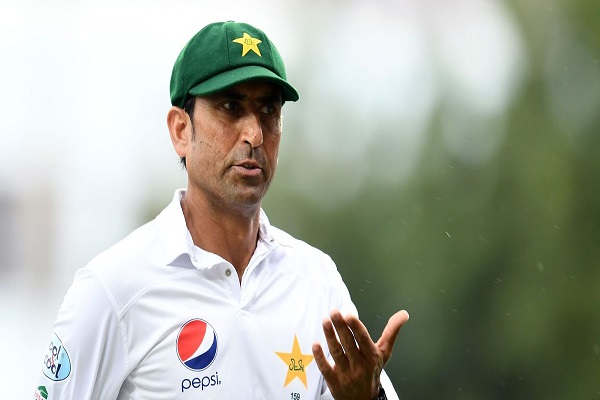 Successful Year
2006 was a very successful year for him in terms of his batting form. He played back to back inings of 196 and 199 against the Indian team. When Pakistan toured England, Younus hit another high class century of 173 runs in a test match and made an outstanding match-winning hundred in a One Day International.
On 27th Jan 2007, he made an unbeaten 67 runs innings in the fourth innings of the match to seal the victory against South Africa at Port Elizabeth, which leveled the series 1-1. In 2009 Younus made his highest test score when he smashed a magnificent world-class triple century, creating 313 against Sri-Lanka in an innings.
This was a memorable moment for any Pakistani who knew even very little about cricket. He did that as the captain of the Pakistan team. In 2013 he made another fantastic double century in a test match against Zimbabwe.
Late in his international cricket career, Younus made two of the most influential and highly recognized innings against England at Oval. He made a brilliant 218 runs, and the second against Australia, making an unbeaten 175 runs at Sydney Cricket Ground.
Limited-Overs Cricket Career
In an ODI series, he played the best innings of 73 as Pakistan got the victory by 1 wicket against South Africa. He was leading the Pakistan team in the 2009 T20 World Cup. His excellent leadership skills helped Pakistani winning its first-ever Twenty-Twenty World Cup.
He played his last T20 match for Pakistan on 30th Dec 2010 against New-Zealand at Christchurch. On 11th Nov 2015, he announced his retirement from One Day International Cricket. He played his last ODI on the same day at Abu Dhabi against England. Finally, after a remarkable and successful international career, Younus played his last test match on 10th May 2017 against West Indies at Roseau.
Younis Khan World Records
He made many world records in his cricketing career; some of those are listed below.
The first Pakistani cricketer to score over 10000 runs in test cricket.
First batsman to have at least one hundred in 11 test playing countries
Only Pakistani to have hundred against every test playing nation (excluding Afghanistan as they had not been recognized in his time)
He is the only player to have five centuries in the fourth innings of test matches.
Most number of centuries 34 by a Pakistani batsman
Having a joint-highest number of six double hundreds alongside Javed Miandad.
One of only two players to have a 45+ batting average in the fourth innings.
Most 100 plus partnerships for Pakistan 51 by a Pakistani cricketer.
Younus and Misbah have the most run by any batting pair for Pakistan.
He has the most number of away centuries, 23 by a Pakistani. It is the second-most in the world.
Third Pakistani to have a triple century.
Only Pakistani to have 100 or more test match catches in the field.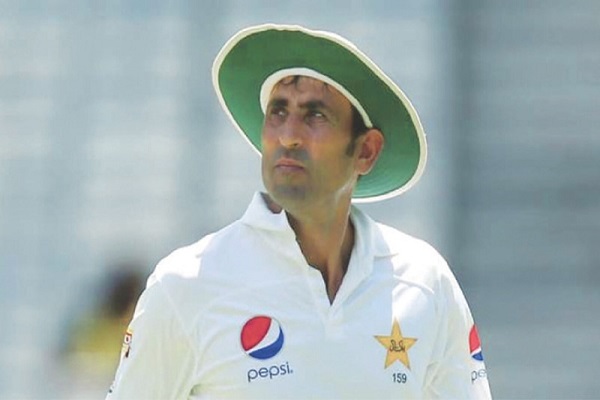 Social Media Handles
His social media accounts include
https://www.facebook.com/YounisK75/