Mohammad Asif is one of very few bowlers around the globe who could move the ball in both ways and could trouble any batsman playing against them. His cricketing career has remained full of highlights from great bowling spells to controversies like spot-fixing and drug use. He has been a rare find for Pakistan as he can take wickets regularly with medium pace deliveries. This article has all the information about Asif, including Mohammad Asif Biography.
| Title | Description |
| --- | --- |
| Personal | |
| Name: | Mohammad Asif |
| In Urdu: | محمد عاصف |
| Famous As: | Cricketer |
| Nationality: | Pakistani |
| Residence: | Lahore |
| Education: | Not Known |
| Religion: | Islam |
| Profession: | Cricketer |
| Height: | 1.93 m (6 ft 4 in) |
| Website: | https://twitter.com/muhammadasif_26 |
| Born | |
| Date: | 20th December 1982 |
| Place: | Sheikhupura |
| Family | |
| Spouse: | Sania Hilal |
| Parents: | Hassan Deen |
| Career | |
| National Side: | Pakistan |
| Team Role: | Bowler |
| Bowling Style: | Right-arm fast-medium |
| Batting Style: | Left-hand bat |
| Matches: | 22 in Tests & 38 in ODIs |
| Wickets : | 105 in Tests & 46 in ODIs |
| Test Debut: | 3 January 2005 |
| Test Last: | 26 August 2010 |
| ODI Debut: | 21 December 2005 |
| ODI Last: | 21 June 2010 |
| ODI Shirt Number: | 26 |
| T20 Debut : | England v Pakistan at Bristol |
| T20 Last: | England v Pakistan at Bridgetown |
| List A Debut: | 1999/00 |
| Domestic team: | Leicestershire, National Bank of Pakistan, |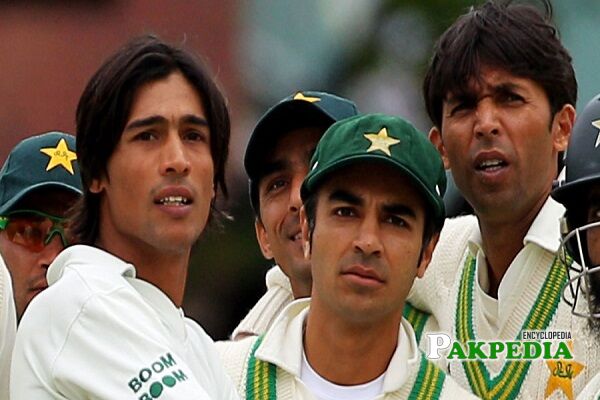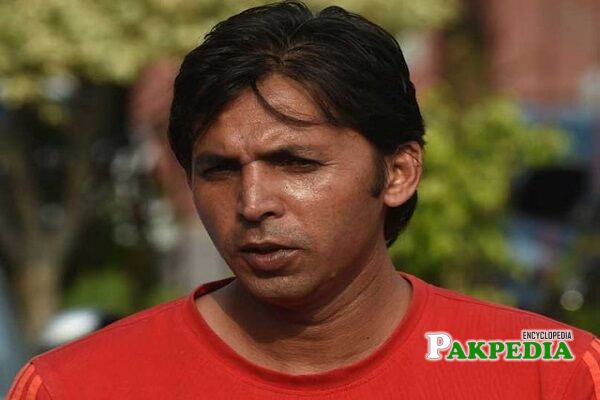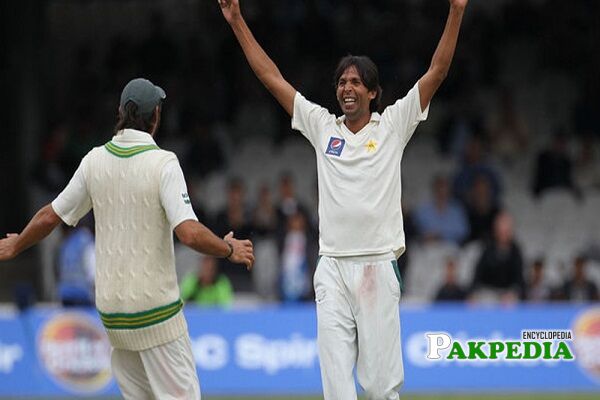 Mohammad Asif Biography
Asif was a class a bowler from the very first day as a cricketer. His brilliant cricketing mind always attracted the selectors to give him another chance whenever he dropped from the team for other reasons. He has played for Pakistan in 23 Tests and taken 106 wickets averaging just 24.36 taking a test wicket under 50 balls on average. He has some great bowling innings and has registered a ten-wicket haul and seven fifers.
Asif has also been part of 38 ODIs for the national side and averaging just over 33 with the ball. He could not claim a fifer in any of his ODIs but has been remarkably economical, averaging 4.71 runs in an over. He has appeared in eleven T20 Internationals and has knocked over thirteen batsmen. His T20 economy is eight runs per over.
Asif date of Birth
He was born on December 20, 1982, at Sheikhupura, Punjab.
Mohammad Asif Family
Asif belongs to a land-lord family of Gujar. His father's name is Hasan Deen. He had a keen interest in his childhood, who used to play cricket in the streets as a kid.
Cricket Career
Initial Career
Asif made his way into the professional cricketer in late 1999s. He appeared in List-A season of 1999-00 and then played in the first-class season of 2000-01. He performed well when he was young in his profession, but could not get an early chance to play international cricket. The reason was a tight competition among the bowlers and the bowling line's high reputation in the lights of Wasim, Waqar, and Shoaib Akhtar. Thus Asif had to wait for about five long years to play his first international game. He gained his first international call after taking seven wickets for 62 playing for Pakistan A against England.
Domestic Career
Asif played plenty of domestic cricket throughout his career. He was part of all formats of the game and played Tests, ODIs, and T20s. He has appeared in 103 First-Class games and has taken 441 wickets. His high number of wickets in the first-class is full of best bowling spells. He averages 23.10 in the format and has a strike-rate of 44.2. He has some great bowling performances, including six times Ten or more wickets in a match, and 29 Times has taken five or more wickets.
Asif has also featured in 86 List-A matches where he has claimed 95 wickets at an average of 32.91. Besides this, he has also been part of as many as 35 T20 games and has 50 wickets, including a fifer. He has bowled remarkably well, his stats are just a number game, and Asif has been someone who has achieved a lot more than what his stats suggest.
League Cricket
Mohammad Asif has involved with different T20 teams. He has played in domestic T20s in County and has also played for Delhi Daredevils in the Indian Premier League. The teams for which he has played excluding the national squad, include Asia XI, Sheikhupura Cricket Association, KRL, National Bank Pakistan, Lahore Division, Sialkot Cricket Association, Delhi Daredevils, Leicestershire and the rest.
International Career and Achievements
He made his debut in international cricket in 2005 and played his first Test match on January 02, 2005, in Sydney against Australia. He was wicketless in the game. In 2006 Asif made headlines in the third Test against India of the home series. The match played at Karachi, he picked four wickets in the first innings and bowled the top three batters of the Indian side including Sachin Tendulkar. His remarkable performance made him a great bowler in the sight of the cricket lovers.
After that magnificent performance by the medium pacer, when Pakistan toured Sri-Lanka, he again showed his best. This time his bowling was a treat to watch. Asif claimed 11 wickets in the second Test of the tour against Sri-Lanka and helped Pakistan clinching the victory. In Pakistan's tour to England, Asif made another excellent test performance in the fourth Test of the series and took four crucial wickets in the match.
Later he made an outstanding achievement when he took 19 wickets in Tests on the tour of South Africa. This brilliant bowling performance brought him to number eight test bowler at that time, and he listed among those bowlers of Pakistan who came in the top ten rankings with lowest matches played. Asif did that only in his 9th Test. He claimed 32 wickets in six tests when Pakistan toured New-Zealand and Australia.
One Day International Career
His ODI career has remained short as he could not play many matches for the national team throughout his career. He played his first ODI on December 21, 2005, against England. It was not like his first Test, as Asif bowled amazingly and took two wickets in 7 overs, giving away just 14 runs. On April 19, 2008, he got three wickets against Bangladesh and given the player of the match award. He could not win many games for Pakistan in ODis and played his last ODI against Bangladesh on July 21, 2010.
T20 International Career
He played only in 11 T20s for Pakistan and claimed a total of 13 wickets. One of the best performances came against India playing in the T20 World Cup 2007. Asif took four wickets for just 18 runs his four overs. He became the first bowler in international T20s to bowl a maiden over. He did that against England, not only this, but he also took two wickets in that record-breaking over.
Controversies linked to Asif.
Though Asif was a remarkable pacer, his career was full of headlines. He was first found guilty of taking drugs along with Shoaib Akhtar in 2006. In 2010, he found guilty of match-fixing in the famous but embarrassing incident when he, along with young Muhammad Aamir and Salman Butt banned from the cricket. These players jailed and remained out of cricket for years.
Asif, after completing his ban, came to the domestic side and played for WAPDA in 2016-17 Quaid e Azam trophy. Since then, he is unable to make another comeback in international cricket for the Pakistan side.
Social Media Handles
His social media accounts include