Umar Gul is a Pakistani cricketer who is a right-arm medium-fast bowler. Gul is renowned for his destructive pace and reverse swings. He has played in all formats of cricket and is famous in the T20 format for his toe crushing Yorkers. This article has all the information about Gul, including Umar Gul Biography.
| Title | Description |
| --- | --- |
| Personal | |
| Name: | Umar Gul |
| In Urdu: | عمر گل |
| Famous As: | Cricketer |
| Nationality: | Pakistan |
| Residence: | Peshawar |
| Education: | Not Known |
| Religion: | Islam |
| Profession: | Cricketer |
| Height: | 1.91 m (6 ft 3 in) |
| Born | |
| Date: | 14th April 1984 |
| Place: | Peshawar |
| Family | |
| Spouse: | Married |
| Children: | Rehab Umar, Essa Umar |
| Siblings : | Meeraj Gul |
| Career | |
| National Side: | Pakistan |
| Team Role: | Bowler |
| Bowling Style: | Right arm fast medium |
| Batting Style: | Right hand bat |
| Matches: | 47 in Tests & 116 in ODIs & 52 in T20s |
| Wickets : | 163 in Tests & 161 in ODIs & 74 in T20s |
| 5 wickets in Innings : | 4 in Tests & 2 in ODIs & 2 in T20 |
| 10 wickets in Match: | 0 in Tests & n/a in ODIs & n/a in T20s |
| Best Bowling: | 6/135 in Tests & 6/42 in ODIs & 5/6 in T20s |
| Test Debut: | 20 August 2003 v Bangladesh |
| Test Last: | 14-17 February 2013 v South Africa |
| ODI Debut: | 3 April 2003 v Zimbabwe |
| ODI Last: | 15 March 2013 v South Africa 5 |
| ODI Shirt Number: | 55 |
| T20 Debut : | 4 September 2007 v Kenya |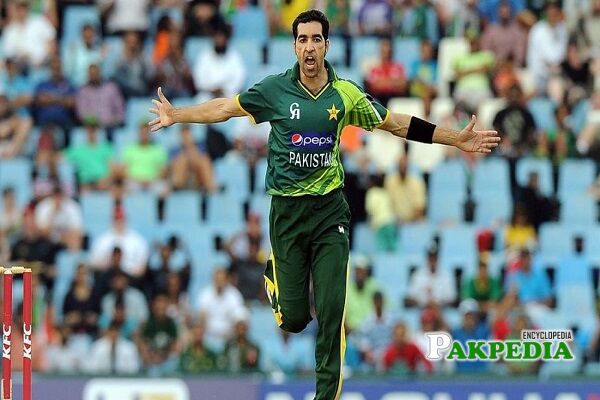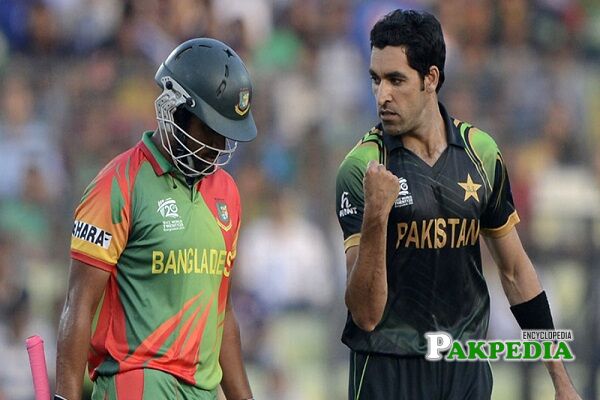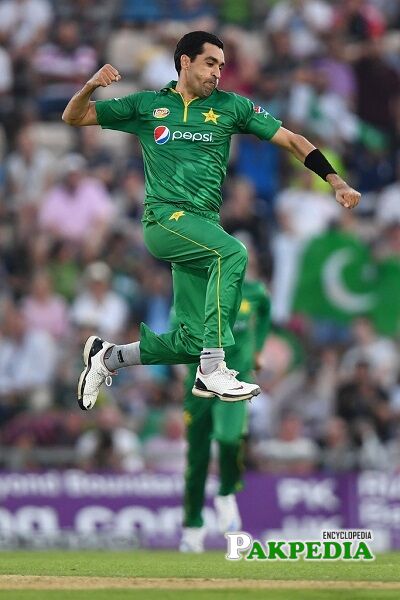 Umar Gul Biography
Umer Gul is a Cricketer who has played for the national team as an attacking fast bowler in all formats. He has appeared in 47 test matches and has dismissed 163 batsmen. In 90 innings, he averages 34.06 with the ball and strike rate of 58.8. His test stats include four five-wicket hauls. With the bat, he has a half-century to his name, Umar has also featured in 130 One Day Internationals for Pakistan and has 179 wickets at an average of 29.34 which also includes a couple of fifers. 
His T20 stats are worth his bowling skills; in his 60 T20 Internationals, Gul has 85 wickets to his name at an impressive average of 16.97. He has a couple of five-wickets haul in this form of cricket. His best figures in T20s are five wickets for just six runs.  
Umar date of Birth
He was born in Peshawar on 14th April 1984.
Umar Gul Family
Gul belongs to a middle-class family from Peshawar. He married a doctor from Dubai and has two children, a daughter and a son named Rehab Gul and Essa Gul.  
Cricket Career
Initial Career
Gul played tape ball at his early age and then selected for first-class cricket. After two years in first-class, he got added to international cricket for Pakistan.
Domestic Career
Besides the national side, Umar has played for different teams including Pakistan A. HBL, Kolkata Knight Riders, Quetta Gladiators, Multan Sultans, Peshawar, PIA, Sussex, Western Australia, Gloucestershire and the rest. He initiated first-class cricket in 2001 and played 125 matches in which he took 479 wickets with an average of 25.53 in bowling and three fifties in batting career. He has taken 27 times five wickets to haul, and 23 times four wickets haul in first-class cricket. 
Umar has the best bowling figure of 8/78 in an innings. In 2002, he also debuted in List-A, and contributed with 213 matches with 286 wickets and has 6/42 best bowling in a game. He debuted in domestic T20 format on 25th April 2005, played 161 T20 matches in domestic cricket and took 215 wickets with 6/24 his best bowling inning and has an average of 19.99 in bowling. 
He became part of the MCC Bicentenary Celebration match at lord in 2014. Gul named in the county cricket club for Gloucestershire, and he signed for this club in 2007, but unfortunately, the Pakistan cricket board not granted permission.
Indian Premier League
In 2008, he named in franchise Kolkata Knight Riders for US$ 150,000 in the first season of IPL. He remarkably performed in this season and got 12 wickets in 6 matches with an average of 15.33. He was given the man of the game in his last game, and he took his best inning with 4/23 and made 24-runs in 11 balls.
KFC Twenty20 Big Bash
In 2008 in December, Umar contracted with Western Warriors for KFC Big Bash 2008-09. In his debut match, he successfully bowled and dismissed four batsmen at 15-runs. Meanwhile, he has not played all the tournament games, but he remained the second most wicket-taker bowler in the entire match with 12 wickets.
Pakistan Super League PSL
Umar has been part of the Pakistan Super League. He has represented Quetta Gladiators and Multan Sultan teams in the past. His best figures in PSL came against Quetta Gladiators representing Multan Sultans with figures of six wickets for 24 runs.
International Career and Achievements
Test Format
Umer Gul debuted in test cricket on 20th August 2003 at Karachi against Bangladesh, he took 15 wickets in three debut test matches and became 2nd bowler with most wickets in the first series. he recalled against India in the three-match series, and Shabir replaced by Gul. In this series, he demised Indian top-order batsman, including Rahul Dravid and Sachin Tendulkar and Virender Sehwag. He became the man of the match with five wickets. 
In 2006, he returned after injury home series against West Indies, and he destroyed the batting line of the opponent team with his reverse swing bowling. He took 16 wickets in three matches, and broke Ramnaresh Sarwan's toe with his Yorker. Gul performed brilliantly against England in February 2009. He prevented the Pakistan team from follow-on by scoring 30-runs with Mohammad Asif till stumps day and came the next day with another 35-runs. He also took 6/135.
ODI Format
He debuted in ODI international cricket on 3rd April 2003 against Zimbabwe at Sharjah. He took his best spell against England with 6/42 at Oval. Umar played the 2007 World cup and took four wickets with 3.13 economy per over in all three matches. He got nominated in the world XI team on the bases of 2009-11 performance in ODI. He was removed from international cricket due to doping and recalled again in the ODI team on 9th August 2016 for tours, including England and Ireland.
T20 Format
He initiated his T20 career against Kenya on 4th September 2007. He achieved the title of a bowler who took five wickets haul in T20 for the first time. He is a second wicket-taker in T20 world after Shahid Afridi. He named in best bowler of the year in T20 for his spell against Australia with his bowling figure of 4/8.
T20 World Cup
Gul added in T20 world cup 2007 with his reverse bowling and 13 wickets in 13 over in tournament with 3/15 best bowling against New Zealand, and he appeared las the leading wicket-taker of the competition. In his excellent performance, he got selected in the T20 world XI team. He also participated in the 2009 T20 world cup and played well with the best bowling figure of 5/6.
Batting Achievement
Umar Gul is a quick run-gainer, and he proved many times in tough situations for the national Team with his sixes. His batting became the cause of winning with his small contribution in many times. He made 31-runs in 19 balls against South Africa T20 match. In August 2010, he avoided follow-on in a test match against England along with Mohammad Asif, he scored 65-runs his highest at that match.