Umar Gul with his Child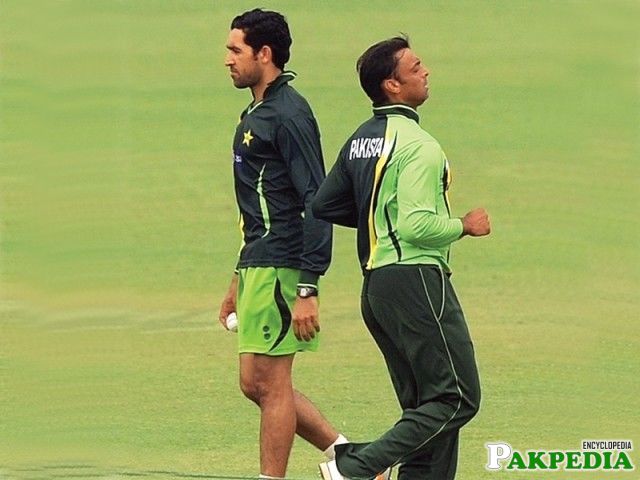 Umar Gul and Shoaib akhtar
Umar Gul Bowled Well
Umar Gul Drinking Tea
Career
Early career
Umar Gul was first called up for the team in April 2003, playing four one-day matches at the Cherry Blossom Sharjah Cup against Zimbabwe, Kenya and Sri Lanka,
[1]
Cherry Blossom Sharjah Cup- Cricinfo
where he took four wickets, and he was in and out of the one-day team after that tournament. However, he played the whole of the 2003-04 home series against Bangladesh, making his Test debut and taking 15 wickets in the three Tests, and took the second-most wickets of any Pakistani bowler in the series, behind Shabbir Ahmed with 17. However,
Shoaib Akhtar
, who took 13 in third place, only played two of the Tests.He was retained for the ODIs against Bangladesh, taking a List A best five for 17 in nine overs in the third match, and ended with 11 wickets in the 5-0 series win. However, he could still not command a regular spot, playing three of Pakistan's nine next ODIs before finally getting dropped after one for 36 against New Zealand.
Twenty20
In the 2009 ICC World Twenty20, he performed well, earning the mantle from at least one pundit of "the outstanding seam bowler of the World Twenty20". His five-wicket haul for just six runs, when
Pakistan
defeated New Zealand, won especial acclaim. The spell made him the first bowler in history to take a five wickets in a Twenty20 international, and he held the record of best T20 bowling figure until 8 August 2011, when surpassed by Ajantha Mendis (6/16). Mutterings were made about a possible correlation between ball tampering and the exorbitant amounts of reverse-swing he was able to extract, but he denied them categorically: "whenever an Asian bowler performs and uses the reverse-swing, the Western cricketing countries raise the issue of ball-tampering against them.He gained a lot of wickets bowled, in particular with late reverse swinging yorkers, which dip late to slide under the bat and leave little room for batsmen to maneuver the ball. Consequently, he has also an excellent economy rate in this format of the game.In December 2008, Gul signed with the Western Warriors to compete in the Australian domestic 2008-09 KFC Twenty20 Big Bash tournament. He performed very well in his debut match for the Warriors, taking 4 wickets for 15 runs in a losing side. He was among the most successful bowlers in the competition. Despite not being available for the entire tournament, he finished second top wicket-taker with 12 wickets.
[2]
Gul excited wicket- au.news
Test Career
Umar was recalled and played two Tests after that taking four wickets in a drawn Test against New Zealand before coming in as replacement for Shabbir Ahmed in the second Test of the three-Test series against India. After coming on as first-change bowler, Gul dismissed Virender Sehwag in his second over, and then bowled unchanged for 12 overs either side of lunch to take five Indian top order wickets including Rahul Dravid and Sachin Tendulkar, who both had Test batting averages above 50, as did Sehwag. Gul finished with five for 31 in his spell, earning him commendation from Cricinfo journalist Dileep Premachandran, who praised his "control of line and length", and he was also named Man of the Match despite conceding runs at five an over in the second innings in a nine-wicket win.Later in 2006, against West Indies at home, Gul had perhaps his most successful test series. He took 16 wickets in 3 tests, including notable spells of reverse swing bowling. He was responsible for breaking Ramnaresh Sarwan's toe with a dipping yorker.In February 2009, Gul recorded his best test figures in the Pakistan team, taking 6 for 135 on a flat pitch.Gul then suffered a hamstring injury in the second test when he was touring England in 2010 he was ruled out for three weeks that meant he would miss the remaining two tests. However Gul managed to recover and became fit enough to play in the fourth test
[3]
Umar win fitness race- NAGRAJ GOLLAPUDI
However they decided to rest Gul for the final test match despite the fact that he had recovered quicker than expected.
One Day Internationals
He appeared in all three of Pakistan's group matches in the 2007 World Cup taking four wickets with an economy rate of 3.13, only Shane Bond of those to deliver 100 balls was more economical.
[4]
BOWLING- ICC WORLD CUP- cricketarchive
He also appeared in all of Pakistan's matches at the 2007 ICC World Twenty20 taking 3/15 of 4 overs in the semi-final victory over New Zealand. He took three wickets in the final to finish as the tournament's leading wicket-taker.
Playing Style
Batting-skills
Umar Gul can perform well as a lower order batsman and has proved his ability as a quick.run-picker His finest moment with the bat came in a test match against England in August 2010 when Pakistan were at 103/7 and Gul came into bat at 8. He scored 29 off 30 deliveries, and when play ended that day, two more wickets had fallen and the team were at 148/9. Pakistan needed 11 more runs to avoid the follow-on, and Gul then came in with his number 10 partner Mohammad Asif. Gul scored 34 runs in just 11 deliveries however his partner
Mohammad Asif
was run out at the other end and Gul ended on 65 not out.
Bowling-skills
An impeccable line and length bowler, Gul's accuracy and his ability to hit the seam are his strengths. When the ball gets older, he is deadly and there is no better bowler in the world at the death than Gul. His assortment of slower deliveries, mixed with toe crushing yorkers have destroyed oppositions most notably in the shortest version of the game where he has enjoyed tremendous success.After making a comeback to the Pakistan side in 2006, he established himself as the spearhead of the attack. With Asif, Aamer and Akhtar bowing out of the team in one way or the other, Gul was thrust the mantle of leading the attack. His best performances came in the T20 World Cup in England when he annihilated New Zealand with a spell of 5/6; the best ever T20 bowling performance of all time. He helped Pakistan secure a finals spot in the tournament and eventually in winning it in 2008.
Injuries
Gul was then ruled out of the third Test with a back injury which kept him out of cricket for an entire year. He returned to play two games at the 2004-05 Faysal Bank T20 Cup, and played some matches for Pakistan A and a Pakistan XI in warm-up games before the Test matches against England the following season, but he was not selected for the matches and has instead played three matches with Peshawar at the Quaid-e-Azam Trophy.Gul had signed a one-year contract with Gloucestershire to play in 2007, but the Pakistan Cricket Board failed to give them their permission.
[5]
Edmondson bolsters bowling- Cricinfo