Taufeeq Umar is a former Pakistani test cricketer who was a defensive opening batsman from Pakistan's side with a good temperament. Occasionally he also kept behind the wickets and played long innings and made a hundred in his first match. Taufeeq played in both Tests and ODIs as a national cricketer. Recently he tested positive for the Covid-19 and thankfully has recovered after two weeks of isolation. This article has all the information about Taufeeq, including Taufeeq Umar Biography.
| Title | Description |
| --- | --- |
| Personal | |
| Name: | Taufeeq Umar |
| In Urdu: | توفیق عمر |
| Famous As: | Cricketer |
| Nationality: | Pakistani |
| Residence: | Lahore |
| Education: | Central Model School, Lahore |
| Religion: | Islam |
| Profession: | Cricketer |
| Height: | 1.75 m (5 ft 9 in) |
| Website: | https://twitter.com/realtaufeequmar |
| Born | |
| Date: | 20th June 1981 |
| Place: | Lahore |
| Career | |
| National Side: | Pakistan |
| Team Role: | Opening batsman |
| Bowling Style: | Right arm off break |
| Batting Style: | Left-handed |
| Matches: | 43 in Tests & 22 in ODIs |
| Wickets : | 0 in Tests & 1 in ODIs |
| Test Debut: | 29 August 2001 v Bangladesh |
| Test Last: | 17-21 November 2014 v New Zealand |
| ODI Debut: | 27 October 2001 v Sri Lanka |
| ODI Last: | 30 May 2011 v Ireland |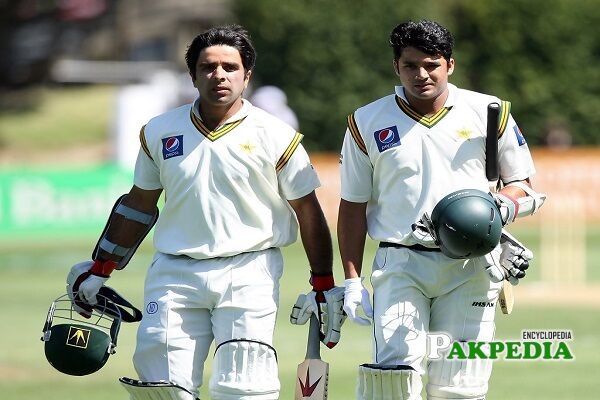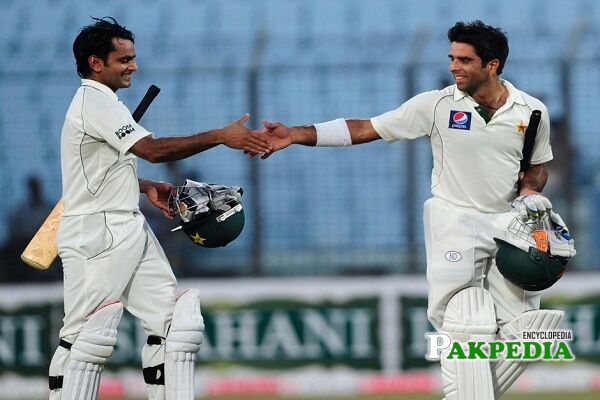 Taufeeq Umar Biography
Taufeeq was a sensible opening batsman of the national side who did not play regularly in all formats but was renowned as a test specialist. He played 44 test matches with an average of 37.38 in batting and scored 2963 runs in his Test career with seven centuries and fourteen half-centuries. He also bowled a few overs tests and represented the national team and participated in 22 ODI, smashing 504-runs with the highest 81 runs in his ODI career. 
He remained an ordinary ODI player with a batting average of 24.00 who also took one wicket in One Day Internationals. He debuted in T20 cricket against Australia at Adelaide on 13th 2005.
Taufeeq date of Birth
He was born on 20th June 1981 at Lahore, Punjab. Currently, he is residing in the same place.
Education of Taufeeq
He studied at Central Model School, Lahore.
Cricket Career
Initial Career
Taufeeq started his professional cricket career when he was just 15 years old. He played under-15 world cup and played his role to help Pakistan reaching in the final. He also joined LIST-A cricket from 1997. In 2001 Taufeeq was selected on the national team.
Domestic Career
He played domestically for many teams, including Pakistan, Pakistan Reserves, Habib Bank Limited, XI, Lahore, Mumbai Champs, ICL Pakistan XI, and Lahore Badshahs. He played his first List-A match in 1997 and made 4852 runs in 144 innings with 151 his highest score. He has an average of 37.90, including ten centuries and 24 fifties. Taufeeq never played international cricket since 2016. He took 35 wickets with 5/39 his best bowling in a domestic match.
In 1998 Taufeeq debuted in first-class cricket. In his 20 years of first-class, he successfully contributed in 177 matches and struck 10598-runs in 308 innings with an average of 36.41. He has beautiful figures in first-class with 21 hundred and 57 half-centuries. Taufeeq also bowled a bit and took 13 wickets in first-class cricket. He also played in the domestic T20 format and played a total of 36 matches. He scored 1120-runs with a hundred and six fifties and made 136-runs in an innings his highest in T20 cricket.
International Career and Achievements
Taufeeq Umar debuted on 29th August 2001 in a Test against Bangladesh. He began with a ton in his first match and listed himself among then five Pakistani cricketers who scored a hundred in their first Test. He has played brilliant innings in his first 17 test matches with an average of 48.03 and made his double century against Sri Lanka, with 236-runs his highest score in test career. In 2012, he played vital innings for Pakistan against West Indies by his excellent batting performance of 135-runs. 
He has a good record against South Africa and has made four-times fifty plus runs, including three consecutive ones against the African Nation. After his useful performance in test format, he included in ODI cricket on 27th October 2001. In 2003 he became the man of the match and played remarkably against Zimbabwe. Taufeeq was part of the world cup 2003.
Recalled in International
He was dropped many times from test format as well as in ODIs. He only missed two tests from 2001 to 2004, and in this period, he played 8 ODI matches in a row, then occasionally, he was given a chance in ODI. He recalled in 2010 and proved his section right for the national team. He played his last ODI in 2011 against Ireland and represented the test team till 2012 and again was dropped. In 2014 he came back in Test and played a single match. After that, he was never given a chance in international cricket.
Social Media Handles
His social media accounts include