Mohammad Sami is a Pakistan Right-Arm Fast bowler who belongs from Karachi; that is why he is also called "Karachi Express." Sami has maintained as much as 145 kph average speed during most of his career. He holds a unique record to have hat-tricks in all three formats of cricket. He has had a short and inconsistent international career due to frequent injuries. He has played in different T20 leagues and continues to play cricket. This article has all the information about Sami, including Mohammad Sami Biography.
| Title | Description |
| --- | --- |
| Personal | |
| Name: | Mohammad Sami |
| In Urdu: | محمد سمی |
| Famous As: | Cricketer |
| Nationality: | Pakistan |
| Residence: | Karachi |
| Education: | Not Known |
| Religion: | Islam |
| Profession: | Cricketer |
| Height: | 1.75 m |
| Website: | https://twitter.com/bullet_sami |
| Born | |
| Date: | 24th February 1981 |
| Place: | Karachi |
| Family | |
| Spouse: | Married |
| Career | |
| National Side: | Pakistan |
| Team Role: | Bowler |
| Bowling Style: | Right arm fast |
| Batting Style: | Right hand bat |
| Test Debut: | 8 March 2001 v New Zealand |
| ODI Debut: | 8 April 2001 v Sri Lanka |
| T20 Debut : | Bangladesh v Pakistan at Gros Islet, May 1, 2010 |
| 100s / 50s: | |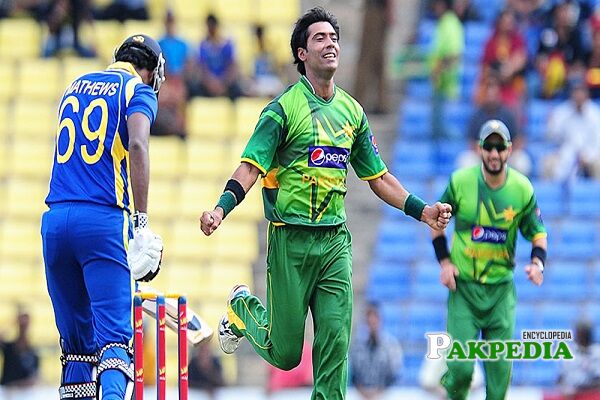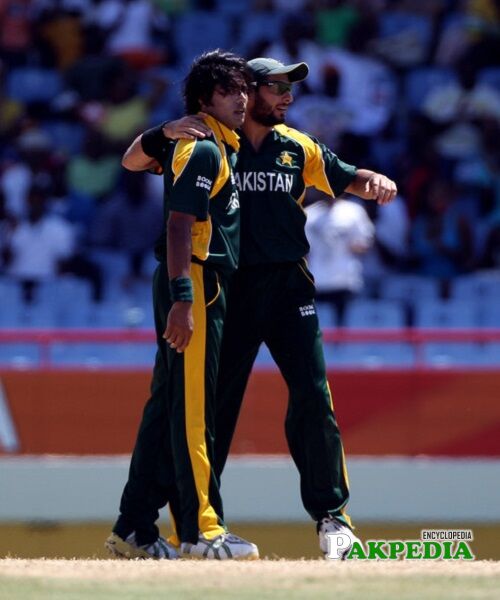 Mohammad Sami Biography
Muhammad Sami is among the top fast bowlers of Pakistan. His Yorkers and cutters are very famous and successful bowls. Sami played in 36 Test matches for Pakistan. In 66 Test innings, he has taken 85 Test wickets, including a Hat-Trick. He has claimed two five-wicket hauls, and three times he has taken four-wickets in a test match. He has also played One Day Internationals for Pakistan and has appeared in 87 ODIs and has taken 121 wickets. 
He also has a Hat-Trick in ODIs and has claimed a five-wicket haul and three-four wicket hauls in One Day Internationals. Sami has also been part of Pakistan's T20 side for a few games. In his 13 T20s for Pakistan, he has 21 wickets while his T20 bowling average is 18.42, and strike-rate of 13.2.  
Sami date of Birth
Muhammad Sami was born on February 24, 1981, at Karachi, Sindh, Pakistan.
Mohammad Sami Family
Sami was born into a middle-class family of Karachi. He is married, with his other family details are not very common. Currently, he resides at Karachi.
Cricket Career
Initial Career
He started playing for Pakistan customs in Pakistan's domestic season of 1999-2000. His outstanding pace and ability to swing the new ball gave him an opportunity at the international level.
Sami made his international debut against New-Zealand in a Test match on March 8, 2001.
Domestic Career
Sami has played in many domestic matches. He has appeared in 179 first-class games and has claimed a total of 610 wickets at an impressive average of 27.35. He has four ten-wicket hauls and 32 times has taken five wickets in a first-class match. Sami has also been part of 191 List-A matches, in which he has got 257 wickets. Moreover he has also taken four five-wickets hauls in his List-A career.
His success story has been in T20s as he has played for different teams and has played for long. Sami still plays a T20 format. He has likwise played in T20 leagues, including Pakistan Super League, Indian Cricket League, Caribbean Premium League, Bangladesh Premier League, and English cricket  League. He has played for many teams, including ICL Pakistan, Karachi Blues, Islamabad United, Pakistan Customs, National Bank Pakistan, Karachi Dolphins, St. Lucia Stars, Jamaica Tallawahs, Sylhet Thunder, Toronto Nationals and the rest.
Muhammad Sami has taken 183 wickets in 172 T20 games with a decent economy rate of little over seven runs per over. He has three times taken five wickets in a T20 match.
Winning Performances
Muhammad Sami has many winning performances in T20s for his franchises. He got three hat-tricks in domestic T20 games and Leagues. He scored a Hat-Trick in Bangladesh Premier League 2012 season, playing for Duronto Rajshahi against Dhaka Gladiators. While Sami made another T20 hat-trick in the 2018-19 domestic T20 season of Pakistan. He was playing for Karachi Whites, where he took three wickets of three consecutive ball against Lahore Blues at Multan Cricket Stadium. 
In that same year, Sami got another T20 Hat-Trick when he was playing for Islamabad United in a match against Peshawar Zalmi at Sharjah Cricket Stadium.  
International Career and Achievements
He came into the international circuit when Pakistan had a superbly fast and swing bowling attack with two W's, Wasim and Waqar in the line-up along with speed star Shoaib  Akhtar in the playing XI. So it was tough for a young fast bowler like Muhammad Sami to become a consistent part of the playing XI as other bowlers had already made their names as best bowlers, so it was way too complicated for him to cement his place in the squad permanently. 
Test Debut
Sami made his Test debut against the Kiwis on March 8, 2001. He bowled very well in his first match, and he got eight wickets for 106 runs in the end. His success in his first game made him able to play more games for Pakistan as he made a world record of taking most wickets in a Test match debut, which included five wickets in second innings. Sami has given a chance in Pakistan's series against Sri-Lanka, where he made another world record in his third Test game. 
He took a hat-trick against the Sri-Lankan team. After that, he did not play regular in Tests for Pakistan until in 2009-10 Series in Australia he was given a comeback call in the test squad. Sami took 3 for 27 in first innings of the second Test match against the Aussies at Sydney Cricket Ground. He also played in test series against Sri-Lanka but could not perform well, which made him never play another Test match after July 8, 2012, which went on to be his last official test game for Pakistan.
One-Day International Debut
Muhammad Sami also played in 87 ODIs for Pakistan. He made his One Day International debut on April 8, 2001, against Sri-Lanka soon after his Test debut for the country. He was a decent ODI bowler compared to Tests, where his bowling average was over fifty, which is a world record for a bowler who has taken 50 or more wickets with this average in Tests. He took his first ODI hat-trick against West Indies in the year 2002, which made him only a second bowler than to have hat-tricks in both Tests, and ODIs, the first one to do so was Wasim Akram. 
Sami also performed well against Zimbabwe and New-Zealand in the year 2003. And in early December 2003, he got his best ODI bowling figures taking five wickets for just ten runs against the Kiwis. Before that match, he had taken four wickets for only 25 runs against Kenyan Side. Sami was in and out of the side after that but was recalled in ODIs against England and South-Africa in the year 2006-07. 
Cricket Comeback
Mohammad Sami made another comeback in the 2009-10 tour of Pakistan's national side to Australia, where he performed well with few good bowling spells. On April 19, 2010, he selected as a replacement in the T20 World Cup in West-Indies. After that, he remained in and out of the National team, and he never played for Pakistan after the year 2016. Sami played in 87 ODI matches and had few excellent performances, but due to lack of control over his bowling action and inconsistency with fitness made Sami, an ordinary bowler with his international record.
2004 Asia Cup
Sami bowled one of the worst over against Bangladesh in the 2004 Asia Cup. He bowled 17 balls in a single over and took Bangladesh's batting score from 6-1 to 30-1 at the end of that over.
Though Sami had a sharp pace and he could swing the new ball very well, but the inconsistent line and length in bowling and low fitness made his career, not a successful one.
Social Media Handles
His social media accounts include