Tariq Aziz is a prominent name in Radio Pakistan, television, film, journalism, literature, and politics. In his game show, information and entertainment blend, and the audience and the viewers become one. Being a multi-talented personality, he tried his fate and skills in every prominent field and left his marks. He also served as a National Assembly member from 1997 to 1999. This article has all the information about Aziz, including Tariq Aziz Biography.
| Title | Description |
| --- | --- |
| Personal | |
| Name: | Tariq Aziz |
| In Urdu: | طارق عزيز |
| Famous As: | TV Host |
| Nationality: | Pakistani |
| Residence: | Sahiwal |
| Education: | Oriental College Lahore |
| Religion: | Islam |
| Profession: | Actor, Host, Journalist and Politician |
| Years Active: | 1964-present |
| Height: | 5 Fit 11 Inch |
| Website: | https://www.facebook.com/TariqAzizOfficial/ |
| Awards : | Pride of Performance Award in 1992 |
| Born | |
| Date: | 28th April 1936 |
| Place: | Jalandhar, British India |
| Family | |
| Ethnicity: | Asian |
| Children: | None |
| Parents: | Mian Abdul Aziz |
| Died | |
| Date: | 17th June 2020 |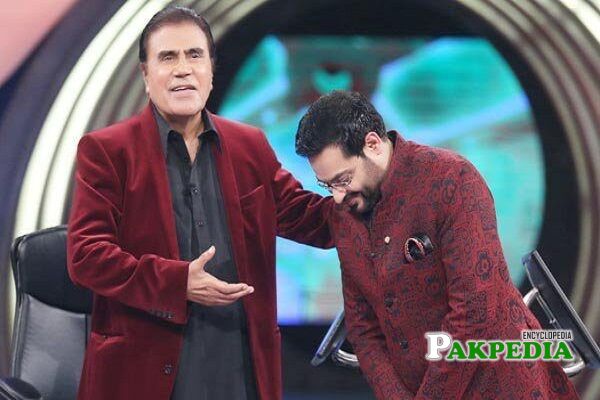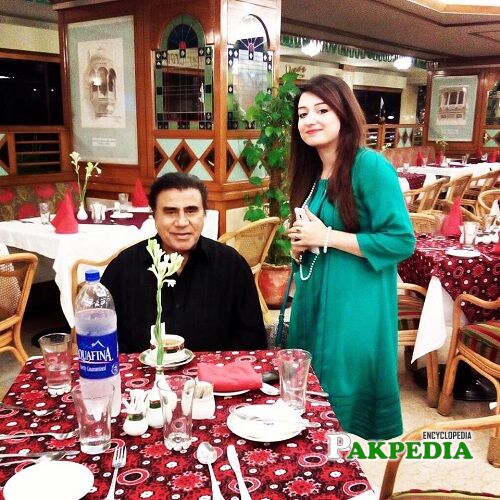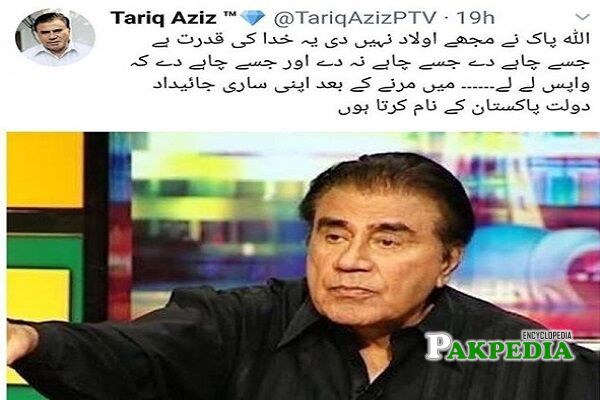 Tariq Aziz Biography
Talents like Tariq are born after ages. He is a shining star in Radio Pakistan, Television, Film Industry, Columnist, and Literature. Through his game show, he provided pure and simple entertainment to his people in an environment where participants felt secure that no one would laugh on their sense of dress, English, and speaking style. Besides providing his services to showbiz, literature, and politics, he has contributed all his wealth to his homeland. In 1992 he received Pride of  Performance by Pakistan's president.
Tariq date of Birth
He was born on April 28, 1936, in Jalandhar, British India.
Family of Aziz
He belongs to the Araien family of Jalandhar. His father, Mian Abdul Aziz, migrated to Pakistan in 1947.
Education of Aziz
After getting his primary education from Sahiwal, he moved to Lahore. Continuing his higher education at Oriental College Lahore, he started his career with Radio Pakistan.
Showbiz Career
Initial Career
When Pakistan Television started broadcasting from Lahore on November 26, 1964, he also became associated with PTV. He is the first announcer of PTV. In 1975, the 'Neelam Ghar' started under his marvelous hosting, which continues its journey almost forty years later under the name of 'Bazm E Tariq Aziz.'  
Acting Career
He stayed connected to PTV as well as the film industry and, show the essence of his lively acting in numerous films. His first film was Shabab Kiranvi's 'Insaaniyat,' which released in 1967, where he worked with Zeba, Waheed Murad, and Firdous.
Political Career
He also stepped into the political field and played an active role in the politics of Zulfiqar Ali Bhutto in the 1970s. Later, he could not devote time to politics due to his busy schedule of PTV and film. After the disappointment from the politics of Bhutto's heirs and successors, he severed ties with the PPP. Relying on the leadership of Mian Nawaz Sharif, joined the Pakistan Muslim League and was elected MNA from Lahore in 1997.
Column Writer
Tariq is a man who loves literature and books. His study is pervasive. A collection of his columns has been published under the name of 'Dastaan,' and a collection of Punjabi poetry titled 'Hamzaad Daa Dukh' has been published. He is honored to interview political, social, film, literary and sports celebrities.
As a Host
'Bazm E Tariq Aziz' previously called 'Neelam Ghar,' this game show on quiz format started in 1975. In 1997 it was renamed to 'Tariq Aziz Show,' and in 2006 to 'Bazm E Tariq Aziz.' He has been hosting it since its 1st day. His peculiar speaking style made it popular among the audience and show got sponsorship from prominent corporations like Japan's multinational company Hitachi. Arif Rana was the producer and creator of this popular game show.
His Famous Starting Dialogues
He starts his show by these words  'Ibitidaa Hai Rab E Jaleel Kay Ba Barkat Naam Say, Jo Dilon Kay Bhaid Jaanta Hai, Dekhte Ankhon Suntay Kano Apko Tariq Aziz Ka Salam.' And the slogan at the end of the program 'Pakistan Payenda Bad' will always be imprinted on the tongue and heart of children, old people, men, and women.
Will
In his will, he wrote, 'Because I am childless, I declare all my capital and property to be named after Pakistan, and this property will be named after Pakistan after my death.'
Tariq Aziz Death
Renowned Host, who got a huge appreciation from his show 'Neelam Ghar,' took his last breath on 17th June 2020 at the age of 84. Many people from the media, including Imran Khan, showed his condolences over his death.
Tariq Aziz Movies
Paraye Beti
Insaaniyat
Allah Meri Tobaa
Haar Gyaa Insaan
Zindagii
Roti
Kirdaar
Saalgirah
Nishaani
Kasam Us Waqat Ki
Saajan Rang Rangila
Maa Bne Dulhan
Bahaaron Ke Manzil
Miss Hong Kong
Kataari  
Bazar
Imandaar
Sodaagar
Social Media Handles
His social media accounts include