While taking an oath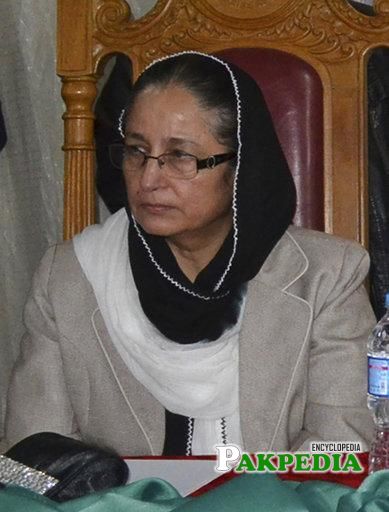 First woman chief justice
While attending a seminar
Tahira Safdar
Early Life
She was born on 5 October 1957 in the capital city of Balochistan, Quetta. She is the daughter of the renowned lawyer, Syed Imtiaz Hussain Baqri Hanafi. 
Education
She got her primary education from Cantonment Public School, Quetta. Her bachelor's degree is from Government Girls College, Quetta, and masters in Urdu literature from the University of Balochistan. In 1980, she had successfully received a law degree from University Law College, Quetta. She had won the field of Balochistan public service commission in 1991.
Judicial Career
As discussed earlier, she became the first civil judge of Balochistan in 1982. After passing the competitive exam of Balochistan public service commission in 1991, she got promoted and became the senior civil judge on 29 June 1987.  On 27 February 1991, she became an additional district and sessions judge. Then again, she got promotion and became district and sessions judge on 1 March 1996. she was also hired as a presiding officer at the Labor Court. She had the honor of becoming the member of Balochistan Services Tribunal on 22 October 1998 and then on 10 July 2009, she became the chairperson. While serving as chairperson, she became additional judge and then judge of Balochistan High Court on 7 September 2009 and 11 May 2011 respectively. 
Achievements
She has been helping in various committees as well like as a member of the Administration Committee, the Promotion Committee and the Committee which drafts and examines the rules. These also drafts regulations, circulars, and notifications. She was nominated as Chief Justice of Balochistan High Court by Chief Justice of Pakistan, Mian Saqib Nisar, being the most senior member of the provincial court, on 23 July 2018 and her appointment was approved by the judicial commission of Pakistan. She took oath as Chief Justice of the High Court of Balochistan on 1 September 2018. She will be serving at this prestigious post till 4 October 2019. Currently, she is one of the three-member special court, constituted under Section 4 Criminal Law Amendment (Special Court) Act 1976, hearing the high treachery case against former dictator Pervez Musharraf which was approved by former prime minister Nawaz Sharif on 19 November 2013.
Training and conferences
She has been part of numerous international conferences on the topic of law throughout her judicial career. In 2012, she attended a training about the International Law for Justice on Meeting International Human Rights Standards in Criminal Proceedings in Hague, Netherlands She participated in the conference on 'Environmental Law, 2011 Conference' in Quetta. She also attended 'International Judicial Conference' in Islamabad in April 2012. Justice Syeda Tahira Safdar attended South Asia Regional Workshop in Cybercrime and Electronic Evidence, in Colombo, Siri Lanka in August 2015. She also participated in 39th Annual Conference, under "Access to Justice –  Past, Present, Future", on The National Association of Women Judges' (NAWJ), at Atlanta, GA, held on October 2017.