SP Tahir Dawar who was given the charge of a rural circle earlier this year was found missing on 26th October 2018 from Islamabad but unfortunately, his dead body has been found yesterday on 13th November 2018 in Nangarhar province of Afghanistan.
| Title | Description |
| --- | --- |
| Personal | |
| Name: | Tahir Dawar |
| In Urdu: | طاہر داور |
| Nationality: | Pakistani |
| Residence: | Khyber Pakhtunkhwa |
| Education: | Bachelor of Arts (B.A.) |
| Alma Mater: | Govt Degree Collage Miranshah |
| Religion: | Islam |
| Profession: | DSP at KPK Police Pakistan |
| Current Post: | Khyber Pakhtoonkhwa Police., KPK Police Pakistan |
| Previous Post: | Federal Investigation Agency KPK Pakistan, Federal Investigation Agency |
| Born | |
| Date: | 4th December 1968 |
| Place: | North Waziristan's Khaddi village, |
| Family | |
| Spouse: | Married |
| Children: | 7 Children |
| Siblings : | Ahmed Din |
| Died | |
| Date: | 13th November 2018 |
| Reason of Death: | Murder |
| Rest Place: | Hayatabad |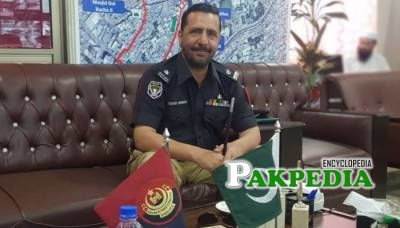 Education
SP Tahir has always been a capable student and always remained very active in co-curricular activities too. He did his Secondary School from GHS Eidak North Waziristan Agency from 1979-1982 and passed his SSC from this School. Then he did Bachelors of Art from Govt Degree College Miranshah. He always participated in different activities during his college tenure including debates and other Student welfare.
Career
The journey of SP Tahir Dawar as a police officer is remarkable. He served in different units and in different cities of Pakistan. In March 2009 he became the in charge Immigration Peshawar Airport of Federal Investigation Agency and served this post for 2 years and 3 months. Lately, he served as Incharge Counter Terrorism Wing of Federal Investigation Agency KPK Pakistan for 2 years and 5 months. Then he was shifted to DSP of KPK police for 5 years. Earlier this year he has been made the acting SP and given charge of rural circle. Prior to that he had served as DSP of University Town and Fakirabad and had also had a stint with the Federal Investigation Agency.
Missing SP Tahir Dawar
Superintendent of Police (SP) Rural Peshawar, Tahir Dawar who went to Islamabad for some operation on 26th October 2018 is missing and all the Police officers are still incompetent to perceive him even after so many days have passed. All the family members of SP Dawar did a press conference where they have given a deadline of 5 days to all the police officers. The conference was also addressed by his 2 young daughters where they have requested to find their missing father as soon as possible.
Murder of SP Tahir Dawar
SP Tahir who was missing from last many days has been found yesterday on 13th November 2018. On Tuesday, a body said to be of the officer Tahir was found in Nangarhar province of Afghanistan. The Senior officer while addressing to media stated that We are still waiting for the body to receive at the Pak-Afghan border yet. He added that the source has notified us while the badly tortured body of the SP went viral before any notification from the senior officers. 
Remarks of Shehryar Afridi
Minister of State for Interior Sheryar Afridi spoke about the murder of SP Tahir Dawar in Senate. During his address, he told that the SP Tahir was receiving the threats of death for a long time and earlier his sister and brother in law were also martyred. He added that his FIR was registered on 28th October by his relatives since than Police was trying to find him. Tahir Dawar was kidnapped from Islamabad and then taken to Mianwali then Bannu and then killed in Afghanistan.
Funeral of Tahir Dawar
Tahir Dawar whose dead body was found on 14th November 2018 has finally laid to rest in Peshawar on 15th November. Other than family members KP Governor Shah Farman, Chief Minister Mehmood Khan, Corps Commander Lt Gen Shaheen Mazhar, State Minister for Interior Shehryar Afridi and Chief Secretary Naveed Kamran Baloch also attended the funeral prayers of late SP dawar. 
5 Crore Donation alloted to SP Dawars Family
Prime minister Imran Khan has alloted 5 Crore donation package to the SP Tahir Dawar's family who was brutally killed last month told by the Minister of State Sheryar Afridi during a Press Conference in Islamabad. He further added that the elder son of SP will be given a post of Assistant Sub Inspector soon while Parliamentary Committee will be created for SP Tahir's case.