Tahir Ahmad Sindhi was a Pakistani politician who was also a lawmaker. He served on various essential Ministries and posts throughout his career. He was associated with PMLN during his political tenure. His family belonged to a political background. Tahir took his last breath in 2008 due to a heart attack. This article has all the information about him, including Tahir Ahmad Sindhu Biography.
| Title | Description |
| --- | --- |
| Personal | |
| Name: | Tahir Ahmad Sindhu |
| In Urdu: | طاہر احمد سندھو |
| Famous As: | Advocate |
| Nationality: | Pakistani |
| Residence: | Sargodha Pakistan |
| Alma Mater: | University of the Punjab |
| Education: | LLM |
| Religion: | Islam |
| Profession: | Politician |
| Halqa: | PP-30 Sargotha-III |
| Joined the Government Service: | 1985 |
| Resigned: | 2005 |
| Born | |
| Date: | 6 June 1960 |
| Place: | Sargodha |
| Family | |
| Children: | 4 ( 2 Sons+2 Daughter) |
| Parents: | Ch Muhammad Azam Sandhu (Father) |
| Siblings : | Late Fakhar Iqbal Sandhu(Brother),Late Zahid Iqbal Sandhu(Brother),Shahid Ahmad Sindhu(Brother) |
| Died | |
| Date: | 7 January 2018 |
| Career | |
| Political Party: | Pakistan Muslim League (N) |
| Serve As: | MPA |

Tahir Ahmad Sindhu Biography
Tahir Ahmad was a Pakistani politician who served as a member of the Provincial Assembly from 2008-2013. He was given important ministries during his tenure as MNA. He practiced law as an advocate after attaining Law degree from the University of Punjab. His brothers also belong to the same political background. Tahir Sindhu died in 2018 after suffering from a heart attack.
Tahir Date of Birth
He was born on 6th June 1960 in Sargodha.
Education of Tahir
In 1985, Tahir completed his bachelor's from the University of Punjab. Later, after taking a break from education, he did a Masters of Law from the same university.
Tahir Ahmad Sindhu Family
He belongs to political family background. One of his late elder brother Fakhar Iqbal Sandhu served as a Provincial Assembly member in the past. His other later brother Zahid Iqbal Sandhu was also associated with politics. He was married and blessed with 2 Sons and 2 Daughters.
Career
As an Advocate
After completing his bachelor's degree, he became a civil service part and remained there till 2005. He worked as a deputy District officer during that tenure. Later he went to obtain his master's degree. The areas in which he did specialization include Criminal Law, Constitutional Law, Economic law, etc.
He also practiced law as an advocate high court and remained a managing partner of a law firm named Javed, Fakhar and  Tahir Advocates, Solicitors and Legal Consultants. He also remained attached to Punjab College Visiting Faculty.
As a Politician
Tahir Sindhu ran for the Provincial Assembly seat in the 2008 Pakistan General Elections while being attached to Pakistan Muslim League N from PP-30 Sargodha Constituency and fortunately won the seat. He took oath on 9th April 2008, where he worked as a Chairman Standing Committee on Rural Development and Local government during his political tenure. Moreover, he functioned as a part of Livestock and Dairy Development.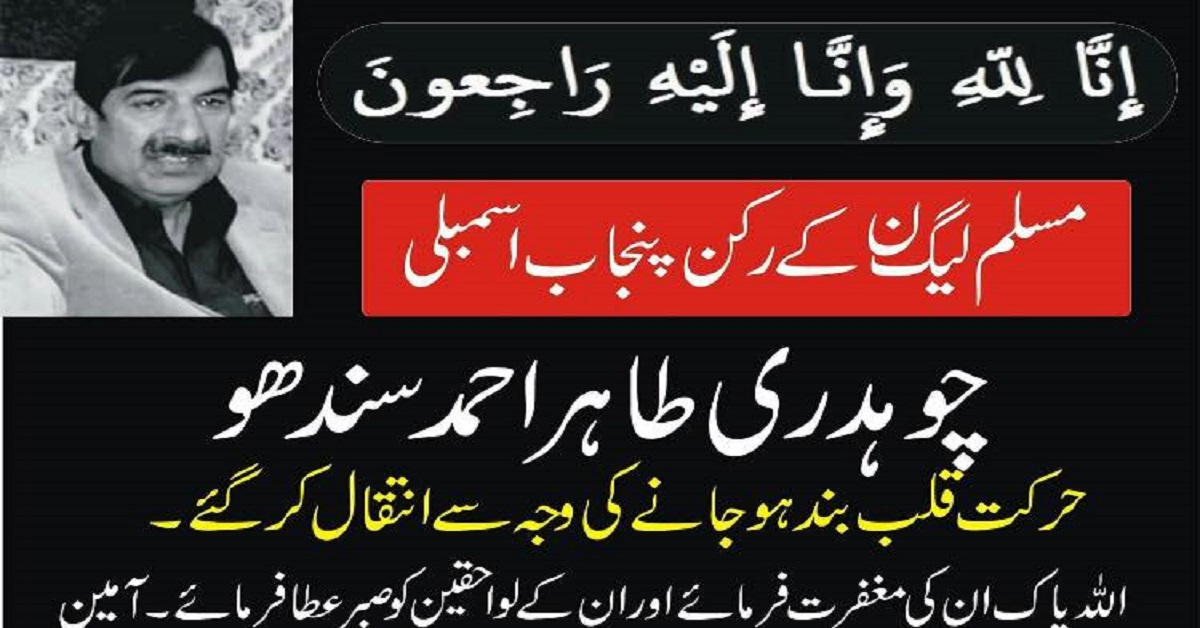 Tahir Ahmad Sindhu Death
On 7th January 2018, he died of a sudden Heart attack at a young age. Various politicians and advocates expressed their views on the sudden demise of Tahir Sindhu.