Sardar Khair Bakhsh Marri was a Baloch politician who served Baloch tribe for many years. He took many responsibilities in so early age because of his parent's death at early age. He remained active in Politics till his last breath and died in June 2014 after his prolong illness.
| Title | Description |
| --- | --- |
| Personal | |
| Name: | Khair Bakhsh Marri |
| In Urdu: | خیر بخش ماری |
| Famous As: | Politician |
| Nationality: | Pakistani |
| Residence: | Balochistan |
| Education: | Aitcheson College Lahore |
| Religion: | Islam |
| Profession: | He was a Baloch Politician |
| Years Active: | 1960 – 2014 |
| Born | |
| Date: | 28 February 1928 |
| Place: | Kahan, Kohlu, Baluchistan pakistan |
| Family | |
| Children: | Changez Marri, Balach Marri, Ghazan Marri, Hyrbyair Marri, Hamza Marri & Mehran Marri |
| Parents: | Sardar Mehrullah Khan (Father) |
| Died | |
| Date: | 10 June 2014 |
| Rest Place: | Karachi |
| Career | |
| Political Party: | National Awami Party |
| Serve As: | Balochistan Chief |
| Time Period : | After 1970 Elections |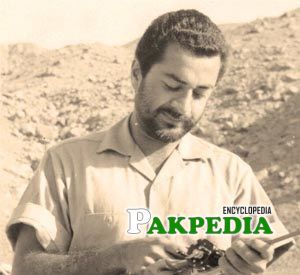 Biography and Education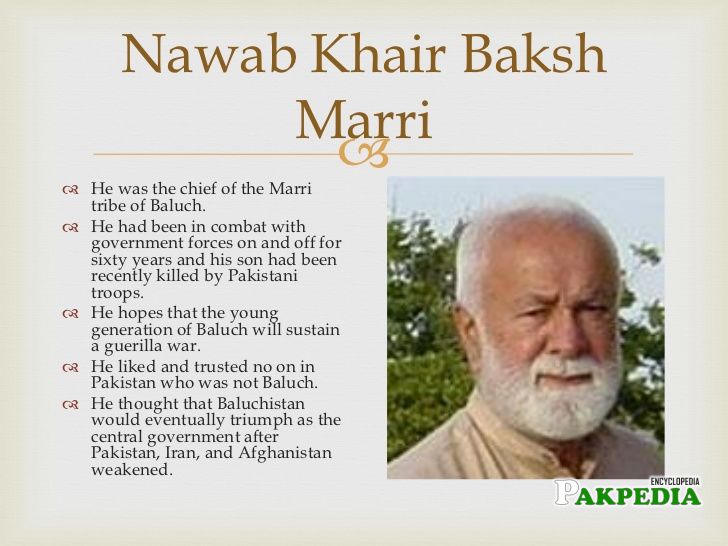 Nawab Khair Bakhsh Marri got birth in Kahan, an area in Kohlu District of Balochistan, in February 28, 1928.baba-marri-portrait-6 In childhood, the mother of Khair Bakhsh Marri passed away. After this tragedy, some other people of his tribe were given the responsibility of his growth. He was named by the name of his grandfather, Sardar Khair Bakhsh Marri (Awwal). When he was 4-years-old, his father, Sardar Mehrullah Khan Marri, passed away. Due to his small age, Sardar Doda Khan Marri, his uncle was elected as the chieftain of Marri Tribe. On the behalf of English, he was sent to Aitcheson College Lahore for getting education. When he was 22-years-old, he became the chieftain of his tribe in 1950. [1] Biography and EDucation  
Political Career
A Marxist in his political leanings, he was deeply influenced by the way Pakistan handled an armed Baloch movement for greater autonomy during the 1960s. Mr Marri naturally gravitated to an anti-Ayub Khan alliance of mostly nationalist-leftist groups called the National Awami Party (NAP), and became its head for Balochistan province. He won a parliamentary seat in the 1970 elections, which were won by NAP in Balochistan. But the government which was formed in the province was dismissed by the federal government, then led by Prime Minister Zulfikar Ali Bhutto, in 1974 after an insurgency broke out. All NAP leaders, including Mr Marri, were arrested the following year in what came to be known as the Hyderabad conspiracy case. They remained in jail until Mr Bhutto's government was overthrown by another military leader, General Zia ul Haq, in 1977. [2] Political career
As a Key Leader
Nawab Khair Bakhsh Marri was a key leader of the 1973 – 77 Baloch insurgency that saw an estimated 50,000 Baloch fighters taking up arms against the Pakistan Army. Thousands of people were killed in the insurgency, including hundreds of security personnel. The Marri tribe spearheaded the movement, which was supported by a handful of Pakistani leftists as well as by the now-defunct Soviet bloc. KB, as he was popularly known at the time, was languishing in prison during that entire period, along with several key leaders of the banned National Awami Party including Ghous Bakhsh Bizenjo and Ataullah Mengal, under the Hyderabad conspiracy case. Once freed by the former military dictator General Zia-ul-Haq, KB  flew to Europe for a brief stop over and then went into self-imposed exile in Afghanistan, along with his tribesmen. [3] As a key leader
Arrestment
He returned to Pakistan in 1991, only after the Soviet-backed Kabul regime was close to collapse. He was briefly arrested on charges of being involved in Justice Nawaz Marri's murder, but was released in 2002, following which he moved to Karachi. Ill-health and old age have ostensibly removed him from the political scene, but he is still idolised by many Baloch nationalists. His arrest during Musharraf's tenure fuelled anger among many of his tribesmen, who, once again, went on a confrontationist path. These included his son Balach, who was killed in 2007 in a controversial military operation.
Aspects of His Life
The first aspect of his life is political. In political aspect of his life, he talked about the Baloch Nationalism, and he used to emphasize that the first and basic need of a slave nation is the National Freedom.
The second aspect of his life is ideological. He was a follower of Socialism. He worked in the favor of Socialism to end the Capitalist System, and he considered the Ideology of Socialism the final mission of his life and also for Baloch Nation.
The third aspect of his life is about techniques of politics. For the freedom of Balochistan, he selected the techniques of Armed Struggle along with literature and political parties, but he emphasized more on Armed Struggle, because an uncivilized enemy doesn't understand the language of peaceful struggle, they only understand the language of power (Armed Struggle).
The fourth aspect of his life is war against Imperialism.He was against imperialism, because he knew that imperialists are the supporter of colonialists to make any nation slave, such as they are supporting Pakistan to become stable it in order to keep the nations in Pakistan slave, like Baloch and Sindhi Nations.
The fifth aspect of his life is to struggle for freedom of all slave nations in world, but he would never wait for others to assist him in this instance. In his last message, he talked about the freedom of Sindhi Nation, and told them to get up and struggle for your freedom.
Death

Senior politician and Baloch nationalist leader Nawab Khair Bakhsh Marri died at a private hospital here late on 7th June 2014 in Karachi. Marri had been under treatment at the Liaquat National Hospital , where he had been admitted in a critical condition on June 6. He was 86.He was considered an inspiration by the radical Baloch nationalists. [4] Death Death