Syed Sadequain Ahmed Naqvi was a competent and virtuoso Pakistani calligrapher, painter, and poet. He excelled in Islamic calligraphy and painting, and this feature led to his fame. He was not limited to the art of painting; he also left deep impressions in the field of literature. He was one of the best painters and calligraphers of Pakistan, and he made Pakistan famous internationally through his art. This article has all the information about Naqvi, including Syed Sadequain Ahmed Naqvi Biography.
| Title | Description |
| --- | --- |
| Personal | |
| Name: | Syed Sadequain Ahmed Naqvi |
| In Urdu: | سید صادقین احمد نقوی |
| Famous As: | Calligrapher |
| Nationality: | Pakistani |
| Residence: | Karachi |
| Education: | Graduation |
| Alma Mater: | Agra University |
| Religion: | Islam |
| Profession: | Calligrapher, Painter and Poet |
| Movement: | Islamic calligraphy and Hurufiyya movement |
| Born | |
| Date: | 30th June 1923 |
| Place: | Amroha, British India |
| Family | |
| Spouse: | Unmarried |
| Parents: | Syed Sabtain |
| Relatives: | Sultan Ahmed Siddiqui (Nephew) |
| Died | |
| Date: | 10th February 1987 |
| Rest Place: | Karachi |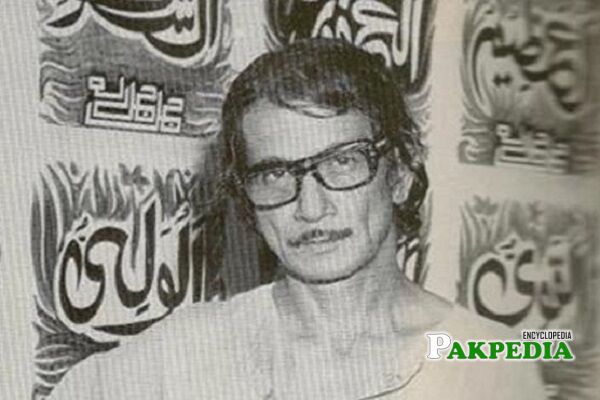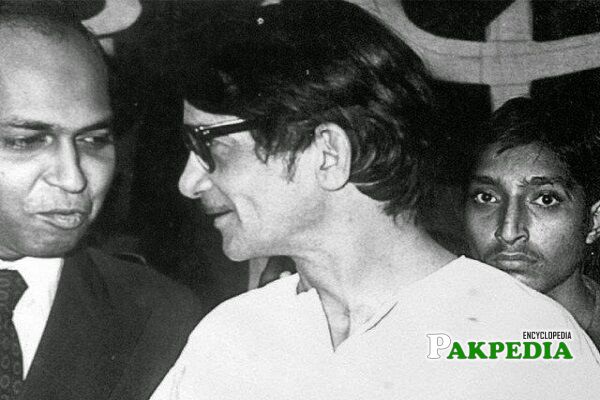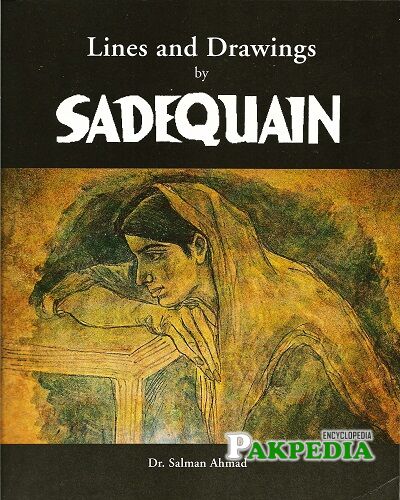 Syed Sadequain Ahmed Naqvi Biography
Great ideas are born in a beautiful and creative mind. Sadequain also had a lovely, fertile, and creative mind. He also had terrific eyesight who saw the beautiful universe with 'appreciative eyes,' and his fingers painted beauty on the canvas. He has more than 15,000 works of art in paintings, impressions, calligraphy, and murals, but he has never sold his art pieces. Instead, this great man and great artist have always been generous in giving his works of art to various institutions and individuals. 
Sadequain always said that his artworks were not for sale; he did it only to give thanks for the blessings of Allah Almighty. In 1960, he was awarded the Tamgha E Imtiaz at the age of 30 in recognition of his art. The following year, he received France's highest civilian honor. In 1962 he was awarded the Pride of Performance and in 1985 the Sitara E Imtiaz. The Australian Government also awarded him a Cultural Award. 
His calligraphy and painting were so unique and untouched that in his time, his masterpieces began to be imitated, and many artists made a lot of money by making fake paintings and writing his name on them. Despite substantial financial offers from families and wealthy foreigners and foreigners, he traded very little for his art.
Naqvi date of birth
Renowned artist, calligrapher, painter, poet, and dervish Syed Sadequain opened his eyes on 30th June 1930 in Amroha, India. After the partition of India, he came to Karachi with his family.
Education of Sadequain
He received his early education in his hometown of Amroha and later did his BA from Agra University.
Syed Sadequain Ahmed Naqvi Family
He belonged to a family of calligraphers. His grandfather was also a renowned and skilled calligrapher. His father, Syed Sabtain, was not a professional calligrapher but possessed neat and good handwriting. Sultan Ahmed Siddiqui, based in Karachi, is Sadequain's nephew. He is also in charge of running the Saedequain Academy. He did not marry and preferred to remain single.
Career
Murals
He created murals for Jinnah Hospital Karachi and Karachi Airport, which mysteriously disappeared. Apart from Pakistan and India, his sculptures on the Abu Dhabi Power House and the famous Champs Elysees in Paris are a testament to his greatness. Apart from Frere Hall, he also decorated the Lahore Museum's roof with his works of art. He also has murals on the walls of State Bank of Pakistan, Aligarh Muslim University, National Geographical Research Institute (Hyderabad, India), Banaras Hindu University, Punjab University, and Mangla Dam Power House.  
The 'Treasure of Time' is another of his fabulous creations, in the form of a mural, recorded in the State Bank of Pakistan, Karachi Library. In this mural, he has beautifully portrayed the intellectual and scientific evolution of every age through the imagery of all thinkers, including Greek philosophers, Arab thinkers, and European scientists. He created this mural in 1961.
The Resurgence of Islamic Calligraphy
Being one of the finest Pakistani calligraphers, he converted calligraphy art into appreciable neoclassical paintings. Divine inspiration transformed him into a skilled calligrapher. Instead of following the pre-existing traditions, he made his design of script and his alphabets display mood, movement, and portray a detailed and precise depiction of the meaning of the  Quran's words. 
After the 70s, he made paintings on the calligraphy style and drawn images of cities, forests, buildings, women, and men. Many renowned Pakistani artists followed him, and calligraphy artwork now subjugates the art section. The compelling, heartwarming, and comprehensible calligraphy of the Holy Quran verses is unique, especially the calligraphy of the verses of Surah Rehman. The Pakistani nation can consider it as its source of pride.
Rubaiyat
He chose the most challenging genre of speech, the quatrain, to express his views. The number of quatrains written by him is close to two and a half thousand to three thousand, and very few poets have written such a large number of quatrains. His collection of quatrains is available under the names of 'Rubaiyat Sadiqin Khatat' and 'Rubaiyat Sadequain Naqash.'
Sketching
During his stay in deserts of Sindh, he observed the growing cactus from a sandy and uneven ground. This sight of the growth phase and survival in a harsh and scorching environment stayed on his mind. He used this impression on his mind to portray struggle, labor, and perseverance against earthborn components of defiance and victory of hard toil. 
He made sketches with the title Crow Series, Hope Series, Sun Series, Cobweb Series, and Christ Series on existing cultural and social situations. His Crow Series represented man as a coward and fragile creatures who worship scarecrows after losing their spirituality and self-respect. In his Christ Series, he portrayed the crime committing before Christ.
Poetry
He wrote the poetry of Ghalib, Faiz, and Iqbal beautifully and charmingly way through his painting. He also presented an illustration of the French thinker and author Camus's The Outsider.
Popularity
Sadequain has the status of a great painter, calligrapher, and painter in Pakistan, his fan following also extends beyond Pakistan. On the contrary, it would not be wrong to say that his art was given more acceptance and prestige abroad than at home. In France, his admirers call him an artist of Picasso status, and there he is remembered as 'Pakistani Picasso.' 
In a publication of Le Monde et La Vie, a leading French daily newspaper, he was described as 'equal to Picasso.' Another French newspaper, Le Figaro, wrote in the  16th October 1962 issue,  'Sadequain's work gives the impression of vastness and reality which fills the color of truth even in imaginary thinking.
Sadequain Lost Paintings
During his life, official authorities set up two galleries, one with the name 'Gallery Sadequain' in the capital of Pakistan Islamabad and second also named 'Sadequain Gallery' in Karachi's Frere Hall. After his demise, Islamabad's art gallery was dismantled, and almost 200 paintings were lost, and the gallery in Frere Hall was closed because of security issues. From Frere Hall, 40 Calligraphic panels made by Sadequain on marble slabs have vanished. 
After his death at Karachi's OMI clinic, his caretaker before informing the doctors rushed off to Frere Hall to steal Naqvi's art pieces and loaded them in the van to take them to a safe place. At the entrance of Pakistan International Airlines owned hotel,  a large painting by Sadequain was displayed. When the hotel was sold, the art piece got disappeared.
Syed Sadequain Death
The world lost this gem on 10th February 1987, in Karachi. He was embedded in Karachi's Sakhi Hasan cemetery. Before his death, he was decorating the roof of Frere Hall, a historic site in Karachi. Although time did not allow him to complete the work, with a length of 80 feet and a width of 35 feet, it is the largest ceilings painting in the world. Also called the heavens (earth and sky). After his death, the site was named after him, Sadequain Gallery.
Syed Sadequain Foundation
It's a non-profit organization and was registered in 2007 in California state of the USA. It aims to preserve, foster, and recognize the Sadequains' artwork. For achieving its goals, the organization has conducted a lot of research to find undocumented and unaccounted parts of Sadequain's art in India, Hong Kong, Singapore, France, Switzerland, England, Canada, USA, Austria, and the Middle East. 
The organization has decided to create a catalog of Naqvi consisting of 12 volumes. The catalog will comprise of more than 2000 paintings, drawings, calligraphies, murals, and 1000 text pages. It also conducts exhibitions of his artwork and arranges seminars at universities and museums to promote cognizance about Naqvi's exceptional work. This organization has also published books on his work and life, three books in Pakistan, and ten books in the United States.  Titles of these books are: 
The Legend of Sadeqquain-Renaissance of Calligraphic art 
Rubaiyat E Sadquain Naqqash 
Sadequain- Strokes of Picasso and scale of Michelangelo 
Realism to Calligraphic Cubism 
Lost Trails of Sadequain's Art 
Lost Trails of Sadequain's Art
 Mystic Expressions by Sadequain- An Odyssey to Exaltation with Iqbal, Faiz, Ghalib & Sadequain 
Ghalib and Sadequain 
Albert Camus and Sadequain 2. 
The Saga of Sadequain Volume 1&2. 
Since its inception, this institute has conducted exhibitions of Naqvi's artwork at California's San Diego Museum of Art, Canada's Royal Ontario Museum, Embassy of Pakistan in Washington, on the annual conference of APPNA ( Association of Pakistani Physics of North America) and many other locations. Foundation's topmost aim is to set up a museum in the name of Sadequain.
Sadequain Art Institute
Located in Karachi Sadequain's Art Institute is an academic and artistic institute that stimulates creativity and gives its students relevant, rewarding, and intensive education in arts. Competent faculty at this institute train designers and artists in expanding their vision, building practical and theoretical foundations, and explore novel directions of imagination and expression. Since 1998 the institute has tutored over 3000 students in divergent areas of arts. Many pass outs from this institute got admission in National College of Arts.
List of notable works
In 1955 he made a mural at Jinnah sanatorium.
In 1963 he visited the USA and arranged many exhibitions.
During 1964-1965 he elucidated a novel L'Etranger written by a French writer.  
In 1967 he carried out fresco painting at the world's 7th largest Dam, Mangla Dam.
In 1968 he completed fresco painting at the library of Punjab University Lahore.
In 1969 he amazed his fans with the Calligraphy of  Quran's 55th Surat, Surat Rehman.
In 1970 he did a one-man show.
In 1970 he made a paragon compilation of rubaiyat. Pakistan's Literary Society adjudicated it for 1st prize. He published his rubaiyat book, Rubaiyat E Sadequain Naqash.
In 1973 he carried out fresco painting in Lahore Museum.
In 1974 he arranged exhibitions in Eastern Europe and the Middle East.
In 1976 he completed Mural at NBP (National Bank of Pakistan) Lahore.
In 1977 he displayed the poetry of renowned poets Iqbal, Ghalib, and Faiz on the canvas.
In 1979 he did fresco painting in Abu Dhabi.
In 1985 he displayed the poetry of Faiz Ahmed Faiz.
In 1986 completed Mural at Karachi's Frere Hall