Agha Hassan Abedi was a famous banker from Pakistan who was born in a Muslim family in India. He was also known as Agha Sahab. After the independence of Pakistan, he migrated to Pakistan and started his banking career. He was the founder of United Bank (UBL) and Bank of Credit and Commerce International (BCCI).
Hasan made BCCI the world's seventh-largest private bank, which was collapsed in 1991 when the United Kingdom and the United States of America accused it of illegal activities, which are not proved yet. Mr. Abedi was a heart patient and went through a heart transplant in 1988, and due to a heart attack, he died in 1995 in Karachi. This article has all the information about him, including Agha Hasan Abedi Biography.
| Title | Description |
| --- | --- |
| Personal | |
| Name: | Agha Hasan Abedi |
| | |
| In Urdu: | آغا حسن عابدی |
| Famous As: | Entrepreneur |
| Nationality: | Pakistani |
| | |
| Residence: | Karachi Pakistan |
| Organizations founded: | Bank of Credit and Commerce International, United Bank |
| Religion: | Shia |
| Profession: | Pakistani banker and philanthropist |
| Known for : | Founder of United Bank (Pakistan) (UBL) in 1959 *A major contributor to banking culture in Pakistan from 1947 to 1990 *Philanthropist, supported many educational and healthcare institutions (a man with 'mixed legacy' of doing good and bad at the same time) |
| Born | |
| Date: | 14th May 1922 |
| Place: | Lucknow, British India |
| Family | |
| Siblings : | Agha Fakhar Hussain |
| Died | |
| Rest Place: | 6th Aug 1995 |
| Career | |
| Company Name: | United Bank (Pakistan) |
| Years Active: | 1959 |
| Title : | (UBL) |

Agha Hasan Abedi Biography
Mr. Abedi was a Shia Muslim who used to talk about the mystical beliefs during his speeches. He always used to say that BCCI is not a bank only; rather, it is Gog gifted unit and connected to the people of the earth directly. He was considered to be a Shia Muslim and was the son of a rent collector who collected rents for Raja of Mahmoodabad throughout his life.
At the age of forty years, Agha Sahab entered his banking career and joined Habib Bank in 1946. He was such a skillful person that he could easily spot and convince rich clients to invest. Later in 1959, he founded United Bank Limited in Karachi, and soon UBL became the 2nd largest bank in the country.
Agha Date of Birth
He was born on May 14, 1922, in Lucknow, India.
Education of Hasan
He graduated in English Literature as well as Law from the University of Lucknow.
Agha Hasan Abedi Family
He married Maria Abedi and had a daughter. Her name was Maha.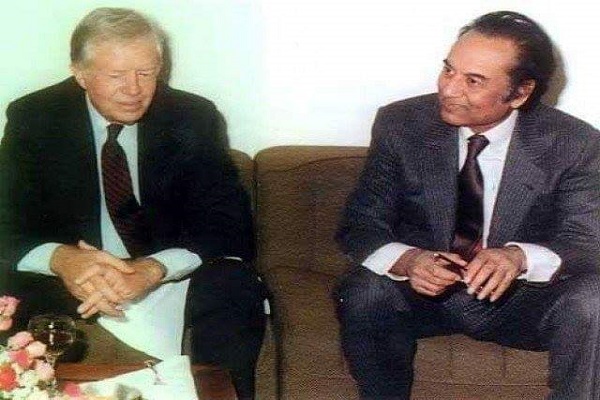 Banking Career
Agha Hassan Abedi started his banking career at Habib Bank in 1946. Through the development of United Bank Limited in 1959, he brought wide changes to the banking culture of Pakistan. He was considered to be the first president and founder of United Bank Limited. Under his presidency, United Bank Limited became the second largest bank in Pakistan. He further introduced banking support to industry and trade.
Furthermore, he also started a collaboration with private sectors between UAE and Pakistan. The president of the United Arab Emirates, who discovered his own oil reserves, extended operations of UBL abroad and in Pakistan. Agha Sahab was one of the pioneer bankers all over the world who developed BCCI, the world's seventh-largest bank.
Establishment of BCCI
After the nationalization of banking in Pakistan, Mr. Abedi founded BCCI as a shareholder with the bank of USA, SA, and NT. It started operations from London, Luxembourg. After some years, BCCI started international operations and opened its branches in seventy-two countries, which included sixteen thousand employees.
Eighty percent of top positions in all these branches over all countries were held by Pakistanis. The bank was run by south – Asian investors and backed by central Asian investors.
BCCI Range
It had active operational branches in seventy-two countries all over the world, with approximately 13 hundred thousand investors from those 72 countries. Furthermore, its shareholder's investment includes twenty billion dollars which were wiped out after the bankruptcy of BCCI. About ninety percent of shareholder's investments were recovered.
BCCI Scandals
In 1985 he did the operation of a heart transplant, and by the year 1989, a scandal broke out against BCCI for illegal activities such as funding of Pakistan's nuclear program, money laundering, and Palestine fighters, and all of the branches were ceased in 1990.
It is also stated that it did business with Abu Nidal, who was an international terrorist and was involved in many criminal cases. Moreover, it also had an active business with other suspected figures like the president of Iraq, Saddam Hussain. BCCI is also said to be engaged in money laundering for Panama's General Noriega and cocaine cartel for Columbia.
Collapse of BCCI
After the collapse of BCCI, they tried to recover the income by inventing loans through phones but failed in recovering the whole assets of the bank. The collapse of the bank started in 1991 with an estimated charge of twenty billion dollars. Agha Hassan took charge of the assistant of BCCI, Saleh Naqvi.
By the year of 2012, the process of legal formalities was closed, and about 8.5 billion dollars were recovered by liquidators. 656 million dollars were the legal fees of liquidation, and according to creditors, ninety percent of the loss was recovered.
Agha Hasan Abedi Contribution
Besides the truth that Mr. Agha faced many scandals, but he also contributed to the future prosperity of Pakistan by contributing to many foundations, universities, and charities all over the world. Some of his contributions are given below.
Infaq Foundation
Agha Sahab has founded many organizations of charity in Pakistan, India, United Kingdom, Zimbabwe, and Bangladesh. The office of Infaq Foundation was founded in Karachi, and the reserves of the foundation were estimated at 2.5 billion rupees which rose to thirty million dollars by the year 2009.
From the year 1983 – 95, Ghulam Ishaq Khan remained the chairman of the Infaq Foundation, followed by the governor of Sindh and a judge of Supreme Court Justice Fakhruddin G. Ibrahim. Mr. Sohail Kizilbash remained chairman of the foundation from 1999 to 2008. Mr. Anwar Gillani, a chartered accountant, was selected as chairman of the foundation from the year 2009 and onwards.
Major beneficiaries of Infaq Foundation include;
Sir Syed University of Engineering and Technology
Sindh Institute of Urology and Transplantation
Lady Dufferin Hospital
National Institute of Cardiovascular Diseases
Ghulam Ishaq Khan Institute of Engineering, Science and Technology
Contributions to Higher Education
By the year 1980, he founded the first Multi-Campus University of Pakistan (BCCI FAST) by the donation of one hundred million rupees. The development of BCCI FAST is to promote the education and skills related to computer science in Pakistan. National University of Computer and Emerging Sciences has five campuses in Pakistan, including the campuses of Karachi, Islamabad, Peshawar, Faisalabad, and Lahore.
Furthermore, he founded the Ghulam Ishaq Khan Institute of Engineering Sciences and Technology for the purpose of higher education (Ph.D.) comparable to higher education in developed countries.
Awards & Honor
Hassan Abedi was awarded for his contribution to educational institutions, charities, and many other foundations. The awards of his honor are given below.
Hilal -i- Imtiaz
By the year 2015, Hassan Abedi was awarded Hilal-i-Imtiaz by the President of Pakistan for serving the nation in many banking and educational areas.
Agha Hassan Abedi Auditorium
The auditorium present in Ghulam Ishaq Khan Institute of Engineering, Science, and Technology was named after him as Agha Hassan Abedi Auditorium.