Chaudhry Nisar Ali Khan is a senior politician in Pakistan. He was the one who kept PMLN alive when Nawaz Sharif was on exile in Musharraf's government. It is said that Musharraf was appointed as Chief of Army Staff on the recommendations of Chaudhry Nisar. As he belongs to the family of Army professionals, Nisar is considered close to the establishment.  He has been elected as a member of the National Assembly for 8 times. In 2017, he decided not to become a part of the new cabinet of Khaqan Abbasi who was junior to him. This article has all the information about Nisar, including Chaudhry Nisar Ali Khan Biography.
| Title | Description |
| --- | --- |
| Personal | |
| Name: | Ch Nisasr Ali Khan |
| In Urdu: | چوہدری نثارعلی خان |
| Famous As: | Politician |
| Nationality: | Pakistani |
| Residence: | Rawalpindi |
| Education: | Aitcheson College and Army Burn Hall College |
| Religion: | Islam |
| Profession: | Politician |
| Website: | https://twitter.com/chnisarofficial |
| Born | |
| Date: | 31st July 1954 |
| Place: | Rawalpindi |
| Family | |
| Ethnicity: | Asian |
| Spouse: | Married |
| Children: | Minahil Nisar, Natasha Nisar, and Taimur Ali Khan |
| Parents: | Fateh Khan |
| Siblings : | Ifthikhar Ali khan |
| Career | |
| Political Party: | Independent Candidate |
| Serve As: | MPA |
| Old Political Affiliations: | Pakistan Muslim League (N) |
| Member of the National Assembly | |
| Constituency: | NA-52 (Rawalpindi-III) |
| Assumed office: | 2013-2018 |
| Member of the provincial Assembly | |
| Constituency: | PP-10 (Rawalpindi-V) |
| Assumed office: | He did not take oath |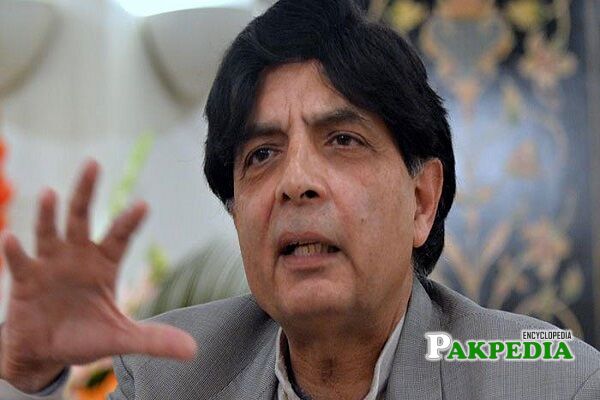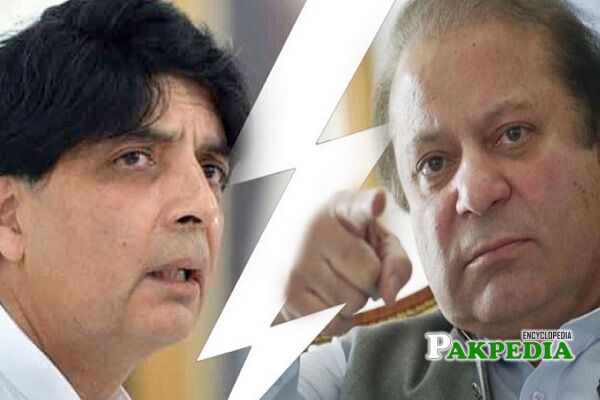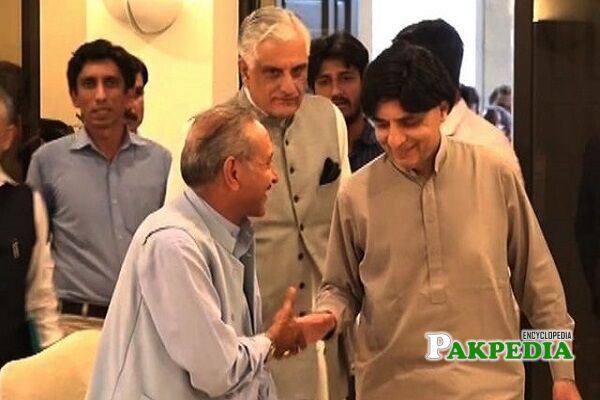 Chaudhry Nisar Ali Khan Biography
Chaudhary Nisar is a renowned politician. He has worked on key positions as a federal minister. In most of his political career, he was associated with PMLN. Nisar's political career started with Islami Jamhoori Ittihad. He took immense responsibility in Musharraf,s government to keep PMLN alive. He has been elected as a member of the national assembly 8 times between 1985 and 2018.  In 2008, he was elected as leader of the opposition to the National assembly after the resignation of Pervez EIlahi. Apart from this, he has worked in various ministries that include the Ministry of Science and Technology, Petroleum, Interior Ministry, Minister for National Food and Research, Minister of Communication, and Provincial Coordination.
Education of Nisar
Chaudry Nisar got his education from two of the most prestigious institutions, Aitcheson College and Army Burn Hall College. He was the class fellow of Imran Khan and Pervez Khattak in Aitcheson College.
Ch Nisar Date of Birth
Nisar was born on 31 July 1954, Chakri village, Rawalpindi. Currently, he is living in the same city from which he contested the elections.
Ch Nisar Ali Family
Chaudhary Nisar was born to Brigadier, Fateh Khan, in a Jhatt Family. He was the youngest of five children. He married in the 1980s. His children are Minahil Nisar, Natasha Nisar, and Taimur Ali Khan. Minahil has studied Law from British University. His other daughter, Natasha, has represented Pakistan in SAF games as a Basketball Player. Taimur has studied in Aitcheson Collage Lahore. Chaudhary Nisar is the brother of Ifthikhar Ali khan, who has worked as Chief of General Staff of the Pakistan Army.
Political Career
Initial Career
Chaudhary Nisar started his political career when he became the chairman of District Council Rawalpindi. His journey as a member of the National assembly started when he was elected from NA-95 Rawalpindi in the general elections of 1985. After three years, he was re-elected on the ticket of Islami Jamhoori Ittihad from NA-95. It was a time of his career that he was re-elected whenever elections were held. After working as a Minister of Science and Technology for two years, he was re-elected in 1990 on the same ticket and from the same constituency. 
This time he became Minister of petroleum and Provincial coordination. It was the first government of Nawaz Sharif to whom he had got closer to the Martial Law of Zia Ul Haq. This ministry lasted for 3 years. In the general elections of 1993 and 1997, he was elected for the fourth and fifth time. This time he was assigned the ministry of Petroleum and natural resources but soon the Army chief overthrew the Sharif government and imposed martial law.  
As Chaudhary Nisar was a part of a democratic system, he was put under house arrest for many weeks. It is also said that being a part of a military family and his associations with the establishment, he was given relaxation after the dismissal of the Sharif Government in 1999. It was the first time that he emerged as the face of PMLN and second powerful leader after Nawaz Sharif 
As a Leader of PMLN
As the new era of Musharraf began when the whole country was dictated by a dictator, Nisar still secured NA-52 seat in 2002 general elections but could not win in NA-53 Rawalpindi. In this tenure, he re-established PMLN as Nawaz Sharif was on exile. He was the only senior leader of the party. 
Genuine stance against the government
In 2008, Nisar was re-elected both from NA-52 and NA-53 Rawalpindi for 7th time. He only retained NA-53. As PMLN made alliances with PPP, Nisar was made the minister of food, agriculture, livestock, and Communication. This ministry did not last long due to his party decided to leave the government alliance. Soon he was appointed as leader of the opposition.
In the same tenure, he became the first chairperson of the apex committee that was intended to audit the government. Soon he resigned saying it was not possible under PPP's government. His stance against the government made him popular in the party.
After 2013 Elections
Nisar was appointed as a part of the Central Parliamentary Board to award tickets to candidates for the upcoming elections of 2013. As expected, he was re-elected for the 8th times and became minister of interior affairs and Narcotics control. This time, his relations were not good with Nawaz Sharif. It was mainly due to the involvement of Maryam Nawaz who he never accepted as his leader. He was also accused of making a lobby before 2013 to become the chief minister of Punjab. Upon his request to Nawaz sharif for the ticket of the provincial cabinet, Nawaz Sharif did not trust him and refrained him from the ticket.
His importance as a national leader deteriorated as the government did not give him much importance even though he was the senior leader and federal minister. After the disqualification of Nawaz Sharif, Shahid Khaqan Abbasi was made the prime minister. He refused to work in his cabinet as he was junior to him.  He resigned from his ministry but retained his seat in the national assembly.
Offer from Imran Khan
In 2018, it was said that Imran khan offered him to join his party, PTI before elections but he refused. He was one of the class fellows of Imran khan in Atchison College Lahore. He won a provincial seat from pp-10 in 2018 but did not take the oath and went abroad. In his political career, he was accused of giving safe passage to Musharraf to go abroad despite the high treason case against him 
Social Media accounts
His social media accounts include