Sadruddin Hashwani is a Pakistan based business magnate, author, and billionaire. He is creator and chairperson of Hashoo Group, an agglomerate of PC Hotels. According to an American-business magazine' Forbes, ' 2020 he is 7th richest Pakistani with a net worth of 1.5 billion US dollars.
He authored his memoir 'Truth Always Prevails' in 2014. In April 2016 Hashwani and his son Murtaza was named in Panama Papers. President Arif Alvi awarded him Nishan-e-Imtiaz on 23rd March 2019 at President house. The article contains all the information about him, including Sadruddin Hashwani Biography.
| Title | Description |
| --- | --- |
| Personal | |
| Name: | Sadruddin Hashwani |
| In Urdu: | صدرالدین حاشوانی |
| Famous As: | Hashoo group |
| Nationality: | Pakistani |
| Residence: | Islamabad |
| Education: | University of Karachi |
| Religion: | Islam |
| Profession: | Business |
| Born | |
| Date: | 19 February 1940 |
| Star sign: | Aquarian |
| Place: | Karachi |
| Family | |
| Ethnicity: | Ismaili |
| Spouse: | Noori Hashwani |
| Children: | Murtaza Hashwani, Sarah Hashwani, Shahzia Hashwani, Nadia Hashwani, Hasan Ali Hashwani |
| Career | |
| Company Name: | Hashoo Group |
| Net Worth: | ₨115.8 billion (equivalent to ₨350 billion or US$3.4 billion in 2013) |
| Years Active: | 1960 |

Sadruddin Hashwani Biography
Through his intelligent business strategies and hard work, he marked his name in Pakistan's business field. Today he has the reputation of a leading figure in the hotel industry around the globe. He has received several laurels including a gold medal for superior services for the Pakistani hospitality industry at World-Tourism convention.
His belief in Pakistan tested when his grand investments in Hotel industry targeted terrorist attacks in Pakistan. Despite massive financial losses, his love for his country remained strong, and he decided to rebuild it. When he rebuilt all the destroyed property, he set an example by not suspending an employee despite all financial losses.
He has the honour to be 1st Pakistani businessperson to receive Nishan-e-Imtiaz. Pakistan's President Arif Alvi awarded him Nishan-e-Imtiaz on 23rd March 2019 at President house. 
Sadruddin Date of Birth
He opened his eyes on 19th Feb 1940 in Hyderabad, British India. Later his family shifted to Pakistan.
Education of Sadruddin
He passed his matric examination in 1956 from Narayan Jagannath Vaidya High School.
Sadruddin Hashwani Family
He is a son of Mukhi Varas Hussain who joined his family business after completing education. He inherited an agency of Ralli Bros Limited in 1929 and retained it until 1968. It is said that Hashwani family owned this agency for ninety years dealing with cotton, bones, skins, and hides.
He was chairperson of Hashwani Hotels Limited established in 1971 with a capital of sixty million rupees. In 1974 its was converted into Public Ltd. He passed away on 14th May 1977 at the age of eighty years due to a heart attack. Sadruddin married Noori Hashwani and is a father to Murtaza Hashwani, Shahzia Hashwani, Nadia Hashwani, Sarah Hashwani, Hasan Ali Hashwani. 
Career
Initial Hardships
He is a self-made personality who established his business-empire in the last seventeen years. He didn't own the family business to join. In 1958 he collaborated with his brother-in-law in a grain-transporting company, travelling to Kalat and Makran coast in temperature below freezing. In this trading business, he worked eighteen hours per day, ignoring his health.
Collaboration with Elder Brother
In 1960 he started his next business project 'Steel Trading' with his elder brother Hassan Ali and established a Hassan Ali and Co firm. 
Cotton Trading
In 1965 he started his business career in cotton trading with a tiny order of twenty-nine hundred bales. Within 3-years he became number one cotton exporter. His business rapidly progressed, and he emerged as a business tycoon in 1970.
Nationalization Process
In 1973 Pakistani economy saw a downfall when the nationalization process started. He made a courageous decision of staying in Pakistan and purchased a textile-mill from Fancy, but later he sold it in 1978. 
Other Business Ventures
He invested his assets in grand business projects such as real estate, trading, hotel industry, industrial ventures, and property development. Within some years he gained the reputation of an eminent businessperson and a successful hotelier. 
As a Hotelier
In 1985 Hashwani made a bid for significant shares of PSL (Pakistan Services Limited) that owned 4-intercontinental hotels in the country. After taking control of the company, he changed its name to PC (Pearl Continental) hotels.
His vision and foresight led him to upgrade Holiday Inn standards by converting it into Marriot Hotels.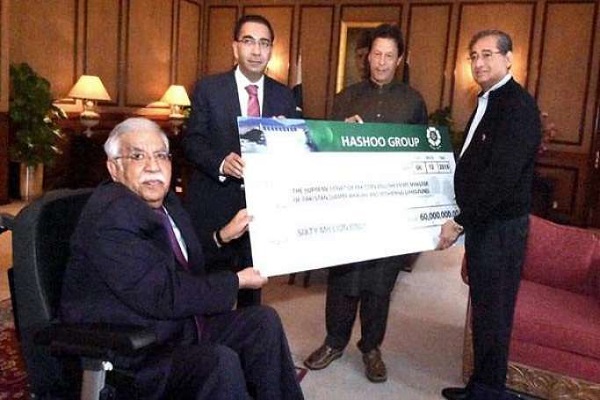 Established OPL
In 1995 he got hundred per cent stocks of USA based Firm 'Occidental of Pakistan Inc' now called OPL (Occidental Petroleum Limited). It is actively involved in the production and exploration of gas and oil in Pakistan with a team of more than two-hundred trained and competent staff. This project is a significant division of his business-empire Hashoo Group. 
Hashoo Group
The Hashoo Group is the principal share-holder of Pakistan's 4th largest insurance firm 'New Jubilee Insurance Corporation Ltd.' The Hashoo Group is also making its mark in real estate, property development and construction business like Hashoo Apartments, Prince Apartments, Nadia Square, Hashoo Terrace, Baagh-e-Maleer, Hashoo Garden, Hashoo Center, Gulshan-e-Millat, Bagh-e-Landhi, Millat garden and Highway-Housing Project. 
Hashoo Foundation
The Hashoo Group founded its philanthropic institute in 1985, named Hashoo Foundation. 
Establishment of Holiday Inn
He started building Holiday Inn Islamabad (present Marriot Hotel) that started functioning in 1978 under Hashwani Hotels Ltd's umbrella after Holiday Inn's success in Islamabad; Holiday Inn was inaugurated in Karachi in 1981.
Other Services
Besides serving as Director in Hashoo Group, he works as Board member of Jubilee Gen Insurance Company Ltd. 
Sadruddin Hashwani Positions
Pak Services Ltd (Cruise Lines, Motels, and Hotels)-Chairperson 

PC Hotels-Chairperson

Zaver Oils Limited-Chairperson

Pak Services Ltd (Azad Kashmir)-Chairperson

Pearl Tours and Travels Private Limited-Chairperson

Ocean Pak Ltd-Chairperson

OPI Gas Pvt Ltd-Chairperson

Hashoo Group-Chairperson

Gelcaps (Pak) Ltd-Chairperson

Hassan Ali and Co-Chairperson

Hashoo Holdings Pvt Ltd-Chairperson

Noor Properties Private Ltd-Chairperson

Hasan Ali (Grains) Private Ltd-Chairperson

Zaver Mining Co. Private Ltd-Chairperson

Jubilee Gen Insurance Company Ltd-Non-Executive Director

Zaver Petroleum Corporation Ltd-CEO and Chairperson

Haswani Hotels-CEO and Chairperson
Sadruddin: Connections
B.R.R Guardian Modaraba

Pak Services Ltd

Fecto Cement Ltd

786 Investment Ltd
Sadruddin Hashwani Book
He wrote a memoir Truth Always Prevails' in 2014.
Social Media Handles
His social media account include
https://www.facebook.com/Sadruddin-Hashwani-1602350353382661/