Sohail Aman is a former ACM and was retired as a four-star Pakistan air force general. He replaced Air Chief Marshal Tahir Butt on 19th March 2015. During his tenure, he officially visited the airbase of 'Royal Air Force.' He also inaugurated a PAF hospital during his service.
He is the recipient of many prestigious awards, including LOM. This article has all the information about him, including Sohail Aman Biography.
| Title | Description |
| --- | --- |
| Personal | |
| Name: | Sohail Aman |
| In Urdu: | سہیل امان |
| Famous As: | Chief of Air Staff |
| Nationality: | Pakistani |
| Education: | Master's degrees in International Studies |
| Religion: | Islam |
| Profession: | Air Chief |
| Awards : | He bagged various awards |
| Born | |
| Date: | 1959 |
| Details | |
| Allegiance: | Pakistan |
| Service/branch: | Pakistan Air Force |
| Years of service: | 1978– 2018 |
| Rank: | Former Air Chief Marshal (General) |
| Unit: | Squadron No. 1 Rehbar |
| Commands: | Central Air Command, Southern Air Command, DCAS (Training&Evaluation), DCAS (Air Operations), PAF Base Minhas |
| Battles/wars: | 2001 India-Pakistan standoff 2008, Indo-Pakistan standoff, War in North-West Pakistan |
| In Office | |
| Preceded by: | ACM Tahir Rafique Butt |
| Role: | Chief of Air Staff |
| Dates: | 19 March 2015 – 18 March 2018 |
| President : | Mamnoon Hussain |
| Prime Minister : | Nawaz Sharif |
| Prime Minister : | Shahid Khaqan Abbasi |
| Succeeded by : | ACM Mujahid Anwar Khan |

Sohail Aman Biography
Sohail is a man with leadership vision, firmness, determination,  loyalty, and leadership qualities, and his performance has made a significant contribution in introducing stability and peace to the country. His endeavor proved necessary for the successful start-up of the global war on terror.
He received Hilal-e-Imtiaz, Sitara-e-Imtiaz, and Tamgha-e-Imtiaz in recognition of his services. Furthermore, he was awarded the LOM, a military award of US forces awarded for meritorious service and performance for his outstanding PFA performance.
Sohail Date of Birth
He was born in 1959.
Education of Sohail
He is an alumnus of CCS (Combat Commanders' School), AWC (Air War College), and RCDS (Royal College of Defense Studies), the UK. He earned master's degrees in Strategic Studies from AWC and  International Studies from Kings College, United Kingdom.
Career
According to the PAF media release, his career covers a broad range of command, training, and operational assignments. He was assigned to the GD (Pilot) division of the Pakistan Air Force in November 1980. During his tenure in Pakistan Air Force, he flew many training and fighter aircraft on PAF inventory.
During his glorious period in PAF, he commanded the 'CCS,' 'Fighter Squadron,' 'Regional Air Command,' and 'Operational Air Base.'
Appointment as Air Chief
He appointed as CAS on 18th March 2015 and replaced Air Chief Marshal Tahir  Butt. His selection was suggested by Ex-PM Nawaz Shareef and accepted by then President of Pakistan Mamnoon Hussain.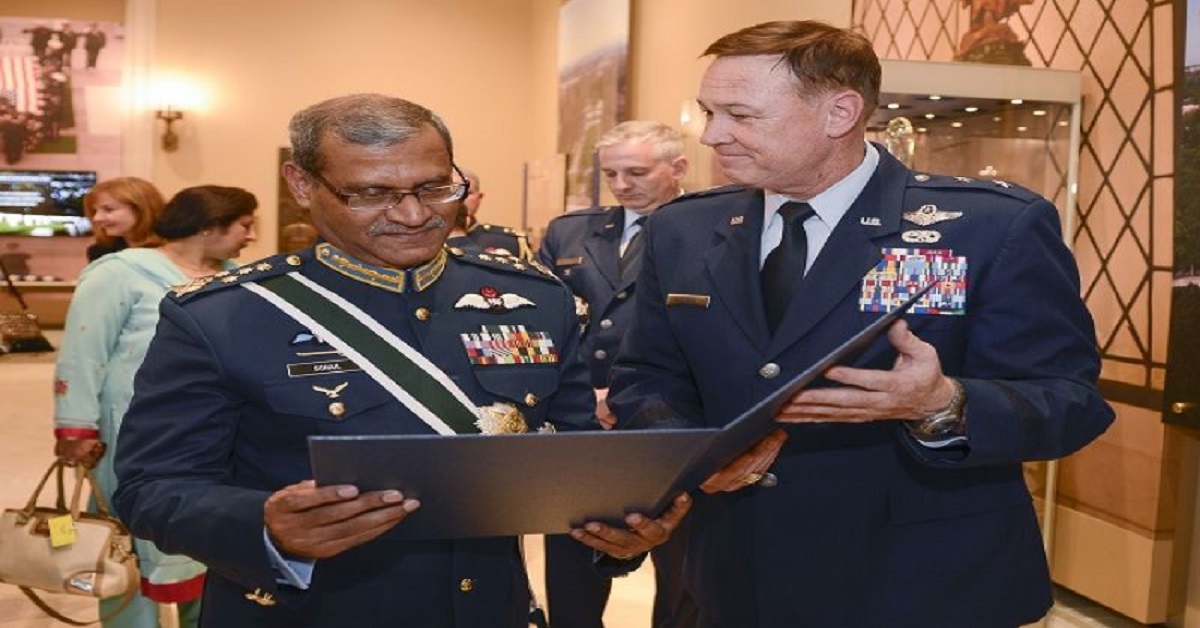 Official Visit to the UK
He officially visited Marham Airbase of RAF (Royal Air Force), where he flew RAF's Tornado Fighter Jet. A thorough briefing was given to him on the historical importance of Number Nine Squadron during his visit to Marham. After his visit airbase, a meeting was arranged at the London Ministry of Defense with Sir Stephen Hillier, RAF's Air Chief Marshal.
The panel outlined matters of correlative gains and the advantages that both these air forces could reap via coordinated training missions. Aman discussed his counterparts on the Pakistan Air Force's leading role in the war against terrorism, and ACM Hillier praised the PAF 's services in Pakistan as well as its tactical abilities.
After that, he visited the 'Royal College of Defense Studies,' where he lectured on regional stability in South Asia and its security patterns. He also explained the importance of including tribal communities in the national discussion, regional peace talks, and the sacrifices made to eradicate terrorist groups from the country. And in the end, he met the faculty and students of the College.
Awarded Highest Military Laurel
The military laurel was given by the Commander United States Air Forces Central Command, Lt. Gen. Jeffrey, on the behest of Chief of Staff USAF General David Lee-who watched this ceremony via a video-link to the Air Force Headquarters.
This prestigious award was presented to him to acknowledge his courage, sagacity, determination, exemplary commitment, and unwavering devotion to the 'war on terrorism.' The award also acknowledged his contributions, which significantly strengthened strategic cooperation and ties between two airfields.
Inauguration of PAF Hospital
In 2018 he inaugurated PAF hospital, and after unveiling the inaugural plaque, prayed for the success of this project. He then visited different wards and facilities of the hospital and talked to doctors and paramedics. Addressing on this occasion, he praised the teammates' tireless efforts to build this hospital in record speed and time.
Equipped with the latest medical services, the hospital will facilitate the PAF employees and the general population of twin cities and neighboring areas.
Sohail Aman Retirement
He got retired from the post of CAS. Addressing the gathering, he said that Pakistani Force played a crucial role in both the war against terror and aviation security. He said that PAF's share in the battle against terrorists was higher than almost any air force globally.
He further said that the country's defense system had been improved in recent years, and the military has been self-sufficient in refurbishment and other trades.
Social Media Handles
https://www.facebook.com/acmsohailaman/