Sir Syed Ahmed Khan (1817-1898) was a great visionary, statesman and Muslim reformer of the 19th century, the like of whom is rare. He wanted to make the community and country progressive and take them forward on modern lines. His supreme interest was intellectual development of the people through modern education. He was the first Indian Muslim to contribute to the intellectual and institutional foundation of Muslim modernization in Southern Asia. Interest of community and country was dearer to him rather than anything else. He was successful in making the Muslims understand the importance of modern education and endeavour their best to achieve it in order to stand on their own legs and live a dignified life in accordance with Islamic thoughts.[1] Sir Syed Ahmad khan
| Title | Description |
| --- | --- |
| Personal | |
| Name: | Sir Syed Ahmed Khan |
| Other names : | Sir Syed |
| In Urdu: | سر سيد احمد خان |
| Famous As: | Founder of Aligarh Muslim University |
| Awarded Honorary: | LLD from the University of Edinburgh |
| Also Listed In: | Philosophers, Educators, Politician and Islamic Reformer |
| Nationality: | British subject |
| Education: | Quran, Courses in Persian and Arabic, Mathematics |
| Notable Work: | The Mohammadan Commentary on the Holy Bible Reasons for the Indian Revolt of 1857 |
| Religion: | Islam |
| Sun Sign : | Libra |
| Notable Ideas : | Muslim Adoption of Western ideas |
| Main Interests: | Pragmatism, Metaphysics, language, Aesthetics, Islam and Christianity |
| Institutions: | East India Company Indian Judicial Branch Aligarh Muslim University Punjab University Government College University |
| School : | Islamic and Renaissance Philosophy |
| Era : | 19th Century Philosophy |
| Awards : | Star of India |
| Born | |
| Date: | 17 October 1817 |
| Place: | Delhi, Mughal Empire |
| Family | |
| Spouse: | Parsa Begum |
| Children: | Syed Hamid, Syed Mahmood, Amina |
| Co-Founder: | Aligarh Muslim University |
| Parents: | Father Mir Muttaqi Mother Azis-un-Nisa |
| Died | |
| Date: | 27 March 1898 |
| Rest Place: | Aligarh, British IndiaDelhi, Mughal Empire |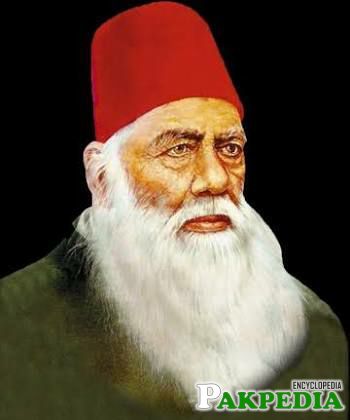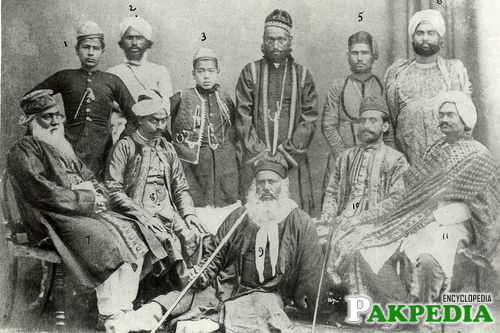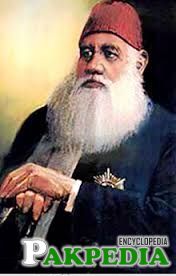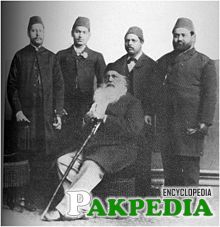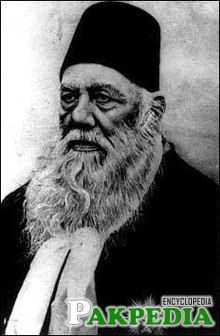 Childhood Early Life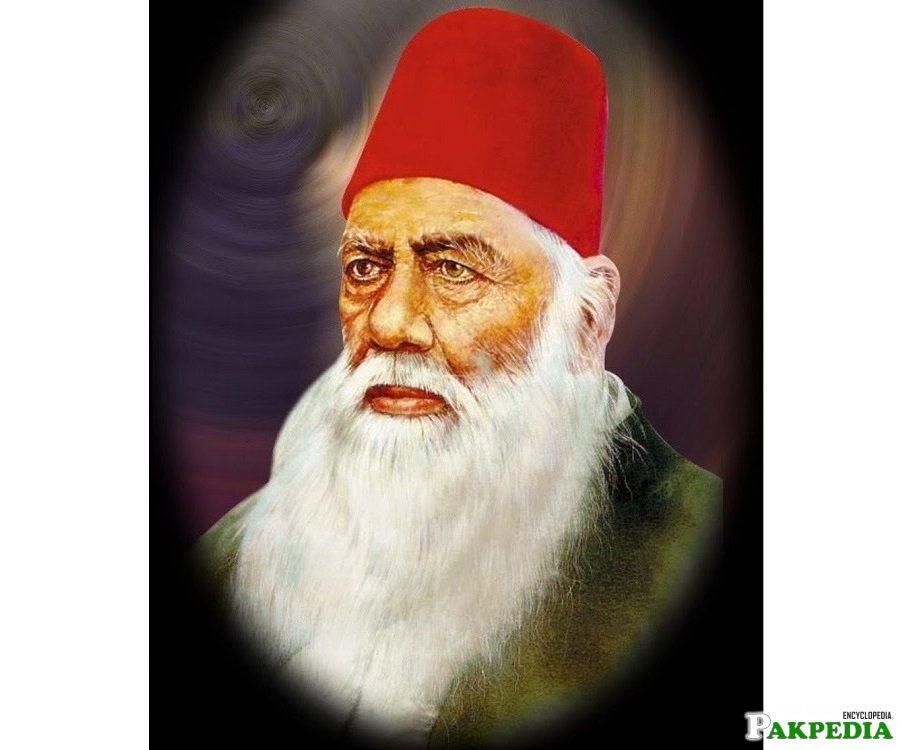 He was born as Syed Ahmad Taqvi on 17 October 1817 in Delhi. His father, Mir Muttaqi was highly regarded by the Mughal dynasty, and many members of his family had held positions in the Mughal court.
He was raised in a large house in a wealthy area, in accordance with Mughal traditions. His mother Azis-un-Nisa was a strong-willed religious woman who ensured that Syed and his brother received a disciplined upbringing.
He was trained in Persian, Arabic, Urdu and orthodox religious subjects, and was also taught mathematics and astronomy. He was an active boy and participated in a number of sports like swimming and wrestling.
He began his study of medicine but did not complete the course. His father died when Syed was still young and thus he had to abandon his formal education due to financial difficulties.
He was offered positions in the Mughal court which he declined and entered the English civil service. Later on he attended the East India Company College from where he graduated with a degree in law and judicial services.
Career
He was appointed as a clerk at the courts of law in Agra in 1838, and promoted to the title of Munshi in 1840. His position in the judicial department gave him ample time to devote to his other interests, which included writing.
He began his literary career by writing religious tracts. His book (Monuments of the Great), on the antiquities of Delhi was published in 1847.
When the Indian Mutiny of 1857 broke out, he remained loyal to the British and even saved the lives of several Europeans. He was serving as the chief assessment officer at the court in Bijnor at the time when the rebellion broke out and was personally affected by its aftermath.
He published the booklet Asbab-e-Baghawat-e-Hind (The Causes of the Indian Revolt) in 1859 in which he fearlessly outlined what he believed to be the causes of this revolt. He rejected the common belief that the conspiracy was planned by Muslims and blamed the British East India Company's thoughtless actions for the revolution.
Religion was one of his great interests, and he had great respects for all religions, not just Islam. He started a work on a commentary on the Bible in which he stated that Islam and Christianity both share a common lineage from Abrahamic religions.
During the 1850s he developed a strong passion for education and realized the advantages of Western-style education. He believed that scientific education was the need of the hour and set about establishing modern schools for the children, at Muradabad (1858) and Ghazipur (1863).
He was transferred to Aligarh in 1864 where he founded the Scientific Society of Aligarh which was the first scientific association of its kind in India. The Society held conferences, disbursed funds for educational causes, and published scientific journals in English and  Urdu.
He published many writings promoting liberal and rational interpretations of Islamic scriptures as he felt that orthodoxy was threatening the development of the Muslims. However, his liberal views were met with criticism by the Muslim clergy and thus Sir Syed decided to stop discussing religion and focused on promoting education.
After having established schools for children, he founded the Muhammadan Anglo Oriental College in 1875, seeking to promote social, scientific, and economic development of Indian Muslims. Today, the institution is known as the Aligarh Muslim University (AMU) and ranks among the top universities in India.
Education
Sir Syed received his education under the old system prevailing at that time. He learnt to read the holy Quran under a female teacher at his home. After this, Maulvi Hamidud Din, became his private tutor. He completed a course in Persian and Arabic, and later took to the study of mathematics, which was a favourite subject of the maternal side of his family. He later took interest in medicine and studied some well-known books on the subject. At the age of 19 his formal education came to an end but he continued his studies privately. He started taking a keen interest in the literary gatherings and cultural activities of the city.
Death of His Father
The passing away of his father left the family in financial difficulties, and after a limited education he had no option but to work for his livelihood. Starting as a clerk with the East India Company in 1938, he qualified three years later as a sub-judge and served in the judicial department at various places.[2] Education aligarhmovement.com
Personal Life Legacy
He married Parsa Begum in 1836, and the couple went on to have three children: Syed Hamid, Syed Mahmood and Amina.
Wrote on a Number of Subjects
He was a tireless worker who devoted his entire life to the promotion of education for the masses. A highly knowledgeable man and a prolific writer, he wrote on a number of subjects including history, politics, archaeology, journalism, literature, religion and science.
Died
He lived the last two decades of his life in Aligarh and died on 27 March 1898, at the age of 80. His funeral was attended by thousands of people, including British officials, Muslim leaders, and his students.[3] Personal life and legacy thefamouspeople.com
Vision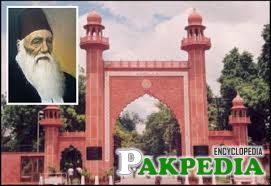 The supreme interest of Sir Syed's life was education in its widest sense. He wanted to create a scientific temperament among the Muslims of India and to make the modern knowledge of Science available to them. He championed the cause of modern education at a time when all the Indians in general and Indian Muslims in particular considered it a sin to get modern education and that too through English language. 
Establishing Schools
He began establishing schools, at Muradabad in 1858 and Ghazipur in 1863. A more ambitious undertaking was the foundation of the Scientific Society, which published translations of many educational texts and issued a bilingual journal in Urdu and English. It was for the use of all citizens and were jointly operated by the Hindus and Muslims. In the late 1860s there occurred some developments that were challenges to his activities. 
Transferred to Benares
In 1867 he was transferred to Benares, a city on the Ganges with great religious significance for Hindus. At about the same time a movement started at Benares to replace Urdu, the language spoken by the Muslims, with Hindi. This movement and the attempts to substitute Hindi for Urdu publications of the Scientific Society convinced Syed that he should do something. 
During
During a visit to England (1869-70) he prepared plans for a great educational institution. They were "a Muslim Cambridge." On his return he set up a committee for the purpose and also started an influential journal, Tahzib al-Akhlaq "Social Reform" for the uplift and reforms of the Muslims.
Muslim school
 A Muslim school was established at Aligarh in May 1875, and after his retirement in 1876, Sir Syed dedicated himself to make it a college.
All-India Mohammadan Educational Conference
In January 1877 the Viceroy laid the foundation stone of the college. In spite of opposition to Syed's projects, the college made rapid progress. In 1886 Syed organised the All-India Mohammadan Educational Conference, which met annually at different places to promote education and to provide the Muslims with a common platform. Syed advised the Muslims against joining active politics and to concentrate instead on education. Muslims generally followed his advice and abstained from politics. This advice is applicable even today. We have to concentrate our attention more on education for the uplift of the backward Muslim community. Many reports have clearly noted that the Muslims are educationally and economically more backward.
Indian Muslims
Throughout his life Syed Ahmed Khan showed concern with how Indian Muslims could adapt to intellectual and political change accompanying Western rule. His first mission became reinterpretation of Muslim ideology so as to reconcile tradition with Western education and science. He argued in several books on Islam that the holy Quran rested on a deep appreciation of reason and natural law and therefore did not preclude Muslim involvement in scientific methodology. These themes, mixed with a call for Muslim education, regularly appeared in his journals, the Mohammedan Social Reformer and the Aligarh Institute Gazette.
Syed Ahmeds Ideas
Syed Ahmed's ideas became institutionalized despite criticism from theologians. In 1862 he formed a scientific society, and 13 years later he assisted in establishing the Mohammadan Anglo-Oriental College, which prospered and became the key intellectual center for Indian Muslims – The Aligarh Muslim University. The success of the college was largely due to his leadership and a curriculum embodying both Western and Oriental studies.
Contributions
Sir Syed's contributions for the betterment and empowerment of the Muslims are great. His position in the judicial department left him time to be active in many fields. His career as an author in Urdu started at the age of 23. In 1847 he brought out an important book "Monuments of the Great" on the antiquities of Delhi. Even more important was his pamphlet "The Causes of the Indian Revolt". His interest in religion was also active and lifelong. He wrote on the Life of Prophet Muhammad (Sal-am) and devoted himself to write several volumes of a modernist commentary on the holy Quran. In these works he explained how the Islamic faith could go with progressive scientific and political ideas of his time.
Work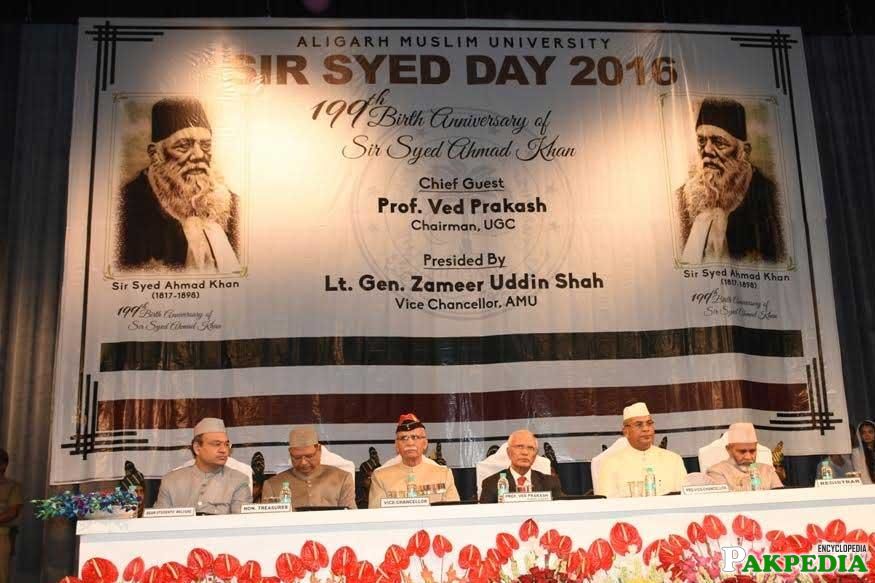 Improving Relations between the British and Muslim Communities
Sir Syed believed that the position of the Muslims in the subcontinent could only be improved if relations with the British were improved and Muslims gained higher-quality education. There were two major obstacles to good relations.
A. The British had put the entire responsibility for the War of Independence in 1857 on the Muslims. As a result they carried out policies of repression against the Muslims after 1857. The Hindus and other religious groups were considered to be loyal and prepared to assist in governing India, but the Muslims were seen as rebellious and unhelpful. Even as early as 1843 the British Governor-General had stated:
I cannot close my eyes to the belief that the Muslim race is fundamentally hostile to us.Our true policy is to reconcile the Hindus.
Sir Syed Wanted to Ensure that this False View was Corrected
B. There was a deep-seated resentment of the British among many in the Muslim community. This was sometimes based on the fact that the British were seen as foreign invaders and sometimes because they were thought to be trying to replace Islam with Christianity. Other Muslims rejected all Western ideas because they were often not in line with Islamic beliefs. Sir Syed wanted to ensure that the benefits and advantages of British rule, in particular in the areas of science and technology were embraced by the Muslim community to improve the lives of the masses.[4] Work  thecssforum.com
Convincing the British
In 1860 Sir Syed wrote The Loyal Mohammadens of india. In this work he defended the Muslims from the British accusation that they were disloyal. He gave a detailed account of the loyal service which Muslims had given and named various Muslims who had shown particular loyalty to the British. At the same time he called on the British to end their hostility towards the Muslim community.
In order to convince the British that they were wrong to put the full blame for the events of 1857 on the Muslims, Sir Syed wrote a pamphlet called Essay on the causes of the Indian Revolt'
In his writing he pointed out the main reasons for the uprising were:
The lack of representation for Indian government of the country.
The forcible conversion of Muslims to Christianity
The poor management of the Indian army
He also listed many other measures taken by the British which created dissatisfaction and led to resentment among the Muslim community.This pamphlet was circulated free amongst the British officials in India and was also sent to members of Parliament in England.
British Officials
Even members of the Royal family received copies. Some British officials were angered by what Sir Syed wrote as he seemed to be blaming them for the uprising. Others read what he wrote with sympathy and accepted that there was truth in his words .Sir Syed also tried to clear up a misunderstanding amongst the British who resented being called Nadarath by the Muslims. The British thought that this was an insult , but Sir Syed pointed out that the word came from Nasir , an Arabic word meaning helper. So the term was a reflection of the positive image Muslims had of British , not an insult.
Convincing the Muslims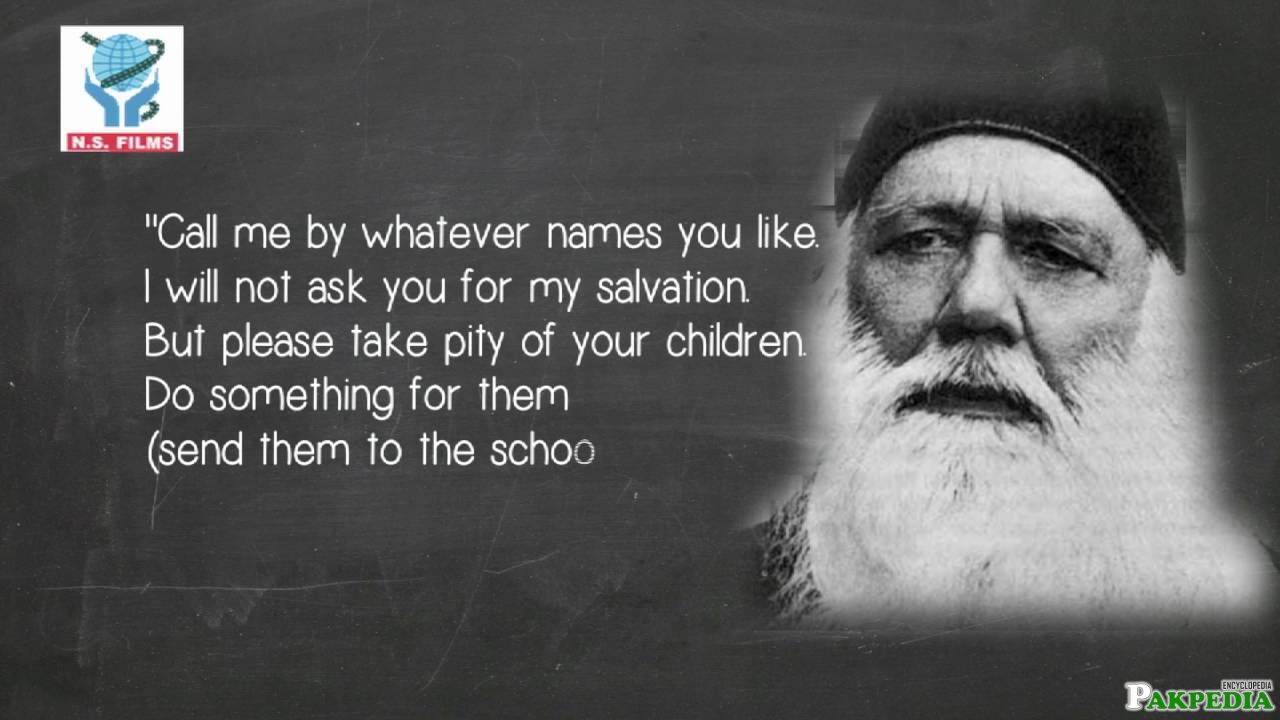 Sir Syed was aware that the British knew very little about Islam. Indeed, on a visit to England he was so offended by an English book on (P.B.U.H) that he immediately wrote his own work correcting the many errors.
Tabyin-ul-Kalam
It was also true, however, that the Muslims in India knew very little about Christianity. He tried to overcome this was by writing Tabyin-ul-Kalam, in which he pointed out the similarities between Islam Christianity. Due to lack of resources the work was not finished, but it showed Sir Syed's commitment to improving relations.
British Indian Association
Another example of this was the British Indian Association which Sir Syed established to try to increase co-operation between the two peoples.
Increase Awareness
Many Muslims, however, were very suspicious of any British influence because they believed it corrupted Islamic learning .Sir Sved realized that he needed to increase awareness of the benefits of western technological advances. He did not accept the arguments of British Christian missionaries that the technological advances that had been made in Europe were a result of the teachings of Christianity. He believed that they had to do with greater political development and a higher standard of education, particularly in science. He therefore laid great emphasis on the need to bring about improved education for Muslims.[5] Convincing the Muslim thecssforum.com
Literary Works
Sir Syed was a government civil servant and s scholar. The 1857 revolt was a turning point in his life. The following are his important works:
`'ASARUS SANADEED": It is an archaeological masterpiece providing a wealth of information on countless historical monuments in Delhi from the eight hundred long Muslim rule. This book was published in 1847.
"ASBAB-E-BAGHAWAT-E-HIND"- (The causes of Indian Revolt) This book was published in 1859 after the 1857 revolt after witnessing the atrocities committed by the British on the inhabitants of Delhi. He saw an uncle, a cousin and an aunt dying before his eyes. He saved his mother but she died due to privations she had experienced. Muslims were the main targets of the government's wrath.
THE ALIGARH INSTITUTE GAZETTE – It was an organ of the Scientific Society started in 1866. It made the people think and use their wisdom.
`'TEHZIB-UL-AKHLAQ"  It succeeded in making people realise the value of modern knowledge. It also gave new directions to Muslim social and political thoughts.[6] Literary work aligarhmovement.com
Golden Saying
Sons (of MAO college later AMU)) shall go forth throughout the length and breath of the land to preach the message of free inquiry, of large-hearted toleration and of pure morality.
Acquisition of knowledge of science and technology is the only solution for the problems of Muslims.
Call me by whatever names you like. I will not ask you for my salvation. But please take pity of your children. Do something for them (send them to the school), lest you should have to repent (by not sending them)
We will remain humiliated and rejected if we do not make progress" (in scientific field)
Get rid of old and useless rituals. These rituals hinder human progress.
Superstition cannot be the part of Iman (faith).
The first requisite for the progress of a nation is the brotherhood and unity amongst sections of the society.
Yes the main purpose of this college (MAO) is to impart modern education to Muslims who are suffering because of lack of it but this institution is for all, Hindus and Muslims alike. Both of them need education.
We (Hindus and Muslims) eat the same crop, drink water from the same rivers and breathe the same air. As a matter of fact Hindus and Muslims are the two eyes of the beautiful bride that is Hindustan. Weakness of any one of them will spoil the beauty of the bride (dulhan)
We (Hindus and Muslim) have evolved a new language Urdu
I wish that youth of India should follow the example of young men and women of England who are religiously engaged in the hard work of industrial development of their country" (During the stay of Sir Syed in England).
Look forward, learn modern knowledge, and do not waste time in studies of old subjects of no value.
Ijtihad (innovation, re-interpretation with the changing times) is the need of the hour. Give up taqlid (copying and following old values).
Do not show the face of Islam to others; instead show your face as the follower of true Islam representing character, knowledge, tolerance and piety.
We should not (by remaining ignorant and illiterate) tarnish the image of our able elders.
All human beings are our brother and sisters. Working for their welfare is obligatory for Muslims.
Remember that the words Hindu and Muslim are only meant for religious distinction: otherwise all persons who reside in this country belong to one and the same nation.
Achievements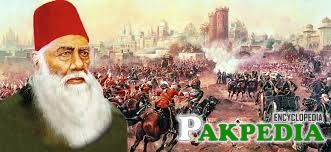 Sir Syed's greatest achievement was his Aligarh Movement, which was nothing but an educational venture. He established schools at Muradabad in 1859 and Ghazipur in 1863. He also founded a scientific society in 1864. When Sir Syed was posted at Aligarh in 1867, he started the Muhammadan Anglo-Oriental School in the city. During his visit to England in 1869, he studied the British educational system and appreciated it.
MAO College
Sir Syed wanted MAO College to act as a bridge between the old and the new systems. His famous quote is that `'a true Muslims is one who must have the holy Quran in one hand and the science in the other". Today we can see the Aligarh Muslim University offering different courses like Medical, Engineering, Science, Arts, Management, Languages etc.
Spreading Education and Empowerment
Sir Syed's aim was not just to establish a college at Aligarh but he was interested in spreading education and empowerment among the people by establishing educational institutions in every nook and corner of the country. He, therefore, started an organisation called `'All India Muslim Educational Conference"to achieve this goal. It motivated the Muslims to open a number of educational institutions in India.
Vision
Although the Indian Muslim community has made some good progress in the educational arena, still they have to go a long way to achieve the goal that Sir Syed visualised. Only the vision and enthusiasm of Sir Syed can help us – Muslims to improve our educational and economic conditions further. It is,therefore, incumbent for us to revive the Aligarh movement once again to make the people understand the value of modern education fully.
Vice-Chancellor Aligarh Muslim University
I take this opportunity to request the Vice-Chancellor, Aligarh Muslim University to start a movement and come to the rescue of the suffering Muslim community in India. There is no point in blaming others. One feels that the main cause for our backwardness is lack of education. Education alone in the present context can empower us and nothing else. We can create a modern Islamic society only by taking Muslims to modern professional education like medical, engineering, teaching, management etc. No options or short cuts at all. God has given the eyes to see and mind to analyse. We must see what is happening around us and use our intellect to arrive at a conclusion. This is what Allah wants us to do. There is no point in toeing an outdated concept and blaming fate for every misery. Dr. Allama Mohammed Iqbal's call should be taken seriously and march forward. He has said beautifully in the couplet which we read and hear quite often sometimes it echoes even in the Parliament but we do not give serious thought to it.[7] Achievements  aligarhmovement.com
Khudi ko kar buland itna ki har taqdeer say pahlay,
Khuda banday say khud poochay bata teri raza kya hai
(Raise your position so much that God himself may ask you `'tell me what is it that you want?").
It echoes the holy Quranic strong dictate that we should endeavour to achieve his rewards. In short we must develop a scientific temper among the people as the holy Quran says in different verses. We are mainly responsible for backwardness.
Sir Syed also brought out a journal `Tehzibul Akhlaq' and succeeded in infusing a new desire amongst Muslims for acquiring modern knowledge.
Sir Syed finally reached to the conclusion that lack of education was the main cause of the backwardness of the community.
Sir Syed became successful in his mission and gave a firm foundation of Aligarh College (Mohammedan Anglo-Oriental College) which afterwards became Aligarh Muslim University by an act of the government. It is meant for all- Muslims as well as non-Muslim students. All live and study here in a friendly and peaceful atmosphere. It has got a rich cultural heritage, which is its special and inimitable one.
First Graduate ofAligarh Muslim University
The intellectuals produced in large numbers by Aligarh Muslim University served and continue to serve the country in various capacities. The first graduate of this University was the great revolutionary Raja Mahendra Pratap Singh. The late Dr. Zakir Hussain, former President of India and Dr. Syed Mahmood were also Aligarh educated dignitaries. The university has produced innumerable doctors, engineers, teachers, scientists, poets, writers, journalists, etc.
Educational Revolutions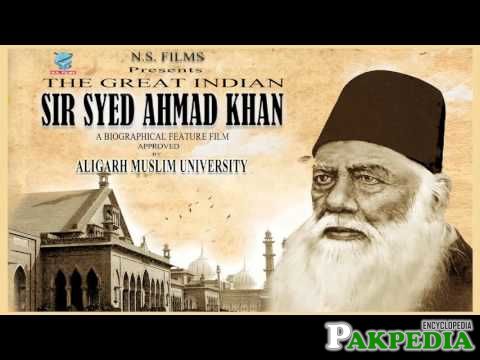 The Aligarh movement launched by Sir Syed Ahmed Khan influenced the Muslims in the country, particularly in South India. The Souvenir brought out on the occasion of the Centenary Celebration of Ambur Muslim Educational Society on 4th September 2006 mentions as follows inter-alia:
Mohammedan Educational Conference
Sir Syed organised the Mohammedan (later Muslim) Educational Conference. Its branches were established in cities and towns to report on the educational needs of the community. This conference used to meet annually at several important cities in the country and carried the message of modern education far and wide.
5th session of the Conference
The 5th session of the Conference was held at Madras in 1901 and set in a brainwave all over the South. Like their brethren in other parts of the country the Muslims of the Madras presidency were also antagonistic towards the English education and therefore they were far behind their other fellow countrymen in public service. Nawab Mohsinul Mulk Mohsinud Dowla from Aligarh inspired the Conference with the saga of adventure which Sir Syed has brought into being in the North.
Madrasa-e-Mazharul Uloom
On 16th December 1905 the Management of the Chowk Masjid madrasa which was in existence then was taken over and later re-named as Madrasa-e-Mazharul Uloom. Janab T.Abdullah sahib visited Aligarh, observed the educational developments there and inspired by it prepared a plan for a Muslim school in Ambur meant for all religions and communities without any discrimination whatsoever. It was primarily his aim to create for young Muslims a good institution for their educational, cultural and social developments.
Educational Institutions
Many educational institutions came up in Tamil Nadu as a result of the Aligarh movement. Today by the grace of Allah there are 11 (eleven) full fledged engineering colleges and hundreds of Science and Arts Colleges, Higher Secondary and Elementary Schools in difference parts of Tamil Nadu. Many Muslim organisations like All India Islamic Foundation, Sadaq Trust, The South India Education Trust, The Muslim Educational Association of Southern India, Ambur Muslim Educational Society, Vaniyambadi Muslim Educational Society etc. have been playing a very important role in establishing institutions and imparting modern education to Muslims and non-Muslims alike.[8] Education and revolutions  aligarhmovement.com
Rational Approach
Muslims were in the forefront in the struggle for freedom. They suffered a lot. Many Ulema (religious scholars) were hanged in Delhi and other places. Sir Syed was worried. He was of the view that Muslims should not be so vigorous in opposing the British at their own cost and ignore everything including education and government placements.
Persuaded the Muslims
Sir Syed wanted Muslims to have friendship with the British if they want to take their due rights. He quoted the examples of other religious communities benefiting from the government. While he tried his best to convince the British that Muslims were not against them, he persuaded the Muslims repeatedly to befriend the British to achieve their goals. He also wrote many books and published journals to remove the misunderstanding between Muslims and the British by writing booklets like "Loyal Muhammadans of India" and "Cause of Indian Revolt". 
Not to Participate in Politics
Sir Syed asked the Muslims of his time not to participate in politics unless and until they got modern education. He was of the view that Muslims could not succeed in the field of Western politics without knowing the system. He was invited to attend the first session of the Indian National Congress and to join the organization but he refused to accept the offer. He gave importance to the education of the Muslim community and succeeded in it. His institutions such as the College and the Muslim Educational Conference continued to influence intellectuals till this day and will continue to do so in the years to come unhindered.[9] Relatiional Approach  aligarhmovement.com
Importance
Sir Syed Ahmed Khan played a vital role in improving the status of the Muslim community in subcontinent .
-He worked tirelessly to restore relations with the British, particularly after the War of Independence.When many British were of the opinion that the Muslims were disloyal and untrustworthy. His, his writings, his tireless work and the example he set was to convince the British to see the Muslims in a new light.Sir Syed played a major part in bringing about a Muslim revival, largely through the work of the Aligarh Movement .Muslims came to value education as a means of self-improvement and of obtaining better employment. From this came greater feeling of self-worth.Linked to the Muslim revival was a greater political awareness. As Hindus sought to take advantage of the poor relations between the Muslims and the British, Sir Syed emphasised the threat to Muslims and developed his Two Nation Theory. Once Muslims came to accept the wisdom of this theory, it was only a small step to call for partition. For this reason  Sir Syed Ahmed Khan can rightly be called The Father of the  Pakistan Movement.[10] Importance thecssforum.com
Awards and Achievements
He was awarded the Order of the Star of India from the British government on 6 August 1869.[11] Awards and Achievements  thefamouspeople.com