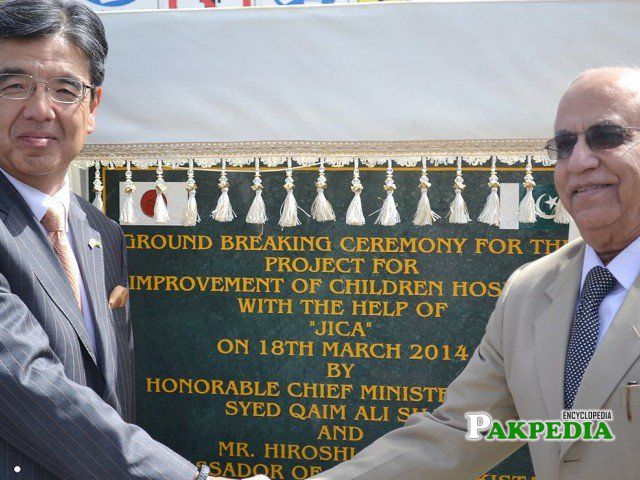 With Japanese Embassador
During an event as a chief guest
With Mujeeb-u-ddin Sahrai
Dr Sikandar Ali Mandhro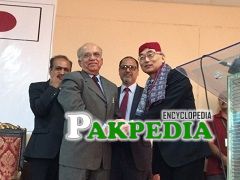 during a ceremony
Biography and Education
Mr. Sikandar Mandhro is a current member of Pakistan People's Party. He leads his constituency of Badin. Professionally he is a Doctor. Mr. Sikandar Mandhro was born and brought up in Badin on 7th of July 1943. His father's name is Tharo Khan Mandhro, he is also an impressive figure in his area. He holds many degrees and academically is a strong person. He has done his Bachelors of Medicine and Bachelors of Surgery (MBBS) from the
University of Sindh
as well as Master of Arts in Economics from Sindh University and MCPS (Member of College of Physicians and Surgeons Pakistan). His primary language is Sindhi. Dr. Sikandar Mandhro lives a peaceful married life with his wife and kids. He has raised 2 kids who are honest citizens. He and his family follow Islam as a Religion. 
[1]
Biography and Education
Career
Dr Sikandar Mandhro is a proud politician among the ranks of Pakistan Peoples Party Parliamentarians. He is a doctor by profession and holds a highly influential position in his community. He is a leader in his constituency of Badin. His current official positions are a Minister of Parliamentary Affairs and Environment and Member of Finance Committee. He has also served at official positions previously. He has been a Member in Provincial Assembly of Sindh multiple times from 1993-1996, from 1997-1999, from 2002-2007 and from 2008-2013. He belongs to constituency PS-58 Badin-II (Old Badin-IV).  
[2]
Career Career
Hepatitis Control Program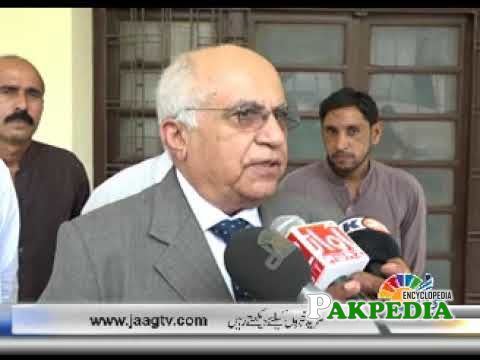 In September 2017 Dr Sikandar Ali Mandhro presided about the Hepatitis Control Program in Sindh Assembly Committee room. He said that Hepatitis centres will be open everywhere for all the hepatitis patients for their health and recovery.  He said that the reason behind it is that we have started diagnosing them before that it wasn't easy to diagnose them. As our patients are not satisfied with the treatment of hepatitis so we can't be satisfied with it so we will arrange experts on every division who can better cure patients of hepatitis. 
[3]
Hepatitis control program
Convocation Ceremony
Sindh Minister For Health Dr Sikandar Ali Mandhro Confers Medals Among The Position Holders During The 12th Convocation 2018 At SZABIST Larkana Campus. Convocation was held on 27th January 2018 where he was specially invited to distribute medals among the position holders. 
[4]
Convocation ceremony
Nominated As a Senator
The Pakistan People's Party has finalised the names of its candidates for the award of tickets to contest elections on 12 seats of the Senate of Pakistan belonging to the
Sindh
province. The names of candidates of PPP who have been awarded tickets to contest the elections on seven general seats of Senate belonging to Sindh are:
Raza Rabbani,
Maula Bux Chandio
,
Murtaza Wahab,
Ali Jamote,
Mustafa Nawaz Khokhar
, Imamdin Shokeen and Ayaz Mehr. The candidates awarded tickets against two seats of technocrats are Dr Sikandar Mandhro and Rukhsana Zuberi. 
[5]
Nominated as senator
Senate Election Results 2018
Election Commission of Pakistan (
ECP
) has officially announced the results of senate election 2018 on seats of general, technocrat, non-Muslim and women reserved seats from Sindh. According to ECP, the seven winning candidates on general seats from
Sindh
were Mian Raza Rabbani, Syed Muhammad Ali Shah Jamot, Syed Muzaffar Hussain Shah,
Muhammad Farogh Naseem
, Mustafa Nawaz Khokhar,
Moula Bux Chandio
and Imamuddin Shouqeen.On two reserved seats for technocrat/Ulema, the winning candidates were
Dr Sikandar Mandhro
and
Rukhsana Zuberi
. On two reserved seats for women
Quratulain Marri
and Keshoo Bai got success while
Anwar Lal Dean
was elected on one non-Muslim seat from Sindh.On general seats number of valid votes were 147, on technocrat seats number of valid votes were 154 and on women reserved seats number of valid votes were 155 while on non-Muslim seat the number of valid votes were 148.
[6]
Senate Election Results 2018