Saeed Anwar is a former Pakistani cricketer and former captain of the national team. He remained an excellent opener for the Pakistani team during his cricket career. Anwar played regularly for the national team with a successful career. He was a left-handed batsman who, in 1997, awarded as one of the Wisden Cricketers of the Year. This article has all the information about him, including Saeed Anwar Biography.
| Title | Description |
| --- | --- |
| Personal | |
| Name: | Saeed Anwar |
| In Urdu: | سعید انور |
| Famous As: | Cricketer |
| Nationality: | Pakistan |
| Residence: | Karachi |
| Education: | Engineering |
| Alma Mater: | NED University of Engineering and Technology |
| Religion: | Islam |
| Profession: | Cricketer |
| Born | |
| Date: | 6th September 1968 |
| Place: | Karachi |
| Family | |
| Spouse: | Lubna anwar |
| Children: | Bismah Anwar, Khuzima Saeed |
| Parents: | Not Known |
| Siblings : | Jawed Anwar |
| Career | |
| National Side: | Pakistan |
| Bowling Style: | Slow left arm orthodox |
| Batting Style: | Left-handed |
| Matches: | 55 in Tests, 247 in ODIs, 146 in FC, 325 in LA |
| Batting Average: | 45.52 in Tests, 39.21 in ODIs, 45.19in FC, 37.91 in LA |
| Balls Bowled: | 48 in Tests, 242 in ODIs, 653in FC, 858 in LA |
| Runs Scored: | 4,052 in Tests , 8,824 in ODIs, 10,169in FC, 11,223 in LA |
| Test Debut: | 23 November 1990 v West Indies |
| Test Last: | 31 August 2001 v Bangladesh |
| ODI Debut: | 1 January 1989 v West Indies |
| ODI Last: | 4 March 2003 v Zimbabwe |
| First-Class Debut: | 1986/87 |
| First-Class Last : | 2002/03 |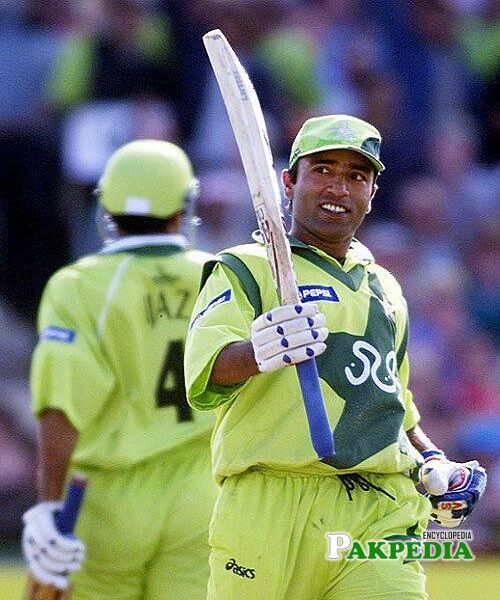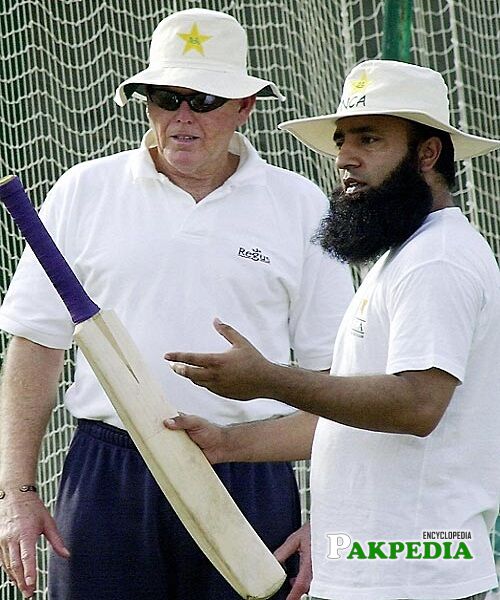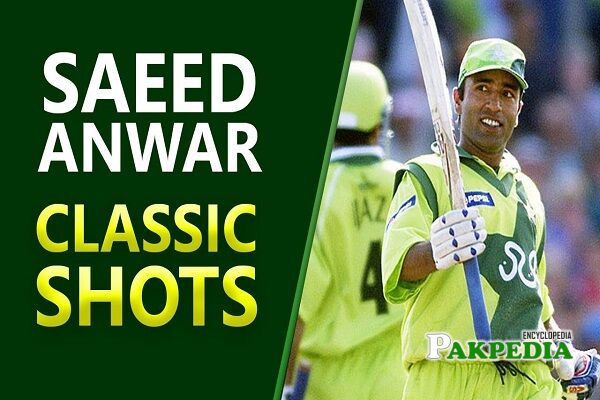 Saeed Anwar Biography
Anwar played outstanding in his international cricket for Pakistan. He participated in 247 matches and scored 8824-runs with an astonishing average of 39.21. He got his highest score of 194 and also made 20 centuries and 43 fifties in the ODI career. Saeed hit 96 sixes in ODIs and has the highest number of ODI hundreds for Pakistan. He also featured in 55 test matches in which and scored 4052 with an impressive average of 45.52 in batting. He smashed 11 centuries and 25 fifties. He got 16-times man of the match award in his overall career; he retired in 2003 from all cricket formats. He also captained in seven tests and 11 ODIs in which he remained average captain.
Anwar date of Birth
He was born in Karachi on 6th September 1968. Currently, he is living in the same city.
Education of Anwar
He got his early education from high school at Government Degree Science College. Later he got his bachelor from NED university of Engineering in Computer Systems Engineering. He planned for masters from foreign, but he never got it due to a cricket career.  
Saeed Anwar Family
Saeed belongs to an ordinary family. His father was a businessman who also played cricket at the club level. His brother played for Lahore in under-19 cricket. Anwar married his cousin named Lubna, who is a professional doctor. He has two daughters, but unfortunately, his daughter Bisma died in 2001. Now he has a daughter named Khuzmia Saeed.
Cricket Career
Initial Career
Anwar started his career from List-A cricket in 1885 and then debuted in first-class cricket. After that, he was selected for international cricket for the Pakistani team.
Domestic Career
He has a brilliant domestic career where he made his debut in List-A in 1985. He played 325 most matches in List-A format and made 11223-runs in 329 innings with an average of 37.97 in batting. He stroked 26 hundred and 54 fifties. Anwar debuted in first-class cricket in the very next year 1986 and registered in 146 matches in which he scored 10169-runs with an average of 45.19 in batting. He listed 30 centuries and 51 fifties. He played for different domestic format teams, including Karachi, Agriculture Development Bank of Pakistan, United Bank Limited, Lahore XI, and the rest.
International Career and Achievements
Test Career
Anwar initiated his test career on 23rd November 1990 against West Indies, and scored zero runs in both innings in his debut match. Soon he performed in his third match against New Zealand, and  got impressive 169-runs. He became a strong opener from the Pakistani side and made aggressive centuries with the highest scores. He stroked his highest test score of 188-runs with not out against India in Asian championship 1998, and that was first record highest score against India later broken by Younis Khan in 2005.
He made test tons against seven different teams and played remarkably against 3 teams South Africa, Australia, New Zealand, and England, with an average of 40. He also has impressive an average of 59.06 against Australia and consecutive two centuries. Anwar awarded the first man of the match against Sri Lanka in 1994 by scoring 94 and 136-runs at Colombo. He smashed two fifties in his first match against Australia and later made three continuous fifties against Sri Lanka in 1995 home series with an average of 51.50. In 1998–99 Asian Test Championship, he became fourth most run-scorer in the tournament with an average of 72.50
ODI Career
Anwar debuted in ODI format on 1st January 1989 against West Indies at Perth and scored 3-runs. He came with his best performance against India and scored 42-runs in 32 balls. He got a maiden century against Sri Lanka and became the man of the match with 126-runs Adelaide Oval. He played his first nine matches at an average of 32.55. Anwar next best performance against New Zealand with 101-runs in 1991. At Sharjah stadium, he scored three continuous centuries against Sri Lanka, and the Pakistan team won by 3-0. In the year 1993, he ended this year with four centuries.
Saeed Anwar smashed two more tons in a row against different events and completed his ten centuries in 1996. He made a winning score of 202-runs Wills Trophy with an average of 40.40, including a century. He became captain of the national team in 1996 and made a century against Sri Lanka. In 1997 during Pepsi Independence Cup, he made a world record of the highest ODI score of 194-runs by an individual at the time against India, later this was equaled by Charles Coventry and broken by many other players in the history of ODI.
In 1998 Silver Jubilee Independence Cup, he collected 315-runs in five matches, including 140-runs in the final game against India in which Pakistan received defeat. Anwar made seven centuries against Sri Lanka in 52 matches with a total of 2198-runs. His second total highest runs against India in 50 games with 2002-runs, including four centuries.
World Cup Records
Anwar played three world cups, including 1996, 1999, and 2003. In 1996, he scored 329-runs in this event, including three fifties. He smashed 48 against India in the quarter-final in which Pakistan knocked out from world cup. In the 1999 world cup, he scored two centuries 103 and 113-runs against Zimbabwe and New Zealand, respectively, and Pakistan got to the final. He played the last world cup in 2003, in which he scored his fourth century of the world cup and his last 20th century of ODI, which he dedicated his late daughter.
Social Media Handles
His social media accounts include
https://www.facebook.com/Saeed-Anwar-135756026140/