Shoaib Akhtar, also known as Rawalpindi Express is a former Pakistani Right-arm fast bowler known for his lethal pace and sharp bouncer he bowled during his cricketing days. Currently, he is working as a cricket analyst on his own YouTube channel besides this he is seen at different social and electronic platforms speaking of cricket. He also a cricket commentator. Shoaib has tremendous world records to his name as a fast bowler. He bowled the fastest delivery with a cricket ball in an ODI match in the year 2003. This article has all the information about Shoaib, including Shoaib Akhtar Biography.
| Title | Description |
| --- | --- |
| Personal | |
| Name: | Shoaib Akhtar |
| In Urdu: | شعیب اختر |
| Famous As: | Cricketer |
| Nationality: | Pakistan |
| Residence: | Rawalpindi |
| Education: | Asghar Mall College, Rawalpindi |
| Religion: | Islam |
| Profession: | Former Cricketer, Cricket Analyst |
| Height: | 6 ft 0 in (1.83 m) |
| Website: | https://twitter.com/shoaib100mph |
| Born | |
| Date: | 13th August 1975 |
| Place: | Rawalpindi |
| Family | |
| Ethnicity: | |
| Spouse: | Rubab Khan |
| Children: | Muhammad Mikaeel Ali |
| Parents: | Mohammad Akhater (Father), Hameeda Awan (Mother) |
| Siblings : | Shahid (elder brother), Tahir (elder brother), Obaid(elder brother) and Late Shoaib, Shumaila (younger sister) |
| Career | |
| National Side: | 6Â ft 0Â in (1.83Â m) |
| Team Role: | Pakistan |
| Bowling Style: | Right-arm fast |
| Batting Style: | Right hand bat |
| Matches: | 46 in Tests & 163 in ODIs & 15 in T20s |
| Wickets : | 178 in Tests & 247 in ODIs & 19 in T20s |
| Bowling Average: | 25.69 in Tests & 24.97 in ODIs & 22.73 in T20s |
| Batting Average: | 10.07 in Tests & 8.95 in ODIs & 7.00 in T20s |
| Best Bowling: | 6/11 in Tests & 6/16 in ODIs & 3/38 in T20s |
| Catches/Stumpings: | 12 in Tests & 20 in ODIs & 2 in T20s |
| Balls Bowled: | 8,143 in Tests & 7,764 in ODIs & 318 in T20s |
| Runs Scored: | 544 in Tests & 394 in ODIs & 21 in T20s |
| Test Debut: | 29 November 1997 v West Indies (Cap 150) |
| Test Last: | 8 December 2007 v India |
| ODI Debut: | 28 March 1998 v Zimbabwe (Cap 123) |
| ODI Last: | 8 March 2011 v New Zealand |
| ODI Shirt Number: | 14 |
| T20 Debut : | England v Pakistan at Bristol, 28 August 2006 |
| T20 Last: | New Zealand v Pakistan at Hamilton, 28 December, 2010 |
| T20 Shirt no.: | 14 |
| Top Score: | 47 in Tests & 43 in ODIs & 8* in T20s |
| First-Class Debut: | 1994/95 |
| First-Class Last : | 9-11 Janruary, 2009 Khan Research Laboratories v Sui Northern Gas Pipelines Limited at Rawalpindi |
| List A Debut: | 1993/94 |
| List A Last: | 8 March, 2011 New Zealand v Pakistan at Pallekele |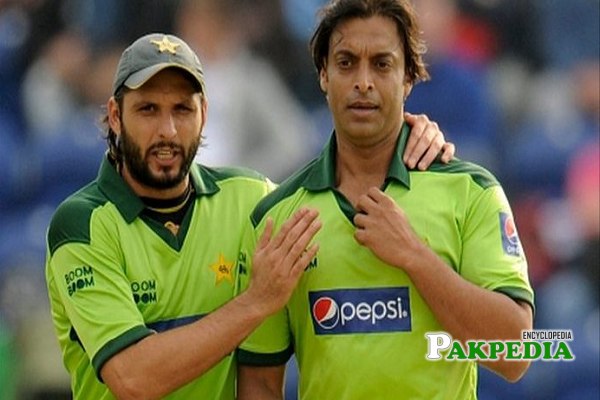 Shoaib Akhtar Biography
Shoaib has been part of Pakistan's national team from 1997 to 2011. He has represented Pakistan in all three formats of the game. He featured in 46 Test matches for the national team and took 178 wickets at an outstanding bowling average of 25.69, and an impressive strike rate of 45.7 along with a couple of ten-wicket hauls and ten five-wicket hauls to his name. His best bowling figures in a test match are six wickets for 11 runs.
In his ODI career, Shoaib played 163 matches for Pakistan and claimed a total of 247 wickets at an average and strike rate of 24.97 and 31,4, respectively. His ODI stats include four five-wicket hauls. His best ODI match bowling figures are 6/16. He also represented the national side in 15 T20I games and took 15 wickets with best figures of 3 for 38.
Shoaib date of Birth
He was born on 13th Aug 1975 in Morgah, Rawalpindi, Punjab.
Education of Shoaib
Shoaib received his early education from Elliot High School Rawalpindi, and after completing his school, he studied at Asghar Mall College, Rawalpindi.
Shoaib Akhtar Family
He was born into a low-income family. His father Muhammad Akhtar, who originated from the Gujar family, would work as a watchman at night in a Petrol station of Attock Oil Refineries. He has three brothers Obaid, Tahir, and Shahid, and a sister named Shumaila. Shoaib is married to Rubab Khan.
Cricket Career
Initial Career
Shoaib came in Pakistan's national team after continuously paying in domestic cricket for three years. He came in the team as a  fast bowler who would run in quickly and ball as fast as possible. His key to success from the early days of his career was his pace and aggression.
Domestic Career
Besides Pakistan, Shoaib played cricket with many teams worldwide, including Asia XI, ICC World XI, Rawalpindi, Agriculture Development Bank of Pakistan, PIA XI, Kolkata Knight Riders, Surrey, Summerset, Durham, Worcestershire, Chittagong Division and the rest. He has featured in 133 first-class matches from 1994 to 2009. He got 467 wickets at an average of 26.26 with two ten-wickets haul and 28 fifers.
He also featured in 221 List-A matches and took 338 wickets at an average of 25.21. His stats also include seven five wickets haul. While in his 38 T20s, Shoaib claimed 44 wickets, including a five-wicket haul.
International Career and Achievements
Test Career
Shoaib started his test career on 29th Nov 1997 against West-Indies in his hometown at Rawalpindi. He took a couple of wickets in the match, and Pakistan won the game by an innings.
He could not start his test career with a bang as he only took 18 wickets in the first eight tests bowling 16 innings. In the famous test at Lahore on 1st May 2002 against New-Zealand, Pakistan batted first legendary batsman Inzamam ul Haq smashed his highest and a massive test score of 329 runs. 
Pakistan made a mammoth total of 643 runs, and in reply, Shoaib Akhtar went after Kiwis and bowled superbly, New-Zealand got all-out for just 73 runs as he claimed six wickets for 11 runs. He did not bowl in the second innings, and Pakistan won by an innings. In the next year 2003, when Pakistan toured New-Zealand, Shoaib went after the opposing batters and took eleven wickets in Wellington, as Pakistan won the match by seven wickets.
On 27th Aug 2003, he had another excellent match with the ball and claimed ten-wickets in the game as Pakistan won by nine wickets. After a break from tests and poor form, Akhtar finally made another high-level bowling when England toured Pakistan in 2005. The three-match Test series went very successful for him as English batsman could not pick his slow bowls, and he ended up picking seventeen (17) wickets in the series. 
After the series, English captain Michael Vaughan praised Shoaib and said he was the difference between England and Pakistan team. Injuries and controversies could not allow him to play regular cricket, and he used to be in and out of the team to some or other reasons. He had some fantastic spells in test cricket but could not bowl long spells as he suffered from knee injuries throughout his career. Shoaib's last test came against  India at Bangalore on 8th Dec 2007 and claimed a single wicket in the match.
One Day Internationals
One Day Internationals had been easier for Shoaib to play more regular in this format. He won many ODIs for Pakistan from 1998 to 2011. He played his first ODI on 28th Mar 1998 against Zimbabwe at Harare Sports Park and only picked up one wicket. He became famous after his World Cup 1999 performance for the national side, where he played regularly for the team and bowled some outstanding spells.
He made many batsmen shrunk at the crease and rattled their stumps on many occasions. Shoaib remained a nightmare for the Kiwis batsman. He bowled superbly against New-Zealand in the WC-1999 Semi-Final to help Pakistan reach in the final. He had a successful tournament as he dismissed 16 batsmen in the world cup 1999. He had many successful series and tournaments. In 1998-99 PESPI Cup Shoaib had a better form as he claimed nine wickets with a remarkable bowling economy and a strike rate of 3.47 and 26.6, respectively. 
His bowling helped Pakistan in coming out as the victorious at the end. The cup ended on 19th Mar.  In the very next month, Coca Cola Cup among Pakistan, India, and England took place in UAE, where Shoaib entered with his best bowling form. He went after both teams and took eleven wickets at an economy of just 15.00. His top performance made Pakistan champion, and they won back to back trophies. 
Remarkable Performances
He had a couple of great series performances, including the Sharjah Cup 2002, NZ vs. Pakistan series in Pakistan (2002), Pak vs. AUS ODI series in  Australia (2002), Eng vs. Pak 2006 ODI series in Pakistan and the rest. In all those series, Shoaib bowled superbly, and Pakistan won all of those trophies. He played his last One Day International in the World Cup 2011 against New-Zealand at Palekele, Sri-Lanka. His bowling figures in the match stood at 70/1 in nine overs.
T20 International Career
Shoaib featured in T20s for Pakistan from 2006 to 2010. His T20  performance is not worth his talent and understanding of the game, as he could only take 15 wickets in 15 T20Is. He used to be very quick, and many batsmen would not be possible to pick his pace. Due to lethal fast bowling, he injured many batsmen while bowling. One such incident came against South Africa in a Test match when Shoaib Akhtar bowled to Gary Kristen, who went through the helmet and injured the batsman, Gary injured badly and taken off the field. In another incident, Shoaib hit a ball to Indian top-order batsman Sourav Ganguli which hit on his ribs and almost broke them.
Controversies
Throughout his cricketing career, Shoaib remained surrounded by injuries and controversies. He got banned for 13 matches in 2006-07 for taking drugs. At the end of World Cup 2003, Akhtar got out of the team due to the exchange of harsh words with then captain Waqar Younus. In August 2007, he got fined for Rs. 300,000, and then in 2008 he got five years ban from playing any cricket due to breaching of players code of conduct, the Court lift the ban after some time.
Besides this, he got charged for ball tempering in 2004 and got suspended for a match. Though he has been a star bowler for Pakistan, he did not do justice to his skills as he could have done much more than what his stats show. Currently, Shoaib has his own YouTube channel, where he gives his point of view on cricket.
Social Media Handles
His social media account include