Shehbaz Sharif is one of the most active and vibrant Pakistani Politicians. He has served three times as the Chief Minister of Punjab. In all his tenures, he made many developments in Punjab in all sectors from agriculture to technology. Shehbaz is mostly known for his speed. He is considered closer to the establishment than his brother and has always given strength to the weak relations of his brother with the establishment. His married life always remained a controversy. This article has all the information about Sharif, including Shehbaz Sharif Biography and Shehbaz Sharif Family.
| Title | Description |
| --- | --- |
| Personal | |
| Name: | Shehbaz Sharif |
| In Urdu: | شہباز شریف |
| Famous As: | Khadim-e-Alla |
| Nationality: | Pakistani |
| Residence: | Lahore |
| Education: | Bachelor of Arts |
| Alma Mater: | Punjab University |
| Religion: | Islam |
| Profession: | Politician |
| Website: | https://twitter.com/cmshehbaz |
| Born | |
| Date: | 23rd September 1951 |
| Place: | Lahore |
| Family | |
| Spouse: | Nusrat Shahbaz, Aaliya Honey and Tehmina Durrani |
| Children: | 6 (including Hamza Sharif) |
| Parents: | Shamim and Muhammad Sharif |
| Siblings : | Nawaz Sharif and Abbas Sharif |
| Relatives: | Maryam Nawaz (Niece) |
| Career | |
| Political Party: | Pakistan Muslim League (N) |
| Serve As: | President of PMLN |
| Proceeded by: | Khursheed Ahmad Shah |
| Time Period : | 20 August 2018 |
| Old Political Affiliations: | Pakistan Muslim League (N) |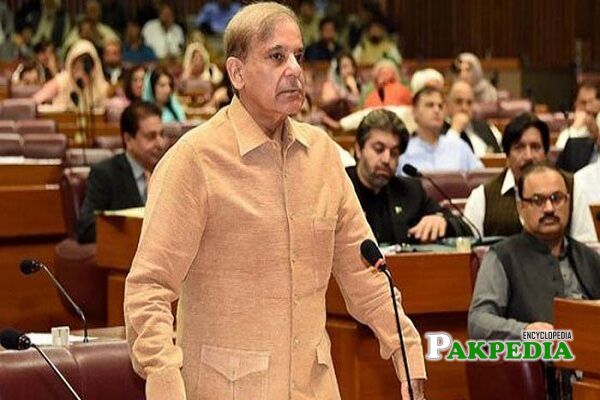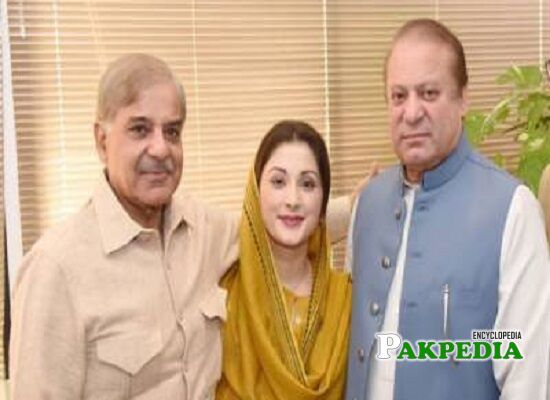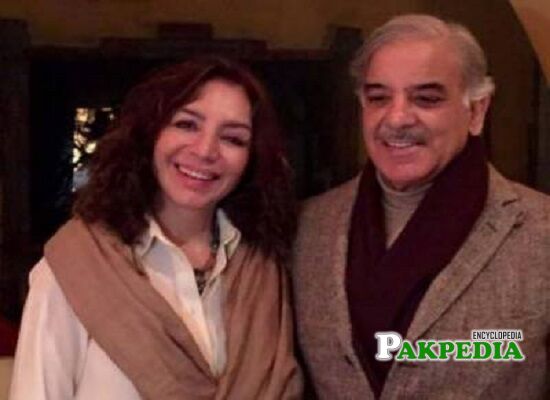 Shehbaz Sharif Biography
Shahbaz Sharif is the President of PMLN and considered the man behind most of the political victories of PMLN. It is said that he is the one who made the deal possible after Musharraf's takeover in 1999. He has served his province as a Chief Minister three times (1997-1999, 2008-2013 and 2013-2018) and now serves as an opposition leader of the National Assembly. Sharif is the longest-serving Chief Minister.  
He was about to become the Prime Minister after Nawaz Sharif's disqualification but the party was reluctant and had a fear to lose the grip on Punjab in case he left the Chief Ministership. Earlier in his career, Shahbaz also got elected as the President of the Lahore Chamber of Commerce. His hobbies are learning languages, reading Iqbal's poetry, and playing badminton and Cricket. Recently, it was reported in media that the establishment offered him the Prime Ministership just one month before the general elections of 2018. But as the news erupted, he denied it without any delay.
Shehbaz date of Birth
Sharif was born on 23rd September, 1951 in Lahore. Currently, he is living in the same city with his family.
Education of Shahbaz
He has done a Bachelor of Arts from Punjab University Lahore.
Shehbaz Sharif Family
Shahbaz Sharif belongs to a family of Kashmiri origin. His father, Muhammad Sharif, belonged to an upper middle class and an industrialist who founded Ithefaq Foundry. The family was living in Amritsar, India, and later migrated to Lahore and settled in Jati Umra after the Partition. His mother, Shamim Akhtar was from Pulwama. Shahbaz Sharif has two brothers; Nawaz Sharif and Abbas Sharif. 
He married three times. First, he married Nusrat Shahbaz in 1973. The couple had three daughters and two sons. After Nusrat Shahbaz died in 1993, Shahbaz Sharif married Aliya Honey for the second time. They had a daughter, Khadija. The marriage when he was in exile. In 2003, he married Tehmina Durrani for the third time. Maryam Nawaz, the daughter of Nawaz Sharif is the niece of Shahbaz Sharif. One of his Sons Hamza Shahbaz Sharif is likewise the part of Politics.
Political career
Shahbaz began his political career as a candidate of Islami Jamhoori Ithehad. He secured his seat for the first time in the 1988 elections from PP-122 Lahore. It only lasted two years and the assemblies were dissolved in 1990. In the 1990's elections, he was elected both for the National Assembly and provincial assembly from PP-124 and NA-96. Looking at the situation, he vacated the provincial seat and opted for the National Assembly. Again the term ended in 1993 after the dissolution of the Parliament.
In 1993, Sharif contested election from the ticket of PMLN and was elected both for the Provincial Assembly as well as National Assembly. This time, he vacated the seat of the National Assembly and opted for Provincial Assembly to become the leader of the opposition. Unfortunately, this term also ended prematurely in 1996.
In 1997, he contested election from the same two seats of National and Provincial Assembly and won both his seats from NA-96 and PP-125 Lahore. Later, he vacated the seat of the National Assembly and became the 13th Chief Minister of Punjab for the first time on 20th February, 1997.
Three tenures as Chief Minister of Punjab
His first tenure as a chief Minister started in 1997. It lasted for two years when he was removed from the post after Musharraf imposed martial law in 1999. First, he was imprisoned, and then he was exiled along with his family members to Saudi Arabia.
In 2007, Shahbaz came back to Pakistan after the decision of the Supreme Court. He became the Chief Minister of Punjab for the second time in 2008 when he was elected from PP-48 Bakkar. He was re-elected as a Chief Minister unopposed and achieved 246 votes. This was one of his two tenures as that lasted for five years. He was the Chief Minister of Punjab from 2008 to 2013. Though in the middle of 2009, he was declared ineligible for the post by Supreme Court but the decision was overturned by five member's large bench of Supreme Court.
In 2013, he was re-elected from PP-159, 161, and PP-247. In the same election, he was also re-elected for National Assembly from NA-129 Lahore but he opted for the provincial seat and become the Chief Minister of Punjab for the third time.
Developments in Punjab
Sharif is one of those Chief Ministers who have developed almost every sector. These developments can be seen in health, education, agriculture, culture, technology, infrastructure, transport, and many more. Some of the major developments are;
Punjab Education Foundation
It is founded to promote the private sector and develop the education system of Punjab by providing an environment to the business community to invest in education
Lahore Metro
   The project was initiated by Pervez Ilahi but he gave it a practical shape. It transformed the transport structure and provided people a safe and cheap transport facility.
Danish School
The name Danish means wisdom. It is a project that provides top-class education to the people who are deprived of quality education. It provides free education to the deserving candidates.
Apna Rozgar Scheme
Rozgar means job. This initiative was taken by Shahbaz Sharif administration to provide 5000 taxis to the people each year.
Khud Rozgar
It means self-employment. Under this scheme, an interest-free loan is provided to people to start a small business like shops or local businesses. 
E-Youth
It provides free laptops to 100 thousand students who study in various educational institutes. These are given to high marks achievers.
Punjab Youth Internship program
It is a program that enriches 50000 unemployed youth with skills. The internees are also given 10000 monthly stipends.
Plane9 Tech Incubator
It is one of the fantastic programs of the Punjab government. It is designed for the development of entrepreneurial companies in the Province
Violence against Women Centers
It was established for the defence of women. The women who are the victim can report the case and get speedy justice. It provides a medical examination, lodging FIR, prosecution, and post-Trauma rehabilitation. The centre was inaugurated in Multan.
Institute of Cardiology
It resulted in the reforms in the health sector. The hospital completed at the cost of 3.6 billion rupees. It is a 272-bed hospital with top medical facilities. 
Quid-e- Azam Solar park
It is the world's largest solar park located in Cholistan, Punjab. It produces 1000MW electricity.
Lahore Orange Line Metro
It is a mass transit that cost 160 billion rupees. It is constructed on a loan that will be paid back after 20 years. It has a capacity of 250000 people every day.
Land Records
Shahbaz Sharif started a management system in 36 districts. The record of more than 55.5 million people has been digitalized. 
Safe City Project
It was started in Lahore and wished to be extended to the rest of Punjab. It was intended for the safety of people. 10000 cameras have been installed in Lahore   
Special investment Initiatives
A two-day investment seminar was held and it was decided to improve the investment pitch. It was a successful event and more than 150 MOUs were signed.
Prohibition of Child Labor in Brick Kilns
A bill was passed to prevent the children from working in the brick kilns. A monthly scholarship of 1000 rupees was started for the students with free uniforms and books.
Shahbaz as an opposition Member
Shahbaz is currently serving as an Opposition Leader in the National Assembly. He was elected both for National and Provincial Assemblies but he opted for National Assembly. He was also nominated for the seat of Prime Minister but he lost to Imran khan.
Shahbaz Imprisonment
In October 2018, Shahbaz was arrested by NAB in the 'Ashiana Housing case.' He was taken into custody and kept in a highly secured lock-up. He was accused of canceling the contract of Ashiana Housing Scheme that was awarded successfully to and Latif and Sons and awarded it to Casa Developers, a group of Paragon City private limited. It resulted in the loss of 193 million rupees. He was then released after 5 months from his home that was declared as a sub-jail.
Shehbaz Sharif Book
Sharif is the author of a book named "Azm o Himmath Ki Dasthan" It is the history of the Sharif family in Business.
Social Media Accounts
His social media accounts include