Abid Sher Ali is a politician associated with Muslim League Nawaz since 2002. He is also a successful businessman and one of the important politicians from Faisalabad. He has stayed vocal and aggressive in defense of his party. After the Panama Leakes, he would daily defend when Imran Khan severely criticized Nawaz Sharif. Ali is a nephew of Former PM Nawaz Sharif. This article has all the information about Sher Ali, including Abid Sher Ali Biography.
| Title | Description |
| --- | --- |
| Personal | |
| Name: | Abid Sher Ali |
| In Urdu: | عابد شیر علی |
| Famous As: | Politician |
| Nationality: | Pakistani |
| Residence: | Islamabad |
| Education: | MBA |
| Alma Mater: | University of Punjab |
| Religion: | Islam |
| Profession: | Politician and Businessman |
| Website: | https://twitter.com/abidsherali |
| Born | |
| Date: | 21st November 1971 |
| Place: | Faisalabad |
| Family | |
| Spouse: | Married |
| Parents: | Zuhra Begum and Chaudhry Sher Ali |
| Relatives: | Nawaz Sharif (Uncle) |
| Career | |
| Political Party: | Pakistan Muslim League N |
| Old Political Affiliations: | Pakistan Muslim League (N) |
| Member of the National Assembly | |
| Constituency: | NA-84 (Faisalabad-X) |
| Assumed office: | July 2013 – 31st May 2018 |
| Ministry : | Minister of State for Water and Power. |
| In Office | |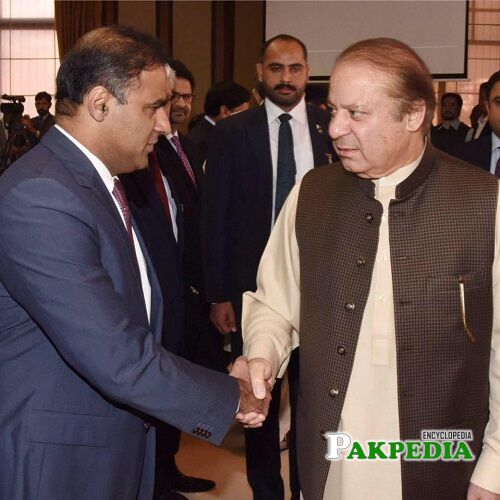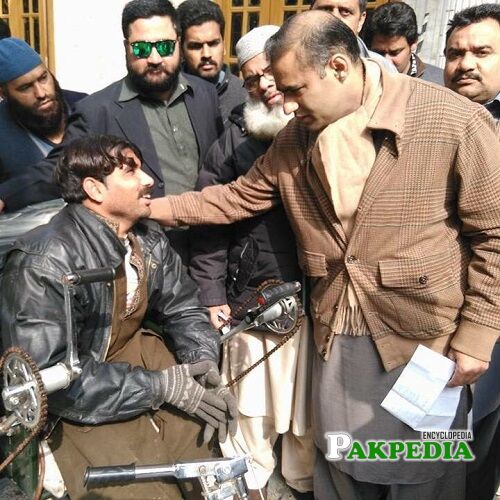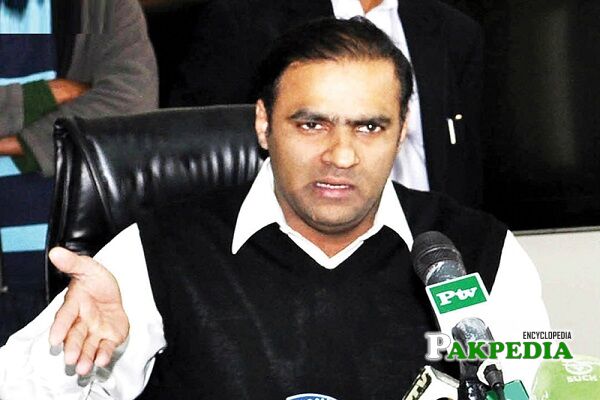 Abid Sher Ali Biography
Abid belongs to an important political family of Faisalabad. He was lucky to win the elections all three times from 2002 to 2013. In the last government of Nawaz Sharif, he was appointed as Minister of State for Water and power. After the disqualification of Nawaz Sharif, he was inducted into the cabinet of Khaqan Abbasi. In his last tenure as a member of the National Assembly, he was seen as more aggressive.
Once, he exchanged harsh words with Murad Saeed during the budget speech and then with Shireen Mazari. The aggression was obvious due to the disturbed political situation that had put the party under immense pressure. In the last election of 2018, he could not secure his seat.
Education of Abid
Abid is one of the most educated politicians from Faisalabad, Punjab. He has done an MBA from the University of Punjab in 1994.
Abid Sher Ali Family
He is the son of Zuhra Begum and Chaudhry Sher Ali. His mother has died recently due to cardiac arrest. She (mother) was the first cousin of Nawaz Sharif. His father is a senior politician and former mayor of Faisalabad. He heads a group of PMLN in Faisalabad that is against Rana Sana Ullah. Abid is married. The late Kulsoom Nawaz is said to be his aunt.
Abid date of Birth
Abid was born on 21 November 1971 in Faisalabad, Punjab. Currently, he is living in Islamabad.
Political Career
Abid belongs to a political family. His father was associated first to PMLQ but later joined PMLN. As he had gotten a strong political background, he joined politics in 2002 general elections. Like most of the members of PMLN, it was a difficult start for him as his party was in no position to win the election. After Nawaz Sharif was sent abroad in exile by Musharraf, most of the party members joined PMLQ but he trusted his party.
2002 General Elections
In the election, he was awarded the ticket and contested some of the stronger candidates of that time from NA-84. Surprisingly, he won the election for the first time with a huge margin. He received 33455 votes while the closest candidate to him, Fazal Hussain Rahi got only 24092 votes.
2008 General Elections
In the 2008 election, his party was in a stronger position than the previous election. It was mainly due to the return of Nawaz Sharif and the poor ending to the military regime of Musharraf. Abid was given the ticket and won it against 8 other candidates from NA-84. He defeated Mehar Abdul Rashid of PPP and received 59616 votes. Rashid of PPP got 38421 votes.
2013 General Elections
In 2013, Ali was re-elected for the third time from the same constituency NA-84. This time his party won the majority votes and formed government in the center and Punjab. Due to his loyalty to the party and commitment, he was appointed the Ministry of State for Water and power. His ministry lasted till the disqualification of Nawaz Sharif in 2017 in the Panama Leakes case by Supreme Court.
After the election of Kahaqan Abbasi in August 2017 new Cabinet was formed under Khaqan Abbasi in August 2017 as the old cabinet was disbanded. Abid was inducted into the cabinet again and appointed as the Minister of State for Power. It was the newly created Ministry of Energy. This term of his Ministry lasted till the end of the government in 2018.
2018 General Elections
In the 2018 general election, he contested the election from the newly formed constituency NA-105. He had to face Farrukh Habib who was a candidate of PTI. Abid narrowly lost the election by almost 1100 votes. He received 110907 votes while Farrukh Habib got 112182 votes and won the election.
Brawl with Murad Saeed
In the Budget speech in 2018, it was reported that Abid used derogatory language about the sister of Murad Saeed. Murad was seen charging towards Abid but other lawmakers soon came forward and separated them before the situation was worst.
Remarks about Shireen Mazari
Abid also made vulgar remarks about Shireen Mazari in a public rally. He called her 'tractor trolley' a term coined by Khwaja Asif. He was severely criticized by different people on media and social media for using such language for his opponent.
Incident in London
In 2020, Abid was forced to leave a function in London after workers of PTI protested. It was a function of the 17th Pakistani Community Achievement award and Abid was invited as a guest. As he was called to the stage, the workers of PTI protested and asked him to leave the stage. He continued his speech throughout the noise and ended with slogans "Nawaz Sharif Zindabad".
Social Media Account
His social media accounts include