Sharmila Farooqi is a strong and fearless Pakistani politician who always talks about justice and corruption. She is often seen in various conferences and interviews because of her strong vocal. She is currently serving as a member of the provincial Assembly on the party ticket of the Pakistan Peoples Party.
Farooqi belonged to a notable and wealthy family both from her paternal and maternal side. She shares a strong bond with her husband, Hasham Riaz, a former banker and current Asif Ali Zardari's advisor. This article comprises every detail about her, including Sharmila Farooqi Biography.
| Title | Description |
| --- | --- |
| Personal | |
| Name: | Sharmila Farooqi |
| In Urdu : | شرمیلا فاروقی |
| Famous As: | Politician |
| Nationality: | Pakistan |
| Residence: | Karachi, Sindh, Pakistan |
| Education: | Adamson Institute of Business Administration and Technology |
| Religion: | Islam |
| Profession: | Politician |
| Belongs: | A powerful political family |
| Activities: | Politics, Media Advisory to Govt |
| | |
| | |
| Interests: | Eating, wearing a Rock |
| Appeared in a Drama serial: | PTV drama |
| Born | |
| Date: | 25 January 1978 |
| Place: | Karachi, Sindh, Pakistan |
| Family | |
| Ethnicity: | Sindhi |
| Spouse: | Hasham Riaz Sheikh (m. 2015) |
| Parents: | Usman Farooqi, Anisa Farooqi |
| Relatives: | Salman Farooqi |
| Granddaughter of: | N M Uqaili |
| Career | |
| Political Party: | Pakistan Peoples Party |
| Serve As: | MPA |
| Time Period : | 2020- present |

Sharmila Farooqi Biography
Farooqi is a young and sturdy Pakistani politician associated with Pakistan Peoples Party since she started politics in the early 2000s. She is a current elected MPA on the vacant seat of Shehnaz Ansari, who was killed in 2019 over a land issue. She often appears in various Talkshows, where she shares her point of view with grace and confidence.
Before associating with politics, she tried her luck in acting and appeared in a PTV drama serial 'Panchwa Mausam.' along with Aijaz Aslam. Sharmila is happily married to a former banker Hasham Riaz who has worked in New York's Wall Street as an investment banker.
Sharmila Date of Birth
She was born on 25th January 1978 in Karachi.
Education of Sharmila
She completed her Master's from Adamson Institute of Business Administration.
Sharmila Farooqi Family
Sharmila belongs to a notable family. Her maternal grandfather N M Uqaili was Pakistan's former Finance Minister and was considered one of the successful businessmen. At the same time, her father, Usman Farooqi, served as a Steel Mill's chairman and bureaucrat. Her uncle Salman Farooqi was associated with Asif Ali Zardari's leadership.
Sharmila Farooqi Husband
She got married to Hasham Riaz, who was an investment banker and was hired in New York's wall city. Later he became Asif Ali Zardari's advisor. Both share a strong bond and always uplift each other for their better future.
Career
As an actress
She started her career as an actress and appeared in the drama serial 'Panchwa Mausam' alongside Aijaz Aslam. However, she didn't pursue this career and switched to politics.
Joined Politics
She started her political career by joining the Pakistan Peoples Party. She was always a hardworking person who made her position strong in the party, and within no time, she became a prominent PPP member.
As a Spokesperson
She is known as one of the pre-eminent spokespeople who never hesitate to debate important and sensitive issues, including corruption. She often appears in different Talkshows and presents her point of view.
As an Advisor
In September 2008, she was appointed as the advisor of Asif Ali Zardari, who was at that time the president of Pakistan. She served on that post till 2011.
As an MPA
In February 2020, she was made a member of the Provincial Assembly on a reserved seat. The election commission of Pakistan issued this statement. After the former MPA Shehnaz Ansari's death, the seat fell vacant on which Farooqi is elected.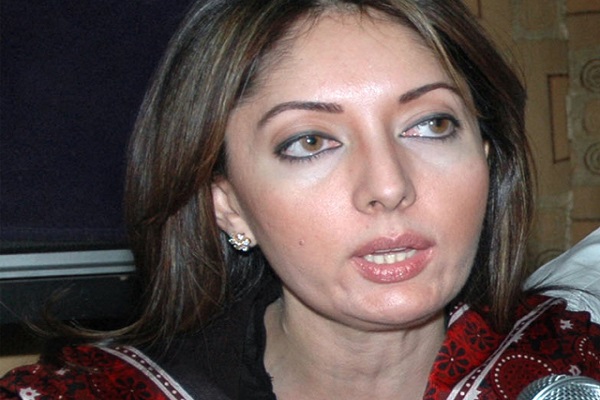 Corruption Charges
In 2001 Sharmila and her family were charged with a corruption case. They were found guilty of Embezzied billion of rupees from Pakistan Steel Mill through corruption and fraud. Her mother, Anisa Farooqi, was arrested by the police. The entire family was investigated, but later they were set free after a few times.
Ph.D. Entry Test
In 2018 Sharmila passed the entry test to enroll herself for Ph.D. Classes. However, later news circulated that Farooqi didn't give any entry test. Only 12 students passed that test, among which her name was also included. The result was declared on the official website of Karachi University.
Social Media Handles
Her social media account include
https://www.facebook.com/Real.Sharmila.Farooqi/
https://www.instagram.com/sharmilafaruqi/