Ghulam Haider, who was famous as Master Ghulam Haider was a renowned Pakistani film composer of Indo Pak. He introduced many famous singers to the film industry, including Shamshad Begum, Zeenat Begum, Madam Noor Jahan, and Lata Mangeshkar. He started his career as a musician, But due to his God-given talents and research on classical singing, he equally known in Pakistan and India as a music scholar. This article has all the information about Ghulam, including Ghulam Haider Biography and Ghulam Haider Songs.
| Title | Description |
| --- | --- |
| Personal | |
| Name: | Ghulam Haider |
| Also known as : | Master Ghulam Haidar |
| In Urdu : | غلام حيدر |
| Famous As: | Music composer |
| Nationality: | Pakistan |
| Residence: | Lahore |
| Education: | College of dentistry and completed his education as dentist |
| Religion: | Islam |
| Profession: | Music composer |
| Years Active: | 1932-1953 |
| Genres: | Film music composer |
| Born | |
| Date: | 1906 |
| Place: | Hyderabad |
| Family | |
| Spouse: | Umra-o-Zia Begum (m. 1935–1953) |
| Children: | 3 Sons and 6 daughters |
| Parents: | Ustad Sadiq Ali Mando Khan |
| Died | |
| Date: | 9th November 1953 |
| Rest Place: | Lahore |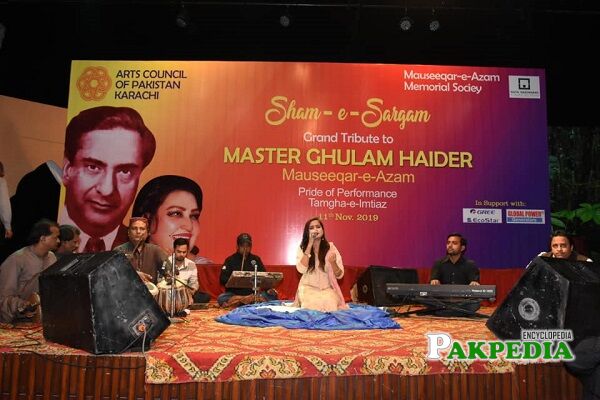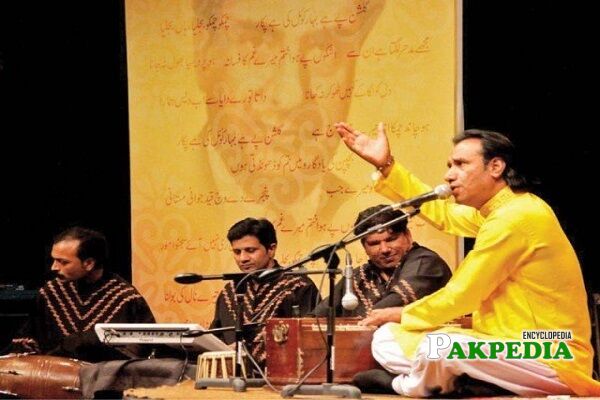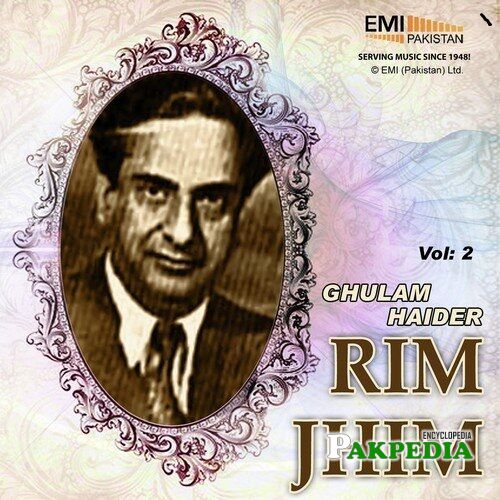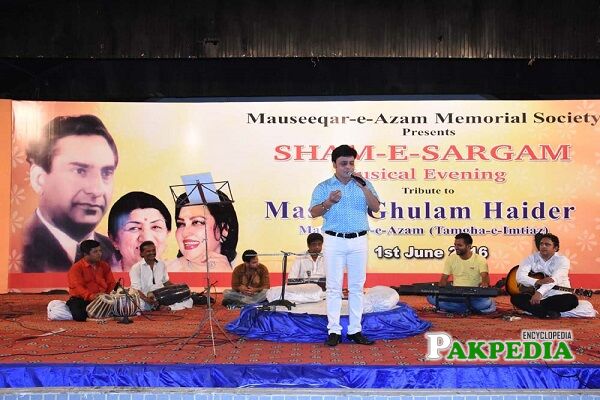 Ghulam Haider Biography
He combined the famous Ragas with rhythm and verve of Punjabi melody and assisted in raising the status of music directors. He holds the credit of introducing today's big-name of music industry Lata Mangeshkar to the music world. On her 84th birthday, Lata regarded him as her Godfather. Besides Lata, this music guru gave Melody Queen Noor Jehan a chance in 'Kundan' movie, and she was just ten at that time. 
Credit for the musical career of renowned Indian singers Sudha Malhotra, Puspha Hansraj, and Surinder Kaur also goes to Haider. He earned prestigious laurels Tamgha E Imtiaz and Pride of Performance on his contributions to the music industry.  
Haider date of Birth
Master Ghulam Haider was born in 1906 in Hyderabad, Sindh.
Education of Haider
He started studying dentistry after completing his schooling. During this time, he became interested in music and started learning music from Babu Ganesh Lal. After completing his education as a dentist, he worked as a dentist for two years. Then he felt that his future in the field of music would be more secure. After that, he started working as a harmonium pro at the Alexander Theater Company in Calcutta.
Ghulam Haider Family
He belonged to an artist family. His father, Ustad Sadiq Ali Mando Khan, was a highly acclaimed Clarinet player and has been awarded the Medal of Excellence by the Government of Pakistan. Haider was father to three sons and six daughters.
Collaboration and Marriage With Umra O Zia
He gave compositions for ghazals and songs created by renowned singer Umra O Zia Begum. In 1932 he became part of Playart Photophone, and A.R Kardar provided him a chance to compose his film's music. In this film, 'Swarag Ke Serhi' Beghum Umra O Zia played a lead role. Syed Imtiaz Ali Taj directed this film and released by National Modi Lhr. The film failed in the box office, and Ali soon tied the knot with Umra O Zia Begum, who left showbiz after marriage and remained a source of inspiration and motivation for her husband.
Showbiz Career
Initial Career
From the beginning, he was very interested in playing the harmonium. Due to this interest, he became associated with a theater in Lahore. During this association, he had the opportunity to travel to various cities in India and meet many talented musicians.
Member of Genophone
In 1932, he joined Genophone, a Lahore-based recording company. Ustad Jhande Khan, Pandit Amarnath, and GA Chishti were also associated with the institute. Master Ghulam Haider was also the assistant of Ustad Jhande Khan for some time.
As a Composer
His film career began in 1933 with AR Kardar's film 'Sawarag Ki Seerhi,' after which he composed music for the film 'Majnoon.' However, his identity became from filmmaker and director Dil Sikh Pancholi's film 'Gul Bakauli' which released in 1938. He then composed music for several more Lahore-based films, including 'Yamla Jutt,' 'Khazanchi,' 'Chaudhry,' and 'Khaandan Key Naam.'
Career in Bombay
In 1944, he moved to Bombay at the invitation of director Mehboob Khan. Among the successful films in Bombay were 'Humayun,' 'Chal Chal Rey Naujwan,' 'Bairam Khan,' 'Jag Beti,' 'Shama,' 'Mahindi,' 'Majboor,' and 'Shaheed.'
Introduction of New Taals
At that time, most of the music directors of Pakistan and India used to select 'Kehrwa' and  'Dadra' Taals, but Haider presented several unfamiliar Taals. He was able to give these Taals only because of his extensive knowledge of Sikh musicians' Taals, and India's classical music. He got ménage recognition in India by presenting unfamiliar Taals.
Career in Lahore
After the partition of India in 1947, he moved to Lahore and composed music for seven films, including 'Shahida,' 'Beqaar,' 'Akeli,' 'Ghulam,' and 'Gulnar.' His last movie was 'Gulnar,' which was released three days before his death. He was one of the most trendy musicians. He gave a new color to the film music of the Indian subcontinent. He is the first musician to use Punjabi folk tunes in his songs.
Fall Time
He moved to Pakistan after its foundation in 1947, but here because of opportunities' scarcity, and his glorious career started diminishing. The non-availability of resources and vocalists dampened his ambitions and talent. With his co-worker Shaukat Husain he introduced Gulnar and Shahida, but they failed to get a huge success.
Ghulam Haider Death
He passed away on 9th November 1953 and buried in the local cemetery on Shahdara. His funeral prayers attended by various personalities associated with music. Mostly there is a relationship of jealousy between professional music directors. Still, after Haider's death, his peer and a highly acknowledged music director Chitalkar Ramchandra confessed, crying that in his musical career, he has stolen many tunes composed by Ustad and after some modifications released those by his name. Ustad was just like a fountainhead of tunes for him. By his demise, this fountainhead has dried.
Ghulam Haider Movies
Gulnaar
Aabshaar
Bekaraar
Do Saudaagar
Putlii
Shahidaa
Kanez
Majboor
Shaheed
Shamaa
Barsat Ke Ik Raat
Patjhadd
Manjhdhaar
Butt Taraash
Mehndii
Jag Beetii
Bairaam Khan
Phool
Humaayun
Chal Chal Rey Naujawaan
Bhaai
Poonjii
Khandaan
Zamindaar
Chaudhary
Khazaanchi
Yamlaa Jutt
Gul E Bakawalii
Majnuu
Thief of Iraq
Sawarg Ke Seerhii
Ghulam Haider Songs
Aashiyane Koo Merey Jub
Shaala Jawaania Manay, Aakha Naa Moriin, Pee Laii
Pinjarey Dey Vichh Qaid Jawani Mastani
Kankan Diyan Pakiaan Faslan Ney
Bus Bus Wey Dholna, Teray Nal Ke Bolnaa
Saawan Kay Nazaarey Hein
Ek Kali Naazoon Ke Paali
Tu Kaun Se Badlii Mein, Meray Chaand Hei Aa Jaa
Mere Lye Jahan Mein Chaiin Hei Naa Qaraar Hei
Saajan Aa Ja, Rajaan Aaa Jaa
Chamkoo Chamkoo Bijaliyaa, Haan Bijaliyaa
Mjhe Madhuur Lagta Hei Unsay
Aye Chaand Tu Bataa Dey
Dataa Toree Dayaa Se Ab Des Hamaara
Ho Chand Chamaka Andhere Me Aaj Hai
Ashkoon Pey Huwaa Khatam Meray Ghum Ka Fasaana
Gulshan Pey Hei Bahaar, Koyal Ki Hai Pukaar
Hum Hein Dukhiyaa Is Duniya Mein
Aj Mohay Saajan Ghar Janaa
Aa Jaoo Bedeshi Balama
Aaja Bedardii Balamaa
Ana Hei Tu Aa Jaoo Ghar
Ab Jee Key Koi Kiyaa Karey
Wattan Ke Raah Mein, Wattan Kay No-Jawaan Shaheed hoo
Bachpann Ke Yadgaaro, Mein Tum Ko Dhondatay Hunn