Shah Mehmood Qureshi is a senior politician in Pakistan. He is the vice president of Pakistan Tahreek Insaaf. Currently, he is the Federal Minister of Foreign Affairs.  Qureshi has remained associated with Islami Jamhori Ithehad, PMLN, PPP, and PTI.  He is an agriculturalist and has served as the head of the Pakistan Farmers Association. This article has all the information about Qureshi, including Shah Mehmood Qureshi Biography.
| Title | Description |
| --- | --- |
| Personal | |
| Name: | Shah Mehmood Qureshi |
| In Urdu : | شاہ محمود قریشی |
| Famous As: | Politician |
| Nationality: | Pakistani |
| Residence: | Multan |
| Education: | MA (Law) and MA (History) |
| Alma mater: | Aitchison College, Forman Christian College and University of Cambridge |
| Religion: | Islam |
| Profession: | Agriculturalist and Politician |
| Website: | https://twitter.com/SMQureshiPTI |
| Born | |
| Date: | 22nd June 1956 |
| Place: | Multan |
| Family | |
| Ethnicity: | Shah |
| Spouse: | Mehreen Qureshi |
| Children: | 1 son and 2 daughters |
| Parents: | Sajjad Hussain Qureshi |
| Career | |
| Political Party: | Pakistan Tehreek-e Insaf |
| Serve As: | MNA |
| Time Period : | 2018 – present |
| Old Political Affiliations: | Pakistan People Party |
| Member of the National Assembly | |
| Constituency: | NA-156 (Multan-III) |
| Assumed office: | 20th August 2018 |
| Ministry : | Minister for Foreign Affairs |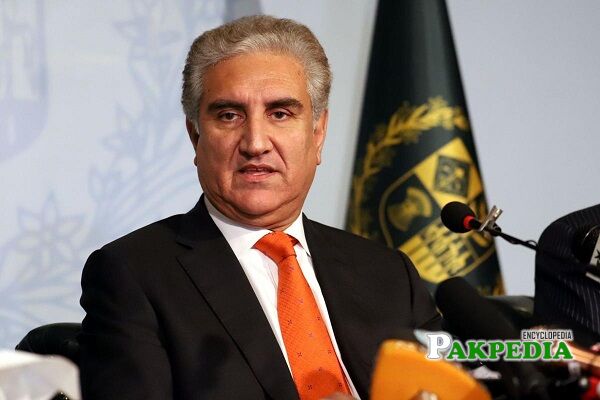 Shah Mehmood Qureshi Biography
Shah Mahmood is a landlord, Politician, caretaker of the shrine of Bahauddin Zakariya, and claims to be of saintly lineage. His reputation mostly stands on his political position. His political career started in 1885 from the Provincial Assembly of Punjab in 1985. He has remained a part of several cabinets and served in different ministries. He was politically associated with Islami Jamhoori Ittihad, PMLN and PPP. Currently, he is the Vice President of Pakistan Tahreek e Insaaf.
Shah date of Birth
Mahmood Qureshi opened his eyes on 22nd June 1956 in Multan. Currently, he is a resident of the same city.
Education of Qureshi
Shah Qureshi received his early education from Aitcheson College. Qureshi has done his bachelor's degree from the Punjab University. He has achieved a Bachelor of Arts from Forman Christian College and Masters in History from the Corpus Christi College.
Shah Mehmood Family
The family of Qureshi owns the title of Makhdoom and Pirs and claims to be the caretakers of the shrine of Bahaudin Zakariya. Makhdoom Shah Mahmood Qureshi was born to Makhdoom Sajjab Hussain Qureshi. His father was the 15th Governor of Punjab and a member of the senate. He was a dear friend of Zia Ul Haq, who made him as Punjab Governor from 1985 to 1988. Shah Qureshi is married to Mehrien Qureshi. They have 3 children incorporating Zain Hussain Qureshi, Gauhar Bano and Mehar Qureshi.
Political Career
Provincial Assembly
Mahmood Qureshi has a vibrant and prominent political career. He was born in a political family; therefore it was most likely destined that he would be a politician. His career started when he was elected from PP-164 Multan in a non-party election. Soon, he joined Pakistan Muslim League in 1986. Later, he joined PMLN under Nawaz Sharif. Qureshi was again elected in 1988 from PP-166 and was given the Ministry of Planning and Development in the provincial cabinet. His ministry lasted for two years from 1988 to 1990. In 1990, he was re-elected for the third time from the same constituency. For 3 years, he served as Finance Minister in the provincial cabinet of Manzoor Watto.
National Assembly
In 1993, he joined PPP. According to him, it was due to the leadership of Benazir Bhutto who inspired him to join her party. In PPP, he started his career as a member of the National Assembly. Mehmood was elected for the first time as a member of the National Assembly from NA-120, Multan. Soon, he was appointed as Minister of Parliamentary Affairs in the cabinet of Benazir Bhutto. In 1996, he was appointed as a spokesman of the party.
Qureshi faced his first-ever political defeat when he lost to Javed Hashmi, his rival from PMLN in 1997 general elections. From 2000 till 2002, he was the Multan Mayor. Under his tenure, many developments were made in Multan. In 2002, he beat his rival, Javed Hashmi, and again elected from NA-148 Multan1 as a member of the National Assembly. Due to his experience, he was offered membership of Council of Economic advisors, but he refused to be a part of it. The top leadership of his party was in exile. 
For the revival of the party in Punjab, Benazir made her the president of PPP Punjab, and in the next elections, the party in Punjab took off due to his hard work. His career at the national level continued. He was re-elected in 2008 from NA-148 Multan for the third time. His party made the government in the center, and he was assigned the Ministry of Foreign Affairs. It was reported that Qureshi was the strongest candidate for the seat of Prime Minister, but Asif Ali Zardari trusted Yousaf Raza Gilani more than him. Though he was a federal minister, his relations with the party were reported to be weak. 
In 2011, the government decided to reduce the cabinet and he was asked to take charge of the Ministry of Water and Power but he refused immediately. When Raymond Davis was released, he lost interest in the Ministry of Foreign Affairs as it was given zero importance and ignored in the whole process of Raymond Davis's release. He resigned from his ministry and then from the assembly saying the party had become a Zardari league and claimed the party was no more the party of Shaheed Benazir Bhutto. 
PTI and Shah Mahmood Qureshi
After he left PPP where he was being associated for twenty years, he joined PTI in September 2011. Taking advantage of his experience, Imran Khan appointed him the first vice-chairman of PTI and then a parliamentary leader. In 2013, he was re-elected as a member of the National Assembly from NA-150 Multan. In the 2016 Intra-party election, Qureshi was nominated as the vice-chairman making him one of the top leaders at the party.
In 2018, he secured his seat in the general elections from the same constituency. Once again he was a strong candidate for the seat of the Speaker of the Assembly but he was assigned the Ministry of Foreign Affairs due to the worst-ever diplomatic relation of the country with the neighbors and the west. He took the oath on 20th August, 2018. 
Saintly Lineage
The family of Qureshi claims to be from saintly lineage but remains controversial in the Sufi Community. His family claims the spiritual titles, Makhdoom and Pir. He is the sajjada nashin of Bahaudin Zakariya and Shah Rukn e Alam Shrines. He was accused by his brother for using religion for his politics which he denied in an interview with BBC.
Social Media Accounts
His social media accounts include