Shah Abdul Latif Bhittai was a Sindhi Sufi scholar, Sindhi philosopher, saint, poet, and mystic. He was known as the greatest poet of the Sindhi dialect. His poetry has been translated into many languages ​​besides English, German and Urdu. His poetry is simple and easy, which makes one feel ecstatic.
Every artist tries to sing his poetry because he gains immense popularity among the people by singing it. Three centuries ago, he portrayed female characters as heroes in his poetry. His characters are heroines of love folk tales. Their names are Sasi (Pins), Marvi (Omar), Laila (Chanesar), Momal (Rana), Soorath (Rai Deich), Noori (Jam Tamachi) and Sohni (Mahiwal).
His poetry is somewhat different from the subcontinent's poetic tradition, where he did not speak of a woman's face, stature, and eyebrows, but described her role in an ideal way. To him, a woman is a human being whose beauty is her character. All the women in his poetry seem to be more active than men, and of course, they can be called heroes. This article contains all the information about him, including Shah Abdul Latif Bhittai Biography.
| Title | Description |
| --- | --- |
| Personal | |
| Name: | Shah Abdul Latif Bhittai |
| In Urdu : | شاہ عبداللطیف بھٹائی |
| Native Name : | Shah Abdul Latif |
| In Urdu : | شاہ عبداللطیف |
| Famous As: | Sufi scholar |
| Nationality: | Pakistani |
| Residence: | Sui-Qandar (Bhit Shah) Hala, Sindh |
| Education: | Self-educated. Although he received little formal education |
| Religion: | Islam |
| Profession: | Sindhi Sufi scholar, mystic, saint & poet |
| Shrine of Shah Abdul Latif: | Located in the town of Bhit Shah, Sindh, Pakistan |
| Shrine Completed: | 1772 C.E. |
| A shrine built by: | Mian Ghulam Shah Kalhoro |
| Influences : | Jalal ad-Din Muhammad Rumi, Attar, Shaikh Sa'adi, Kabir & Shah Hussain |
| Influenced: | Sachal Sarmast, Bedil, Shaikh Ayaz, Makhdoom Muhammad Zaman & Talib-ul-Mola |
| Tradition or genre: | Poetry |
| Languages Known: | Persian, Sanskrit, Saraiki, Urdu and Baluchi |
| Born | |
| Date: | 18 November 1689 |
| Place: | Sui-Qandar (Bhit Shah) Hala, Sindh |
| Died | |
| Date: | 1 January 1752 |
| Age : | 63 Years |
| Rest Place: | Bhittai Shrine, Bhit Shah, Sindh |

Shah Abdul Latif Bhittai Biography
Shah Abdul Latif was so pious and honest that he had nothing to do with worldly luxuries and spent his whole life in worship. He was a great Sufi poet and has told the facts in the form of parables, and all the characters he has portrayed belong to the land of Sindh.
In his poetry, he protests against injustice, oppression and barbarism, and emphasizes God's unity, love for Holy Prophet (P.B.U.H), love for people and feelings of sympathy. He was fond of music in which there is Allah's praise, and when he was in ecstasy, he would sing such Kalams himself.
Bhittai invented the tambourine, which is still played by his followers in front of his shrine. He gave a special status to the Sindhi language in the land of Sindh by providing importance to the Sindhi language as compared to the Persian language. Latif Bhittai also proved that it is wrong to compete for the Sindhi language with any other language and consider the Sindhi language inferior to any other language.
Bhittai Date of Birth
He was born in 1689, in 1101 AH in the mansion of Hala tehsil of Matiari district.
Education of Bhittai
At the age of five, Shah was sent to Akhund Noor Muhammad's school to acquire knowledge, but he refused to read. Seeing this situation, his teacher Akhund Noor Mohammad called Shah Habib.
After hearing the whole situation, Shah Sahib said that this child is aware of Allah's oneness, so he is not ready to recite any word except A to Allah. He had a deep interest in the Sindhi language, and he mastered it completely.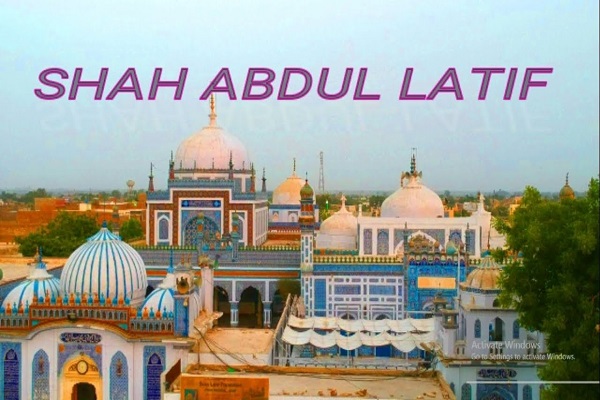 Shah Abdul Latif Bhittai Family
His ancestors belonged to the Sadat family. Their lineage goes back to Aal-e-Rasool. His father, Habib, was known as Shah Habib. His ancestors were from Afghanistan's province Heart. A few days after Latif's birth, his father left his native village and started living in Kotri.
He had access to the spirituality inherited from his father, but due to a fortunate accident, he fell in love and spent three years sifting through the deserts and forests and reached Thatta in the same condition. There he met a Sufi saint Muhammad Moin Thattawi who put him on love to creator.
He instilled in Shah Sahib the spirit of worship of God, devotion to piety, love of saints, obedience to parents, service to humanity. Discussions about Shah Latif's spirituality became common in Hala, and many people started becoming his devotees. 
Shah Abdul Latif Bhittai Marriage
When he returned to Hala, he was married to the same girl whose love had taken him to the Thatta. After the marriage, his followers gave him the title of 'Taj Al-Makhdurat.' 
Residence in Bhat Shah
After their marriage, he chose a quiet place for his residence, where there were high mounds. In Sindhi, the hill is called 'Bhat', hence the name of the area 'Bhat Shah.' His hard work turned the piles of mud and stones into a beautiful township.
During his stay there, he promoted Sindhi language and literature. He was fond of poetry and worked for the development and promotion of Sindhi language through his poetry.
Life Events and Work of Bhattai
Work for the Sindhi Language
When he was born, the Persian language was prevalent in the subcontinent, and the region of Sindh was also affected by it. Still, he considered Sindhi language important instead of Persian to identify Sindh's land and wrote poetry in that language and gave the Sindhi language a new place. 
Highlighted the Importance of Women Through his Kalam
All the chapters of poetry in his magazine are named after women. The heroines of his poetry are women. Sassi, Mari, Momal, Sohni, Noori, these are all the characters he has made eternal by describing in his poetry.
He had chosen women to express his words instead of men, to make society realize that women, who are considered inferior creatures in our community, also have a higher status. 
Ganj Shah Latif
His words were memorized orally by his followers. Among them, Hashim Faqir, Bilal Faqir and Temar Faqir are well known in this regard. Temar Faqir penned his poems and thoughts and named them 'Ganj Shah Latif' meaning 'Treasure of Shah Latif.'
His maid name Mai Nemat also assisted Temar in his work. This copy is still present in the Bhatt Shah Museum.
Shah Jo Risalo
His Kalam consists of 30 chapters, and each chapter acknowledges the sanctity and greatness of women. The chapters included in the magazine are called 'Shah Jo Sir.' It was only after the publication of his collection of Kalam in Germany that it became known that 'Shah Jo Risalo' is the most significant literary masterpiece that can be rightly presented in the world of literature.
A manuscript is also preserved in the British Museum. Renowned poet Sheikh Ayaz did the Urdu translation of Shah Jo Risalo from Sindhi, and he was assisted in this work by Prof. Afaq Siddiqui.
Invention of Tanbur
A canal used to flow near the hill on which he used to sit and meditate and compose his mystical words. He amazingly discovered the music melody by listening to water's noise and invented a musical instrument called 'Tanbur.' Singers sing his words only on the tambourine, and no other musical instrument is used.
Expressed Pain and Difficulties of Poor People in his Kalam
Much of his Kalam seems to reveal various aspects of the oppression of the regime. In particular, he showed and described every part of the difficulties of the lives of peasants, gipsies, and fishers in his poetry. 
Views of Noor Ahmad Jhanji About Bhattai
According to Noor Ahmad Jhanji, a professor at Mithi College Tharparkar and a well-known researcher, in Bhattai's Kalam, a woman plays the role of a lover and every woman tries her best to find her lover. 
Views on Story of Sohni
For example, Sohni used to cross the Chenab to visit Mahiwal. After losing Pannu, she wanders in the deserts to find him and eventually dies. Poets from other languages ​​of the subcontinent have also written poetry on the story of 'Sassi Pannu', but the difference is that Shah Sahib presented this story as a symbol of perseverance and sacrifice instead of 'Love Story'.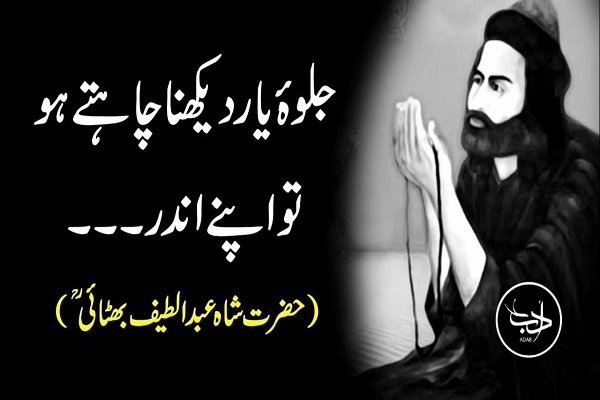 Views on Story of Sassi
According to Noor, Shah Sahib writes, 'Sassi is looking for Pannu, she has a purpose in front of her. To save her travelling companions from trouble, she says a desert ahead and no one should go with me. There is no water, lest you get upset and say the wrong thing for my Pannu. I have accepted this thirst for Pannu.'
Views on Story of Momal
He further says that there is a character of Shah Sahib 'Momal' who was a wise woman. She was one of the seven daughters of the king of Jaisalmer. His palace was built of red stones on the banks of the Kak River Jaisalmer. The water of this river was also reddish.
It is also an exciting story of how she brings back her father's stolen treasure and how she chooses her husband, Rana (Raja of Umerkot). Then came to Sindh along with him. Even today, there are signs of 'Momal Ki Mari (Palace)' in Umerkot.
Shah Abdul Latif Bhittai Books
Shah Jo Risalo
The Book of Shah Latif Bhittai
Risalo of Shah Abdul latif
Seeking the Beloved
Shah Abdul Latif Bhittai Death
He died on 14th Safar 1165 AH in 1752 AD. According to his will, he was buried in Bhatshah. Ghulam Shah Kalhoro, the ruler of Sindh, built his magnificent mausoleum.
The mausoleum is 67 feet high. Mir Naseer Khan Talpur repaired the mausoleum in 1835 while Mian Noor Muhammad Kalhoro had earlier dug a magnificent well in front of the mausoleum and later Mir Muhammad Khan Talpur made its entrance made of silver.