When one talks of tennis in Pakistan, one celebrity that comes to mind is Aisam Ul Haq. Fortunately, we have Sara Mehboob Khan. The 26-year old tennis player is one of the leading female athletes in the country. She is perhaps the only female athlete in the country who has represented Pakistan the most in various international tournaments.
    
| Title | Description |
| --- | --- |
| Personal | |
| Name: | Sarah Mehboob Khan |
| In Urdu: | سارہ محبوب خان |
| Famous As: | Tennis player |
| Nationality: | Pakistani |
| Education: | Degree in Sociology |
| Religion: | Islam |
| Profession: | Tennis |
| Awards : | Memorial Tennis title, BB Shaheed Tennis title |
| Born | |
| Date: | 9 February 1991 |
| Zodiac: | Aquarious |
| Place: | Rawalpindi |
| Family | |
| Ethnicity: | Punjabi |
| Parents: | Mehboob Khan |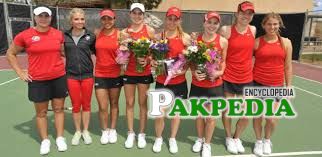 Biography

Sarah Mehboob Khan is the daughter of veteran tennis player turned coach Mr Mehboob khan. She was born on 9th of February 1991 in the city of Punjab, Rawalpindi. She holds the degree of sociology from Virginia University. Since her childhood, Sarah always want to do something extraordinary for her beloved country, Pakistan. This enthusiasm lead Sarah to chose the field of Tennis to represent Pakistan on international level and to earn pride for her country. 
Career
 In 2004, Sarah Mahboob Khan became the youngest ever Pakistan National Champion, aged 14.
She has been Pakistan's leading tennis player since 2005.
 She is the only player to have won Pakistan national titles on clay, hard, and grass, and has won a record number of National Rankings Ladies' Singles Titles.
In October 2010, Sarah Mahboob Khan became the first Pakistani female tennis player to qualify for the main draw of an ITF tournament outside Pakistan, and the first to reach the quarter-final of an ITF tournament, achieving this in the doubles at Ain Sukhna, Egypt, partnering Irina Constantinide.
In May 2011, she signed to play for the tennis team of the University of New Mexico.
Sarah lifts memorial tennis title in 2015

Pakistan No 1 tennis player Sarah Mahboob Khan carved out one of the most sensational and memorable victories of her long career, as she beated Pakistan No 1 female tennis player Sara Mansoor in a thrilling final in straight sets to clinch the 5th Syed Tajammul Abbas Memorial National Ranking Tennis Championship 2015 title . The marathon final which was played  at Senator Dilawar Abbas PTF Tennis Complex  and lasted more than three hours, hats off to Sarah , who despite 1-5 down in the second set, staged memorable comeback to not only stun the crowd but also her opponent. It was highly sensation final which was witnessed by PTF president Salim Saifullah Khan and others. Sarah also took sweat revenge of her loss against same opponent in the Federal Cup final. [2] title 
BB Shaheed Tennis title
Former national ladies champion Sarah Mehboob Khan thrashed No 1 seed Sara Mansoor in straight sets to lift the title of the 1st Benazir Bhutto (Shaheed) National Ranking Tennis Championship 2015 which concluded at Islamabad Tennis Complex (ITC). [3] BB
Sara distances herself from her father
Many would argue that Sara Mehboob got her way cut out into the national sporting arena when she began coaching under her father Mehboob Khan, former Pakistani tennis player turned coach. However, she distances herself from her father's shadow to carve out an identity for herself. Many Pakistanis have already started putting Sara forth as Pakistan's answer to India's Sania Mirza.  Much like any girl her age, Sara thinks it is vital for a Pakistani, especially a woman, to voice her concerns pertaining to the civil society in Pakistan. She, along with her father, supports Imran Khan in line to become the next prime minister of Pakistan. [4] distances